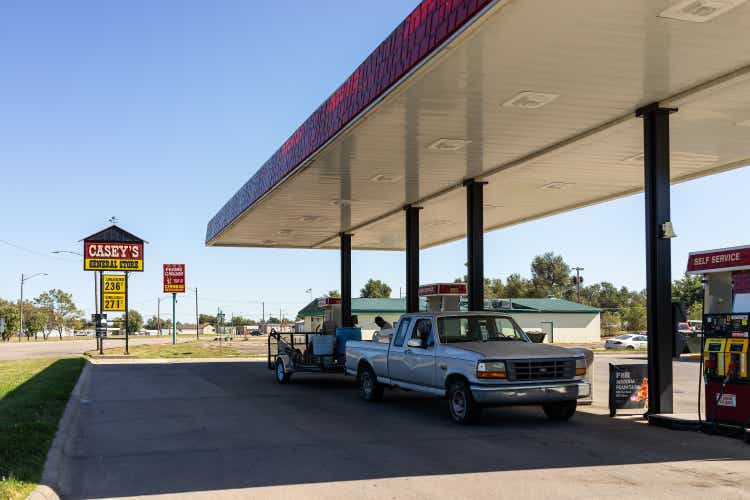 Casey's General Stores, Inc. (NAS:CASY) is a growing Fortune 500 company and also the nation's fourth largest convenience store chain. Since I wrote about Casey's here at Seeking Alpha back in November, the company has released its Q2 FY22 results. Revenue growth was strong with a 6% same-store sales increase over the prior year, and strong with the benefit of acquisitions. However, costs increased and came short of the annualized EPS guess that I used in my initial estimate. I will lower my fair market value target a bit to $195.88, but I still see good long-term potential with Casey's as they continue to grow, and they are even accelerating their growth outlook for 2022.

FY 2022 Q2 Report and Valuation
Casey's Q2 saw record revenue results at $3.26 billion. Gross profit increased both in-store and on fuel sales. Same-store grocery and general store sales performed well and were up 14% on a two-year basis. Also, Casey's continues to grow and Q2 was the first full quarter result that included the 89 Bucky's and 48 Circle K store acquisitions.
Casey's EPS at $2.59 was a strong result, and it was historically among the best performances for the company, however, it was a drop from the previous quarter which may explain a modest pull back in the market share price.
Casey's Q2 saw some headwinds in costs and perhaps lost revenues. The company experienced supply issues with various in-store products, including primary sellers such as donuts, cups for beverages, and chicken. In some cases, shortages and out of stock items lasted for the entire quarter. Costs increases were largely due to labor expense, but there were other increases such as cost of goods and for heavier credit card fees associated with higher retail prices for fuel.
In my prior analysis I indicated that I would largely use guesswork to determine what to consider as a fair full year EPS, as opposed to the actual TTM EPS. I did this because I felt that the previous 3 quarters of data were far too unreliable given the affects of the pandemic. I used an annualized EPS value of $9.38 and this was based on using Q1 2022 actual data, using Q1 data again for Q2 which had not yet been released, and my guess that Q3 and Q4 may see $1.50 EPS per quarter.
According to Casey's they believe they have passed the worst of year-over-year increases in operating expenses. When I chose $1.50 for an estimate for Q3 and Q4, I believed that to be conservative. I still believe those numbers may be close to what we will see, despite the issues with costs. With $1.50 you are around 60% of the last report in Q2 of $2.59, and 60% is roughly where you see Q3 and Q4 seasonal declines historically, although not consistently.
But in using these figures I adjust my guesswork annualized EPS to $8.78. I will also update the 5-year average P/E to use the latest available data from YCharts shown below.

This is just one possible outcome, but in using those figures I believe the current fair value for Casey's is ($8.78 x 22.31) or $195.88. This is a bit lower than my previous guess at $209.46, but not too much so, and this is based on two actual points of data (out of four) now instead on one.
At $195.88 there is room for appreciation in the market as the current market price is at about $186.00 at this writing. Obviously if Q3 and Q4 combined come in at less than $3.00 we may need to readjust again. But for now, I believe the results are achievable, if not conservative. The more actual results available, the better.
In the longer term, as the company continues to grow, the EPS should move on up in tandem if the company continues to perform well. If so, that should lend to future upgrades to the fair market value.

Risks
The company provides a full list of risks in its annual filing. I recommend reading that in its entirety, but I will add a few notes.
Some of the bigger risks right now appears to be from supply issues and costs, such as rising labor costs. It's hard to say when supply issues will correct, but it should reach its peak at some point. Also, I don't know that costs will become any worse, especially labor costs. It is a risk, but also is a factor that can improve.
I will re-mention from my prior article, that for a longer-term investor, I would give some thought about the macroeconomic environment. Specifically, I am referring to the industry wide transformation from fuels to electric vehicle charging. I think some caution there has merit.
To start, EV charging could mean less stops at a convenience store as perhaps significant charging occurs at home or at other locations. The fuel stop is the life blood and typical primary draw to attract customers. A paramount transition may come, so investors should remain cognizant of the situation.
Having said, we are still likely several years from this perhaps inevitable event. Also, convenience stores, including Casey's are already beginning to offer EV charging services. I expect that eventually customers will pay a fee for the charging that could possibly provide a means for convenience stores to earn more revenue than they do from fuel, in theory.
Another thought on this is that currently EV charging takes longer than fueling, which may create more of a draw for a customer to come inside the store and buy things or grab a meal while they wait.

And as for Casey's, they are already invested heavily into making their stores so much more than a fuel stop anyway. They are not too far away from being a small discount store, and not too far from being a small restaurant. Customers might come to their stores or use their e-commerce site with or without the fuel service. In any case I expect that Casey's will find a way to adapt.
Final Thoughts
I think that an important note that was not mentioned thus far is that growing companies like Casey's tend to evolve. For example, if Casey's stopped growing at the 2300 plus stores they had at the end of FY 21, then they could spend all their time working on efficiencies, applying vertical integration, taking advantage of synergies, and fine-tuning logistics to perfection.
But Casey's exists in only about a third of the country and they are rapidly saturating into those existing areas while working their way across to the rest of the country. Each time they add another block like the 137 stores that they added in Q2, then there will be some one-time costs. Also, it will take some time to bring the new stores into the processes and efficiencies to match the more mature locations. I expect that some of the cost increases in the last quarter were attributable to those causes, and in fact, the company did indicate that synergies were yet to be realized at those locations.
But the company keeps growing, and they recently announced another acquisition of 40 Pilot stores. Casey's has since revised its overall expected unit count addition for FY22 to 225 stores instead of 220. You would be right to think that eventually the additional stores could become such a small percentage of the whole to the point where increased costs at those stores would not adversely affect the whole too much. But you should also keep in mind that the bigger the company is, the more likely it can increase the percentage of new stores added each year.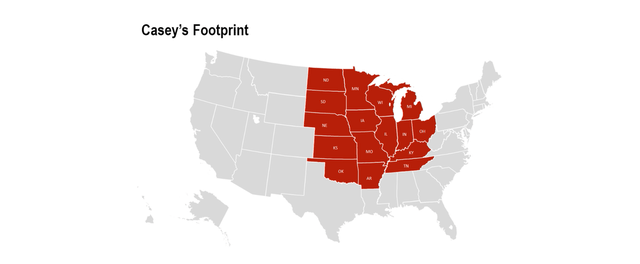 For Casey's there is still a lot of room to grow. If that is a problem, it may be a good one to have.