Curtis Blaydes is without a doubt one of the top heavyweights in the world at the moment. 'Razor' was set to fight 'The Black Beast' this past weekend.
However, a positive COVID test ruled Curtis out of the fight. 'Razor' is currently on a 4-fight win streak with two of those wins coming via stoppage.  He is in prime position to secure a title shot if he is able to overcome his next opponent. 
 It is extremely competitive at the top right now with Stipe Miocic as the champion and Francis as the number one contender. Curtis and Lewis follow closely behind as the next best fighters. The recent addition of former light heavyweight champion Jon Jones makes the scenario even more interesting. 
Read: Curtis Blaydes says he would rather fight a bum than Jon Jones for less money 
Chael Sonnen criticizes Curtis Blaydes
Curtis Blaydes recently stated that he would not fight Jon Jones for $200,000 as he can make that much fighting 'bums,' This did not sit well with Chael.
On the latest episode of his podcast, he said, "First off, he just dismissed 200 grand, which completely separated himself. It makes him look like an elitist and separates him from his fan base…..Blaydes now drove a wedge between himself and the working man, which is our audience, by dismissing $200,000. Not a smart move…..now, I know the reason why people were talking. Which is: you don't come to this from a competitive nature. Which is: you're only in it for the money"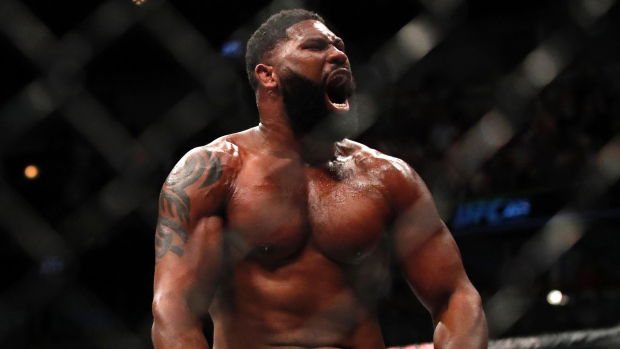 Sonnen continued, "Which is: you see some kind of value within a fight that has never been offered. Big fights, don't get offered over the telephone, Curtis. You versus Jon Jones is not a big fight, but if we, the masses, decide to make it one, it could be, it could. We have to be very happy with you and very happy with Jon to do you this tremendous favor of convincing people that we're willing to separate with our time and money to watch you guys fight. We now will never do that one because you're not like us. You don't see a value in $200,000."
'Razor' may have rubbed a lot of fans the wrong way with his recent comments. However, a fight against Curtis would be an excellent tune-up fight for Jones at heavyweight. 
Given that 'Razor' is a well-rounded fighter who has tremendous knockout power and also has good wrestling and grappling, he would be a tough fighter to get past for Jones and to test himself at heavyweight. 
What do you make of Sonnen's comments on Blaydes? Were they too harsh or is Sonnen right? Let us know in the comments below.
Continue the conversation on the app, join other MMA fans on MMA Fans App