That's it from me. Thanks for your company and emails – goodnight!
Thomas Tuchel's verdict
"It's been a very challenging week physically and mentally. The performance was very controlled, very serious. We took very good care of their counter-attacks. It was the kind of match where, maybe if you lose 1-0 from a set-piece, you have the feeling, 'Did we invest enough?' But it's very hard to invest because the opponent is prepared, they played a new system, they changed system twice. It's very, very hard and you cannot lose focus for one second. And if you win the game you say, 'We were very patient and very controlled', and we were.
"Ruben Loftus-Cheek was excellent. He was very, very strong against Southampton and Madrid and would have deserved to start, but honestly we expected a back four and we wanted more of a classic wing-back position. We also wanted Azpi on the field as our captain, but we knew Ruben could make an impact from the bench. We're very happy with him at the moment. He is always like this in training but sometimes he has hidden his potential in matches.
"I'm happy to be part of another FA Cup final. It's a huge competition; I'm very grateful and we will be ready."
Ruben Loftus-Cheek's post-match thoughts
"It's been a tough road for me, with injuries and going out on loan. But I always wanted to play for Chelsea and I've played quite a lot this season so I'm happy. I think the goal took a little deflection, but I'll take it! The noise was incredible and I'm overjoyed.
"It looked a bit slow in the first half so I wanted to bring a bit of energy. The reason why I'm still here is because of my mentality despite all the injuries – I keep going no matter what, and I've said for many years that my time would come.
"We want to get Liverpool back, simple as that. I thought the Carabao Cup final was a fantastic game that could have gone either way. We're looking forward to it, and hopefully we'll get our revenge."
"So it's Chelsea vs Liverpool again," writes Bilal. "How often has it happened that the same teams have contested the League and FA Cup finals in the same season?"
The last time it happened, and I think the only time, was when Arsenal beat Sheffield Wednesday in both finals in 1992-93.
22m ago

13.23
Full time: Chelsea 2-0 Crystal Palace
Peep peep! Chelsea will play Liverpool in next month's FA Cup final after a hard-fought win over Crystal Palace. After a quiet, attritional first hour, the substitute Ruben Loftus-Cheek gave Chelsea the lead after a mistake from Tyrick Mitchell. Mason Mount's classy second goal ensured that Chelsea reached the FA Cup final for the fifth time in six seasons. Palace can have no complaints, but nor should they have any regrets.
90 min: Lukaku hits the post! Werner scurries into the area on the left and puts it on a plate for Lukaku, who somehow hits the post from seven yards. Ziyech's follow-up is blocked desperately on the line, I think by Guehi.
89 min The player of the match is Timo Werner, who made the second goal and troubled Palace all day with his movement.
88 min The match is petering out. Palace have given everything but Chelsea are heading for yet another FA Cup final.
85 min Meanwhile, Palace bring on Luka Milivojevic for Cheikhou Kouyate. And Rudiger is going to continue.
84 min Rudiger is down with what looks like a thigh or groin problem. Chelsea have used all five substitutions, though they will get a sixth if this goes to extra-time.
82 min Chelsea make their fifth substitution – Thiago Silva comes on for Andreas Christensen.
81 min Ziyech shoots straight at Butland from long range.
78 min: What a chance for Andersen! Palace should be back in it. Olise's inswinging corner from the right was helped on by Ayew, and looped towards the unmarked Andersen beyond the far post. But he jumped too early and headed over the bar from four yards.
77 min A triple change for Chelsea: N'Golo Kante, Hakim Ziyech and Romelu Lukaku replace Jorginho, Mount and Havertz.
Mason Mount has made it 2-0 with a lovely finish. Werner, on the left side of the area, made the goal with a nice square pass to Mount, just inside the penalty box. He took it neatly in his stride, escaping Andersen in the process, and opened his body to sidefoot the ball into the far corner. That's a fine goal.
40m ago

13.05
GOAL! Chelsea 2-0 Crystal Palace (Mount 76)
Chelsea will be coming back to Wembley next month.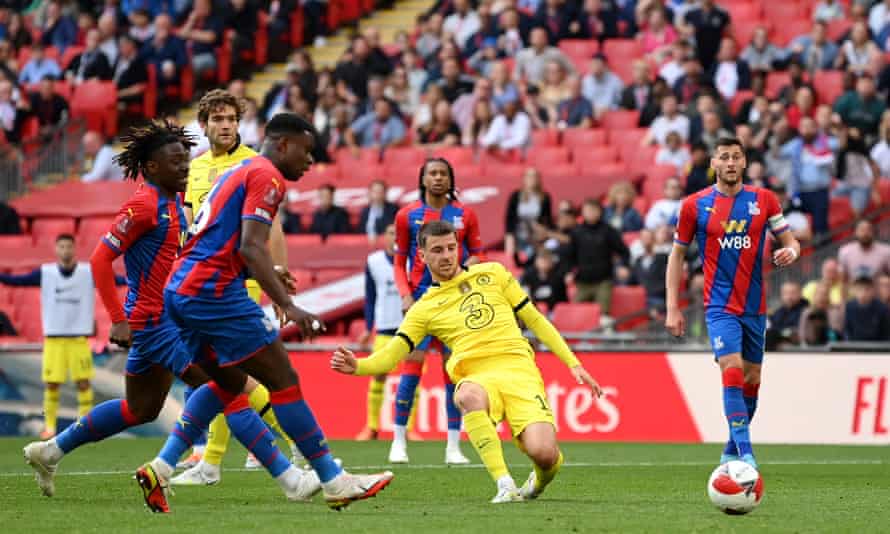 74 min Ayew plays a clever pass into the area for Zaha, who takes it away from the outrushing Mendy. The angle is too wide for a shot so he hits a cross on the turn instead, and eventually the attack peters out.
72 min A double change for Palace: Christian Benteke and Michael Olise replace James McArthur and Jeffrey Schlupp, so Patrick Vieira is going for it. And why not.
71 min Here's Ruben Loftus-Cheek's goal.
70 min Palace are readying Christian Benteke.
69 min All of a sudden Chelsea have a bit of a strut on. It's a long way back from here for Palace, who have been in counter-attacking mode all afternoon.
67 min That's Loftus-Cheek's first goal for Chelsea in three years, it says here.
Actually, it took a deflection, not that Loftus-Cheek will care. After Mitchell was caught in possession, Havertz's cross from the right hit Guehi and bounced towards the edge of the area. Loftus-Cheek ran onto the ball, twisted his body and slapped a shot that hit Andersen and flew into the net.
50m ago

12.55
GOAL! Chelsea 1-0 Crystal Palace (Loftus-Cheek 65)
Ruben Loftus-Cheek gives Chelsea the lead with a sizzling finish!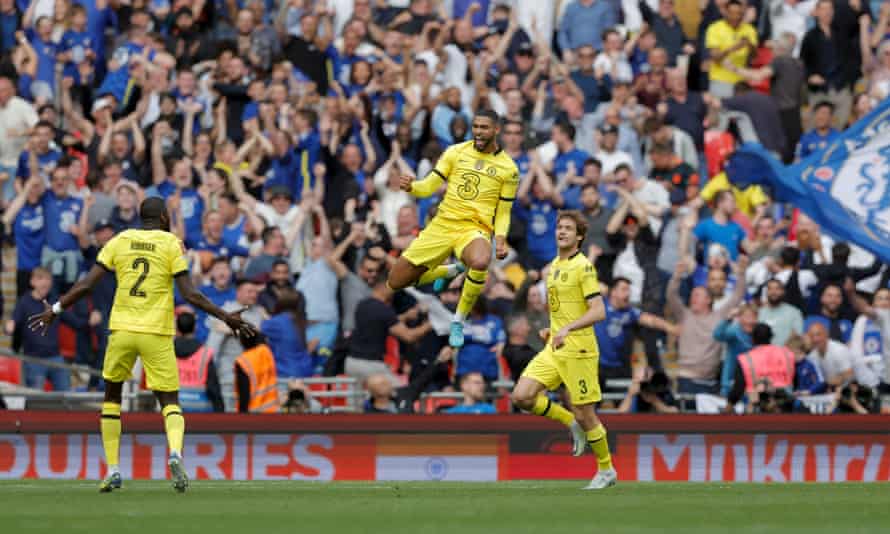 63 min Azpilicueta's dangerous cross is headed away well by Andersen in the six-yard box. Palace have defened admirably.
61 min: What a chance for Palace! Eze's inswinging corner is shouldered just wide by Kouyate, who mistimed his attempted header. With a clean connection he would probably have scored.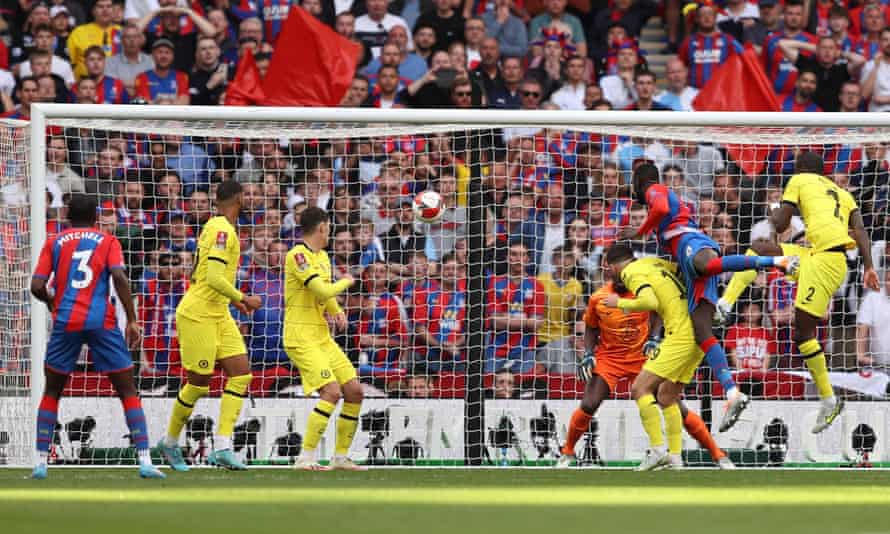 60 min Zaha beats Christensen on the right and angles a deep cross that is headed behind by Azpilicueta.
60 min "This," says Ian Copestake, "could go on forever."
59 min Chelsea are completely dominating possession, with around 70 per cent in the match, but they still haven't created a clear chance. It's been an attritional game.
57 min I say 3-4-3; really it's a 5-4-1.
56 min It looks like Palace have switched to a 3-4-3, with Ayew wide on the right, Eze wide on the left and Zaha the lone striker.
54 min A change for Palace – Jordan Ayew replaces Jean-Philippe Mateta.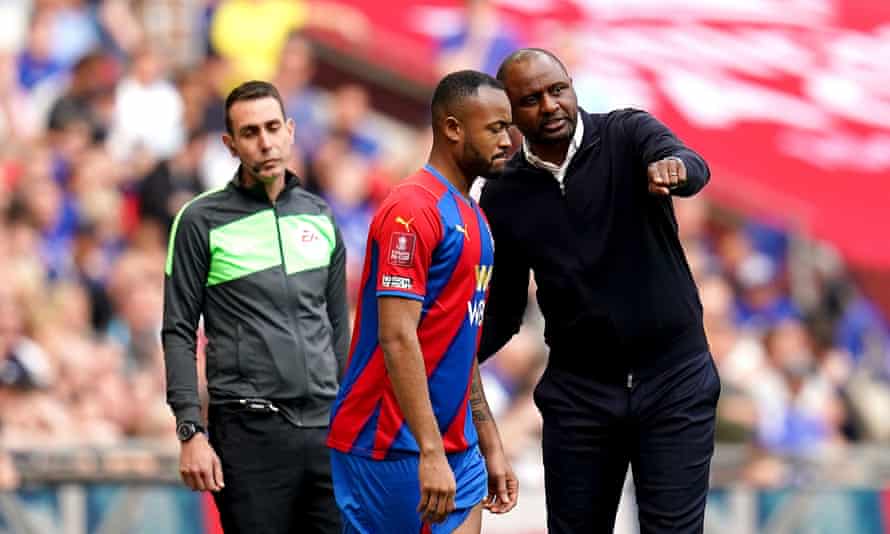 53 min A Palace free-kick is headed up in the air by Kouyate and claimed under the bar by Mendy.
52 min Rudiger hoofs well wide from distance.
51 min Loftus-Cheek takes a return ball from Jorginho and stabs a clever through pass towards Werner, who is eased away from the ball by Kouyate in the six-yard box. Good defenduing.
49 min Mount blazes over from distance.
48 min Chelsea have picked up where they left off at half-time, moving the ball from side to side in pursuit of an opening. Nothing doing so far.
46 min Peep peep! Chelsea begin the second half.
"If Chelsea are the designated home team," asks Gary Byrne (and others), "why are they wearing yellow?"
I have no idea. You're welcome!
Half-time reading
1h ago

12.19
Half time: Chelsea 0-0 Crystal Palace
Peep peep! An uneventful half comes to an end. Chelsea dominated possession, but Palace came closest to scoring when Cheikhou Kouyate's volley was pushed away by Edouard Mendy. See you in 15 minutes for the second half.
45 min There will be two added minutes.
42 min More importantly for Palace, at this stage, they have looked really solid defensively. The only saves Jack Butland has had to make have been relatively comfortable.
40 min There have been some promising breaks from Palace, usually involving Zaha, but their final pass has either been ill-conceived or poorly executed.
39 min "In last year's final Tactics Tom did similar stuff with James at centreback to counter the threat of Vardy and that didn't work," says Yash Gupta. "Plus this positional switch took away attacking impetus from Chelsea's right-hand side. If anything Palace have a decent chance."
38 min Havertz is booked for diving in the Crystal Palace area after a challenge from Guehi. Chelsea wanted a penalty but replays showed it was a brilliant and brave decision from Taylor.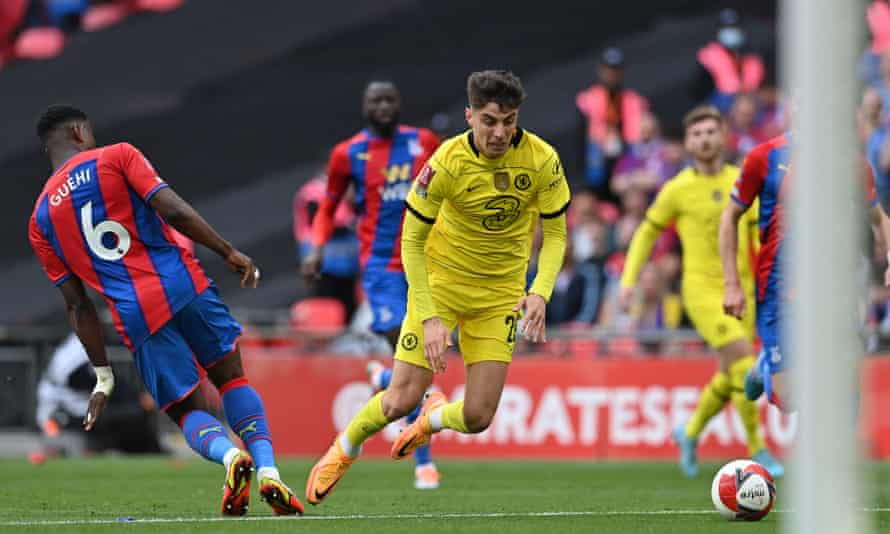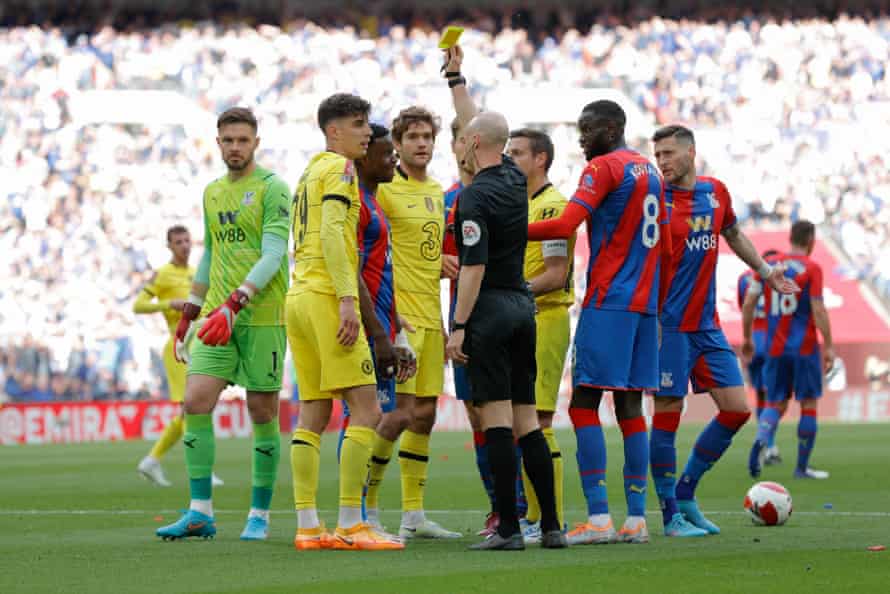 undefined
38 min "This," says Joe Pearson, "is not nearly as fun as yesterday's semi."