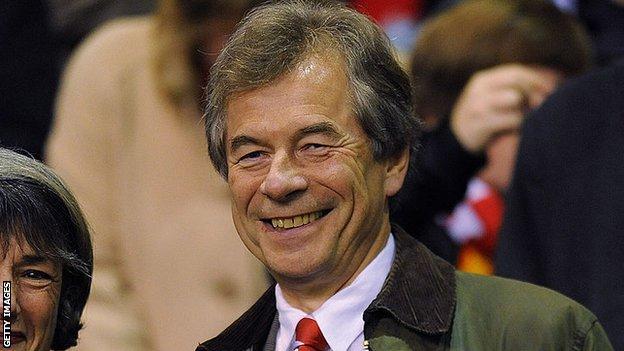 The consortiums involving ex-Liverpool chairman Sir Martin Broughton and Los Angeles Dodgers co-owner Todd Boehly have made the shortlist of bidders to buy Chelsea, representatives of the groups have told the BBC.
Around six groups are thought to have lodged a bid for the Premier League club before last Friday's deadline.
A shortlist is being established before a preferred bidder is announced.
On Thursday, the Saudi Media Group said it had not made the shortlist.
British multi-millionaire businessman Nick Candy's bid has not made the shortlist either.
Sources close to his Blue Football Consortium claim they have been asked to speak to other bids and that those talks are now under way.
Another frontrunner, the Ricketts family, who own the Chicago Cubs, are still awaiting an update on their bid.
Chelsea Supporters' Trust said on Friday it "still has concerns about the ability of the Ricketts family to run an inclusive, successful club".
Having met the Ricketts family this week, the CST added: "If they are unable to address these and gain the confidence of supporters, we do not believe it would be in the best interests of our members for the bid to succeed."
Chelsea have been granted a special licence by the UK government to continue operating after owner Roman Abramovich was sanctioned for his alleged links to Russian president Vladimir Putin.
Russian billionaire Abramovich is seeking £3bn for the sale, but the proceeds will go to a charitable foundation or a frozen account with approval from the government.
Any sale must be signed off by the Premier League's owners' and directors' test.
It is understood bids are being assessed on their valuation of the club, their working capital commitment, their source of funds, the speed and certainty with which they can close the transaction and their background in sport.
Who are the frontrunners bidding to buy Chelsea?
American investment firm Raine Group has been tasked with selling Chelsea and the UK government is expected to issue a new licence, allowing the club to be sold once a preferred buyer has been highlighted.
Raine informed unsuccessful bidders they were out of the running on Thursday before beginning the process of confirming its shortlist.
Former British Airways chairman Broughton, who is a lifelong Chelsea fan, said fans would be "at the heart of decision making" if their bid was successful.
The 74-year-old added the group was "committed to ensuring Chelsea maintains its preeminent position at the top of European football".
Broughton's consortium includes London 2012 chief and current World Athletics president Lord Coe.
American billionaires and minority Crystal Palace shareholders Josh Harris and David Blitzer are significant investors in the consortium led by Broughton.
The pair co-own NBA team the Philadelphia 76ers and it is thought they would need to sell their shares in Palace if their bid is successful.
US businessman Boehly's bid is part of a consortium that also includes Swiss billionaire Hansjorg Wyss.
They are joined by American PR executive Barbara Charone, British businessman Jonathan Goldstein and British journalist Daniel Finkelstein.
The group is working with US-based investment firm Clearlake Capital, which has about $60bn (£45.6bn) of assets under management.
Meanwhile, the Ricketts family, who own Major League Baseball team the Chicago Cubs, are leading a bid from a group of investors which includes US billionaire hedge fund manager Ken Griffin.
The Ricketts-led group believes its renovation of Chicago's Wrigley Field stadium proves it is a strong candidate given the work required at Stamford Bridge.
However, the bid has been criticised after it emerged that Joe Ricketts was accused of Islamophobia three years ago.
Property investor Candy's bid was supported by former Chelsea striker Gianluca Vialli, co-owner of Tifosy, the mergers and acquisitions company for the football sector, along with Hana Financial Group and C&P Sports Group.
When will a deal be done?
Chelsea have been operating under a special licence since Abramovich had his assets frozen by the UK government on 10 March.
That license ensures Chelsea's 800 staff – plus hundreds more on matchdays – are paid, and allows existing season ticket holders to attend matches.
A new licence will need to be issued for the club to be sold.
Abramovich values Chelsea, which he bought in 2003 for £140m, at £3bn. He has lent the club £1.5bn but said he will not ask for any loans to be repaid.
The funds from the sale could go to a charitable organisation or into a frozen account.
The Premier League's chief executive Richard Masters said earlier this month that the quickest sale of a club had been 10 days, but added "that's not to say it can't be beaten". Masters also said the process typically lasted "a matter of weeks".
The Premier League is reviewing its owners' and directors' test in light of the Chelsea situation, after a Saudi Arabian-backed takeover of Newcastle United in October 2021 had already placed pressure on the test.
From the shortlist established by Raine, the next step is for a preferred bidder to be selected.
At that stage, government approval will be sought and this will involve proving the source of funds – and where the money goes next.