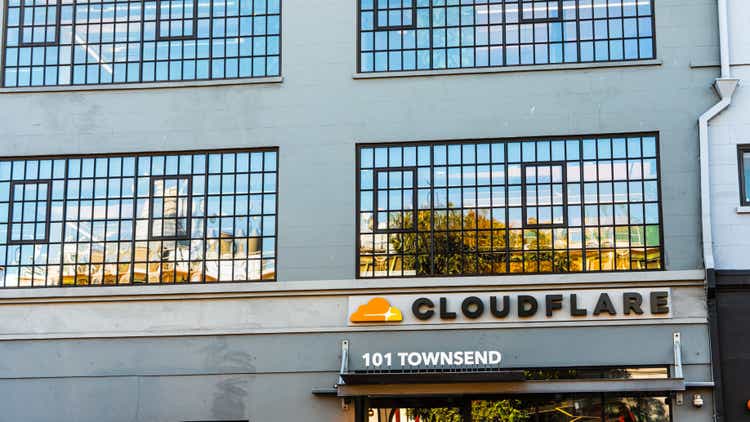 Background and Previous Article
Cloudflare (NYSE:NET) has many growth opportunities due to its variety of products and competitive advantages. Currently, the company operates as one of the most innovative data companies. Cloudflare has managed to pivot away from its existing growth model and dive deep into the future of enterprise infrastructure and the technology stacks around them. This is an immensely profitable business in which Cloudflare is bringing in proprietary AI and ML to help build out the core technology infrastructure it has already built.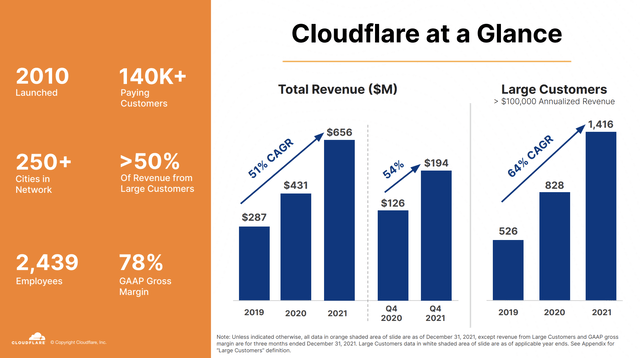 Currently, Cloudflare has a high CAGR and large high-paying customers. These will support the international growth as well as the expansion to become. More than 50% of revenue is from large consumers who will only play into Cloudflare's hands as it plans to operate the digital infrastructure in these emerging markets.
Business Developments are Focused on International Demand
The future international demand for data storage and networking capacities far exceeded the current supply. This disparity is due to the physical hardware restrictions that affect the overall level of software consumers in these areas. Overall, Cloudflare is seeking to be the vendor for its two main markets for international enterprises. Cloudflare can accomplish this by utilizing existing relationships with prominent software vendors to enable enterprises in emerging markets to have access to the leader in DDoS threat migration and content delivery networks for data. These products will help alleviate data cost risks for enterprises in underserved markets.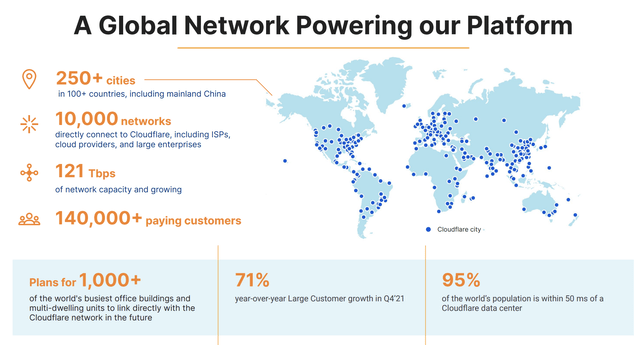 Currently, Cloudflare is not only in the US but is in 250+ cities worldwide, with many paying consumers. Because of this company's clientele network, it plans to support 1000+ office buildings to switch to Cloudflare's services. This switch will be a real test for consumer commercialization, which would help raise the stock's earnings multiple.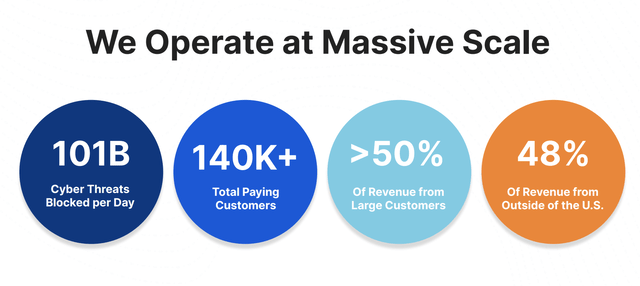 Currently, Cloudflare is much bigger than the market can suggest. With barely under 50% of the revenue from outside the US, it's easy to see how Cloudflare would want to do its best and penetrate those markets. The sheer number of cyber threats details the exact scale and range of threats that Cloudflare covers. These will help fuel future revenue growth because it just adds to the proof that Cloudflare's technology can take on a variety of problems efficiently and quickly.
International Expansion is an Intelligent Decision by Management
The expansion decision was intelligent because basic business fundamentals backed it. Even though Cloudflare hasn't reached profitability, its margin and expense profile make it a smart decision to branch out and cover more ground. At the same time, it is subject to positive economic fundamentals, which bolsters the outlook for Cloudflare. I look forward to the applications Cloudflare can have with existing international customers.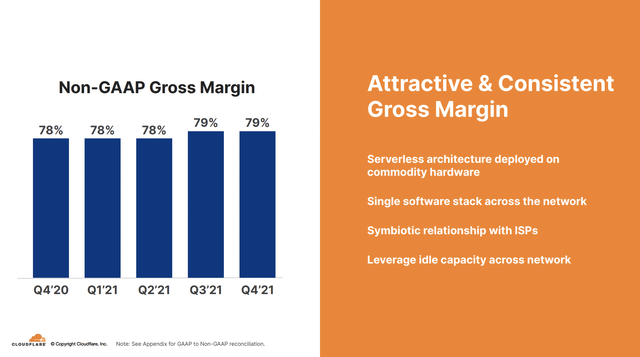 The gross margin profile is stable and preparing Cloudflare to earn enough to make the international expansion. Even though the company is unprofitable, it needs a backstop, so it doesn't enter a debt spiral. Management is savvy enough to avoid a horrendous situation and raise capital while maintaining robust growth expectations.
Risks will Persist for Some Time
There are still a variety of risks associated with Cloudflare branching out internationally. Management makes intelligent decisions, although its expansion globally does present risk. I would also like the company to expand domestically despite the more competitive market. This is because Cloudflare needs a more significant base to complete its objectives. A company like Cloudflare has managed to do that, and it runs its international business with high growth rates while maintaining strong connections at home.
Valuation Needs the Fluff Exposed
There is clear fluff in the valuation that needs to be understood before buying Cloudflare. Currently, the company is not profitable and has solid margins but fails to deliver earnings. According to guidance, profitability should come in 2023 or 2024. However, it may take longer. That is a long time for investors to wait. Keep in mind a company like Cloudflare is a growth investment based upon the solid international fundamentals the company has created for itself. I compared Cloudflare to three very different companies. Firstly, I used Twilio (TWLO), the contact center giant, whose market cap mimics that of Cloudflare. I also used the DevOps company MongoDB (MDB) and the identity and access management company Okta (OKTA).

Earnings-wise, Cloudflare has outplayed its tech peers. One such peer, Twilio, has taken a back seat in earnings growth. Cloudflare is now the black horse of the space, slowly taking market share from giants that were one wall street darling and are now taking the hit. Business development-wise, Cloudflare has a good niche that it can fill.

The gross profit margin shows that Cloudflare is leading its sector in return on capital invested. Cloudflare can continue to use this momentum to expand internationally. The company's solid earnings and product momentum are key reasons it is better positioned to benefit from international connections than competitors. The infrastructure is there, and so are the relationships. All Cloudflare needs is to execute on its milestones and impress investors during earnings season.
Conclusion and Rating
Cloudflare has taken a hit with the rest of its industry. However, it is better positioned to benefit from international macro movements than competitors. This is due to its superior products and technology stack. I rate Cloudflare a buy at current levels and look forward to seeing what the company has to offer in future developments.