March 23, 2022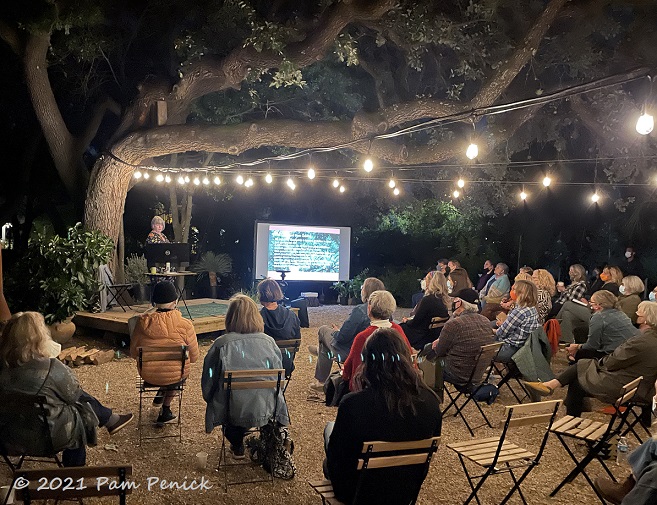 Five years ago I started a speaker series about garden design, asking designers and landscape architects I admired, garden authors I found interesting, and other design thinkers to come share their ideas. I called it Garden Spark, with the tagline "garden design talks for thinking gardeners." It was an attempt to bridge a gap in learning opportunities in the Austin area, a niche filled on the East Coast and West Coast by highly regarded flower and garden shows, regular Garden Conservancy events, and an abundance of print media attention.
OK, it was a one-plank footbridge across that gap, since I was hosting the talks out of my not-especially-large living room. But I was thrilled with the response. Each talk sold out quickly, and enthusiasm was high. People were soon attending not just from Austin but surrounding cities, a few even driving in from San Antonio, Houston, and Dallas.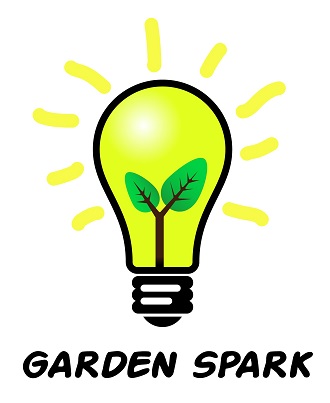 I attracted speakers by offering a generous speaking fee (helpful for those who must travel to get here) and (particularly for busy local designers) by encouraging them to be part of the design conversation here in Austin. For that's what I saw it as — a design conversation. I'd been inspired by reading about L.A. designer Dustin Gimbel's Cross-Pollination garden parties, a mingling mashup of garden designers, gardeners, artists, writers, and other creatives interested in gardens. Garden Spark was — and still is — a chance for Austin gardeners, designers, and garden thinkers to come together to learn and mingle before or after the talks.
For the first 4 years I hosted 3 or 4 speakers per season. Then COVID happened, and Garden Spark was put on pause. But last fall Garden Spark returned for its 5th season with its biggest slate yet: 6 speakers I'm super excited about and in a brand-new location, an outdoor classroom at Barton Springs Nursery that can seat up to 50 people! Far more than my living room can accommodate, plus fresh air, lots of plants, and string lights under a gorgeous old live oak. Barton Springs Nursery's sponsorship of Garden Spark with a beautiful location and their truly hospitable staff has been a game-changer for me. More speakers, more attendees, more idea sharing!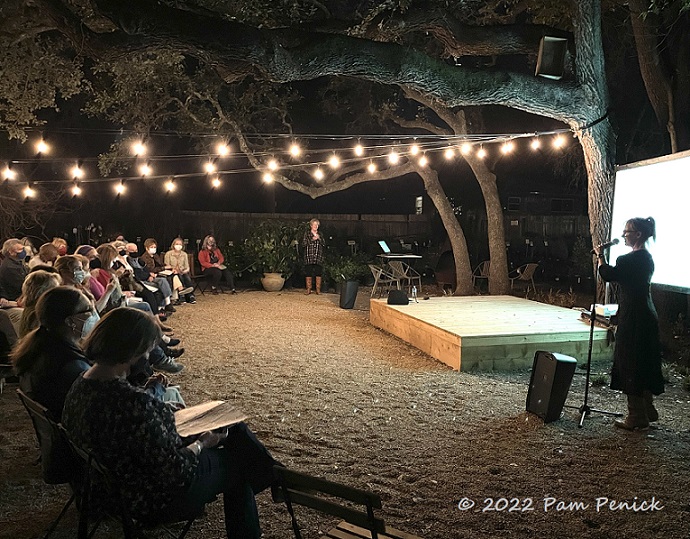 I don't regularly write about Garden Spark here because the talks are private events, with tickets sold in advance to subscribers on my Garden Spark email list. (Simply click this link and ask to be added.) That's because I started out hosting talks out of my home, like a house party for a musical group. Garden Spark subscribers get notified first when tickets go on sale, and talks usually sell out in a matter of hours.
Tickets are available
If you're reading this and aren't on my email list, and you're interested in attending a Garden Spark talk, this is your opportunity! I released tickets for the next talk during spring break — oops! — and because many people were probably out of town or at SXSW, there are still a few seats left. So I'm opening them up to readers who may not have known what they are missing! All you need to do is email me — put "tickets" in the subject line — and I'll send you the ticket-page link.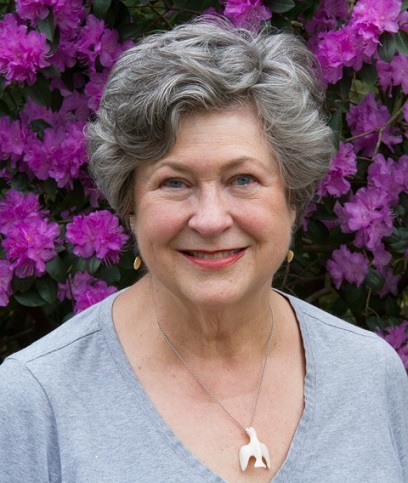 My speaker on April 7th is Patterson Webster, who's coming all the way from Canada. I met Pat on a garden tour a few years ago and was immediately impressed by her experienced eye for garden design and the wide range of gardens she'd toured. Her blog, Site & Insight, is her thoughtful outlet for long-form articles about design and art. It's well worth a read. I'm delighted that she's coming to Austin to share her insights about designing with garden art, gleaned from her travels and from home-grown gardens she's visited. I'm also hoping some bluebonnets will hold on for her, as she's eager to see Texas wildflowers while she's here.
Here are the details:
Talk: Patterson Webster presents "Art In the Garden: What, Where, Why"
When: April 7th at 8 pm
Description: Does art enhance a garden or detract from it? Does it reveal something about the site and enrich the experience of being there? And if not, why use it? Using photographs from private gardens in Canada, the United States, and Europe, Pat Webster looks at important issues about using art outdoors. She starts by considering what constitutes art in a garden – the "what" of her title – and goes on to examine practical questions. How do shape, size, and color relate to the choice of location? What is the impact of different types of material? How do these choices influence our emotional responses to the surroundings? Focusing on high and low art, permanent and ephemeral, she considers how the choices we make express our personal taste and what they reveal about the way we relate to the world around us.
Speaker Bio: Pat Webster is an experienced gardener, garden writer, and popular speaker, lecturing on art, garden history, and design. She is an artist whose sculptures, photographs, and garden installations explore the landscape and history of Quebec's Eastern Townships. For the last five years she has also hosted sold-out garden tours to England and Italy. Pat's articles about gardens and garden design have appeared in numerous publications, including the British garden website ThinkinGardens, where her most recent piece was about using words in the landscape. In her blog Site & Insight, she writes about her work at Glen Villa, her garden in Quebec, Canada. She reviews gardens she has visited, tackles questions about garden design, plant selection, and maintenance, and illustrates each article with her own photography.
A native of Richmond, Virginia, Pat holds two honorary doctorates and has served on the board of directors of a variety of not-for-profit organizations. She lives in North Hatley, Quebec, where she is responsible for her family's 750-acre lakeside property and garden – a place she and her husband are delighted to share with their five children and eleven grandchildren.
Cost: Ticket price is $35, plus a small fee that goes to the ticket-processing website. Your attendance helps cover a fair speaking fee for our presenter and other expenses, and collectively we're able to bring talented design thinkers to speak to us!
Where: Barton Springs Nursery on Bee Cave Road in Austin. Tickets must be purchased in advance; no walk-ins.
How to Attend: All you need to do is email me — put "tickets" in the subject line — and I'll send you the ticket-page link.
I hope you can attend! And by the way, a big thank you to all the wonderful folks who've ever attended a Garden Spark talk — especially my regulars! — and to the design thinkers who've taken the time to share their ideas and inspiration with us as speakers.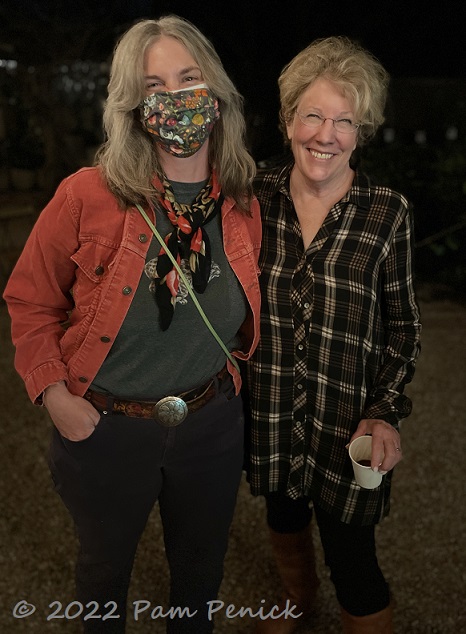 I welcome your comments. Please scroll to the end of this post to leave one. If you're reading in an email, click here to visit Digging and find the comment box at the end of each post. And hey, did someone forward this email to you, and you want to subscribe? Click here to get Digging delivered directly to your inbox!
_______________________
Digging Deeper
Need design help with your yard? Hire me as your personal garden coach! Maybe you need replacement plant ideas after the big freeze. Or maybe your landscaping has grown tired, and you want fresh curb appeal. Or perhaps you're ready to get rid of some lawn and create a pollinator garden, bird habitat, or hangout space for you and your friends. I'm here to help! Contact me to let me know what's going on, and let's figure it out together. My range is Austin and suburbs within a 25-min. drive of NW Austin, but I'm flexible and can travel farther with a surcharge, so let me know where you are. Weekday morning appts. only.
Learn from gardening experts at Trowel & Error, the annual symposium at Mayfield Park in West Austin. After a 2-year COVID hiatus, the symposium returns on Saturday, April 2, from 9:30 am to 1 pm. Designer Colleen Jamison will be speaking at 11 am, along with entomologist Wizzie Brown at 10 am and rose expert Theresa Anderson at noon. Located at Mayfield Park, 3505 W. 35th St. A suggested donation of $5 gets you in.
Join the mailing list for Garden Spark! Hungry to learn about garden design from the experts? I'm hosting a series of talks by inspiring garden designers, landscape architects, and authors a few times a year in Austin. Check out the 2021-22 schedule. These are limited-attendance events that sell out quickly, so join the Garden Spark email list to be notified in advance. Simply click this link and ask to be added.
All material © 2022 by Pam Penick for Digging. Unauthorized reproduction prohibited.