March 30, 2022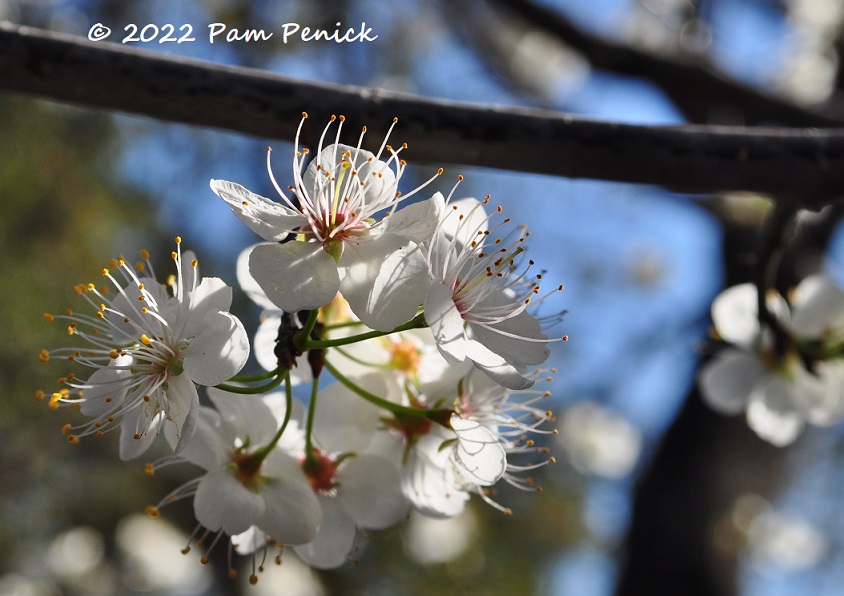 She ran late by a week or two, but Spring finally made up her mind and sprung. Last week ornamental trees like Mexican plum (Prunus mexicana) flushed into flower as live oaks overhead began their annual mass shedding of "evergreen" leaves. It's autumn and spring all at once in my garden!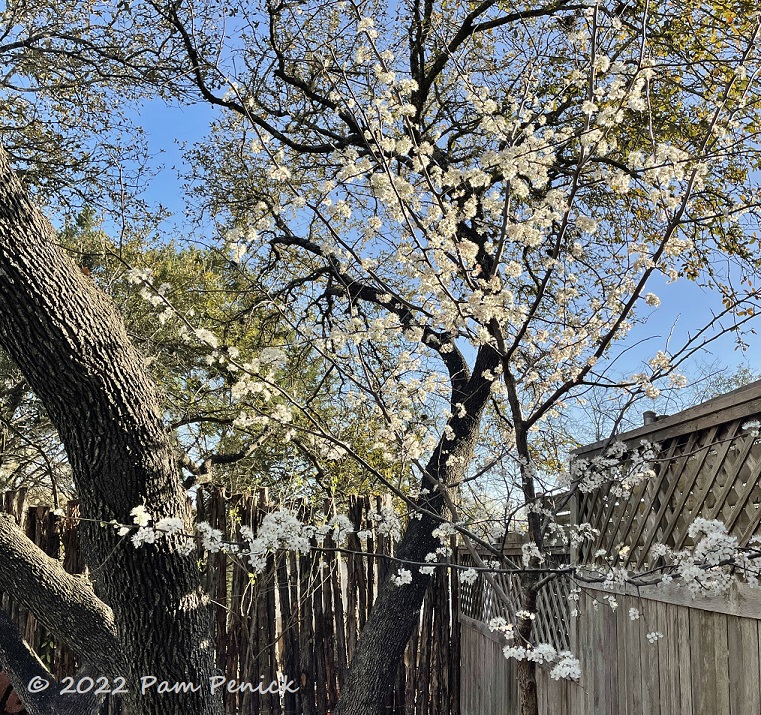 This understory Mexican plum is finally getting some height and showing off lots of flowers about 5 years after planting.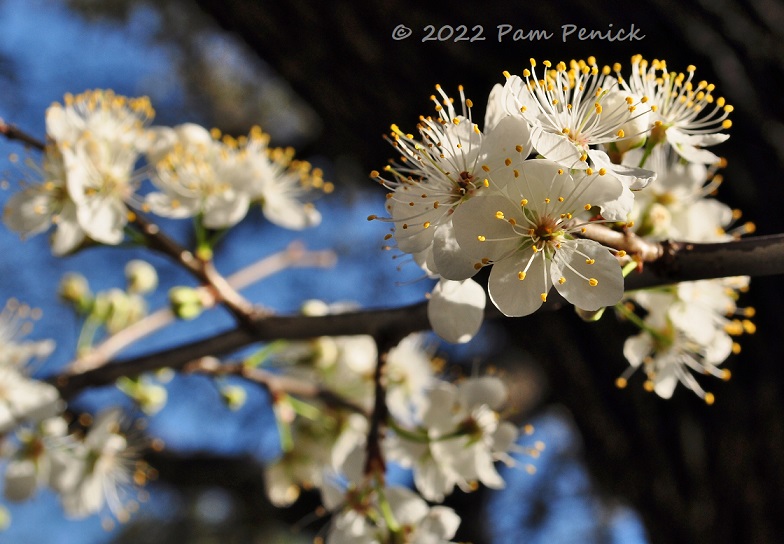 Bees and other pollinators love the flowers.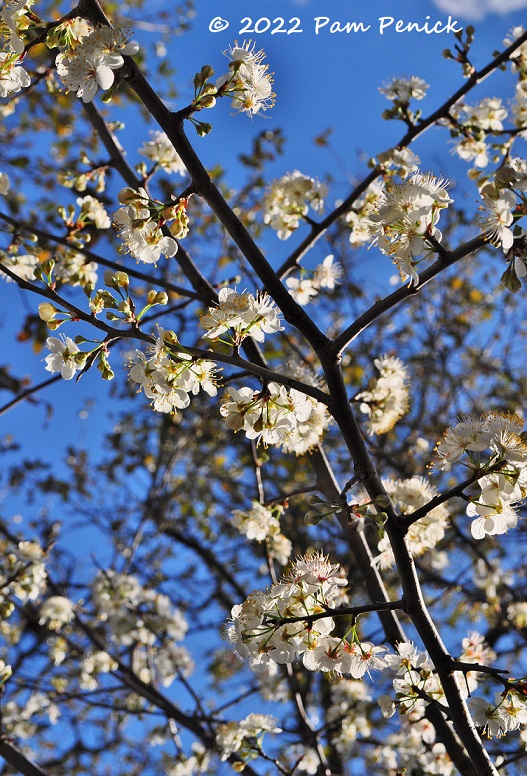 The white blossoms look so pretty against a deep-blue sky.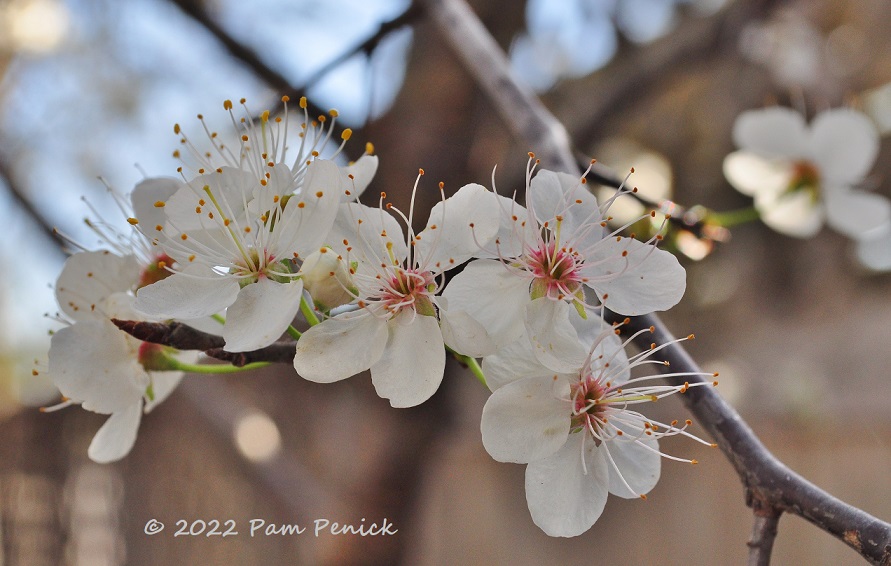 And they smell good too — not too sweet and kind of spicy. The fragrance wafts across the garden.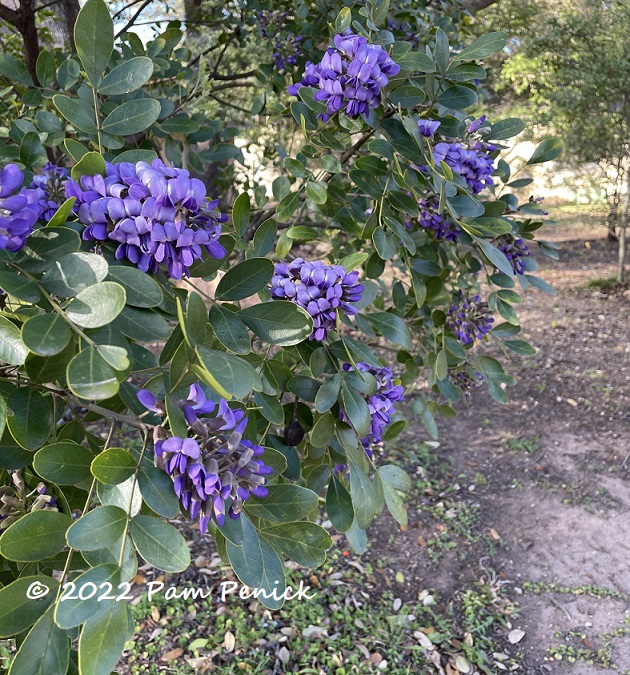 You want sweet? Bury your nose in the purple gorgeousness of Texas mountain laurel (Sophora secundiflora). Ahhh, that grape Kool-Aid smell! After taking a hit in last year's Freezepocalypse and not flowering at all in 2021, the survivors — even the maimed — are putting on the best show in years. Gardeners all over Texas are remarking on it. The one pictured above is a neighbor's tree.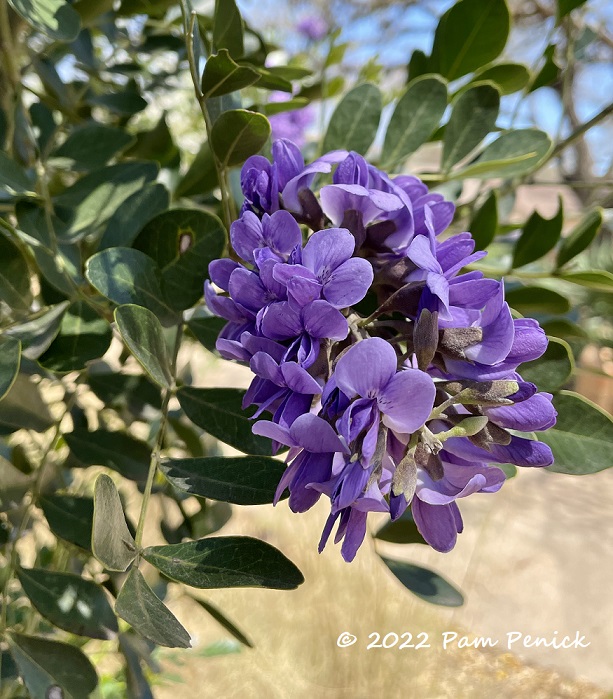 I have one too — the sole survivor after last year's freeze took out my biggest and oldest one. This one means more to me though. My daughter grew it from seed in middle school — it was a class project — and now it's about 9 feet tall and blooming beautifully.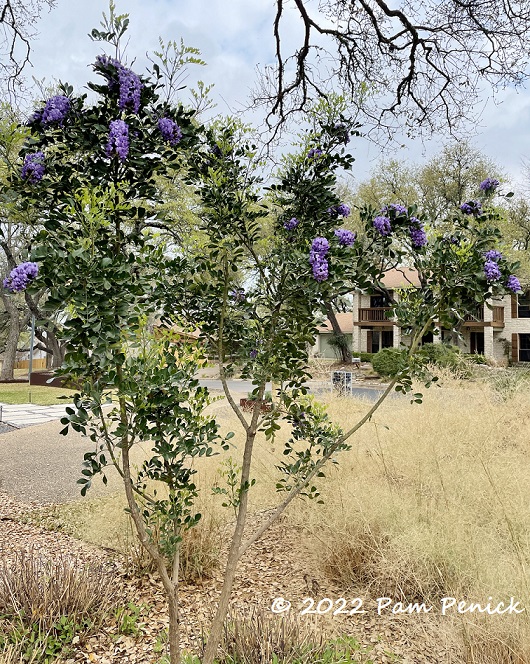 It still looks wintry around it though. The straw-colored grass is bamboo muhly (Muhlenbergia dumosa), which got bleached by the (second in a row) hard winter. It'll green up again soon. The cut-back plants are Mexican honeysuckle (Justicia spicigera), which after a normal winter (remember those?) would be blooming about now. Ah well, maybe by early summer.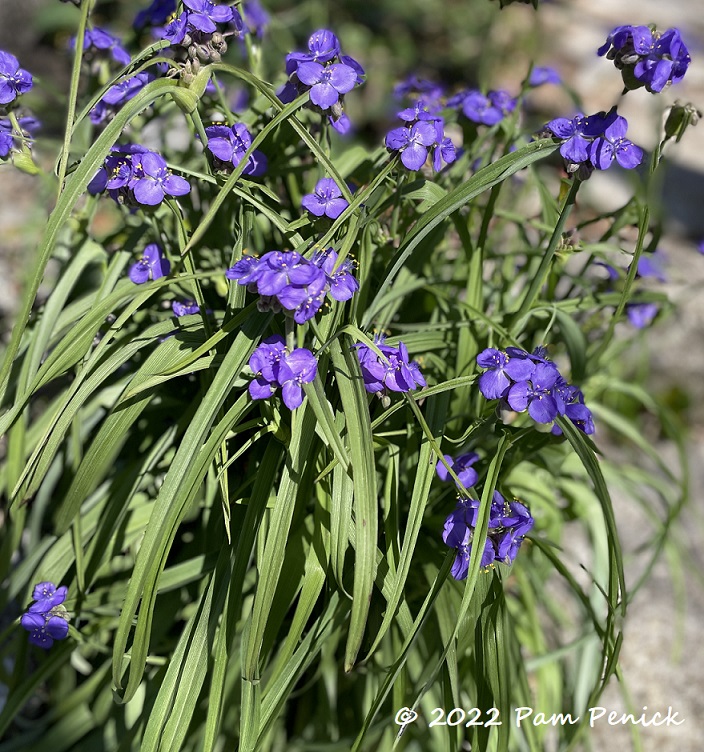 Native spiderwort (Tradescantia occidentalis) is blooming all over the back garden, having seeded itself in nooks and crannies in the shade and in morning sun. I just yank up the ones I don't want, or where it seems overly weedy. But mostly I approve of Mother Nature's design sense. The bees love this one too.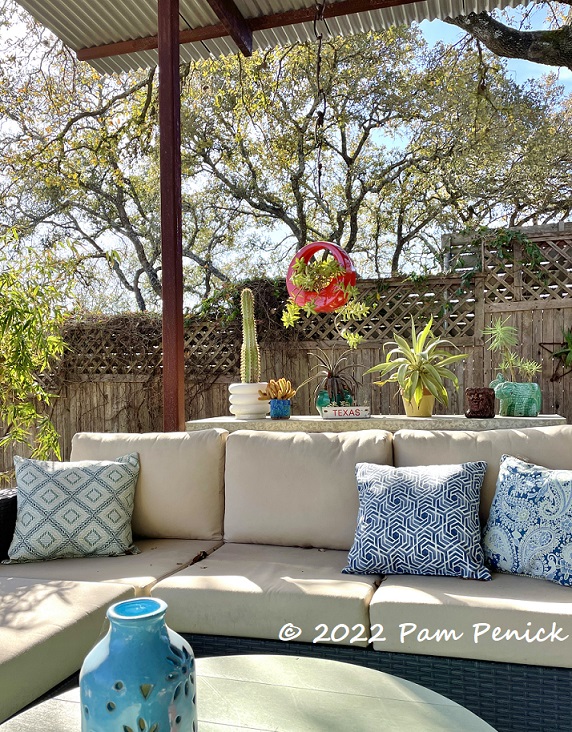 After schlepping my small succulent pots in and out of the garage all winter, they're finally back out on the porch, soaking up the sunshine (bright shade, mostly) and warmth of our recent string of upper 80-degree days. The red Circle Pot is a new addition to the porch, after hanging from a tree in the lower garden for years. I like the height it adds to the eclectic tabletop pot display.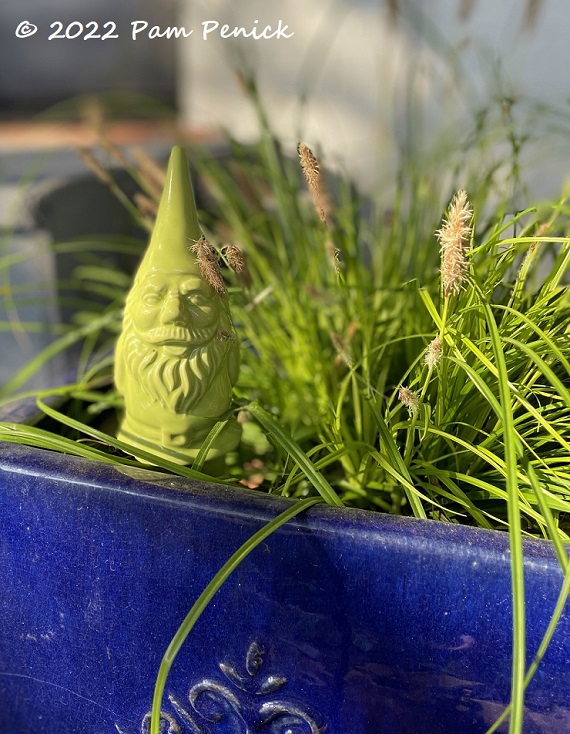 Sedge (Carex leavenworthii) is blooming in a pot, supervised by a matching gnome.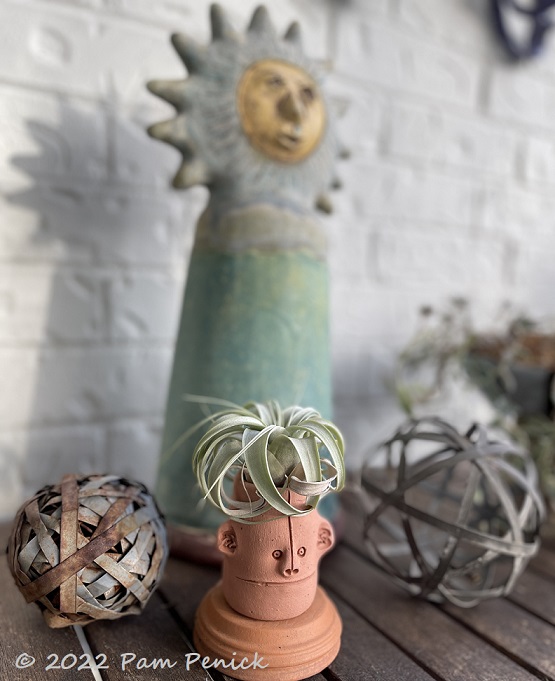 A few other faces keep me company here too, like the one on this little mezcal shot cup I found at Ceremony in Wimberley. He sports a tillandsia hairdo.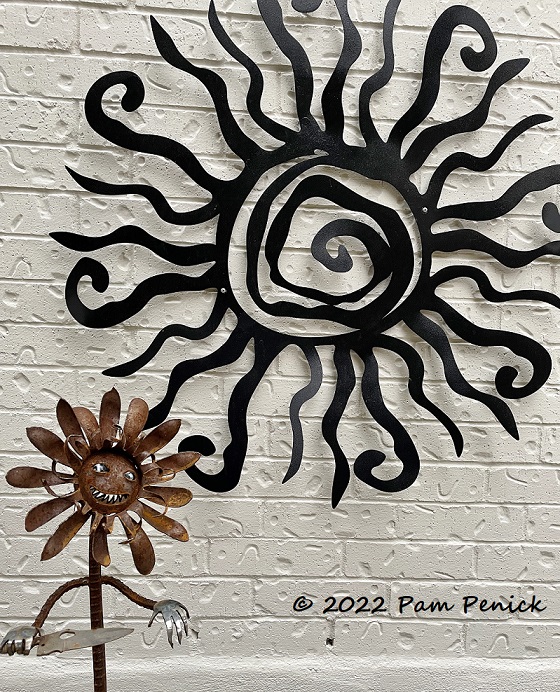 Huh, I'm noticing a theme of circles, suns, and faces in my garden art. Because we recently took everything off the house to have it painted, I had an opportunity to rethink what to keep and where to put it. I discarded some old stuff that was falling apart and made new combos, like this one: Death Star and Killer Flower. Better watch your step!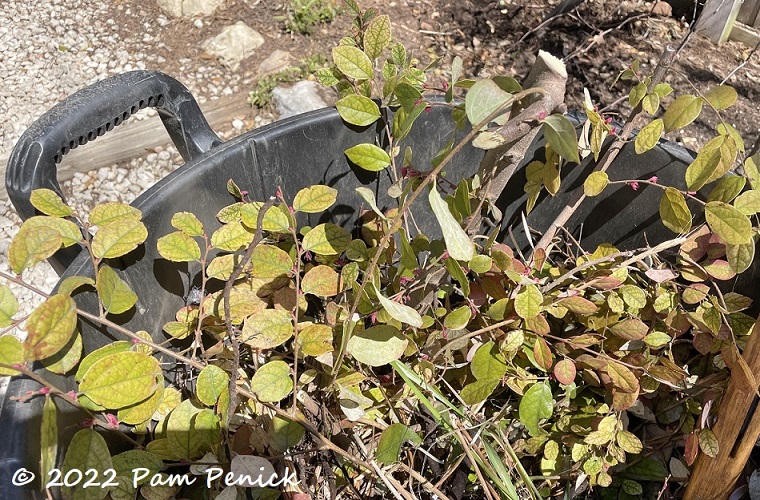 I've also taken a few plants out this week, including some loropetalums. They were beautiful shrubs before the Freezepocalypse, which killed them to the ground. But even though they returned from the roots, their new growth has been sickly, yellow, and anemic. No amount of compost or acidifying MicroLife fertilizer seemed likely to improve them, so I've been digging them up. Yep, even a year out from that awful freeze, the impact is still being felt.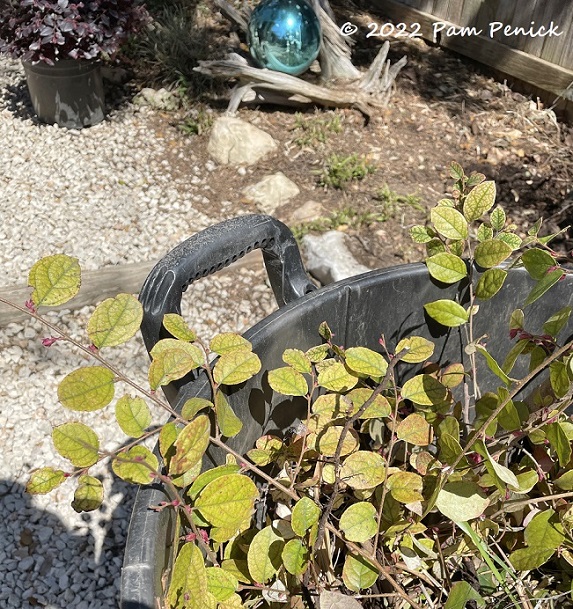 I neglected to get a decent pic of its replacement, but in the photo above, at upper left, you can see its rich purple foliage. It's another loropetalum! I'm not letting that freeze scare me off planting them again. The dark foliage and pink flowers are just too pretty to do without. This time I'm trying 'Cerise Charm'. But I'm still hunting for a replacement 'Sizzling Pink', so if you see one for sale in Austin, please let me know!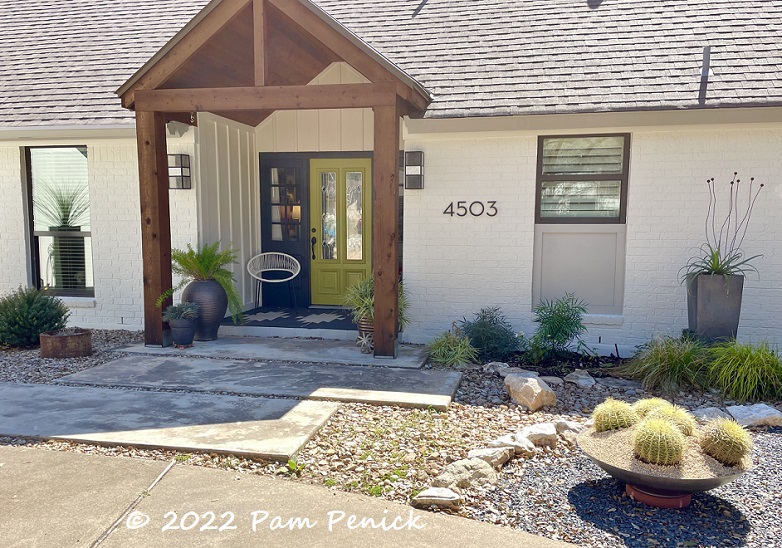 Out front a Corten dish planter stuffed with golden barrel cacti is new. My neighbor inherited the cacti and was looking for a good home for them, and I said, they can come live with me!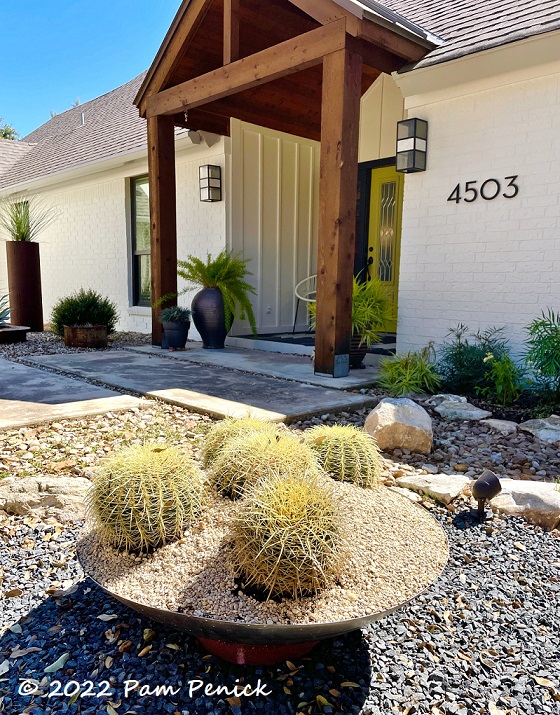 They harmonize with my new Wasabi door color and gave me an excuse to add another steel planter. I hope they'll be happy here.
I welcome your comments. Please scroll to the end of this post to leave one. If you're reading in an email, click here to visit Digging and find the comment box at the end of each post. And hey, did someone forward this email to you, and you want to subscribe? Click here to get Digging delivered directly to your inbox!
__________________________
Digging Deeper
Learn from gardening experts at Trowel & Error, the annual symposium at Mayfield Park in West Austin. After a 2-year COVID hiatus, the symposium returns on Saturday, April 2, from 9:30 am to 1 pm. Designer Colleen Jamison will be speaking at 11 am, along with entomologist Wizzie Brown at 10 am and rose expert Theresa Anderson at noon. Located at Mayfield Park, 3505 W. 35th St. A suggested donation of $5 gets you in.
Need design help with your yard? Hire me as your personal garden coach! Maybe you need replacement plant ideas after the big freeze. Or maybe your landscaping has grown tired, and you want fresh curb appeal. Or perhaps you're ready to get rid of some lawn and create a pollinator garden, bird habitat, or hangout space for you and your friends. I'm here to help! Contact me to let me know what's going on, and let's figure it out together. My range is Austin and suburbs within a 25-min. drive of NW Austin, but I'm flexible and can travel farther with a surcharge, so let me know where you are. Weekday morning appts. only.
Join the mailing list for Garden Spark! Hungry to learn about garden design from the experts? I'm hosting a series of talks by inspiring garden designers, landscape architects, and authors a few times a year in Austin. Check out the 2021-22 schedule. These are limited-attendance events that sell out quickly, so join the Garden Spark email list to be notified in advance. Simply click this link and ask to be added.
All material © 2022 by Pam Penick for Digging. Unauthorized reproduction prohibited.