Hosts:
Birmingham
Dates:
28 July to 8 August
Coverage:
Watch live on BBC TV with extra streams on BBC iPlayer, Red Button, BBC Sport website and BBC Sport mobile app; Listen on BBC Radio 5 Live and Sports Extra; live text and clips online.
England's Jessica Gordon Brown claimed a Commonwealth Games silver medal as Nigeria's Rafiatu Folashade Lawal took gold in the women's 59kg weightlifting.
The Nigerian favourite, 25, triumphed with a new Games record of 200kg from her snatch and clean and jerk lifts.
Gordon Brown, 26, lifted 197kg to finish second ahead of Canadian 2018 silver medallist Tali Darsigny, 24, who took bronze.
Northern Ireland's Hannah Crymble finished in sixth.
Gordon Brown, who was twice crowned national acrobatic gymnastics champion as a youngster and was also a budding judoka, celebrated her achievement by performing at somersault at Birmingham's NEC Arena.
"That was sheer euphoria," she said. "I know I didn't quite land it, it wasn't a perfect backflip but you know what, it just shows how much I had to put into that last clean and jerk.
"I didn't really know how to celebrate, it just happened."
Gordon Brown, who was also a budding judoka before going into weightlifting, added: "I'm so glad that finally after doing three different sports I found the one for me.
"I think I'm built for it and I glad I stumbled into it. A happy accident."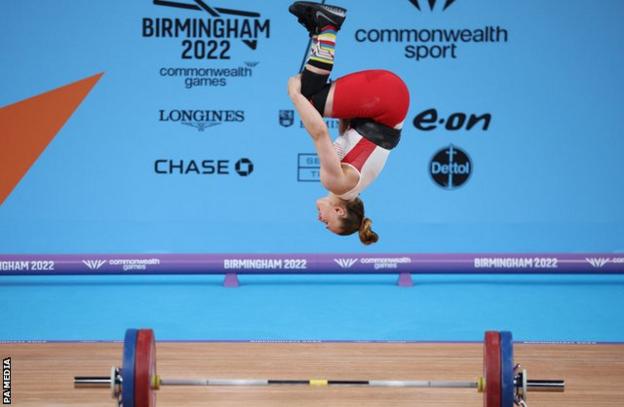 Team-mate Jaswant Shergill, an English teacher by profession, missed out on a medal in the men's 67kg final, coming fourth in the final.
"The emotions are still fresh and I'm very hard on myself. I am not completely satisfied as I believe I could have done better," he said.
"I'm starting a new school in September and the pupils were really sentimental and touching with their support when I left.
"My students said they were going to watch today and I hope they feel inspired and proud of what I did."
England's Jack Oliver, who won silver in the men's 77kg in 2018, finished sixth in this year's 73kg final.