Bolstered by its best sales quarter in company history, commercial real estate behemoth CoStar Group is making a massive investment in its residential real estate channels including a relaunch of Homes.com in June and a rollout of New York property search site Citysnap by the end of the year.
The biggest event on CoStar's horizon as it seeks to dethrone Zillow and Realtor.com as real estate agents' go-to source for customer leads is a full launch of a new Homes.com collaborative marketplace that will directly connect homebuyers and sellers to agents. That project is on track for a 2023 launch, CoStar Group founder and CEO Andy Florance said during an earnings call Friday.
Having just acquired Homes.com for $156 million in a deal that closed last May, CoStar has been spending aggressively in an effort to go "from 0 to 100 miles an hour" in residential real estate, Florance said Tuesday on a call with investment analysts.
"We are engaged in a very ambitious scale software development effort," he said, with "well over 1,000 people working on the project right now."
CoStar CFO Scott Wheeler said the company plans to ramp up spending on its residential channels by $200 million to $220 million this year, with $110 million earmarked for content generation, $65 million for marketing, and the remainder on technology.
"Our research team is busy building the proprietary content around neighborhood, schools and parks and other features that consumers told us are important to them when they're shopping for the best place to live," Florance said. "So far, we've produced hundreds and hundreds of videos with tens of thousands of more in the works. We believe this rich content will produce significant organic search results and will be highly informative engaging to consumers as they research the best place to live."
Unique visitors to CoStar's residential network, including Homes.com and Homesnap, were up 125 percent from a year ago during the first quarter, from 6 million a year ago to 14 million during the first three months of 2022.
CoStar, whose brands include Apartments.com, LoopNet, STR, Ten-X, BizBuySell, LandsofAmerica and Homesnap, reported first quarter profits were up 20 percent from a year ago, to $74 million, with revenue growing by 13 percent, to $516 million.
CoStar Q1 2022 revenue by source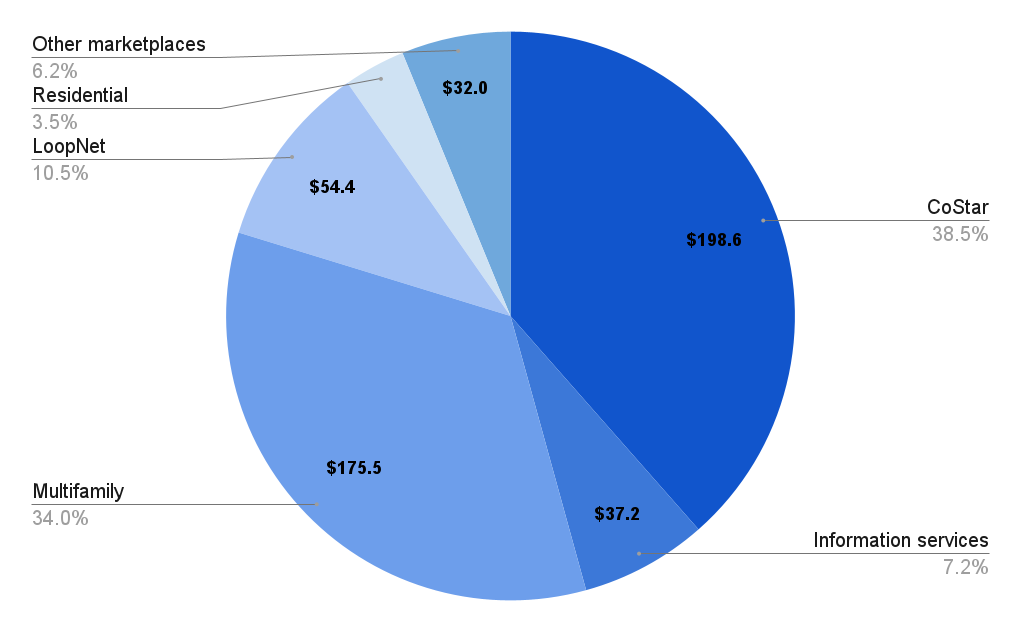 Source: CoStar regulatory filing.
CoStar's residential operations generated just 3.5 percent of the company's revenue, but have grown by 63 percent over the past year, to $18.1 million.
"It's a small number, but you have to start somewhere, and we see growth in the future," Florance said.
Revenue from the Homesnap advertising product Pro+ was up 60 percent year-over-year, while Concierge Pro+ sales increased by a multiple of four, Florance said.
"The direct sales team selling our Pro+ product is delivering excellent results as our first quarter net new sales bookings for Pro+ subscription is up 120 percent over the first quarter of 2021," he said. "We intend to continue growing our Pro+ sales team to approximately 100 sales reps by the end of the year in order to increase our agent penetration and engagement on the Homesnap platform."
Wheeler said CoStar employed about 870 people in sales as of March 31, an increase of approximately 45 from the end of last year, with the largest sales force increases in LoopNet followed by multifamily and Ten-X.
"We're focused on expanding our sales resources in all of our businesses and have doubled our number of sales recruiters since the beginning of this year," Wheeler said.
Based on its strong first quarter results companywide, CoStar raised its guidance for full year 2022 revenue by $5 million, and now expects to bring in $2.15 billion to $2.17 billion.
Investors liked what they heard, with shares in CoStar closing up 6 percent Wednesday, at $63.72. Over the last year, shares in the company have traded for as little as $49, and as much as $101.05. At Friday's closing price of $63.62, the company had a market capitalization of more than $25 billion.
Homes.com overhaul builds on Homesnap technology
Behind the scenes, CoStar's overhaul of Homes.com will utilize technology from CoStar properties Apartments.com and Homesnap, which it acquired for $250 million in December 2020.
"When you look at the Homes.com, when we acquired, it wasn't the high-performance environment you needed to be scalable up to 100 million uniques," Florance said. "Speed, performance responsive mobile — all those things are essential to being able to build your traffic objectives and to get the SEO rankings you want."
In phase one of the Homes.com overhaul, CoStar is using the Homesnap back end, "which is pretty robust," Florance said. "We are scaling that from single-serve to multiple cloud base that you can scale it infinitely in AWS [Amazon Web Services]. And then we're using the Apartments.com front-end tools against the Homesnap back-end tools, and that is our fastest path to market with high performance scalability."
The planned June relaunch of Homes.com on top of a "modern integrated technology platform" will not be directly visible to users, Florance said. But it's "an important step that brings the best technology for traffic scalability and speed to Homes.com."
CoStar's planned New York property search site, Citysnap, which it's building through an agreement with the Real Estate Board of New York, will provide connectivity to Homesnap's tools for property agents.
"For the first time, New York renters and buyers and their brokers will have a single real-time source for all available listings in the city," Florance said of plans to launch the site by the end of the year.
Florance said CoStar has partnered with a leading New York advertising agency to develop a marketing campaign for Citysnap that will deliver "hundreds of millions of media impressions across streaming video, audio, social and physical media."
CoStar anticipates the campaign will generate "millions of visits" to the Citysnap site and app, he said.
The company's most radical plan for residential real estate — the full launch of a new Homes.com collaborative marketplace — remains on track to debut next year.
The goal is to break down the wall between real estate agents and homebuyers, by allowing them to share information and feedback about home listings, Florance has said. That's difficult today, because agents use their local MLS, while buyers use real estate portals that are trying to convert them into leads for a small group of agents.
"Homesnap is going to change that by enabling agents and buyers to share listings and feedback about those listings," Florance said on a previous investor call. "By empowering agents with professional collaboration tools, we think it's possible to bring millions of buyers into our platform."
Florance said he's not concerned about ongoing federal lawsuits challenging industry practices around commissions and the role of Realtors and multiple listing services.
"We specifically have not designed Homes.com with a dependency on either the sell side or the buy side," Florance said. "There are a number of other U.S. residential real estate portals who work to monetize the buy side aggressively, and they rely on that dictated buyer split that is being attacked with some of these lawsuits. We're taking a completely different tack."
Former Zillow CEO Spencer Rascoff has said that CoStar is "absolutely rooting for chaos" in the outcome of those suits, as it would be "chaotic if a black swan were to happen like cooperative compensation to be banned by the government."
But Florance appeared eager to distance himself from that accusation.
"We are focusing on selling the house and trying to market the house as effectively as possible," he told investment analysts. "And there are no lawsuits out there saying that people can't sell their homes, so it doesn't really impact us. Also, where we are looking at generating revenue from agents, we are completely agnostic to whether or not it's buy side or sell side. So I think we can sit back and watch these lawsuits develop. It's just an academic interest. It doesn't really impact us."
Email Matt Carter