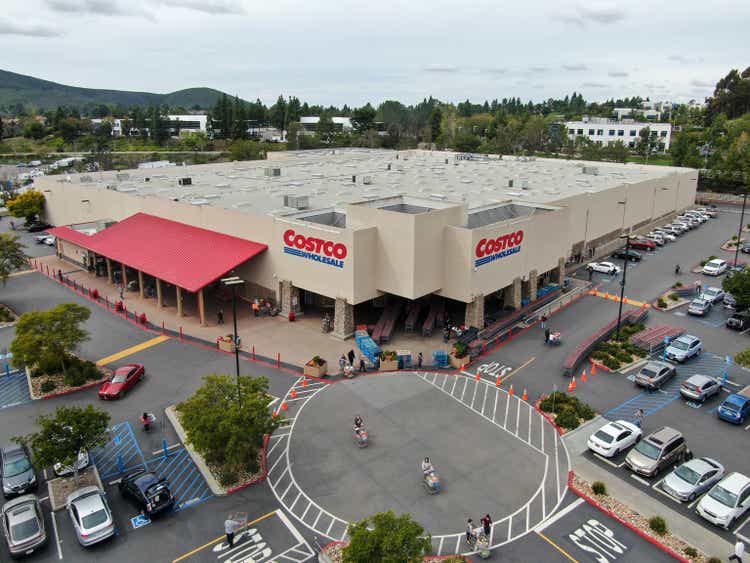 Costco (COST) is a stock I have written about for several years as holding incredible overvaluation characteristics vs. an underlying business only growing at a moderate clip. Follow me on this logic: while the Big Tech stocks have all begun to crater over the last six months, Costco has not. So, its relative valuation has jumped into the stratosphere. In addition, other major retailers like Amazon (AMZN), Target (TGT), Walmart (WMT), Kroger (KR), and Dollar General (DG) did not have a good 2021 in terms of stock performance, while COST continued to rocket higher. My conclusion: Costco is way, way overdue to snap back to reality, with expanding risk of a 30% to 50% price correction into summertime.
I personally rank the company as the most overvalued choice in the mega-cap area of the U.S. market, defined as equity worth above $100 billion. Additionally, COST is the most expensive pick out of the biggest retail firms in America. Here's why.
Massive Overvaluation Problem
Costco has something of a cult following from both consumers and investors. In this sense, it is very similar to an Apple (AAPL), Tesla (TSLA), or Amazon (AMZN) investment. Blinders to valuation settings have been part of the investment equation for years, with ever greater nuttiness priced into the shares. Below is a 10-year chart of price to trailing fundamentals, highlighting the late 2021 setup as yet again, even more overvalued than the year before. In relation to earnings, sales, cash flow and book value, COST is today valued at 2x to 3x the ratios of a decade ago. Mind you this setup is on slowing growth numbers and now skyrocketing inflation rates (which should lower acceptable multiples, all else being equal).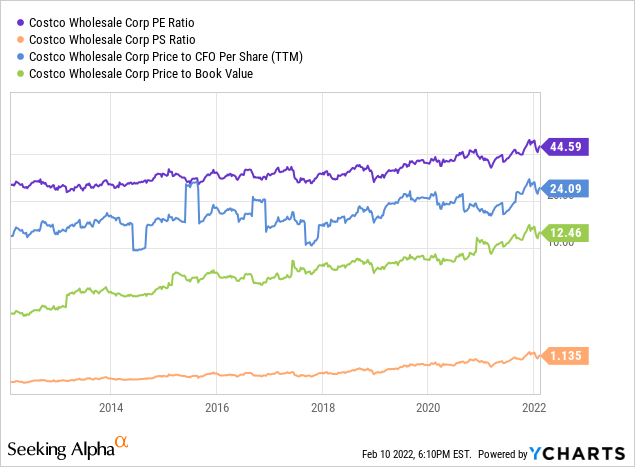 Without doubt, Costco investors and analysts have talked the company into a higher valuation than other major national retailers, and about the same as the hybrid Amazon business model with its strong margin, internet-backbone AWS business. Below is a graph looking at trailing P/Es vs. the most comparable peers in retail and a number of Big Tech names with incredibly expensive setups vs. underlying business accounting results. Honestly, only Tesla is radically higher than Costco in price vs. reported income results.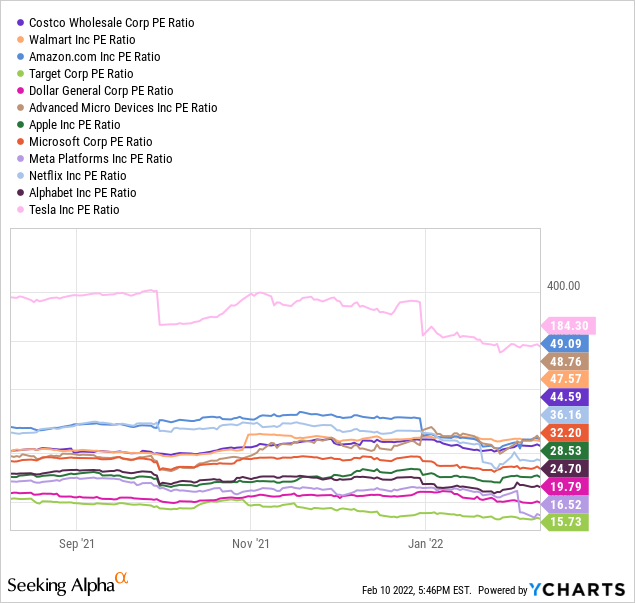 And, when you factor in future results, projected by Wall Street analysts a full year ahead of today, Costco is even harder to argue holding much long-term value above $500 per share in early 2022.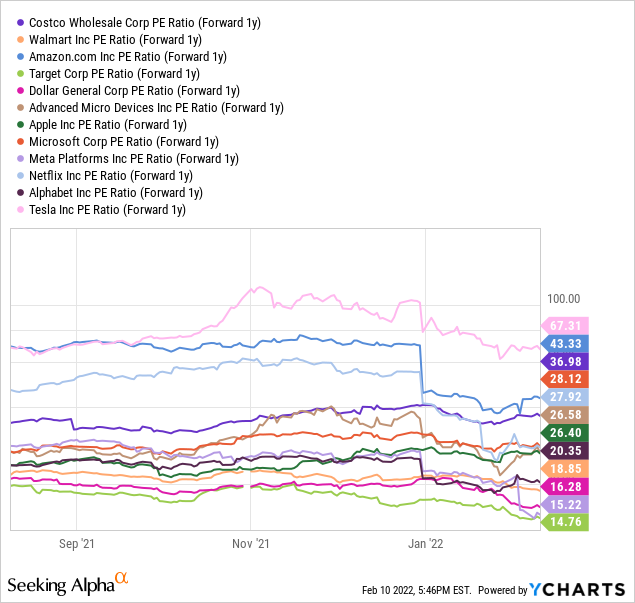 You would want and expect well above-average growth rates to support a super-high valuation. For Costco, this is not the case. Long-term earnings growth is actually below average vs. industry competition and the peer mega-capitalization Big Tech group of equities available for your investment dollar. The 5-year earnings growth curve from 2020 (including much of the boost in sales from the pandemic) is in the +15% annualized range.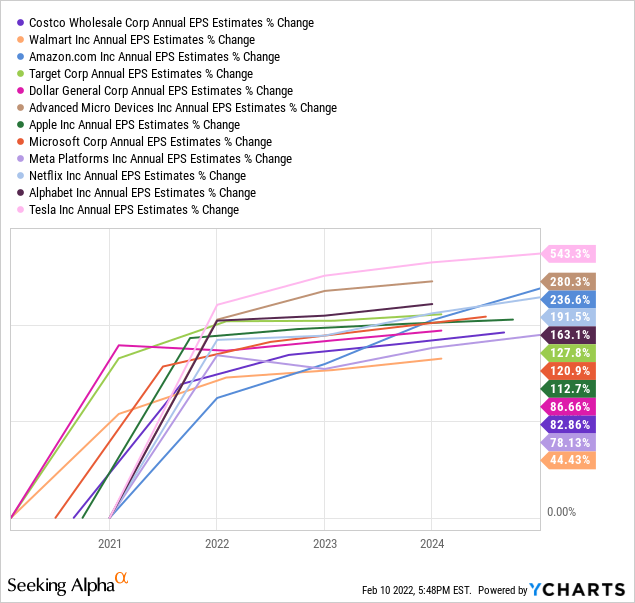 The result of excessive valuations on slowing growth is a Price to Earnings to Growth [PEG] ratio on the extended side of what is considered acceptable historically. A forward 1-year PEG ratio of roughly 4x is nowhere near the Wall Street buy goal of scores under 1x. Using this definition, Walmart appears to be a much smarter buy today. (I wrote a bullish article on Walmart in November here.)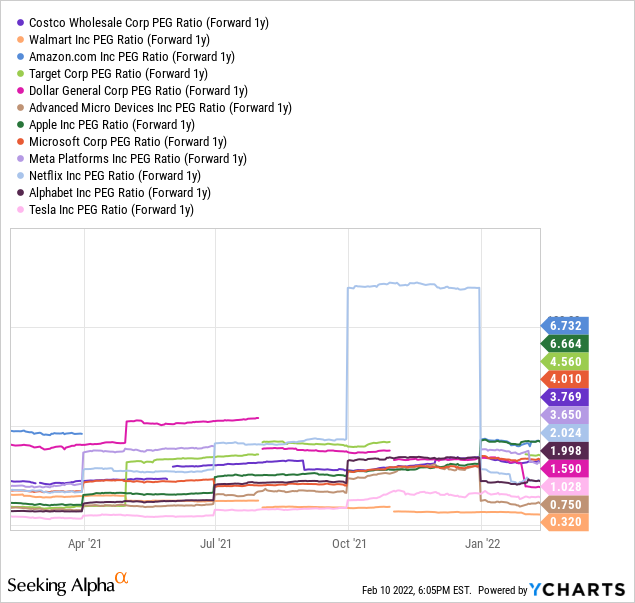 Perhaps just as important as PEG readings, free cash flow yield on the price you pay for shares (the goal of the world's most successful investors) is getting completely unjustifiable vs. spiking inflation rates. The primary purpose of risk-assets is you want to own companies returning serious cash flow BEYOND the rate of inflation, at a minimum. Today, Costco has delivered an anemic 2.6% in free cash flow yield (on the current quote) vs. 7.5% YoY CPI inflation. You can argue each COST investor actually LOST -5% in purchasing power in this exercise (ignoring stock price gains). The latest -5% rate is a record negative "real" cash flow yield for Costco, especially compared to positive real returns at most every interval in the past.
Below is a 10-year graph of the prevailing Costco free cash flow yield on trailing results, alongside its subpar 0.6% cash dividend payout over the past 12 months (the S&P 500 is delivering 1.3% for dividends). The negative real yield problem is drawn at the bottom of the graph.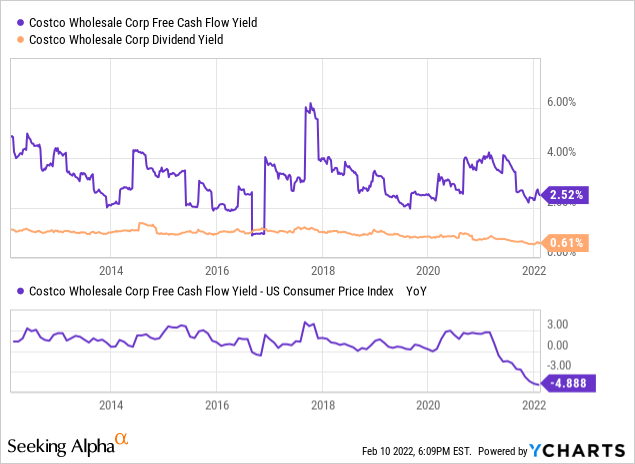 Another issue to contemplate is profit margins are razor thin at Costco. Only Walmart of the peer/competitor group is lower. Wall Street will often place lower valuations on weaker margin businesses, not higher ones. This setup is quite risky if competition or a recession eat into sales and margins. The bottom could fall out of income and cash flow generation. In a worst-case scenario, new Costco investors risk paying a peak valuation on peak earnings, a double whammy of bad news. (I mentioned the potential of Apple hitting a similar peak on a peak point in an article in December here.)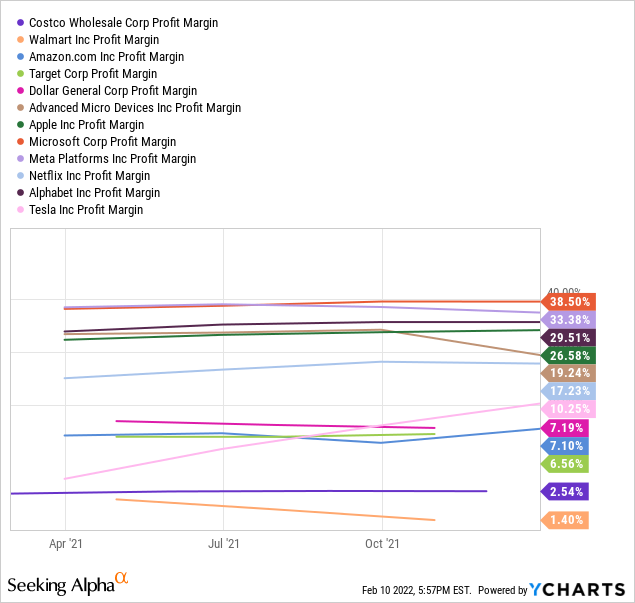 More bad news, Costco's balance sheet leverage is higher than peers. The ratio of total liabilities vs. assets is near the top of the list. This is another risk to margins and cash flow in the not-too-distant future, as interest rates should rise markedly soon to better match inflation.
I am worried a recession is approaching later in 2022, because inflation is not going away on its own, without serious tightening by the Federal Reserve. Everyone has been predicting a moderation in inflation for a good 12 months, and it keeps accelerating because the Fed refuses to reverse its record money printing exercise in madness since early 2021. America is now faced with horrible choices and outcomes. Further foot dragging by the Fed could quickly push us to a point where the dollar exchange rate moves into a crisis of confidence with foreign investors, probably spiking import and commodity inflation well above 10% annually soon. Or, the Fed could dramatically raise rates to halt inflation, and as a side effect crash stock market wealth to rebalance pandemic supply shortages with reduced consumer demand.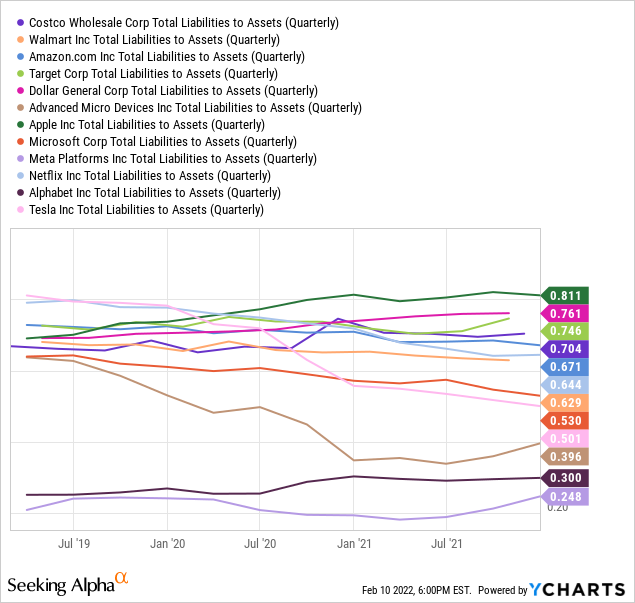 When we combine debt and equity capitalizations, Costco sells for an enterprise value to earnings before interest, taxes, depreciation and amortization well above the other retail giants, including Amazon. EV to EBITDA for the S&P 500 is around 17x currently. So, Costco's 26x multiple looks overly rich on many levels. In the end, a 20% to 30% price decline "relative" to the market makes logical sense, just to get this ratio into a more realistic zone for a lower-margin business.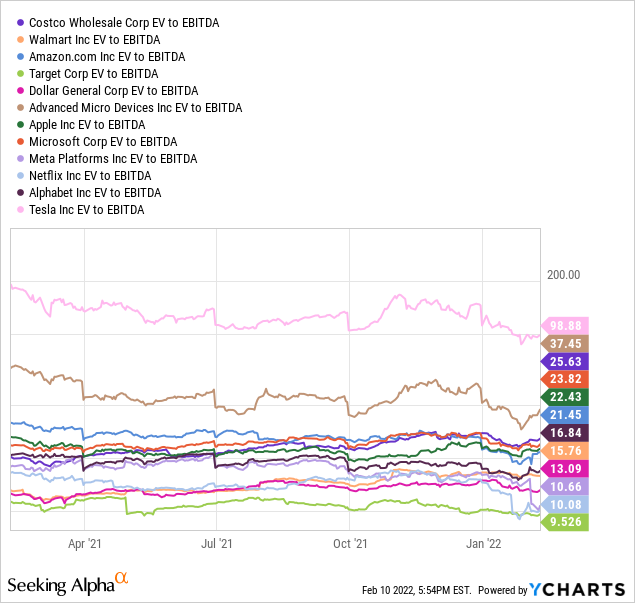 Technical Trading Chart
Costco's price outperformance vs. peers and the market in general, simply seems to be the culprit in creating the current overvaluation problem. Below are 3-month and 12-month total return graphs vs. the peer group. The flip side of unchecked gains for years is the company may need to suffer a reversion-to-the-mean moment to reset valuations into a sustainable position. When this reset occurs, Costco investors will not be happy.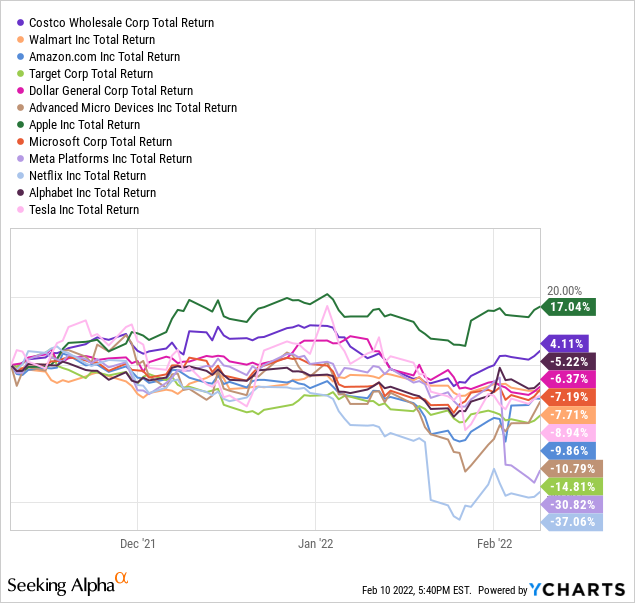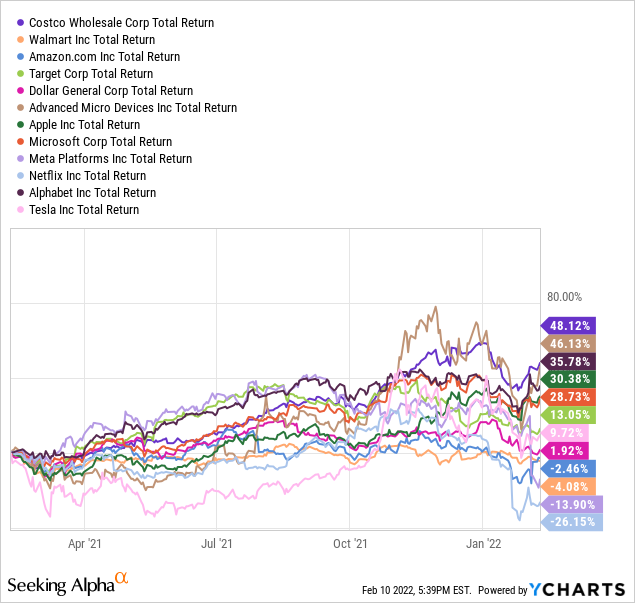 On the 12-month chart of daily price and volume changes below, I have circled the momentum peak in many indicators occurring in November-December 2021. Whether we are measuring relative strength vs. the S&P 500 index, volume trends on slow trading days (Negative Volume Index), or On Balance Volume overall, a prolonged breather could easily be next for Costco.
The stock price sold off hard in January and lately recovered to fill a gap (marked with the orange line), failing to recover its 50-day moving average for longer than a day this week. If price turns lower again in the second half of February, we could witness a meaningful drop under $400 a share just to catch up with selling in other parts of the overvalued U.S. blue-chip market. Call me crazy if you want, but a recession could easily dump the quote under $300 in 2022.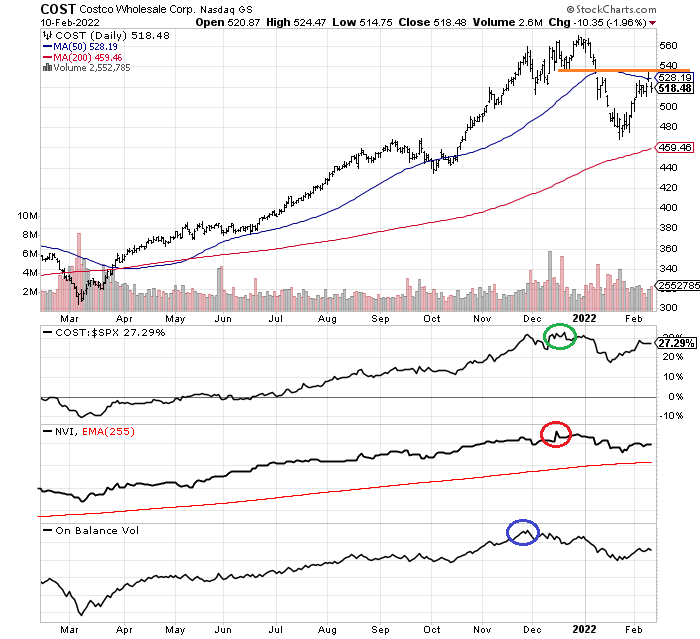 Final Thoughts
When you put all the pieces of the argument together, my vote for the most overvalued mega-cap blue chip in America on February 10th, 2022 is Costco. Super high trailing multiples on only slight future growth estimates (around 10% annually for EPS between 2022-24) is the main thesis. Free cash flow and dividend yields vs. inflation are truly rotten. Low profit margins on sales, and a relatively high level of liabilities vs. assets means this retail business is overly exposed to any downturn in operations from intense retail competition, especially if a consumer recession appears later in 2022.
What could keep the price high? That's a good question. When I wrote my last Costco article in August, I put a SELL rating on the name when its negative real earnings yield (including free cash flow) was HALF of the current calculation. The stock quote has risen another +18% since then, but is starting to feel the crunch from rising interest rates and a reversal in monetary conditions by the Fed. The "greater fool theory" that plenty of new investment capital will find COST and bid it even higher is turning into a truly risky game. Praying the positive 2021 share price upmove never ends is a cult wish that may not get answered in 2022.
Bulls will argue inflation is a positive for retailers. However, rising labor costs and base product prices do not guarantee margins can be maintained, if volumes sold decline in a recession. At this stage in the macroeconomic inflation cycle, it's getting very hard to model Costco escaping a bear market in equities and recession in the economy unscathed.
I still rate the stock a SELL. Using Costco's 10-year mean average valuation on basic underlying fundamentals like earnings, sales, cash flow and book value, downside risk is under $250 a share in a deep recession scenario. Upside appears incredibly limited, assuming interest rates continue to climb this year. I would be very surprised if Costco traded above $600 before 2023. I just don't see any reasonable math to get there, using my 35 years of trading experience and big imagination. We'll see if Costco can confound reality and the skeptics again. Or, will it succumb to logic and math after years of ignoring them?
Thanks for reading. Please consider this article a first step in your due diligence process. Consulting with a registered and experienced investment advisor is recommended before making any trade.