Top Tips For Monetizing Your Online Courses
When you're selling your online courses, you need to make sure that you are not underselling your expertise. At the same time, you don't want to make your course so expensive that only a select few can afford it. Here are 3 tips for how to set the right pricing strategy when you're monetizing courses.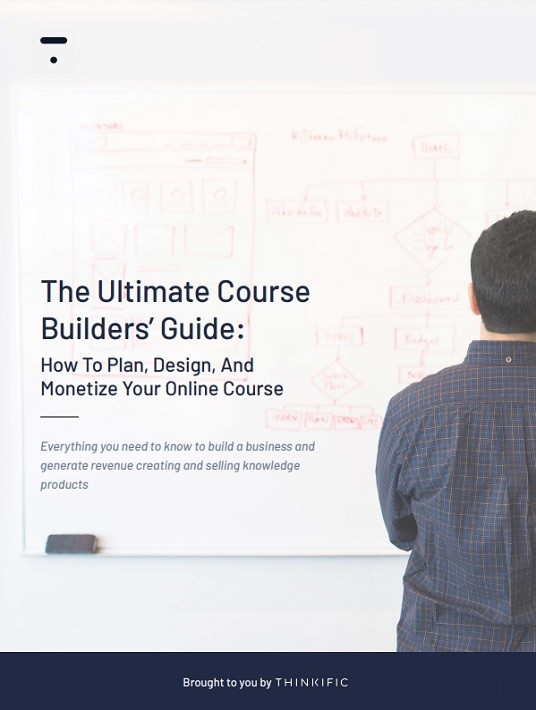 eBook Release
The Ultimate Course Builders' Guide: How To Plan, Design, And Monetize Your Online Course
Uncover tips to build a business and generate revenue creating and selling knowledge products.
How To Set The Right Pricing Strategy
1. Be Bold
If you're just starting out in the world of online learning, you might be reluctant to charge a lot for your course. However, if you want to make your course business a success, it's really important to be bold with your pricing.
Here are some reasons why:
Low prices reduce your course's perceived value
Low prices limit your ability to find affiliate partners
Low prices tend to attract less committed customers
Low prices can always be undercut by competitors
Low prices give you less incentive to market and sell your course
In most cases, selling your course for a low price is not a good idea. Though you might feel like you're giving customers a great deal, in reality, you're underselling yourself and your expertise. The secret to successfully monetizing courses is to be bold and believe that the content you're putting out is worth the money.
2. Find Ways To Increase The Value Of Your Course
Still concerned you're charging too much for what you're offering? There are some really simple ways you can add value to your course that will make a big difference to your students and your marketing.
Try these ideas to heap on the added value when you're monetizing courses:
Offer one-to-one or group coaching
Host live webinars
Make exclusive downloadable resources
Create a private membership group
Provide a course completion certificate
These methods can all be used to increase the value of your course in the eyes of your prospective customers. They're also a great asset to use in your marketing materials to demonstrate why buyers are getting a great deal.
3. Remember The Price Can Change
Though pricing your online course can seem daunting, it's not set in stone. You can change the pricing strategy along the way. Think of monetizing courses like a moveable feast—with software like Thinkific it's easy to adjust your pricing as you go.
For instance, you might try selling your course at a lower price during the pre-launch testing period and then increasing the price later. You might also choose to give a mini version of your course away for free as a lead magnet. The important thing is, you can increase the price of your course over time as you get more customers and gain confidence.
Types Of Pricing Models
When it comes to monetizing courses, educators usually follow one of two different pricing models: pay-per-course or paid memberships. Each one has its benefits, so it's important to find the pricing model that fits best with your content.
Pay-Per-Course
Pay-per-course pricing models require students to pay each time they want to take a course. Customers will typically then have unlimited access to that course. If they want to take another course, they pay again.
This type of pricing model works well if you have lots of smaller courses. Students can pick and choose the topics they're interested in and stick to their budget. It also makes it simpler for you to see which courses are performing best and generating the most income.
Course Memberships
The other pricing model for online courses is a paid membership. Students pay a monthly or yearly fee and in return, they get full, unlimited access to your course catalog and membership community spaces until they cancel their membership.
This type of pricing model is perfect if you have fewer courses or courses that are longer and more content-heavy. At the same time, if you have a thriving membership community, community memberships are a great incentive for students to keep paying for access. The benefit for course creators is that you have ongoing revenue.
5 Additional Ways To Monetize Your Online Courses
As well as choosing the right pricing strategy for your online course, you can also utilize parallel income channels to increase the value of your course content. Here are 5 methods you can try if you're looking to start monetizing courses.
1. Books And eBooks
If you have already made an online course, why not turn your content into a book or an eBook? Books and eBooks are a great way to increase the value of your course by turning your expertise into a downloadable guide. They also help to cement your status as an expert in your field. And let's face it, who doesn't want to be an author?
2. Patreon Memberships
Another option for edupreneurs is to utilize Patreon memberships as a parallel income stream. Patreon allows you to build a community of fans who pay to see your content per month or per post. This is ideal if you're a creator who produces regular content in addition to your course content like an artist or designer.
3. Become An Affiliate
If you have a blog, YouTube channel, or other successful social media channel, you could try becoming an affiliate partner for relevant businesses. When a follower or customer makes a purchase through your affiliate link, you get a small payment.
As a course creator, you can utilize your community of students to earn more affiliate commission. For instance, if you have tools and materials that you use every day, why not become an affiliate partner and earn money by promoting them? Not every affiliate scheme is as lucrative as the other so make sure you do your research to see how much you'll get paid before you sign up.
4. YouTube Advertising
Another lucrative income stream for many content creators is YouTube monetization. If you're already producing video content for your online course, consider turning it into a YouTube channel too.
YouTube pays content creators a share of their advertising revenue so the more popular your content is, the more you get paid. This income stream can take some time to grow but if you can increase your subscribers and get more views, it can be a brilliant way to get more value from your course content.
5. Brand Merchandise
Ever wanted to create branded t-shirts and badges? Give it a go! Branded merchandise is another method for increasing the value of your online course community. This method is best for course creators who already have a loyal following of students and a well-known, established brand. Though it's not the quickest or easiest method for monetizing courses, it's a fun way to get creative and market your course to current and future students.
The Secret To Monetizing Courses
As a course creator, it's easy to start monetizing your courses with a paid membership or pay-per-course pricing plan. If you can add extra resources and one-to-one coaching you can increase the value of your course offering. At the same time, there are additional ways to make money from your courses like starting a YouTube channel or writing an ebook.
Download the eBook The Ultimate Course Builders' Guide: How To Plan, Design, And Monetize Your Online Course to learn insiders tips for creating, launching, and marketing your eLearning course. Also, join the webinar to bring your vision to life.
Additional Resources:

Thinkific
Thinkific's powerful platform makes it easy to share your knowledge, grow your audience, and scale the business you already love. Whether you're educating 10 students or 10 million, you've got the easiest technology and best support in the business.