Winter is here and as COVID cases are rising in some states and areas, a surge is likely to take place. Taking certain precautions like being vaccinated, wearing a mask, social distancing and washing your hands does help, but catching COVID is still a possibility. The virus affects everyone a bit differently, but there are common symptoms to watch out for that can sometimes happen in a pattern. Eat This, Not That! Health talked to experts who explained symptoms to watch out for and the order they can take place in. Read on—and to ensure your health and the health of others, don't miss these Sure Signs You've Already Had COVID.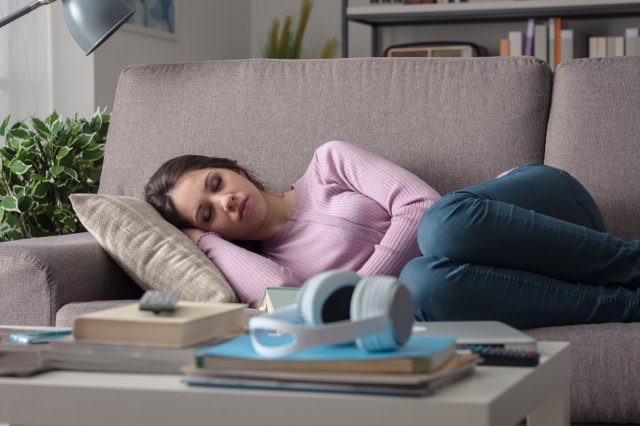 Dr. Meghan A. May, M.S., Ph.D. Professor – Microbiology and Infectious Diseases University of New England College of Osteopathic Medicine Center of Excellence for Public Health says, "The COVID-19 disease course is incredibly diverse, ranging from completely asymptomatic infection to acute respiratory distress syndrome to thrombotic events such as a heart attack or a stroke to multiorgan failure. The general pattern followed by patients is of mild, subtle symptoms at the onset of disease such as fatigue, mild diarrhea, headache, and loss of sensory functions such as taste and smell, but it is important to note that not all patients experience all of these symptoms."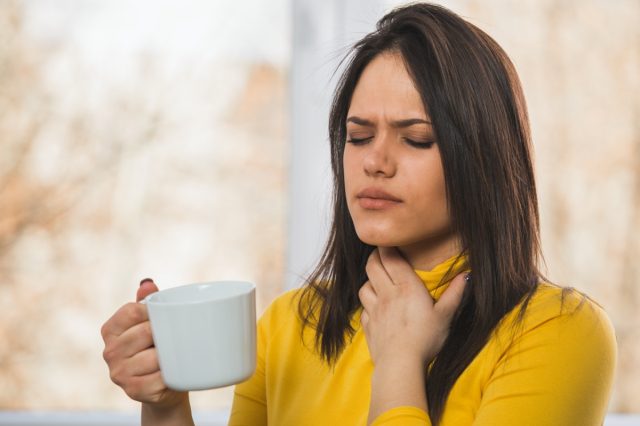 According to Dr. May, "Fever and respiratory symptoms such as cough, congestion, and sore throats usually follow these initial symptoms, as opposed to being the first sign of illness."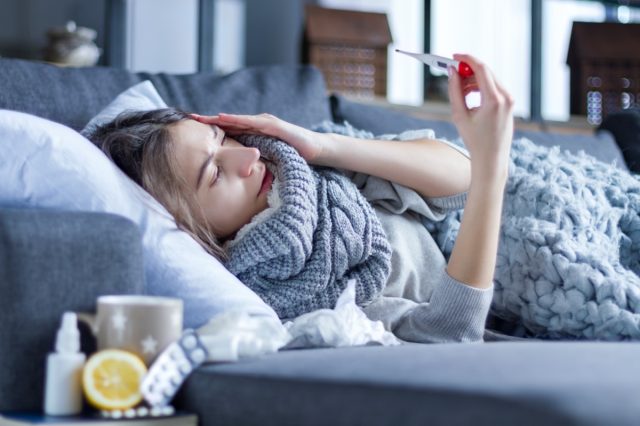 "If a patient is likely to progress to severe disease (shortness of breath, pneumonia, acute respiratory distress syndrome, or blood clotting emergencies), it will most commonly happen a few days after the onset of fever and cough," Dr. May explains. "Importantly, I can't stress enough how often some (or many) of these symptoms continue to plague patients after their body has cleared the SARS-CoV-2 virus (i.e., lead to 'long COVID'). This has the potential to impact the livelihood and quality of life of millions, and is very important to consider when people are deciding about vaccination and masking." 
Dr. May explains, "Long COVID is the persistence of symptoms beyond the time of active disease. This can include continued shortness of breath, chest pain, blood clots, headaches, fatigue, 'brain fog,' sensory loss and more. Some patients experience more than one of these symptoms."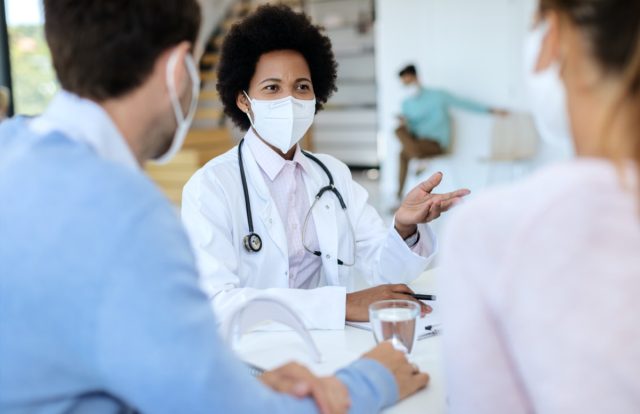 "This is an area of intense exploration and research – there is no uniform, standard method right now," says Dr. May.
RELATED: Sure Signs You're Lacking Magnesium, Say Health Experts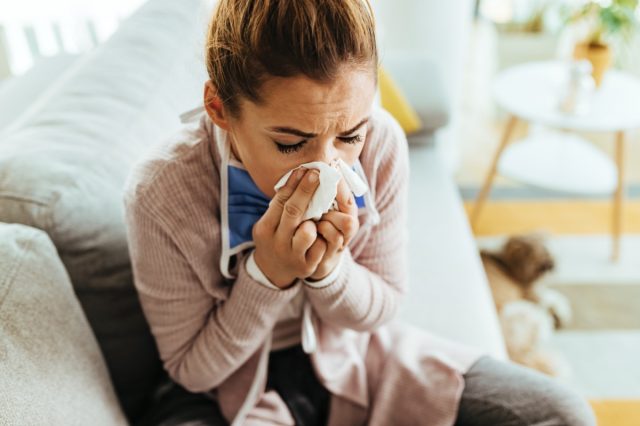 "According to Dr. May, "Some patients infected early in the pandemic are still struggling with their symptoms. This suggests that many of these impacts could be permanent, although, as with all things COVID, patient experiences are extremely varied."
RELATED: The #1 Reason for Obesity, According to Doctors
Robert G. Lahita MD, PhD ("Dr. Bob"), Director of the Institute for Autoimmune and Rheumatic Disease at Saint Joseph Health and author of the upcoming book Immunity Strong (January 5) says, "There's no absolute pattern of what order the symptoms appear in. However, shortness of breath and loss of taste and smell are more common for Covid. Coughing, fatigue, joint pains are all common to both the flu and Covid. It is completely random, which can make it difficult to tell whether you have Covid, the flu, or the common cold as you start feeling under the weather. To be safe, if you experience any of these symptoms (but especially shortness or breath or loss of taste and smell), get a Covid test before going to a holiday or other large gathering."
RELATED: Not Remembering This One Thing Can Be a Sign of Dementia
Follow the public health fundamentals and help end this pandemic, no matter where you live—get vaccinated ASAP; if you live in an area with low vaccination rates, wear an N95 face mask, don't travel, social distance, avoid large crowds, don't go indoors with people you're not sheltering with (especially in bars), practice good hand hygiene, and to protect your life and the lives of others, don't visit any of these 35 Places You're Most Likely to Catch COVID.