March 03, 2022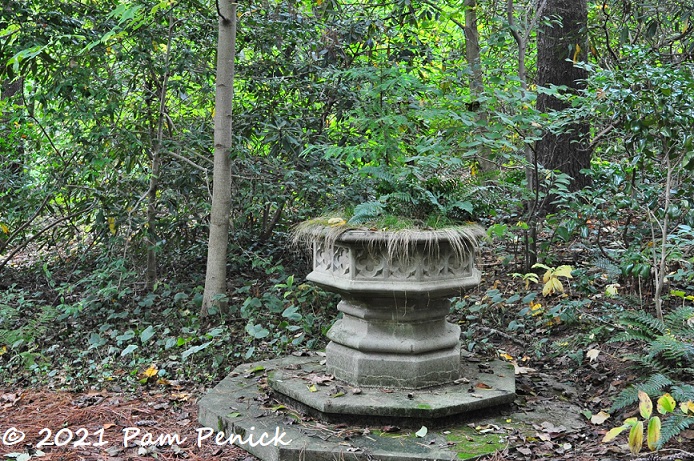 Chanticleer Garden enchants through marvelous plant combos and artful garden spaces that evoke a sense of mystery, romance, and discovery. I visited Chanticleer, located in Wayne, Pennsylvania, on my East Coast road trip last fall. This is Part 6 — and the finale — of my blog series about it.
Creek Garden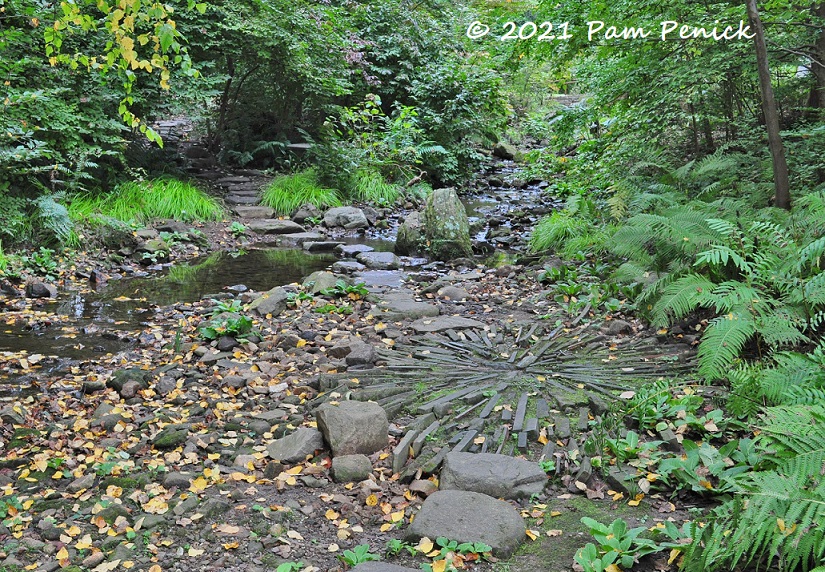 Both the Creek Garden and Bell's Woodland appeal to the explorer willing to leave main paths and crisscross Bell's Run Creek via stepping stones and charming bridges. Tucked amid ferns and other shade-loving plants, starbursts and spirals appear along rugged paths, inviting you to stop and look or perhaps sit on a secluded bench.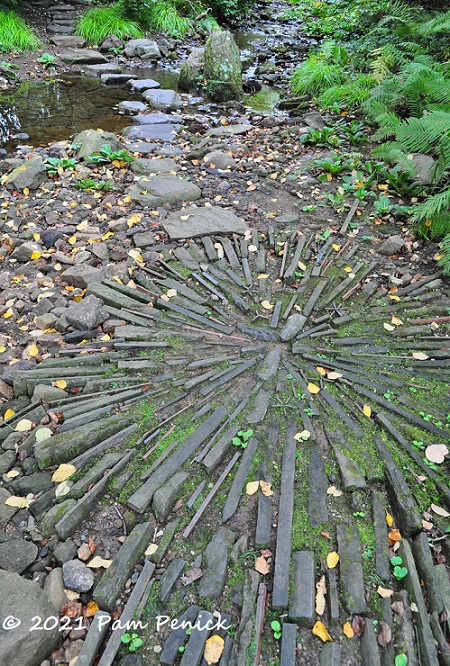 This large stone starburst is made, I believe, from slate pieces laid on edge. It's a touch of woodland magic.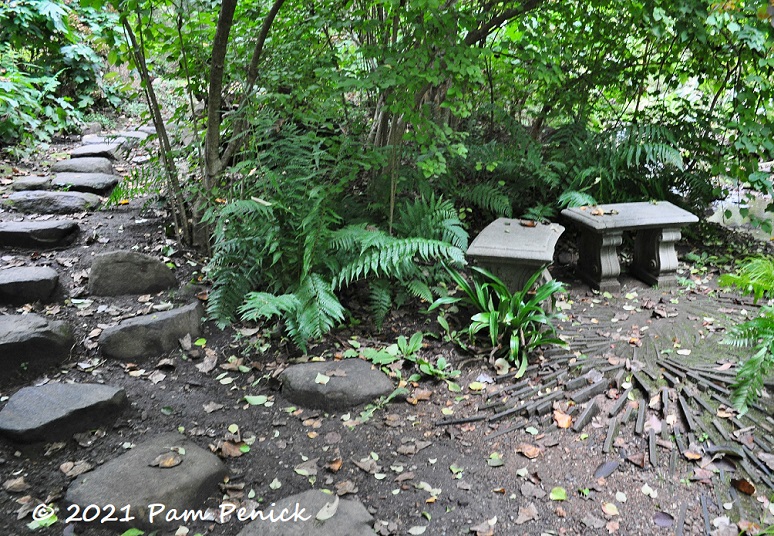 Another slate design leads to a half-hidden pair of benches along the creek.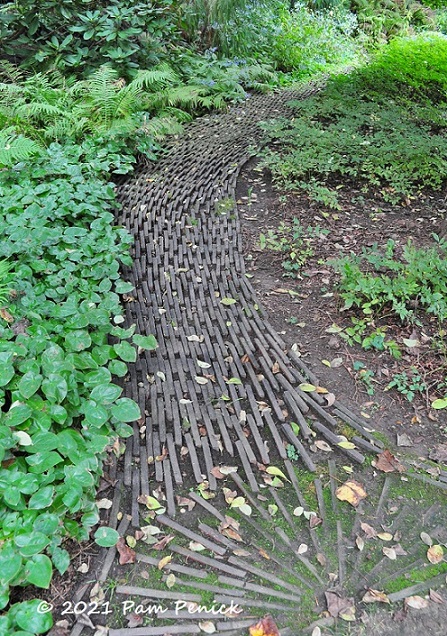 A smaller starburst segues into a slate path that evokes stitching or links of chain.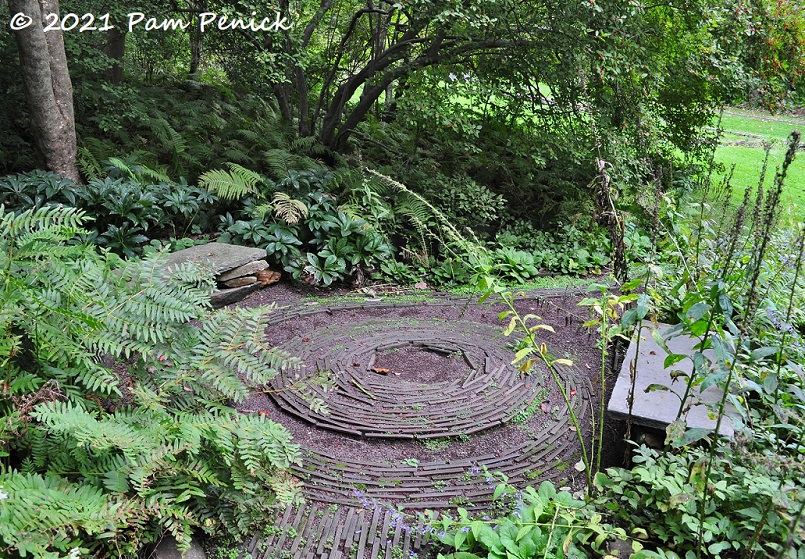 This is my favorite, I think — an intimate spiral patio, with stone-slab benches on each side, enclosed by lush, green growth. This could easily be translated into a home garden's shady corner or along a narrow side yard.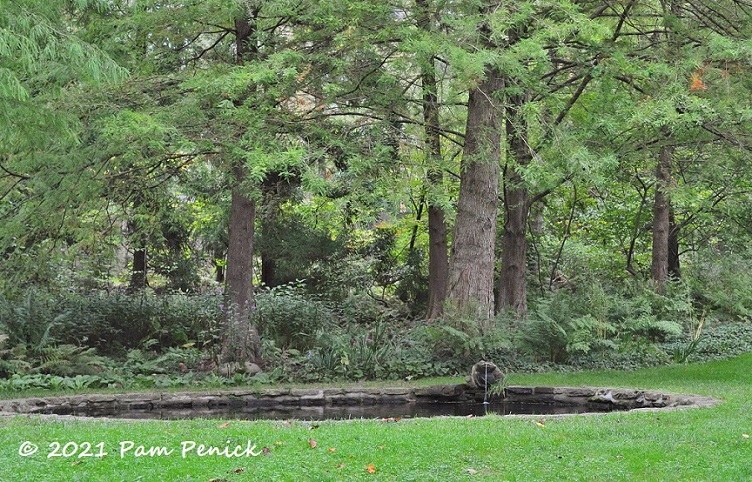 Following the creek into a sunny glade, you come to a toad fountain spitting water into a round pool.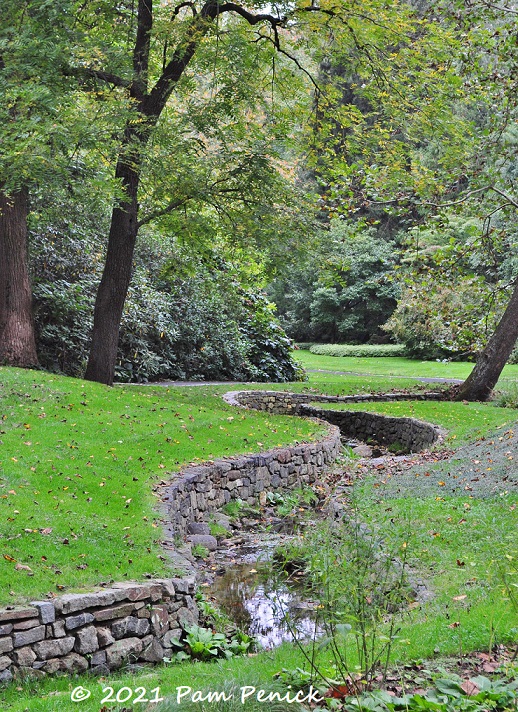 Contained within stone walls, Bell's Run Creek makes an undulating path through a green lawn, which in spring turns blue with masses of camassias.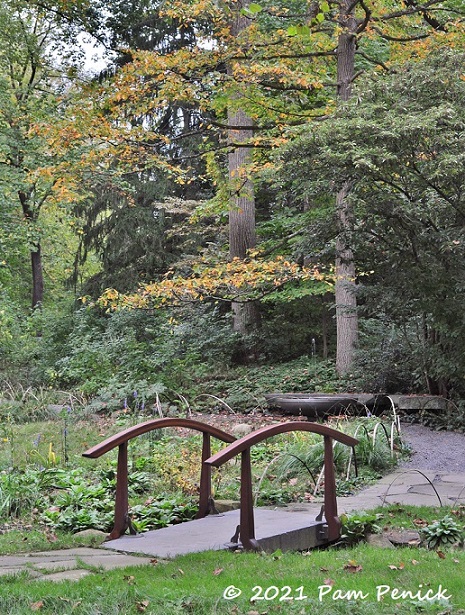 A bridge with arching handrails crosses the creek…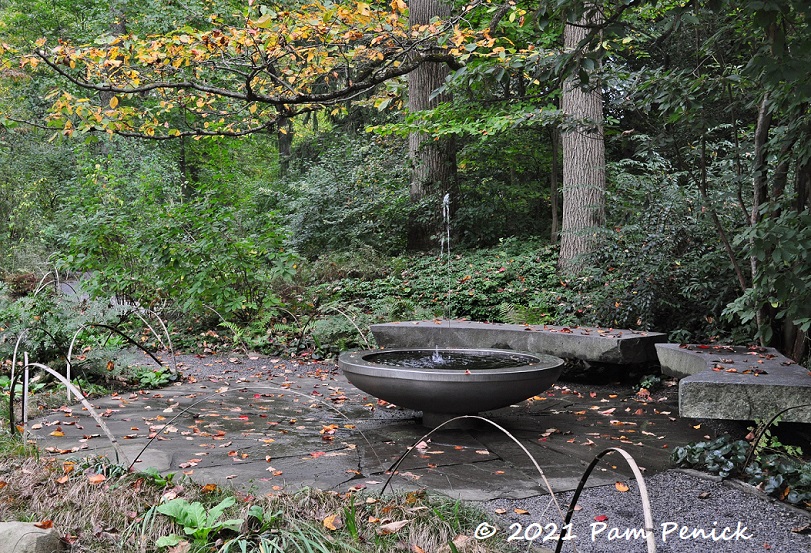 …to a stone patio with a round fountain spitting water high in the air. Another spot to sit and take in the view.
Bell's Woodland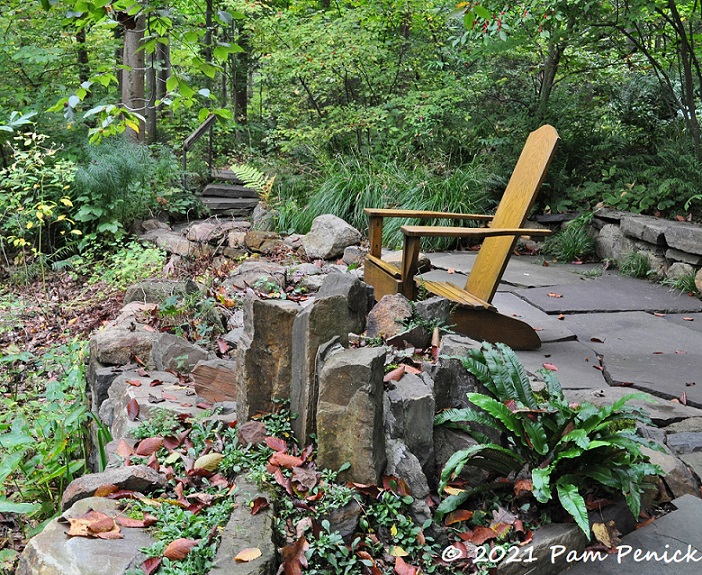 Keep going and you enter Bell's Woodland, a garden that "celebrates the flora of eastern North American forests."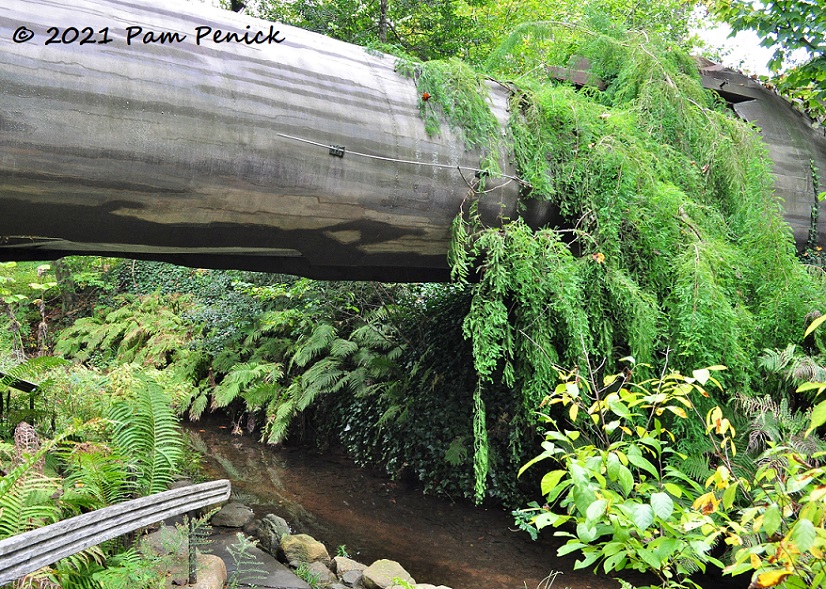 Here you find a fantasyland feature — a gigantic "fallen tree" that's actually a manmade bridge across the creek. It looks as if it's being swallowed up by the forest, just as fallen logs are.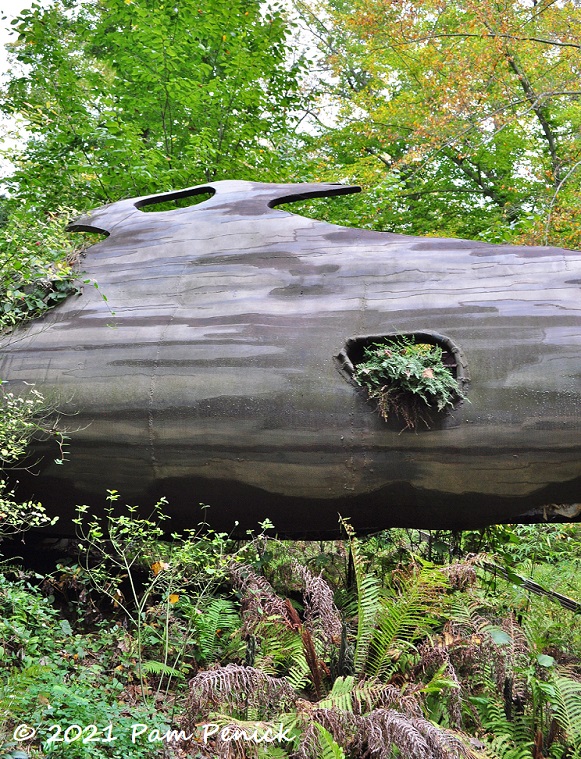 A plant poking out of a hole in the big "log"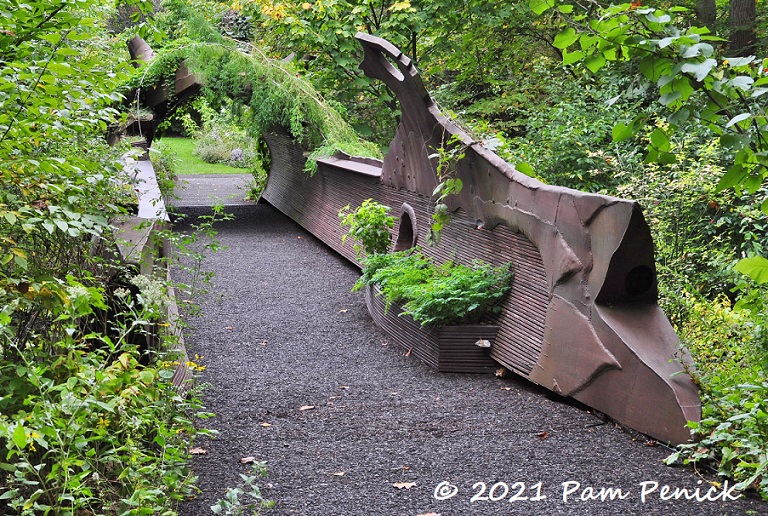 What a creative and playful bridge!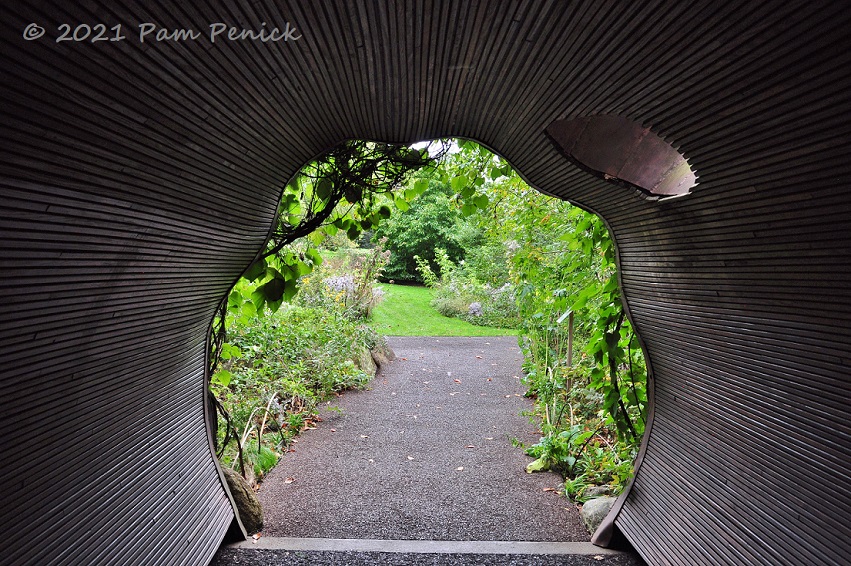 Feeling like a rabbit slipping through a hollow log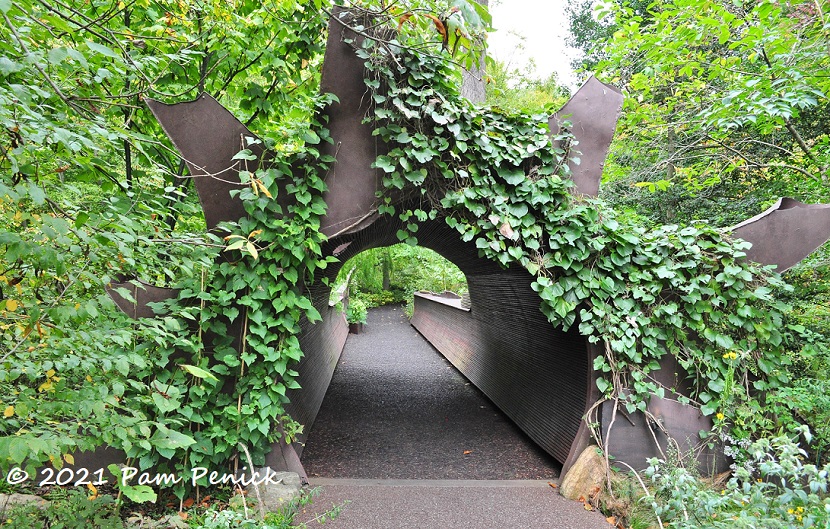 And out the other end, where the flared "roots" of the fallen tree make an artful support for vines.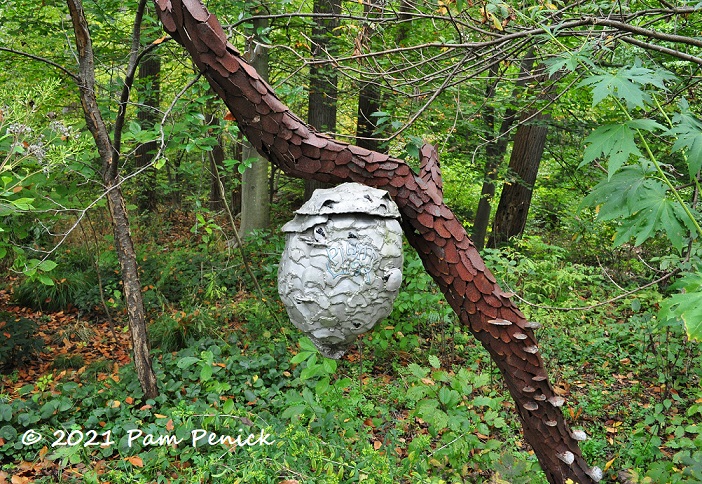 Here you find another of Chanticleer's unique plant list boxes. This one looks like a hornet's nest suspended from a tree with bark of metal scales.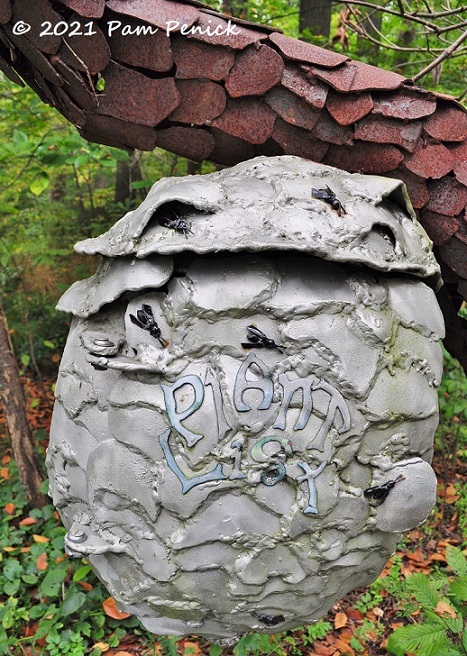 The hornet's nest box even includes faux hornets — making it a little disconcerting to reach out to open the box.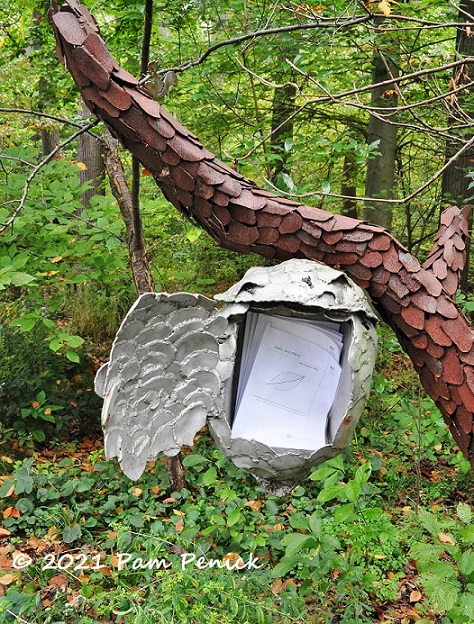 Ta-da! Plant lists for the woodland garden.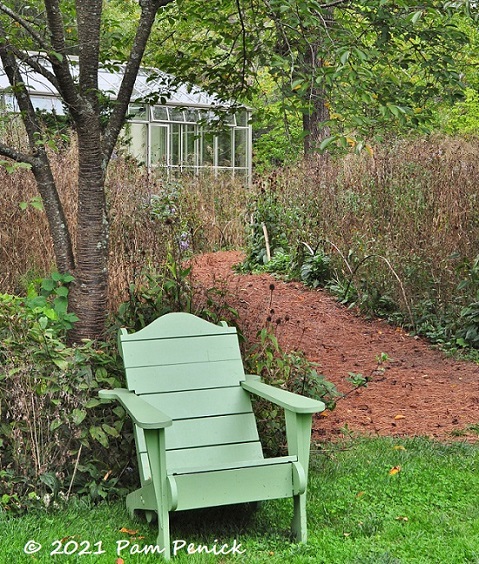 And now we're leaving the woodland and headed for the sunny, floriferous vegetable and cutting gardens. One of Chanticleer's unique chairs marks the transition, along a path leading to a greenhouse.
Cutting and Vegetable Gardens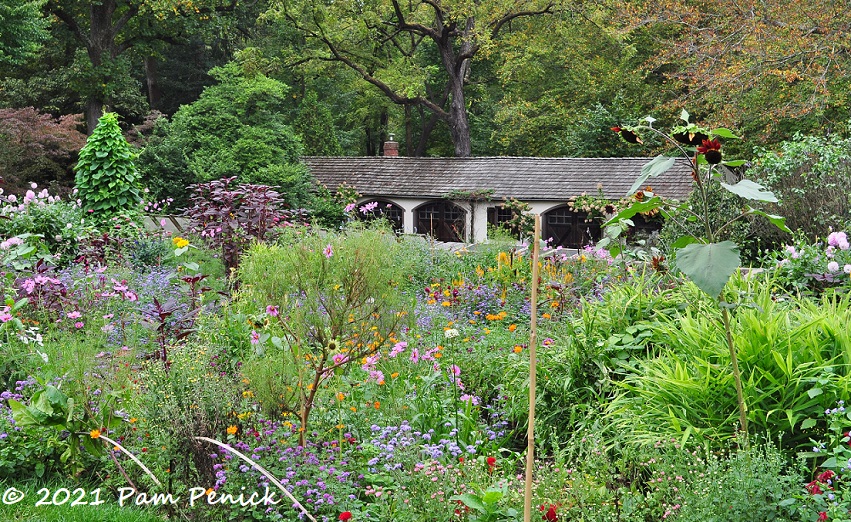 The cutting and vegetable gardens occupy the same sunny plot, in view of a picturesque and enormous potting shed that could be mistaken for a horse stable.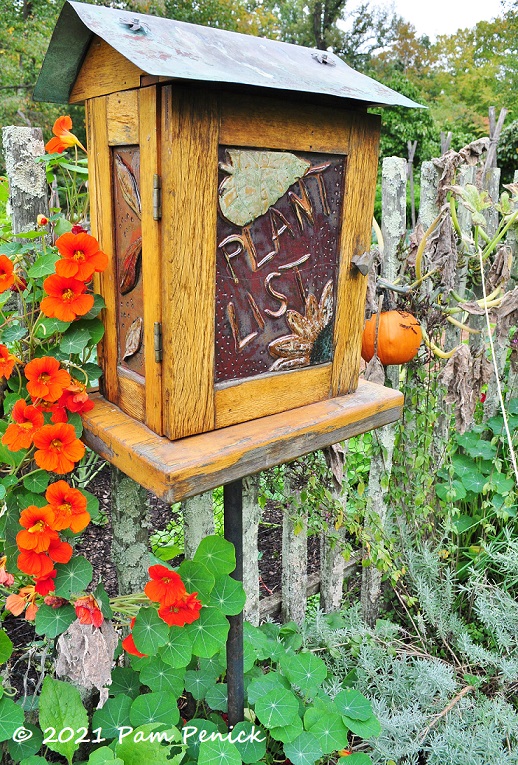 Another charming plant list box, this one smothered by orange nasturtiums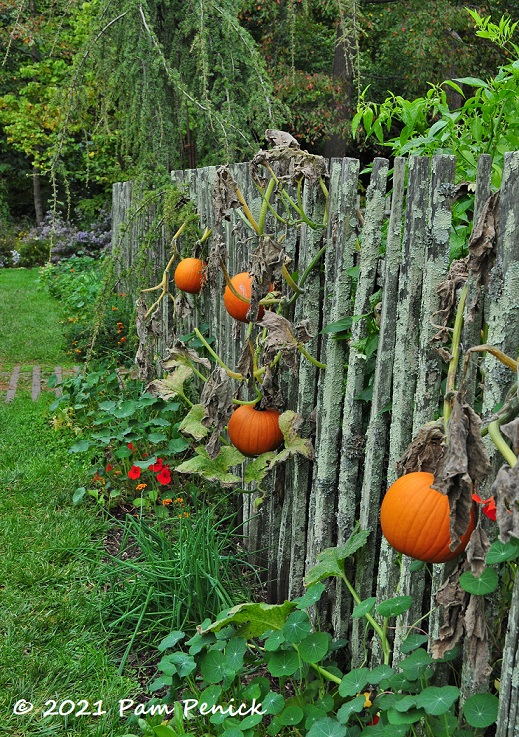 More orange! Pie pumpkins dangle from vines rambling through the vegetable garden's fence.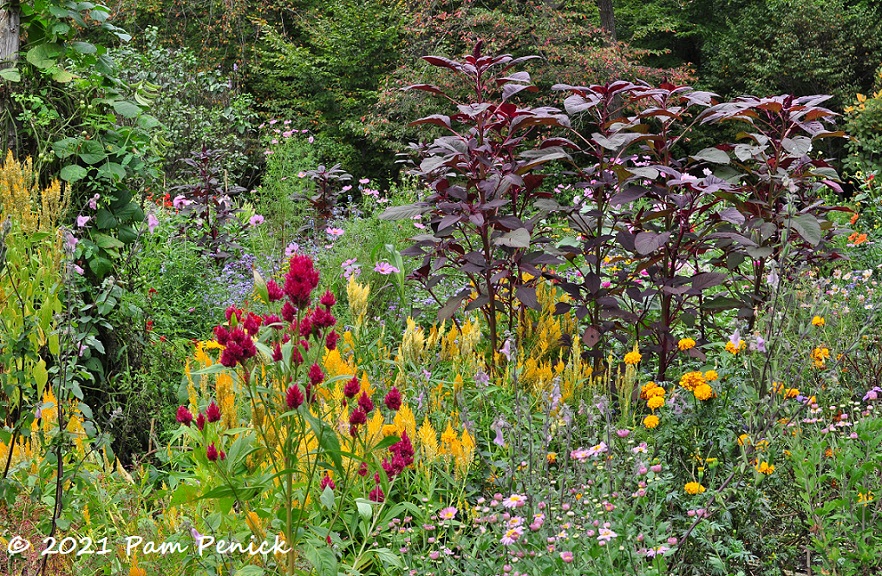 A group of people were hanging out in the vegetable garden, so I didn't get pics this time. Instead let's turn our attention to the blowsy autumn cutting garden.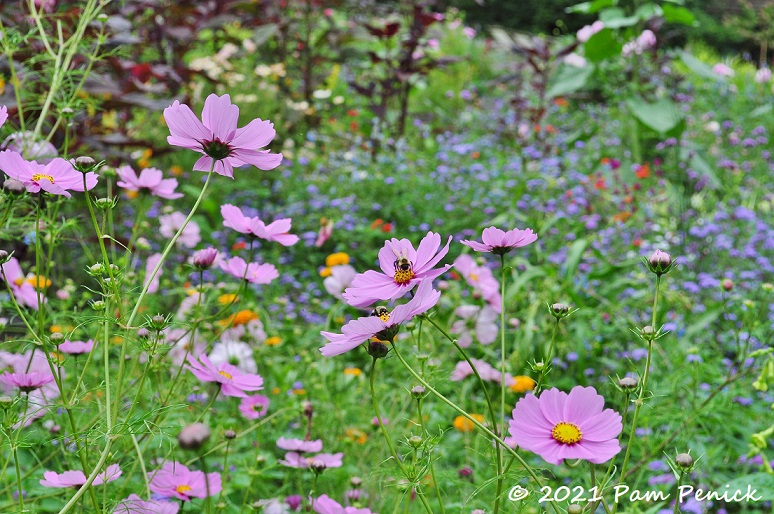 Pink cosmos feeding the bees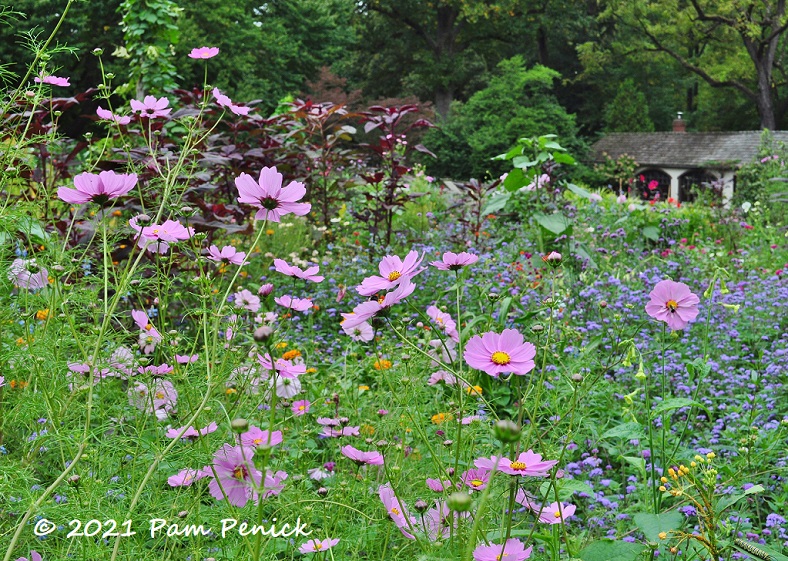 More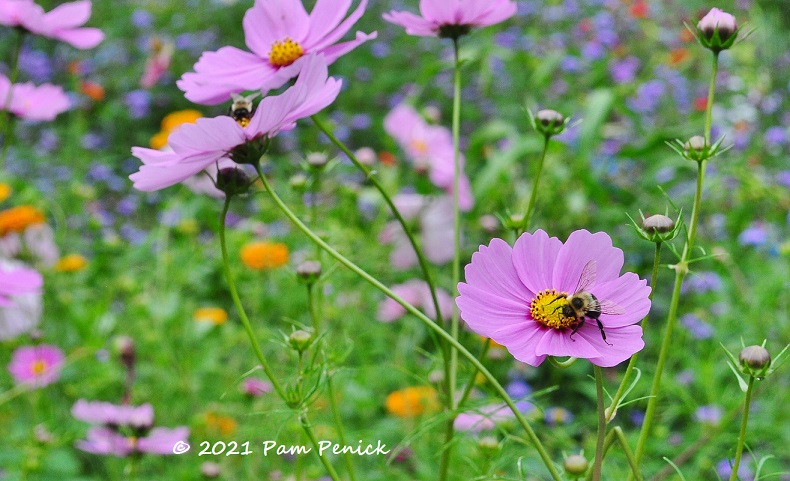 And more!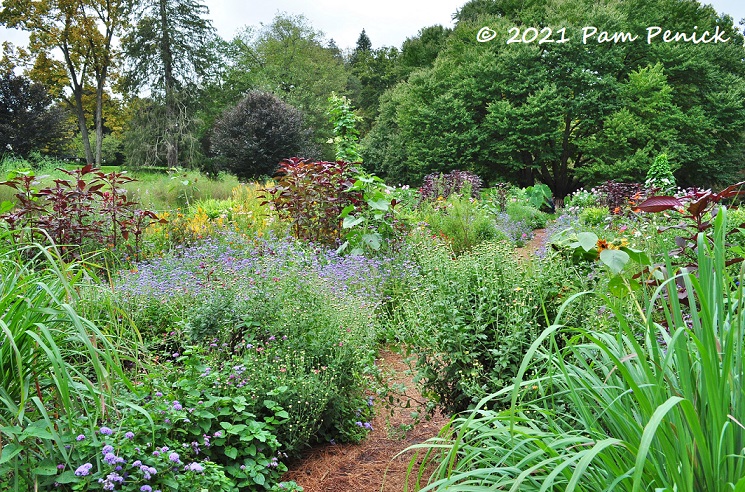 The long view through the cutting garden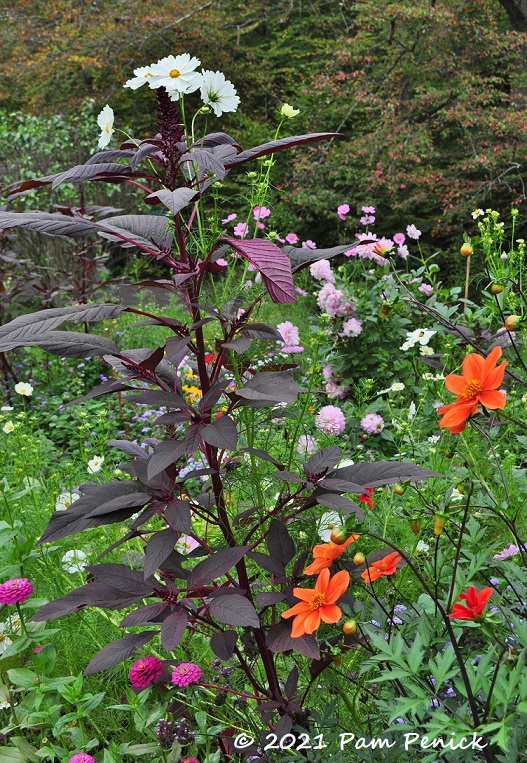 Every day, staff use the cutting garden to make bouquets for the restrooms and to float flowers and leaves in water bowls throughout the garden.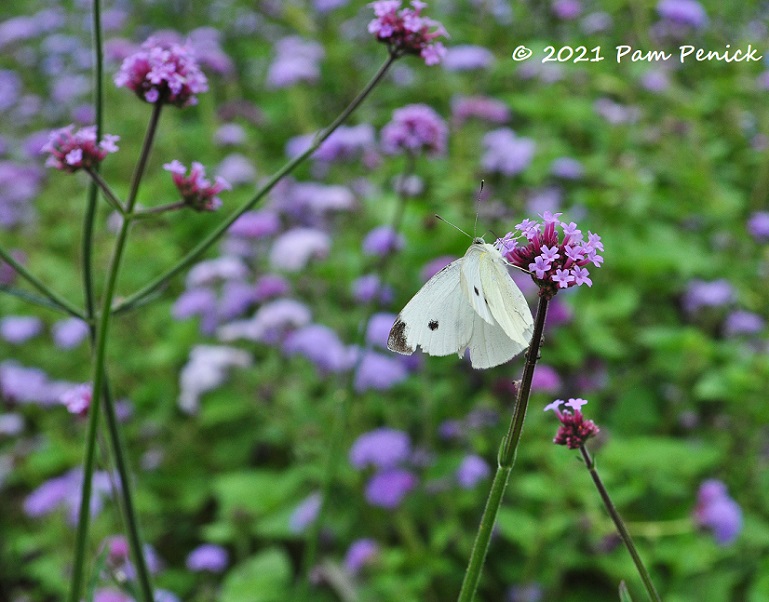 The garden is used by others as well.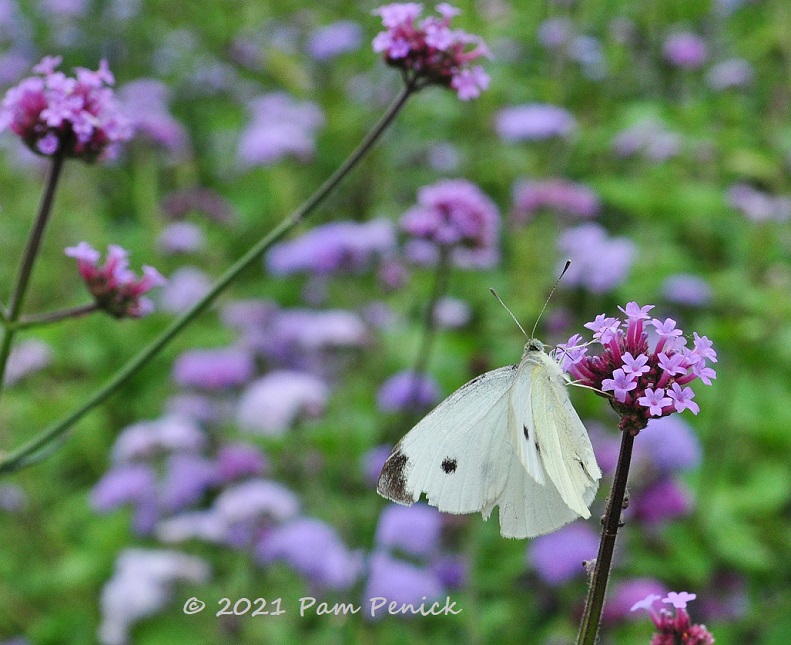 A cabbage white butterfly on Verbena bonariensis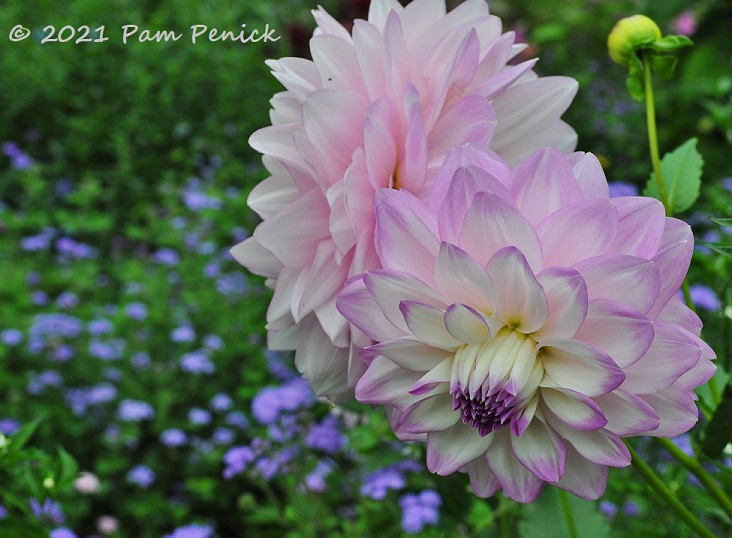 Big, floofy dahlias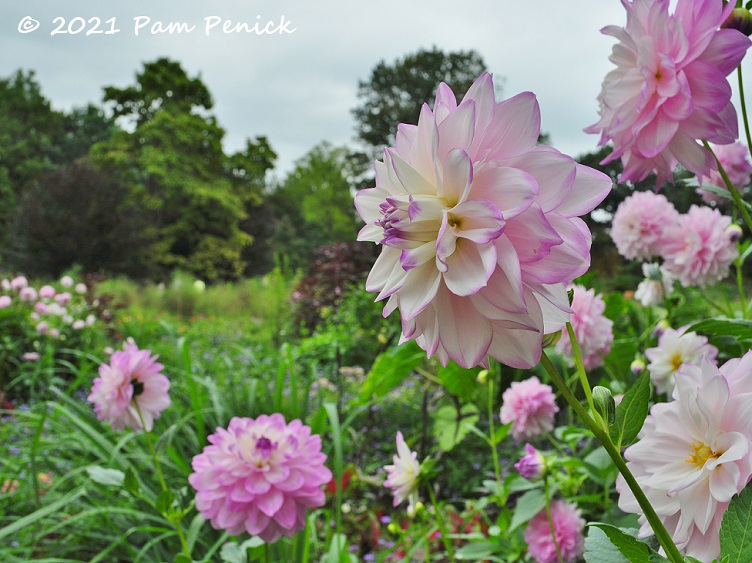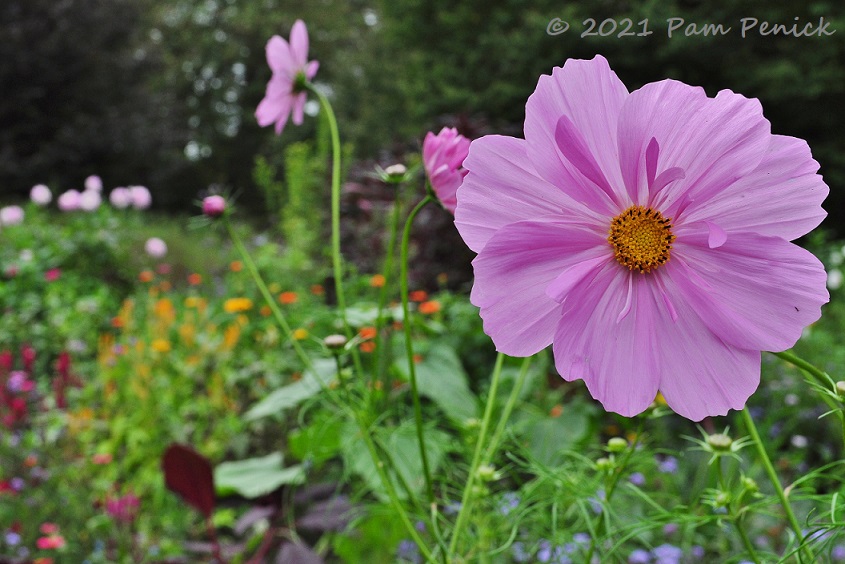 Being face-to-face with flowers is a pretty good way to wrap up a visit to wondrous Chanticleer.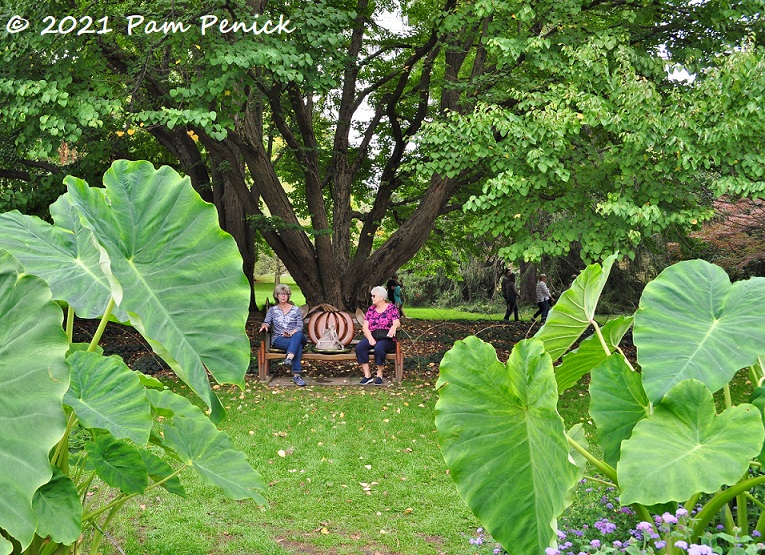 Just how big are these colocasias? Thanks to a trick of perspective, they appear to dwarf two women on a bench, rendering them garden gnome-sized.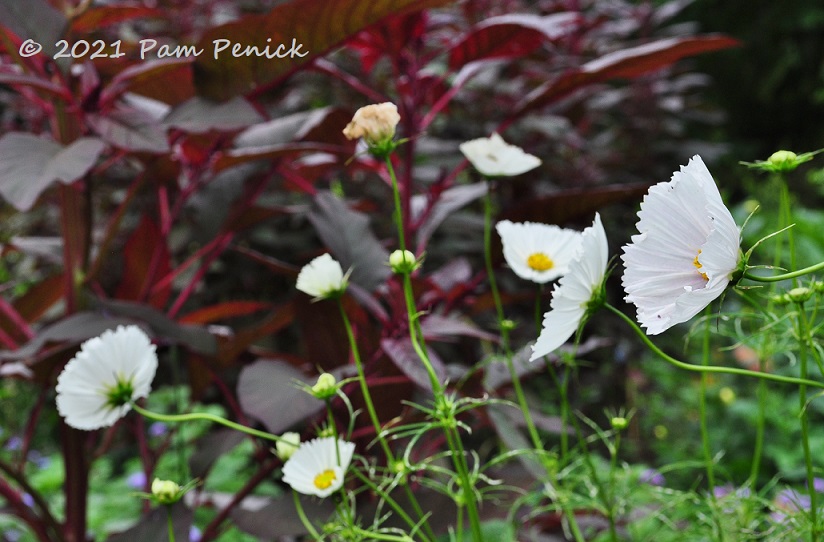 It's all part of the magic of Chanticleer.
This concludes my 6-part series about Chanticleer. For a look back at Part 5, "Every passage is a destination," click here. And for more about this remarkable garden, visit my Must-See Gardens page and scroll down to Pennsylvania to find my previous Chanticleer posts.
Up next: My first visit to Delaware Botanic Gardens, which features a Piet Oudolf–designed meadow garden.
I welcome your comments. Please scroll to the end of this post to leave one. If you're reading in an email, click here to visit Digging and find the comment box at the end of each post. And hey, did someone forward this email to you, and you want to subscribe? Click here to get Digging delivered directly to your inbox!
_______________________
Digging Deeper
Need design help with your yard? Hire me as your personal garden coach! Maybe you need replacement plant ideas after the big freeze. Or maybe your landscaping has grown tired, and you want fresh curb appeal. Or perhaps you're ready to get rid of some lawn and create a pollinator garden, bird habitat, or hangout space for you and your friends. I'm here to help! Contact me to let me know what's going on, and let's figure it out together. My range is Austin and suburbs within a 25-min. drive of NW Austin, but I'm flexible and can travel farther with a surcharge, so let me know where you are. Weekday morning appts. only.
Attend the John Fairey Garden's annual Budding Out Plant Sale & Festival on Saturday, March 19 in Hempstead. Rare and distinctive plants from the garden's nursery and other vendors will be available, plus art, ceramics, jewelry, food, music, and entertainment for the whole family. Open 10 am to 4 pm. Members get first dibsat the plant sale with 9 am entry (memberships available at the gate). Check the webpage for a continually updated vendor list.
Join the mailing list for Garden Spark! Hungry to learn about garden design from the experts? I'm hosting a series of talks by inspiring garden designers, landscape architects, and authors a few times a year in Austin. Check out the 2021-22 schedule. These are limited-attendance events that sell out quickly, so join the Garden Spark email list to be notified in advance. Simply click this link and ask to be added.
All material © 2022 by Pam Penick for Digging. Unauthorized reproductionrohibited.