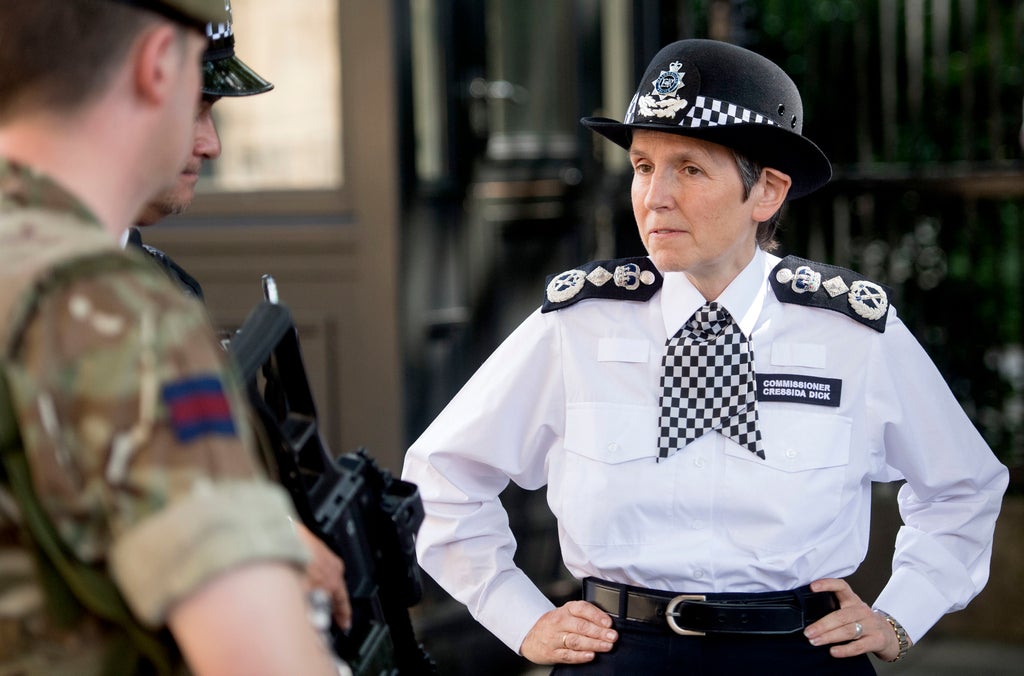 Cressida Dick says Sadiq Khan 'left her no other choice but to resign'
The home secretary and the mayor of London have clashed over the departure of Dame Cressida Dick after she was forced out as Metropolitan Police commissioner.
Dame Cressida quit after losing the support of Sadiq Khan over her plan to reform the Met following a string of scandals and accusations of a toxic working culture.
It is understood the beleaguered Met chief was called to a meeting with the mayor yesterday afternoon over the reforms but declined to attend and offered her resignation instead – catching the home office by surprise.
It is understood Mr Khan did not inform the home secretary he had requested a meeting with the commissioner.
According to home office sources, Ms Patel was not impressed by this and thought it was "rude and unprofessional".
Ms Patel has the final say on the next appointment, but the process requires her to consult Mr Khan as mayor.
He said he would be "working closely" with the home secretary to find a successor.
1644569275
Partygate investigation will 'not be affected' by Cressida Dick's departure
The police investigation into allegations of Downing Street Covid rule-breaking parties will "not be affected" by the change of Met chief, according to a government minister.
Asked what Dame Cressida Dick's removal meant for the Partygate inquiry, Department for Transport minister Robert Courts told Sky News: "Police are very used to handling matters where there are different parties involved.
"They are totally independent and I have absolute confidence in their ability to operationally carry out an investigation.
"So they will do that and they will do that in a way that is independent – that will not be affected by the role at the top of the Met."
Laurie Churchman11 February 2022 08:47
1644568740
Scandals the Met has faced under Cressida Dick's leadership
Dame Cressida announced yesterday that she would be stepping down after losing the backing of London mayor Sadiq Khan.
It follows a series of scandals during her tenure leading Britain's biggest police force.
With no clear frontrunner to replace the outgoing commissioner, here's a look at some of the likely candidates.
Laurie Churchman11 February 2022 08:39
1644566704
'Good riddance': Cressida Dick's resignation sparks polarised reactions
Dame Cressida Dick's resignation as commissioner of the Metropolitan Police has sparked polarised reactions.
Prime Minister Boris Johnson praised the outgoing commissioner for serving with "great dedication and distinction over many decades".
"I thank her for her role protecting the public and making our streets safer," he tweeted.
Campaign group Reclaim These Streets, which is bringing a legal challenge against the force over its handling of a Sarah Everard vigil, simply tweeted: "Good Riddance."
Meanwhile Labour MP Dawn Butler tweeted: "I said Cressida Dick had to go.
"I'm now pleased Mayor of London has accepted her resignation.
"The replacement must be committed to serious reform and building trust back into the Met."
Laurie Churchman11 February 2022 08:05
1644561954
ICYMI | Tory minister rants about 'democracy' when asked about PM
Responding to Labour member Rupa Huq's question, Ms Braverman said: "The Prime Minister has made his position clear. I'm not going to add any more in light of the live police investigation".
She added: "But she mentioned the rule of law and I would just say that fundamental to the rule of law is also democracy: and I'm very proud to be supporting this prime minister, a prime minister who's honoured democracy by delivering Brexit".
Tory minister goes on bizarre rant about 'honouring democracy' over Partygate
Alisha Rahaman Sarkar11 February 2022 06:45
1644560802
Photo leaks 'designed' to bring down PM, minister suggests
Prime minister Boris Johnson's enemies are plotting to bring him down with a "constant" leak of Downing Street party photos, cabinet minister Ben Wallace has suggested.
"The constant leaking is clearly designed for a purpose," Mr Wallace told Times Radio.
He said: "Yes, there could be a photograph tomorrow, the next day or the day after – that's clearly what's behind some of the people's motives".
Alisha Rahaman Sarkar11 February 2022 06:26
1644558184
Partygate: Johnson to get private lawyer
Prime minister Boris Johnson will appoint a private lawyer if he is questioned by the police over allegations that flouted lockdown rules by attending parties.
Mr Johnson has lined up a legal expert on coronavirus regulations to help him defend his participation in the parties, The Times reported.
The move comes shortly after Scotland Yard that officers would be contacting more than 50 people, who will be sent questionnaires with "formal legal status" over the dozen events held in No 10 and Whitehall buildings during Covid restrictions.
The prime minister, who reportedly attended six of those parties being investigated by the Metropolitan Police, is expected to be among them.
Alisha Rahaman Sarkar11 February 2022 05:43
1644556242
Queen's health being monitored
The 95-year-old reportedly spent time with Prince of Wales on Tuesday when her eldest son was carrying out an investiture on her behalf at her Windsor Castle home.
The Queen is not displaying any symptoms, but Buckingham Palace refused to confirm whether she had tested positive or negative, citing medical privacy.
According to Palace source, the situation will continue to be monitored but a running commentary would not be provided on the Queen's health.
Alisha Rahaman Sarkar11 February 2022 05:10
1644554322
Who are the contenders to replace Cressida Dick?
Speculations are rife about who would replace Dame Cressida Dick as the Metropolitan Police commissioner after she abruptly resigned on Thursday night as London mayor Sadiq Khan withdrew support for her leadership.
Here is a look at some of the likely candidates:
Assistant Metropolitan Police commissioner Matt Jukes is currently working as head of counter-terrorism and is seen by many commentators as a likely contender.
Neil Basu, another assistant commissioner who previously worked as the head of counter-terrorism, is also thought to be a likely candidate.
The chief constable of the British Transport Police, who had previously worked as a senior officer at the Metropolitan Police, is also another potential replacement.
Rebecca Speare-Cole has more.
Alisha Rahaman Sarkar11 February 2022 04:38
1644552146
Why Cressida Dick had to go?
Metropolitan Police chief Dame Cressida Dick resigned from her post on Thursday after losing the backing of London Mayor Sadiq Khan.
It is understood Dame Cressida submitted a plan for reforming the force but Mr Khan did not think it met the requirements and called her in for a meeting in the evening.
However, she did not attend and submitted her resignation instead.
It was a "shock" resignation – except that it wasn't. There are plenty of conspiracy theories that can be cooked up, but there may be less to the fall of the commissioner than meets the eye, writes Sean O'Grady.
Alisha Rahaman Sarkar11 February 2022 04:02
1644550786
Labour MP accused of making racist remark to journalist
Neil Coyle, MP for Bermondsey and Old Southwark, has reportedly been banned from all bars on the parliamentary estate after an alleged incident in which he made a Sinophobic remark about the appearance of Henry Dyer, a Business Insider reporter.
Mr Dyer said the pair had been discussing Barry Gardiner, a Labour MP who received funds from a suspected Chinese spy, when Mr Coyle said his colleague had been "paid by Fu Manchu", a cartoon villain that draws on traditional Chinese stereotypes.
Alisha Rahaman Sarkar11 February 2022 03:39