6 min read
When Dame Cressida Dick became the first female and openly gay Commissioner of the Metropolitan Police in 2017 there was optimism that her appointment would be a pivotal moment for Britain's largest police force.
But when she was forced to resign after five years, amidst some of the biggest controversies in the Met's 190-year history, a major split emerged between those who believe Dick has failed to implement crucial reforms in the force, and those who see her as a progressive figurehead who was set up to fail.
A major source of tension overshadowing Dick's tenure has been the issue of sexism and violent misogyny within the force, which exploded into public discourse following the murder of 33-year-old Sarah Everard by a serving Metropolitan Police officer in March 2021.
Many felt Dick had failed to acknowledge how entrenched the issue was within the culture and environment of the Met, despite a recent police watchdog identifying serious and multiple incidences of discrimination, misogyny, harassment and bullying in Charing Cross police station.
"We believe these incidents are not isolated or simply the behaviour of a few 'bad apples'," the Independent Office for Police Conduct (IOPC) stressed in their report.
Dick's desire to divorce the behaviour of individual officers from the wider Met caused critics to accuse her of downplaying serious endemic issues.
Jamie Klingler, cofounder of Reclaim These Streets, an organisation that recently won a High Court battle with the Met over the force's decision to ban a vigil for Sarah Everard, has been critical of Dick.
She told PoliticsHome her "main issue with Dame Cressida Dick was her unwillingness to recognise and address the systemic issues of racism, sexism and homophobia that were rife within her force; and without acknowledging those issues, there is no room for the crucial reforms that were required."
However, supporters of the Commissioner argue she was protecting her officers from unfair criticism in politics and the wider media.
Ken Marsh, Chairman of the Metropolitan Police Federation, told PoliticsHome that morale amongst Met Police officers is now at "rock bottom" and that they feel "saddened and angry" at the Commissioner's early departure.
"She was reforming. She was changing. The culture is changing," he said.
Principally, Dick has been praised for reducing violent crime in the capital with serious violence down 22% in 2020/21 than the previous year and the volume of dangerous weapons being seized by the Met is credited to her prioritisation of the issue. Regardless, there does remain concern over the Met's enforcement measures with reports of children being strip searched, and the controversial 'Stop and Search' policy being disproportionately applied to Black people.
Marsh acknowledges some recent incidents such as the Everard case have "sickened" the force, but stresses the way all officers are being "branded in this shaming and negative way" is unfair and doesn't happen to any other organisation.
The Metropolitan Police Federation is particularly critical of the London Mayor Sadiq Khan, who they have declared they have "no faith" in, arguing Khan regularly makes "statement after statement slaughtering our colleagues in the media".
"Many other people in public life could learn from the accountability policing – and the outgoing Metropolitan Police Commissioner – has shown," Marsh tells PoliticsHome.
Khan, however, has insisted that serious reforms are needed if the Met is to rebuild public trust.
The details of the Mayor's involvement in Cressida Dick's departure are contested, but there is speculation that Khan issued the Commissioner with an ultimatum following the IOPC report into Charing Cross officers.
Khan is unequivocal in his belief that change at the top of the Met is necessary if trust is to be regained in the force following the succession of scandals.
"Public trust and confidence in London's police service has been shattered by a series of scandals," the Mayor of London told PoliticsHome.
"This includes the shocking evidence of racism, sexism, homophobia, bullying, discrimination and misogyny by police officers who worked at Charing Cross station.
"It's my job as Mayor to hold the police to account on behalf of Londoners. It was therefore my duty to act decisively when it became clear that the only way we were going to start seeing the scale of change urgently required was with new leadership at the top of the Met."
The Home Secretary has now launched a formal review into the circumstances leading up to Dick's departure in order to establish whether due process was followed.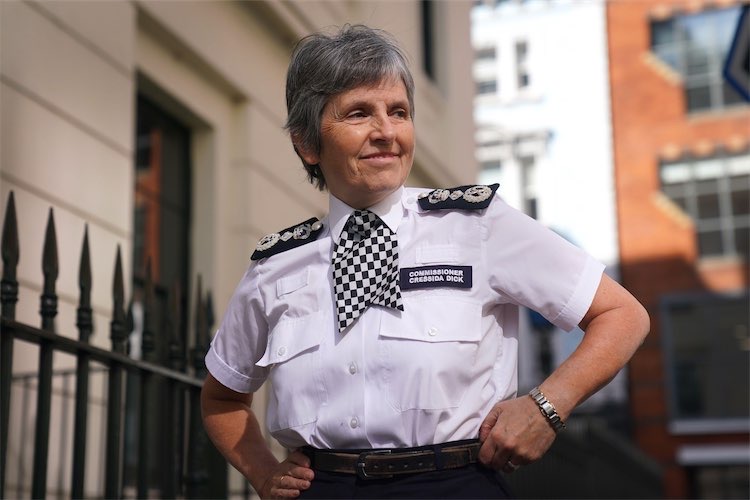 In a statement, Priti Patel advised that the "circumstances leading up to Dame Cressida's departure warrant further scrutiny", adding that her "dedication to protecting London and Londoners has helped drive down serious violence in the city and for that in particular she deserves our gratitude".
The review is expected to conclude in the summer, and will be taking evidence from both the Mayor's Office and Dick herself.
For others, however, the relationship between the outgoing Met Commissioner and UK government requires further scrutiny, with accusations of delays in investigating a series of parties held in Downing Street and Whitehall when lockdown forbade such activity. A total of 20 fixed penalty notices have so far been issued in connection with 'partygate' events, with more expected to follow. It has not been ruled out that Prime Minister Boris Johnson could receive a fine.
Labour MP and former shadow home secretary Diane Abbott believes it is "impossible" to assess Cressida Dick's record and legacy without "taking into account her relationship with government in general and this Home Secretary in particular".
"What is needed is a new broom at the Met, to tackle incompetence, racism, misogyny and corruption," she told PoliticsHome.
"But that would require a complete change of direction from the politicians responsible for the appointment. This is what is required."
The Home Secretary will recommend Dick's replacement to the Queen following an open selection process. But any successor will face a challenging landscape of a demoralised workforce, broken public trust and testing relationships with senior politicians. It's by no means clear that the appointment will be a straightforward process either.
Khan told PoliticsHome: "I've been clear that I won't support the appointment of anyone who doesn't understand and acknowledge the scale of the challenge. Regaining the trust and confidence of London's communities is crucial to policing by consent and making our city safer."
PoliticsHome Newsletters
PoliticsHome provides the most comprehensive coverage of UK politics anywhere on the web, offering high quality original reporting and analysis: Subscribe