David Cameron said a second Brexit referendum can't be ruled out "because we're stuck" – but admits some people will "never forgive him" for holding the EU vote that took place in 2016.
The former prime minister made the remarks in an interview with The Times ahead of the publication of his 752-page memoir For The Record next week.
"Some people will never forgive me for holding a referendum. Others for holding it and losing it," he said in the interview.
"There are, of course, all those people who wanted a referendum and wanted to leave who are glad that a promise was made and a promise was kept."
Asked if he has people shout at him, he said: "I've had some robust exchanges."
Mr Cameron also said he recognises "the uncertainty has been painful and difficult" since the referendum, adding that "it's been difficult for all sorts of people in all sorts of walks of life".
Asked "how hard" life has been for him personally since the referendum result, Mr Cameron said: "I think about this every day.
"Every single day I think about it, the referendum and the fact that we lost and the consequences and the things that could have been done differently, and I worry desperately about what is going to happen next."
Mr Cameron was asked about whether he has trouble sleeping.
He replied: "I worry about it a lot. I worry about it a lot."
The former prime minister also revealed that the morning after losing the EU referendum he phoned the then US president Barack Obama and Europe's leaders to tell them he was "sorry" for the outcome.
Mr Cameron said that he wished Boris Johnson well when he became prime minister and "wanted him to get a deal from the EU that would have passed in the House of Commons".
He added that Mr Johnson's decisions to remove the whip from "hard-working Conservative MPs" and prorogue parliament have "rebounded".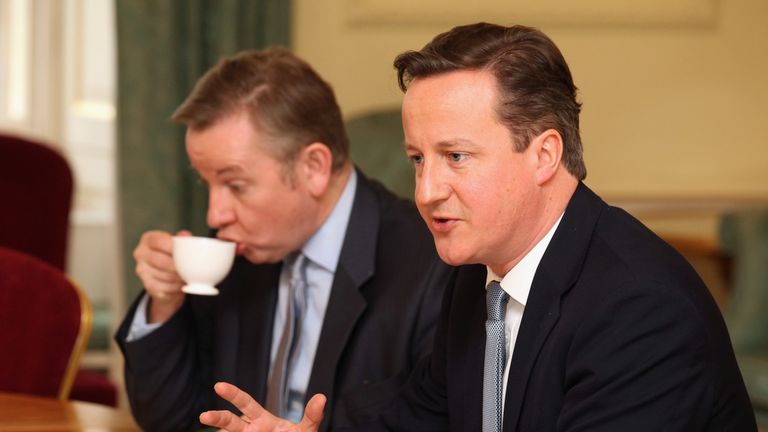 Mr Cameron said he "didn't support either of those things" and he doesn't think "a no-deal Brexit is a good idea".
The former prime minister also refers to his former education secretary Michael Gove, who was a prominent Leave campaigner, as "mendacious" in the book.
Mr Cameron said in the interview that the Leave campaign "left the truth at home" with regards to claims about Turkey and "the £350m on the bus".
He added that the "latent Leaver gene" in his party was "much stronger" than he thought.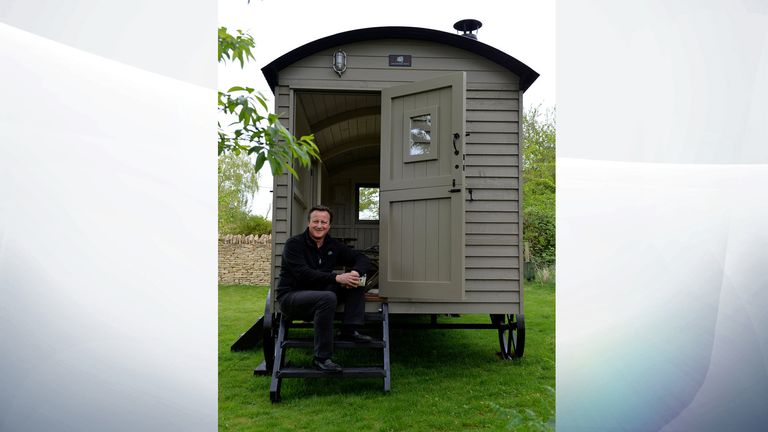 In his book Mr Cameron describes how he wanted to demote Mr Gove from education secretary to chief whip in 2014 because he was alienating teachers.
When Mr Gove refused to budge, the then prime minister told him: "You are either a team player or a w*****."
Mr Cameron said he believes he put the remark in a text.
He added that Mr Gove also promised him he would not play a leading part in the Leave campaign.
Andrew Billen, The Times journalist who interviewed Mr Cameron, told Sky News: "I think the great charge that he is open to is that he is complacent, that he doesn't really care.
"People think 'his life is OK, he's a rich man'… and this is water off a duck's back.
"It was very clear to me that he does care. I asked if he had been depressed and he said 'very depressed'.
"I asked whether it was clinical and he said he had not been taking medication."
Mr Cameron said in the interview that the book was written on trains, planes and at his desk.
It had been widely reported that the former prime minster purchased a £25,000 shepherd's hut to write his book in.
For The Record will hit the shelves a little more than a week before the start of this year's Conservative Party conference.
Credit: Source link