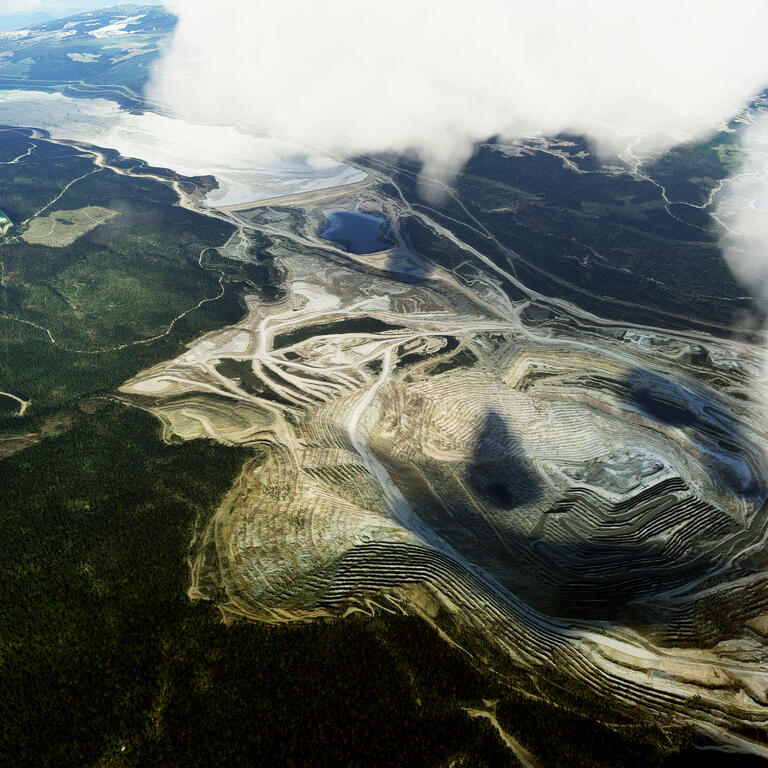 Overview
Denison Mines (DNN) is a $1.1 billion uranium development company with a world class deposit expected to enter production in 2024.
I have previously highlighted the bullish case for uranium. In a nutshell, the world supply drastically falls short of world demand. The Sprott Physical Uranium Trust (OTCPK:SRUUF) has stacked 44 million pounds of uranium over the past several months. This has removed supply from a market that consumes ~190 million pounds per year with a supply deficit of 30 million pounds per year. By the time Denison's flagship project enters production, I expect the price of uranium to be much higher than the $45 it currently trades at.
In the last month two new catalysts have emerged that could have serious implications for the price of uranium and in turn shares of DNN.
Kazakhstan Political Turmoil
Recently there was serious political turmoil in Kazakhstan. Dozens were killed as anti-government protesters clashed with security forces. What started as civil unrest quickly escalated into a major security situation where the Internet was even turned off for five days. Kazakhstan requested that Russia send troops to quell the uprising.
In recent days, it appears the uprising has subsided. What might have escalated into a full blown coup attempt was quickly extinguished as opposition forces saw that Russia was aligned and willing to protect the current leadership.
This serious civil disturbance could have major implications for the supply of uranium. Kazakhstan currently supplies 40% of the world's uranium and the state owned Kazatomprom is the world's most important uranium company. If political turmoil in Kazakhstan escalates in the coming months, uranium supply could be disrupted which would be bullish for the price of uranium.
Furthermore, the political situation in Kazakhstan highlights the importance of investing in assets in stable jurisdictions. Most of Denison's important properties are in Canada. Any political strife in Kazakhstan will probably be met with investors discounting uranium assets in volatile regions while adding a premium to North American assets.
Nuclear Energy Favored by Senator Manchin
The sentiment towards nuclear energy has even improved in the United States in recent weeks.
Senator Joe Manchin is currently negotiating to include a nuclear tax credit in Biden's Build Back legislation that is currently in gridlock.
Maintaining our fleet and preventing closures of existing nuclear plants is critical to achieving emission reduction goals and ensuring a reliable grid," Manchin told Biden in a letter last year.

"I'm big on nuclear," Manchin told reporters on Capitol Hill last week.
The bear case for nuclear was that nuclear facilities would be phased out over the coming decades. However, the political environment has been the most favorable for nuclear energy in several years. A ten or twelve year tax credit for nuclear energy would almost guarantee that utility companies will not phase out nuclear power in the United States.
Company Valuation
Denison's core asset is a 95% interest in the Wheeler River project. This is the largest undeveloped asset in the eastern Athabasca Basin. This project is home to two world class deposits. The Phoenix deposit is estimated to have all-in costs of only $8.90 per pound of uranium. Operating costs are expected to be $3.33 per pound of uranium. With the spot uranium price at $45.50 and many long term contracts being negotiated north of $50 one can see the immense profit potential of a low cost mine. As an added bonus the project is in a stable jurisdiction. The Gryphon deposit is expected to have all-in costs of $22.82 per pound and operating costs of $11.70 per pound. Combined both deposits account for proven and probable reserves of 109 million pounds of uranium with a mine life of 14 years.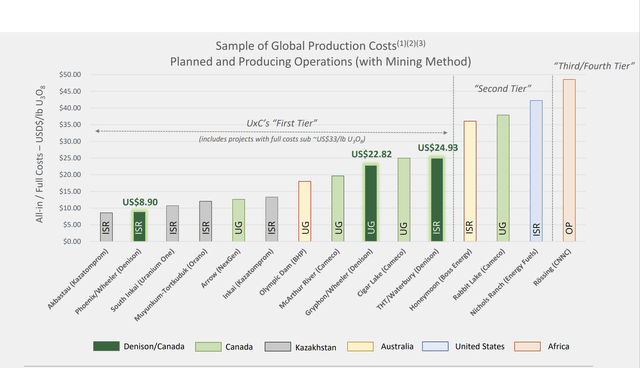 The project is currently in the pre-feasibility stage with production expected to commence in 2024. Of course, shareholders can expect some dilution as the company will need to spend $325 million to put the mine into production.
The base case for this project results in a net present value of $1.31 billion if uranium prices hover around $40 per pound during the life of the mine. Of course, I expect the price of uranium to be much higher and perhaps even multiples higher of that figure and my NPV is well over $3 billion.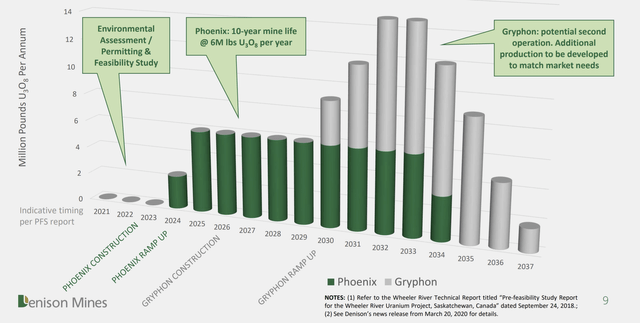 Denison has interests in 30 other projects at various stage of development. The company leverages its technical team and takes large stakes in surrounding projects. The company also owns 2.5 million pounds of uranium currently valued at $112 million. In addition, the company has a huge exploration portfolio of 250,000 hectares.
The company is currently valued at $1.1 billion. The stock rises and falls with the price of uranium. For investors bullish on the price of uranium, you can get 3X upside by investing in a premier development company like Denison.
The Bear Case
In the long term, the bear case is that the price of uranium stumbles along at $30 per pound and Denison's projects never get developed. Of course, the major risk with uranium is another nuclear accident that would result in the shutdown of nuclear reactors.
In the short term, DNN is a favorite of the day trading crowd. As a highly volatile stock that can move 10% in a day, traders love to speculate with DNN stock. Unfortunately, this means that the shares are often liquidated when the overall market swoons. I have noticed that DNN shares often struggle if other speculative stocks are being sold off in totally unrelated industries. That is the curse of being a speculative vehicle. However, that is short term noise that should be ignored by long term investors with a multi-year horizon.
Final Thoughts
If you are bullish on the long term price of uranium, Denison is an excellent company to give you upside torque. The company owns one of the premier assets in the entire uranium industry. With one of the lowest cost mines in the world, one can only salivate at the potential profits if uranium rises to over $100 per pound in the coming years.