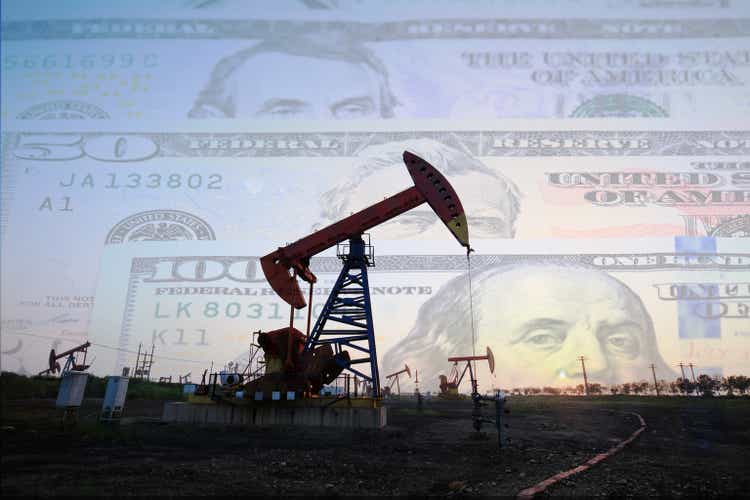 Introduction
The severe downturn of 2020 seems to have only strengthened the resolve of the oil and gas industry to focus upon shareholder returns instead of production growth. Whilst Devon Energy (DVN) has long provided dividends, until recently they were always relatively low and essentially an afterthought but not now with their new shareholder returns policy and accompanying capital allocation strategy seeing them as the new kid on the block with a potential high 9%+ yield as we head into 2022.
Executive Summary & Ratings
Since many readers are likely short on time, the table below provides a very brief executive summary and ratings for the primary criteria that were assessed. This Google Document provides a list of all my equivalent ratings as well as more information regarding my rating system. The following section provides a detailed analysis for those readers who are wishing to dig deeper into their situation.

*Instead of simply assessing dividend coverage through earnings per share cash flow, I prefer to utilize free cash flow since it provides the toughest criteria and also best captures the true impact upon their financial position.
Detailed Analysis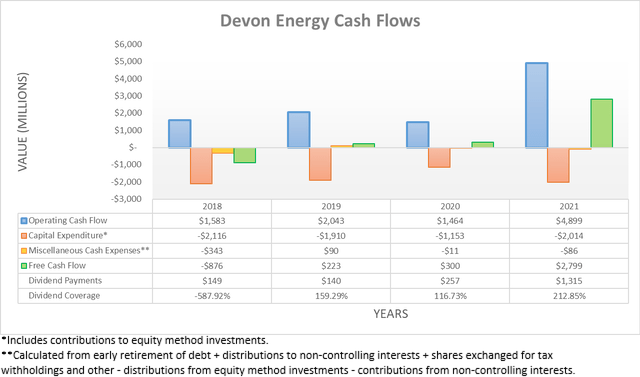 After seeing oil prices recover from the severe downturn of 2020 as life began somewhat normalizing after the Covid-19 pandemic, their cash flow performance naturally followed in tandem. This helped see their operating cash flow surge more than three-fold, although to be fair, their merger with WPX Energy obviously provided a significant boost. Regardless, this still saw their free cash flow reach $2.799b and provide very strong coverage of 212.85% to their $1.315b of dividend payments, thereby leaving excess free cash flow of $1.484b, of which $589m was subsequently directed towards share buybacks as they pushed ahead with their new shareholder returns policy and accompanying capital allocation strategy, as the slide included below displays.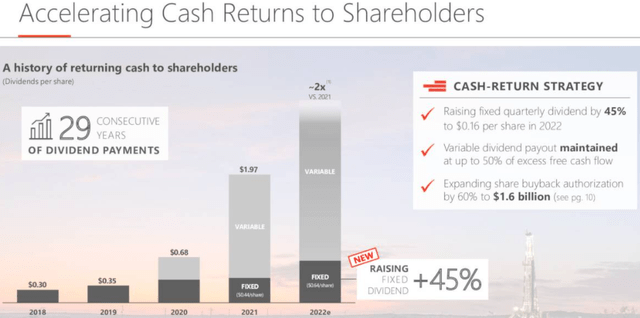 It can be seen that after years of only paying relatively low dividends, 2021 has seen this change with the inclusion of their variable dividends that aim to return half of their excess free cash flow after making their fixed dividend payments, thereby now seeing them as the new kid on the block in the world of income investing. Since this will still see a sizeable portion of their free cash flow retained to fund either share buybacks or deleverage, it also means that their dividend coverage should remain very strong going forwards.
They also plan to conduct a further $1.6b of share buybacks but there is no set timeline for these to be completed and appear to be taking a backseat to their dividends, which thankfully means that unlike some of their peers, their shareholder returns policy is focused towards dividends instead of share buybacks. Whilst other investors may not feel the same, in my view, this provides a superior choice for companies in a highly volatile industry that see their free cash flow and share price move rapidly in tandem across the years.
When looking ahead, they should have no problems funding the fixed portion of their dividends in a variety of operating conditions because with a latest outstanding share count of 664,200,000, their quarterly rate of $0.16 per share will only cost $425.1m per annum and thus provides a margin of safety against their free cash flow of $2.799b during 2021. Meanwhile, their variable dividends stand to significantly boost the total dividend payments that their shareholders can enjoy given their free cash flow guidance for 2022, as the slide included below displays.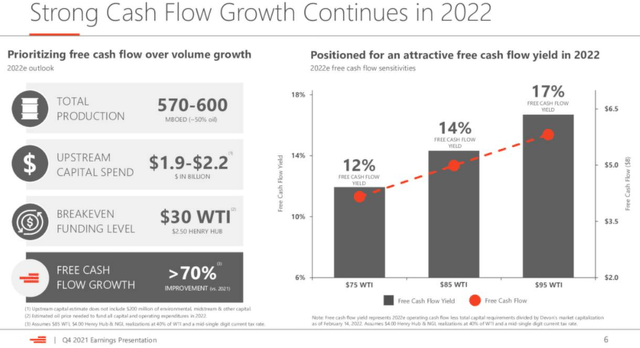 It was quite helpful for management to provide different examples of their estimated free cash flow for 2022, which range between approximately $4.25b for Western Texas Intermediate oil prices at $75 per barrel and a very impressive $6.25b if they rise to $95 per barrel. Given the very strong oil price outlook for 2022 that has many analysts expecting triple-digit oil prices, it seems reasonable to consider Western Texas Intermediate at $75 per barrel to represent a lower-end outlook and $95 per barrel to represents an upper-end outlook, both of which still incorporate a margin of safety.
Under these two oil price outlooks, it would see circa $3.825b of free cash flow remaining after their fixed dividend payments, thereby indicating variable dividend payments of circa $1.913b in the lower-end outlook and circa $5.825b of free cash flow remaining in the upper-end outlook, which indicates variable dividend payments of circa $2.913b. When combined with their fixed dividend payments, this would equal total dividend payments of between $2.338b and $3.338b respectively, which given their current market capitalization of approximately $36b sees a high potential dividend yield of between circa 6.50% and slightly above 9% for 2022 on current cost, thereby seeing their shareholders well rewarded in either outlook. Meanwhile, this stands to climb slightly above a high 9% in the upper-end outlook, thereby seeing their shareholders well rewarded. It remains to be seen whether they complete all of their $1.6b planned share buybacks during 2022, but if so, these two free cash flow outlooks would see between circa $300m and circa $1.3b of free cash flow retained and thus directed towards their balance sheet.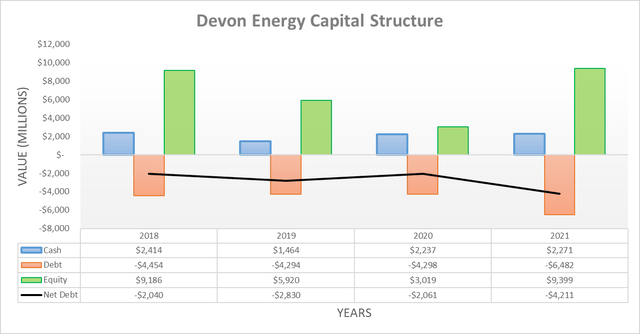 Even though they enjoyed strong cash flow performance during 2021, they still saw their net debt surge more than 100% to $4.211b versus its previous level of $2.061b at the end of 2020. Thankfully, this was solely due to the $3.562b of debt assumed through their WPX Energy merger, which was partly offset by the $344m of cash they also assumed, and thus if not for this merger, their net debt would have approximately been halved down to circa $1b. When looking ahead, their capital allocation strategy will see their net debt begin falling unless oil prices unexpectedly crash and should end 2021 between circa $2.9b and $3.9b given the two previously discussed upper- and lower-end outlooks for their free cash flow.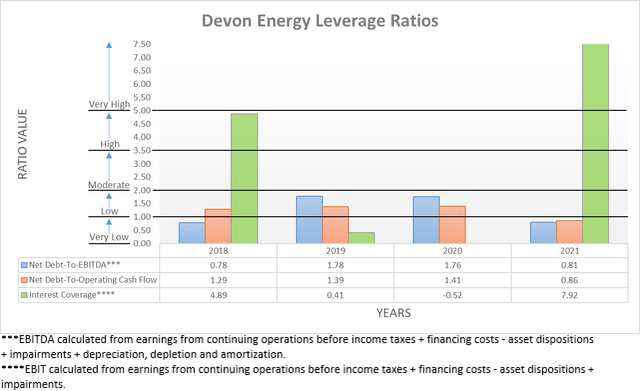 Thanks to the strong oil prices of 2021 sending their financial performance surging, their leverage has still fallen dramatically despite the significantly higher net debt. This now sees their respective net debt-to-EBITDA and net debt-to-operating cash flow sitting at 0.81 and 0.86, both of which are under the threshold for the very low territory of 1.00, and given their interest coverage of 7.92, their net debt is clearly of no concern right now.
Admittedly, if not for the strong oil prices of 2021 boosting their financial performance, their leverage would certainly be higher but thankfully given their net debt of $4.211b and equity of $9.399b, their gearing ratio is 30.94%. Whilst this sits slightly past the top of the moderate territory of 30.00%, it should fall during 2022 as their net debt decreases, and based upon my estimations, it should end the year firmly within the moderate territory at between 21.39% and 28.74% given the two previously discussed upper- and lower-end outlooks for their free cash flow and thus deleveraging. No one can necessarily predict the future, but once reaching this point, it would at least materially reduce the risks of any future downturns, and thus shareholders may see relatively higher variable dividends or share buybacks starting from 2023 or 2024 as they would have less motivation to deleverage.

To further sweeten the deal, their liquidity is easily strong with a current ratio of 1.38 and even more impressively, a cash ratio of 0.74 that provides an ample fiscal cushion, especially when considering that their credit facility still retains a further $3b of availability. This should not deteriorate during 2022 given their prospects to generate ample free cash flow, especially with no debt maturities and only relatively minor ones to follow during 2023-2025, as the table included below displays.

Conclusion
The world of income investing often sees new kids come and go with flashy dividends, although thankfully theirs not only sees very strong coverage, they will also not jeopardize their financial health in the event that a sudden future downturn strikes their highly volatile industry. Given the desirable prospects of seeing material deleveraging whilst also collecting a high dividend yield during 2022 that could reach upwards of 9%+, I believe that a buy rating is appropriate.
Notes: Unless specified otherwise, all figures in this article were taken from Devon Energy's SEC Filingsall calculated figures were performed by the author.