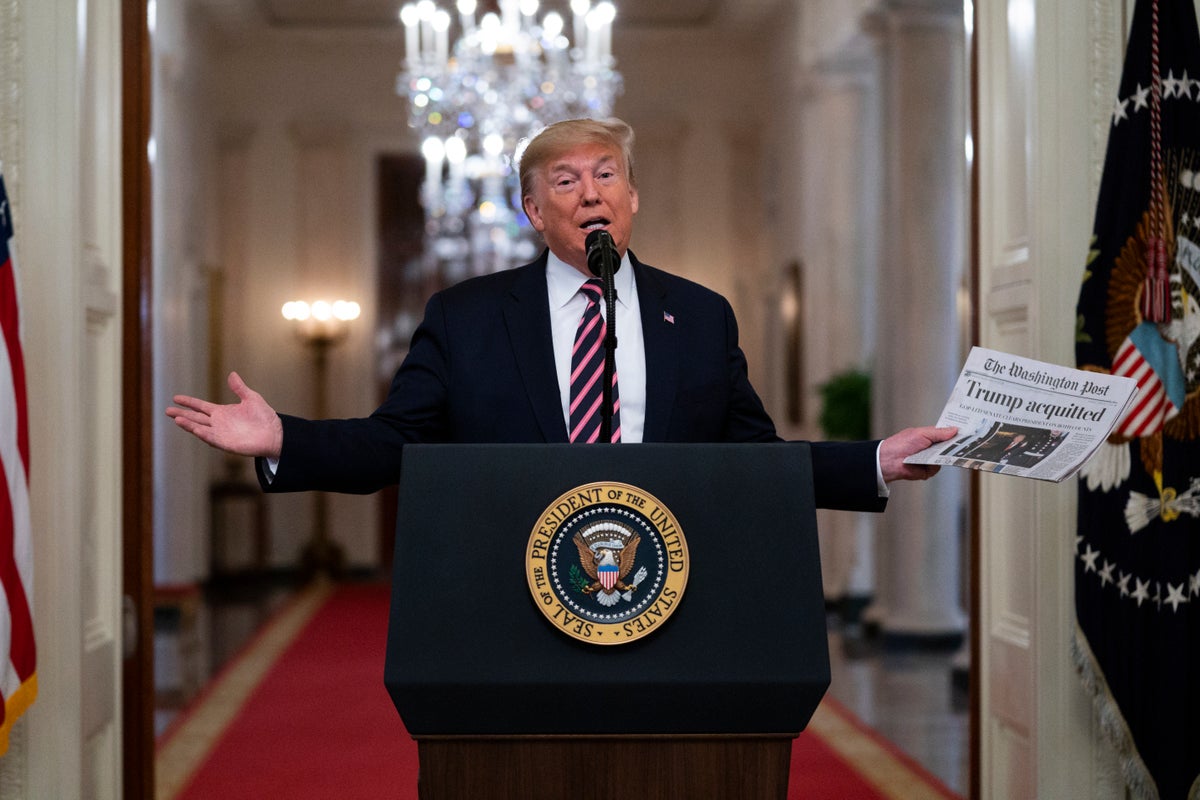 GOP congressman calls second Trump impeachment 'the conservative vote'
Donald Trump has lashed out at the 6 January select committee after the indictment of his former trade adviser Peter Navarro, a notorious propagator of false election theft conspiracy theories who has now been formally charged with contempt of Congress.
"Wow!" wrote the former president on Truth Social, his bespoke social network. "Peter Navarro, our brilliant Harvard educated White House Trade official…was just handcuffed, shackled, and put into prison because he didn't obay the orders of the Unselect Committee of political THUGS."
Meanwhile, it has been reported that Mr Trump could soon announce his bid for the 2024 presidential race.
Jason Miller, a longtime confidante and former aide, told NBC News that Mr Trump should start building his supporter base while "it is still fresh in people's minds". According to the report, two people in the former president's close circle have been asked to consider 4 July as a date for a possible announcement, but Mr Miller added that it was "not true" that the day has been reserved "even unofficially".
1654540774
Jan 6 committee member says panel has evidence on Trump beyond 'incitement'
Rep Jamie Raskin, a Democrat on the January 6 select committee, told The Washington Post that the panel has found additional evidence on Donald Trump that goes beyond "incitement" referenced in the former president's second impeachment trial.
"The select committee has found evidence about a lot more than incitement here, and we're gonna be laying out the evidence about all of the actors who were pivotal to what took place" during the Capitol riot, Mr Raskin said, according to The Hill.
David Taintor6 June 2022 19:39
1654538429
Jan 6 committee brings in former news executive
he upcoming 6 January committee hearings are intended to be essential TV viewing for as many Americans as possible as the panel tries to convey the sheer gravity of what it has discovered about the lead-up to the insurrection and the events of the day itself.
To that end, the committee has enlisted the aid of a veteran television news leader in hopes of making Thursday's prime time hearing an explosive display of unseen material that will captivate even the most unengaged viewers.
According to Axios, the panel has brought on as an adviser James Goldston, the former president of ABC News, whose resume includes service as executive producer for the renowned Good Morning America and Nightline programmes.
Andrew Feinberg has more.
Andrew Naughtie6 June 2022 19:00
1654536029
ICYMI: Liz Cheney describes "chilling" breadth of attempt to subvert 2020 election
Liz Cheney, vice chair of the 6 January committee, has given an account of just how serious the "extremely well-organized" conspiracy to overturn the 2020 election was, also slamming the president who oversaw it for his lack of regret.
"You know, we are not in a situation where former President Trump has expressed any sense of remorse about what happened," she said to CBS News. "We are in fact in a situation where he continues to use even more extreme language, frankly, than the language that caused the attack. And so, people must pay attention. People must watch, and they must understand how easily our democratic system can unravel if we don't defend it."
Andrew Naughtie6 June 2022 18:20
1654533629
When are the 6 January hearings?
The committee is set to hold two hearings in primetime at 8pm on Thursday 9 June and on 23 June. In between the primetime hearings, additional public sessions will be conducted at 10am on 13 June, 15 June, 16 June, and 21 June.
The hearings are expected to outline how Donald Trump and some of his associates violated the law as they tried to overturn the 2020 election.
Gustaf Kilander has more:
Andrew Naughtie6 June 2022 17:40
1654530440
Peter Navarro's arrest warrant
Peter Navarro's indictment for contempt of Congress is one of the more sordid moments of the 6 January investigation so far – and driving the unseemly point home is the warrant issued for his arrest:
Andrew Naughtie6 June 2022 16:47
1654528529
Is Elon Musk's Twitter deal on the skids?
Many Trump fans have placed great hope in Elon Musk's buyout of Twitter, hoping that their leader will be allowed back onto the platform and that extreme conservative voices will be unblocked in the name of "freedom of speech".
However, Mr Musk's list of irritations at the platform has only grown since the deal was announced. And now it seems that he may be considering dropping out altogether.
Andrew Naughtie6 June 2022 16:15
1654525980
Sentencing for Capitol rioter who posted smashed window picture on Facebook
Another in the hundreds of Capitol rioters awaiting sentencing finds out their fate today. Jody Lynn of Florida did not face trial and instead took a plea deal, which given the fact she posted imaged of herself at the riot was perhaps unsurprising:
Andrew Naughtie6 June 2022 15:33
1654523114
Adam Schiff: "The public hasn't seen Jan 6 woven together"
Speaking on CBS News's Face the Nation yesterday, Democratic congressman and 6 January committee member Adam Schiff explained what point the panel will be trying to make with the televised hearings that begin later this week.
"The public hasn't seen it woven together," he said, "how one thing led to another, how one line of effort to overturn the election led to another, and ultimately led to terrible violence."
Andrew Naughtie6 June 2022 14:45
1654521314
Watch: Pro-Trump candidate blames shootings on "transgendering" drugs
Michele Fiore, who is favoured to win the Republican primary for state treasurer in Nevada, is an example of the kind of downballot candidate that has mainstream conservatives and those outside the GOP worried about the sort of people that could hold crucial state-level posts after the November elections.
Having appealed explicitly to Trump-leaning voters in her campaign so far, she this weekend went on a strange ramble theorising about the causes of mass shootings, blaming massacres on pharmaceutical companies' "transgendering" drugs which she says are turning teenagers murderous.
A false rumour that the Uvalde school shooter was trans was quickly debunked, but not before many on the right had circulated pictures of an innocent transwoman unconnected to the tragedy.
Andrew Naughtie6 June 2022 14:15
1654519514
ICYMI: Could a Trump 2024 announcement be imminent?
Advisers to former president Donald Trump say the ex-president is eager to jump back into electoral politics as a candidate in the 2024 election and could announce a third presidential run this summer.
According to NBC News, Mr Trump's aides are divided over whether he should declare himself a candidate before or after the November midterm elections because waiting would keep Democrats from harnessing his re-emergence as fuel for their own re-election bids this year.
Others believe an earlier declaration of his intentions would freeze the GOP primary field by blocking out other candidates who could also potentially announce, including Florida governor Ron DeSantis and Mr Trump's former Vice President, Mike Pence.
Andrew Naughtie6 June 2022 13:45