Dustin Poirier can feel it in his plums. No it wasn't just a random Will Ferrell reference, but Poirier tweeted it regarding a potential fight offer from the UFC.
'The Diamond' has had a rough time getting a fight after his win over Dan Hooker earlier this year. The fight before that, Poirier fought Khabib Nurmagomedov for the UFC Lightweight Championship.
Poirier has been linked to a number of fighters. This includes Tony Ferguson, with whom he was supposed to fight at UFC 254. However, pay issues got the bout canceled.
Poirier has since teased a charity bout against Conor McGregor, something the UFC is trying to incorporate within their own banner. However, nothing concrete has been offered to Poirier yet.
Nonetheless, Poirier does feel an offer brewing, but when this offer actually lands on his door is a different matter altogether. He is one fight away from another shot at the title. It is in his best interests to stay active, but for the right price.
ALSO READ- Dustin Poirier Reveals What He Plans on Doing With the Donation From Conor McGregor
No i haven't but they will soon. I feel it in my plums https://t.co/IWMWwkXnD8

— The Diamond (@DustinPoirier) October 11, 2020
Dustin Poirier awaiting a big fight?
Poirier has proven his mettle in the UFC; he took a high-risk fight against a rising Dan Hooker and promptly showed that he still has a lot to offer. While the Tony Ferguson fight was certainly exciting, it looks like it won't be happening in the near future.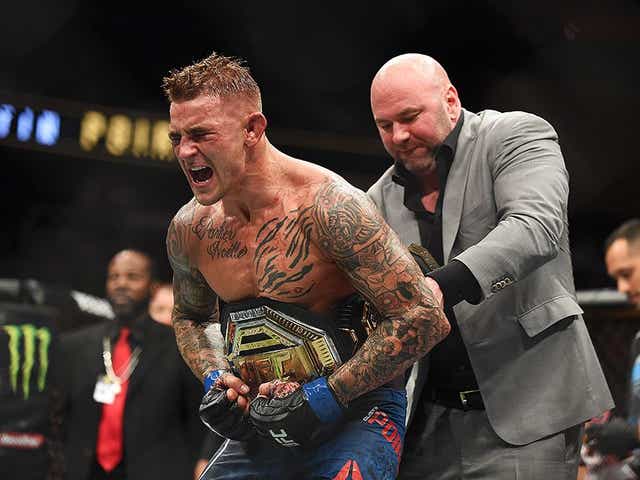 However, the Conor fight seems like a real deal. With both fighters openly agreeing to it and urging the UFC to book it before 2020 is over, it looks like the promotion may cave.
There are issues with the booking nonetheless. All the remaining 2020 cards have designated headliners. Unless a champion is willing to step away from the main event for a Conor and Dustin fight, the booking may fall by the wayside.
The UFC will also be in a tough situation. In addition to having to give the champions their cut of the PPV buys, a main eventing Conor and Dustin will also be in that position.
It is unlikely we see this fight as a co-main event. None of the scheduled names can follow a Conor fight in terms of marketability. A co-main slot may be a double-edged sword.
However, Poirier wouldn't say what he said without knowing something. So we will have to wait and see what the UFC has in store for the former interim champion.
Continue the conversation on the app, join other MMA fans on MMA Fans App