July 06, 2022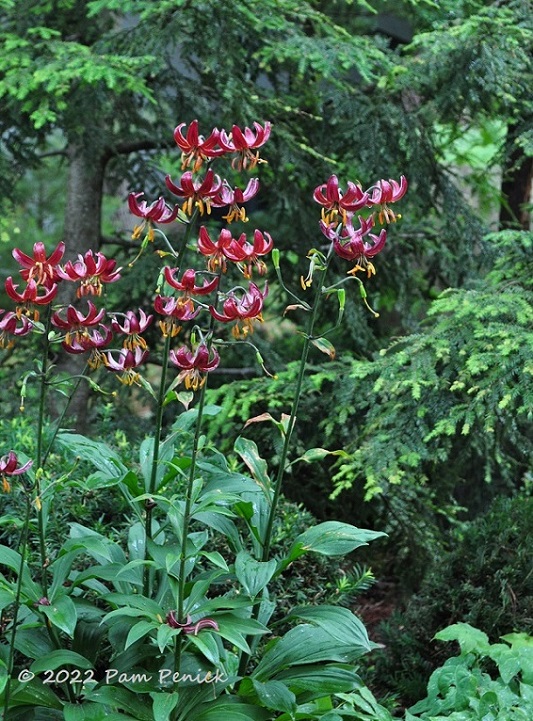 Back in 2010, my husband traveled to Madison for the IRONMAN Wisconsin race (which he finished!), and I tagged along as cheerleader. Oh and also to see gardens. I was a big fan of the design-focused blog Each Little World by Linda Brazill and Mark Golbach and had met them the previous year at the Chicago Garden Bloggers Fling, so I reached out. Mark and Linda kindly invited us over for lunch in their Asian-inspired garden, which blew me away even though I took few pictures. Linda also generously spent a day showing me around Madison's lovely public gardens while David prepped for the race.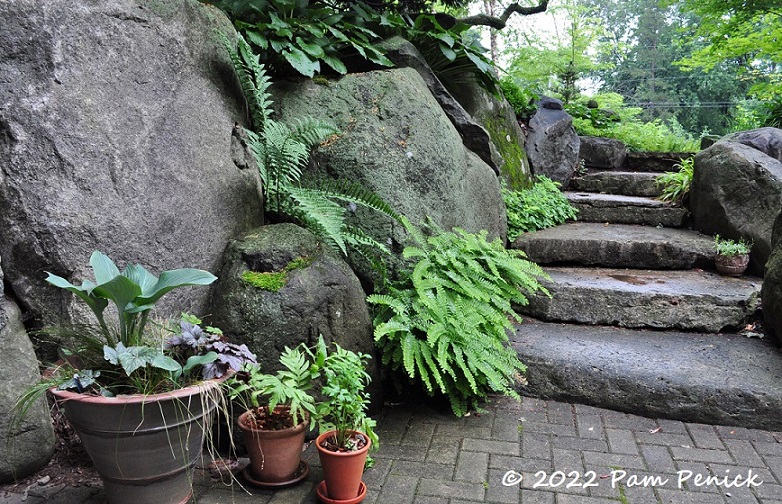 So when I returned to Madison in late June for this year's Fling, I was thrilled to see Linda and Mark's garden on the itinerary. This time I would take LOTS of photos, so many that I need two posts to share them all. For Part 1, let's tour the front garden, starting with these rock-slab stairs leading through naturalistic boulders, which take you from the driveway up into the main garden.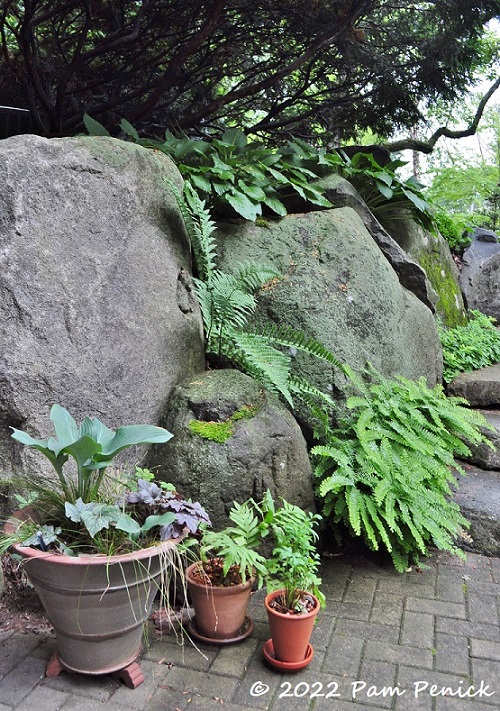 These massive boulders look like they've always been here, right? Nope. Linda and Mark hired master rock worker Matt Wieneke to place them and lay the driveway pavers around them, leaving crevices that Linda planted. The boulders ground the garden, lend a sense of timelessness, and make a dramatic yet natural-looking entrance.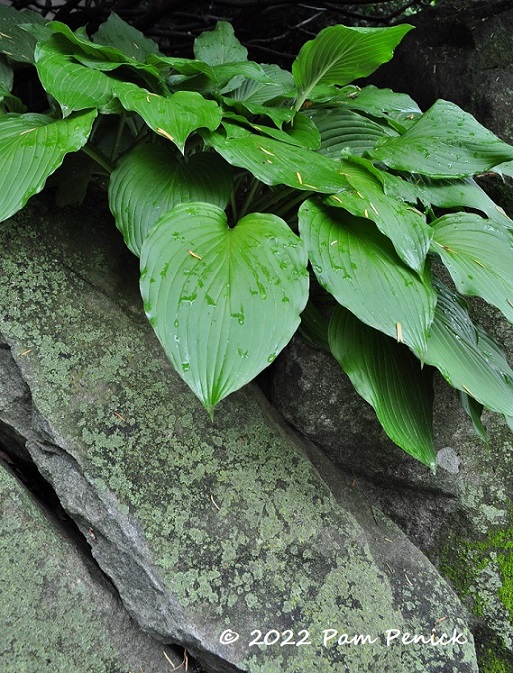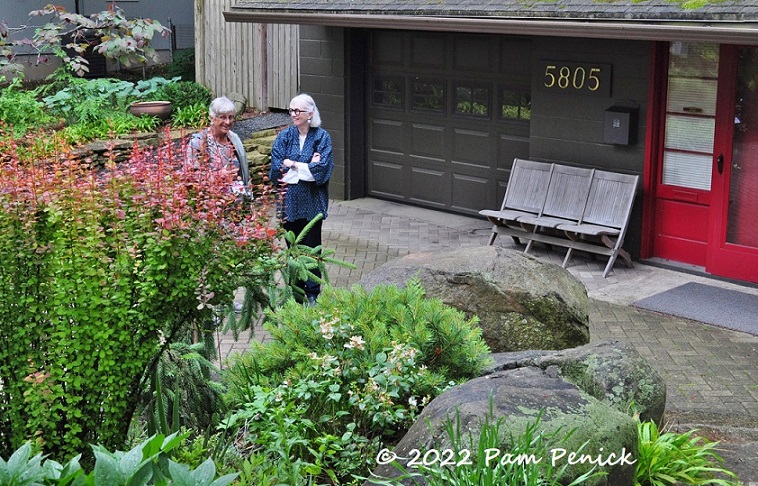 Linda and Mark's house opens at the lowest level of their sloping front yard, with the front door next to the garage. You climb up the stone steps to reach the main front garden, or access it via a wheelbarrow-friendly path closer to the street.
I hope Linda and Mark won't mind my sharing their garden map from their blog. It's helpful for orienting oneself and seeing the overall design, which they've perfected over the past 28 years — and adapted as they've gotten older and needed to cut back on maintenance. Mark and Linda each have an artistic eye. They designed the garden themselves and have done nearly all the work to create it. Even when they hire muscle and expertise, as with the boulder-driveway project, they work side-by-side with their helpers to get the job done to their exacting standards.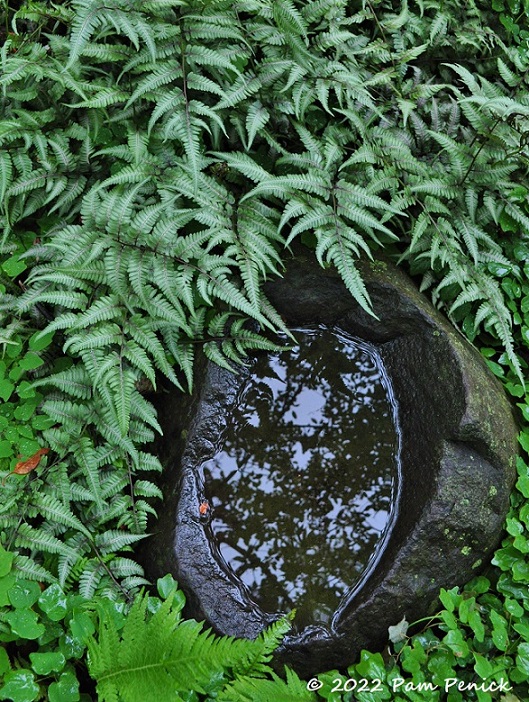 In the front garden, a cupped boulder-turned-water vessel reflects the tree canopy in its dark mirror.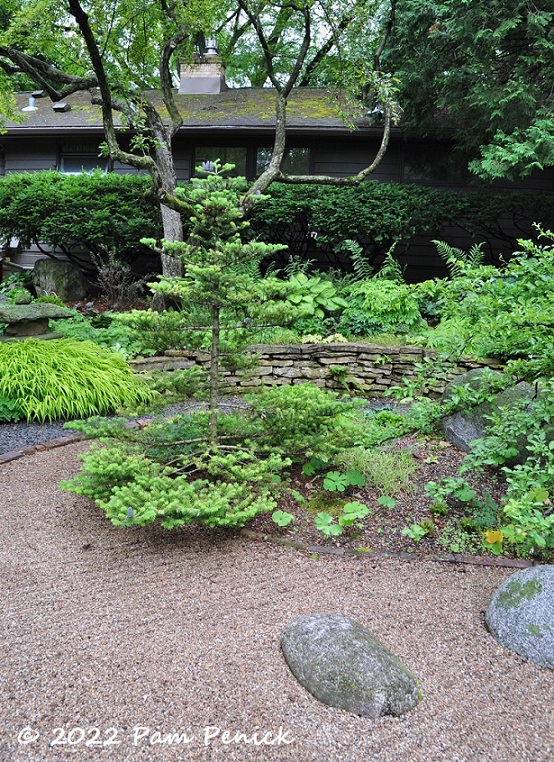 The boulder stairs lead to a raked gravel garden, part of a yin/yang circle in the center of the front yard.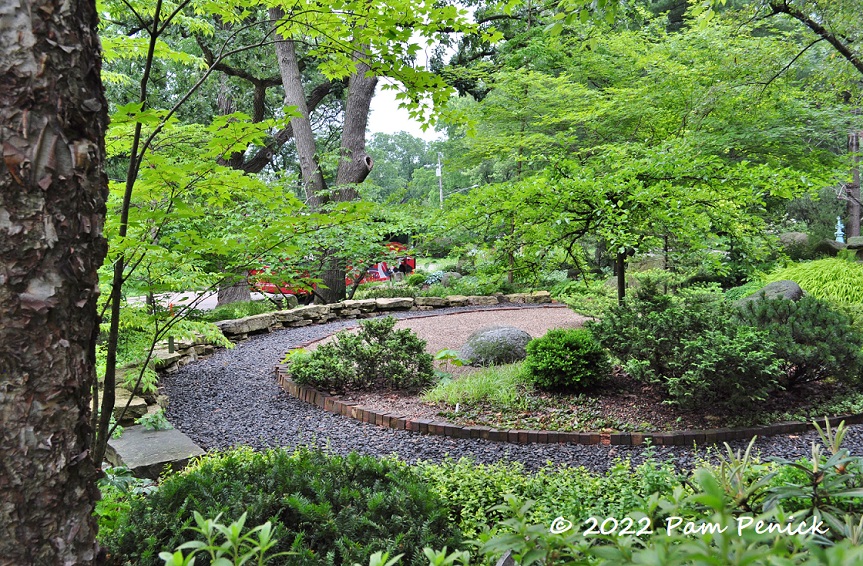 The light-colored gravel is the yang, if I have it right. The planted area is the yin. A dark-gravel path curves around the circle, leading through what Linda and Mark call their Moon Garden. Shade-loving groundcovers, perennials, shrubs, and understory trees fill the shady borders with lush greenery.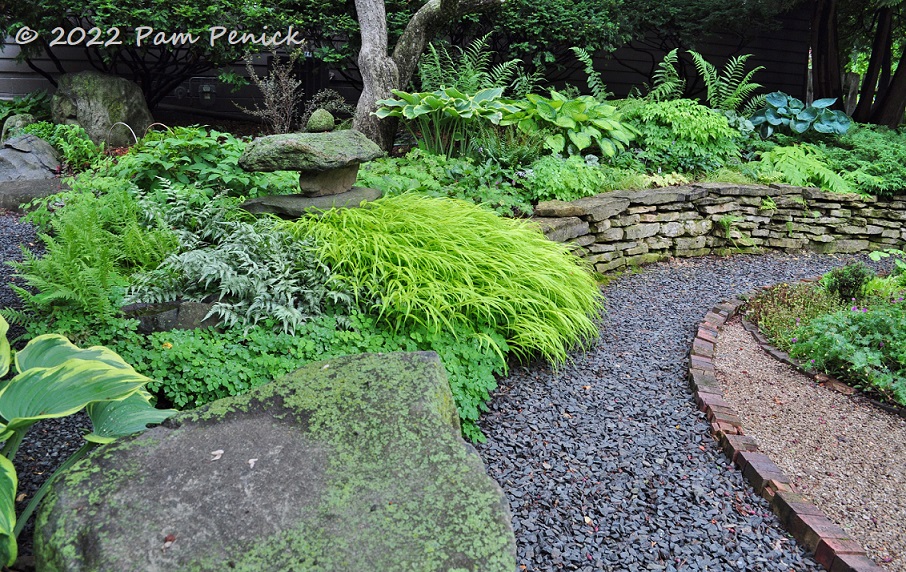 No flowers here, but who could miss them amid all the gorgeous shades of green, blue, gold, and silver foliage.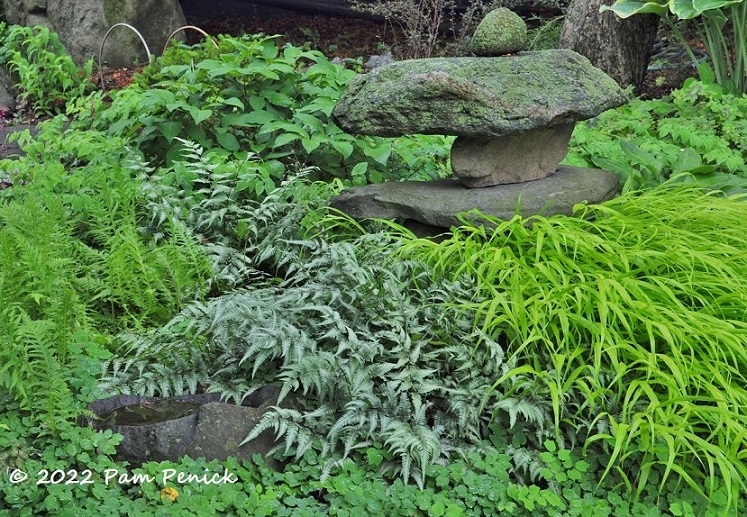 A balanced rock sculpture looks like a stone lantern. The influence of Japanese gardens is strong.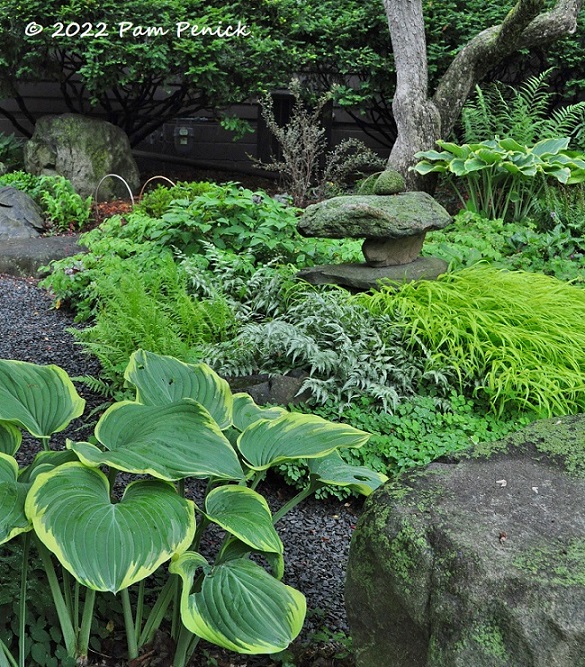 A wider view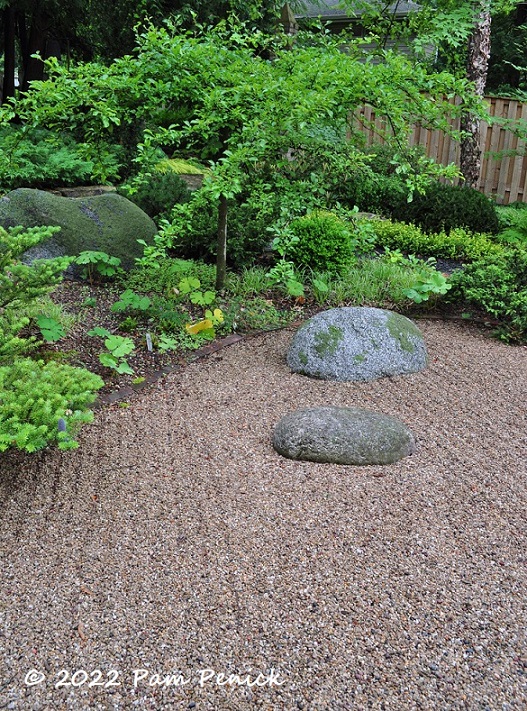 Yin/yang details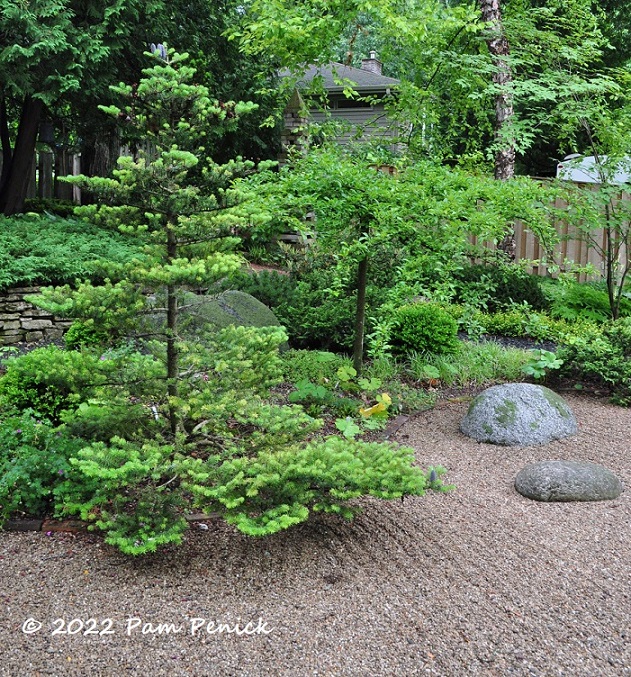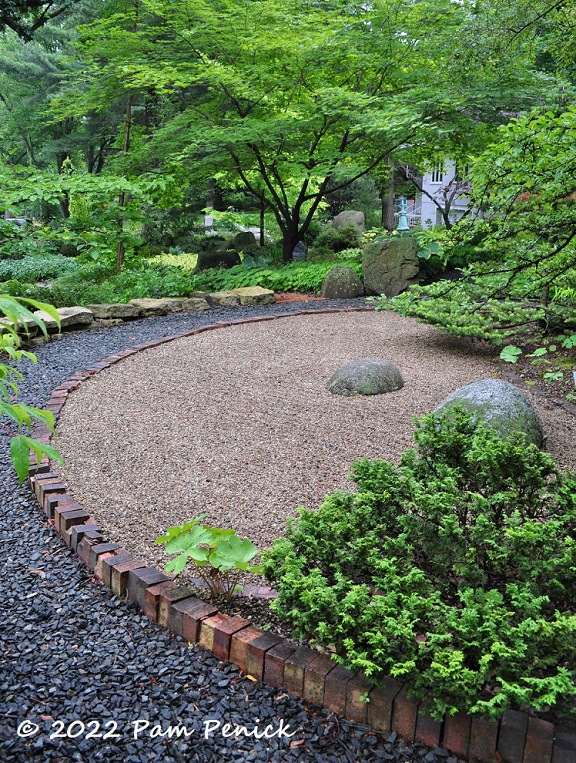 The gravel was perfectly raked, without a single fallen leaf when we arrived. Mark and Linda make it look easy, but I have an inkling how much work it is to pull off something this beautifully restrained, especially in a forest setting.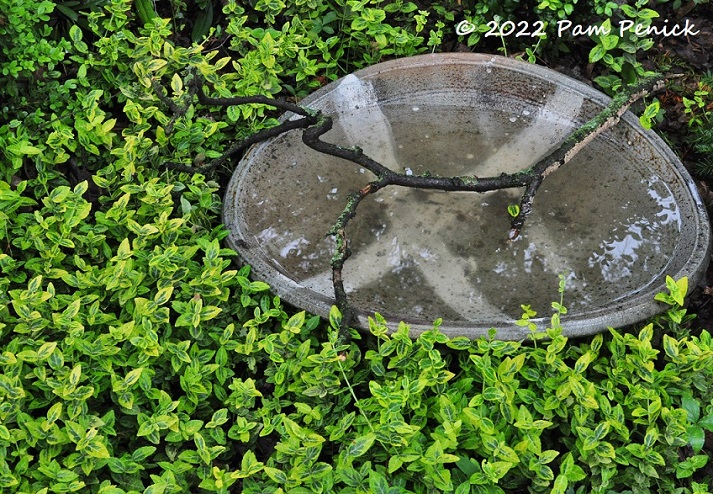 And no, that isn't a fallen branch on this ground-level birdbath. Linda placed it there to give birds a perch while bathing or awaiting their turn. She says that once she started putting a branch across the birdbath, it attracted even more birds. I'm trying this on a ceramic birdbath in my own garden now.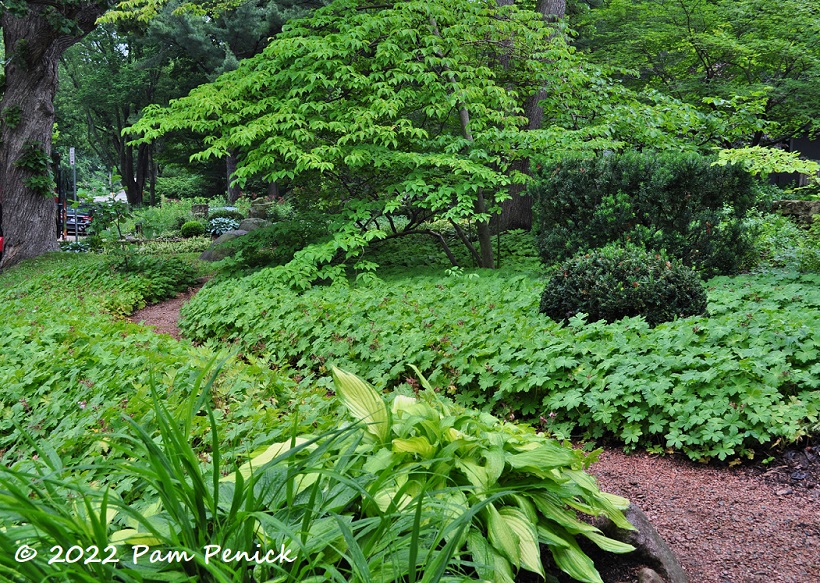 A red gravel path winds through the lower Moon Garden, where massed groundcovers take the place of lawn.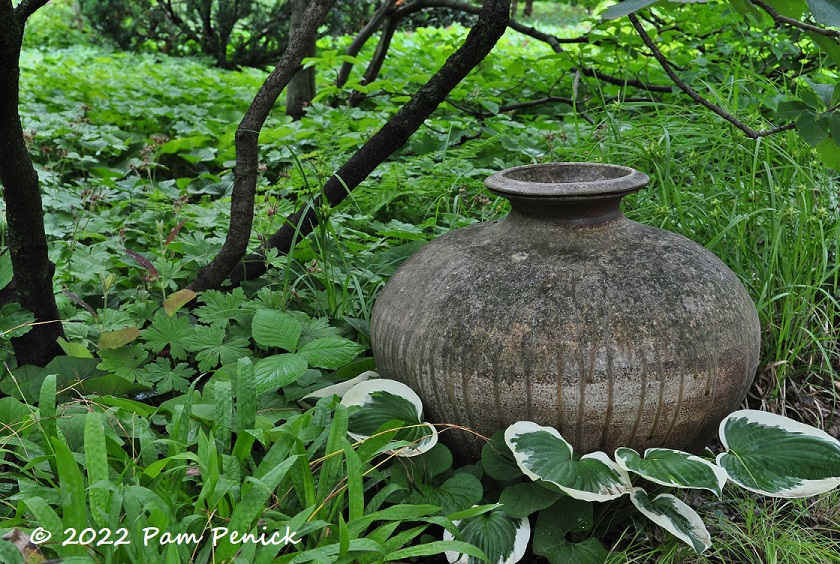 Under a small tree, a round-bellied pot with a skirt of green-and-white foliage attracts the eye.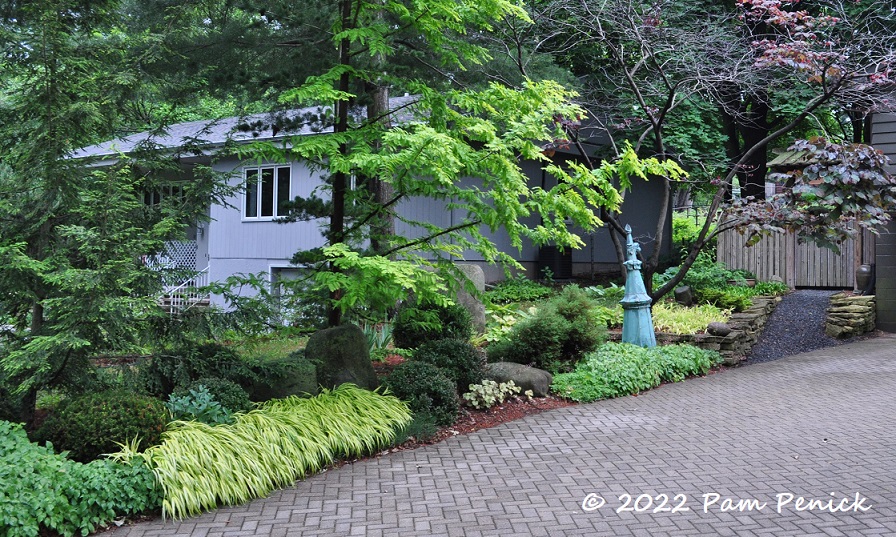 The lower path takes you back to the driveway, where I stopped to admire the narrow but lushly planted border between the driveway and the neighbors' yard. A verdigrised architectural relic — a roof spire? — marks the entrance to a side path.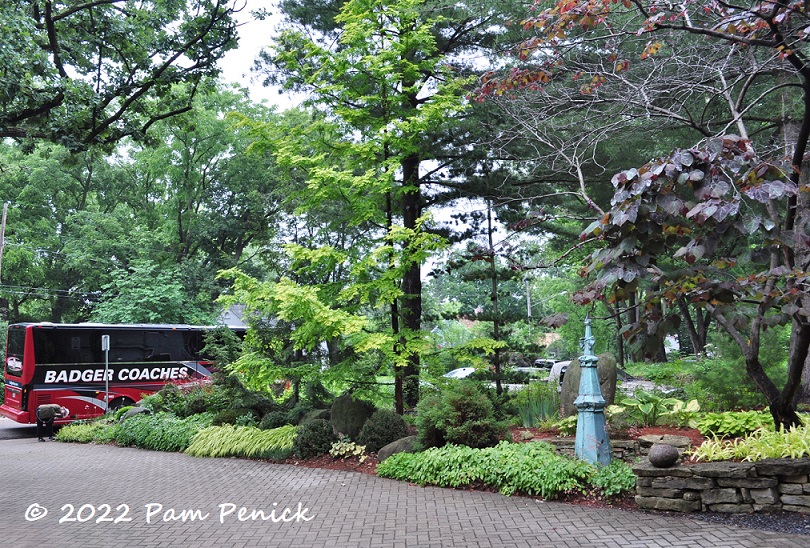 Color-blocked groundcovers backed by round shrubs and boulders and an assortment of trees keep the garden going all the way to the street.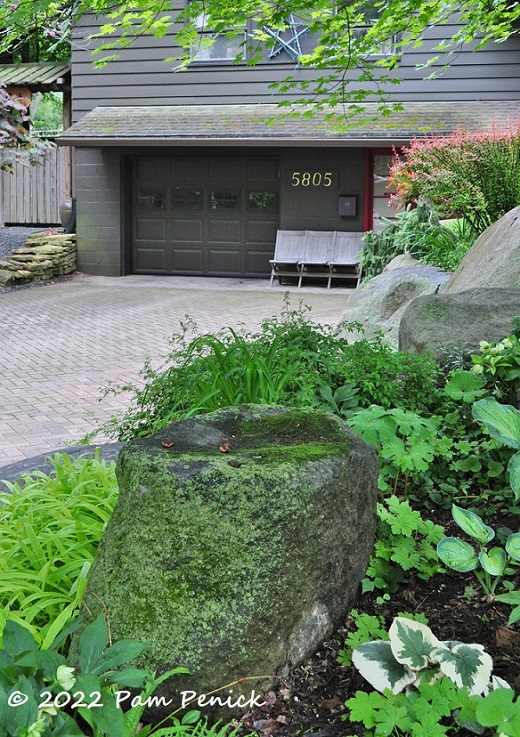 Another boulder with an indented top surely serves as a temporary birdbath after a rain.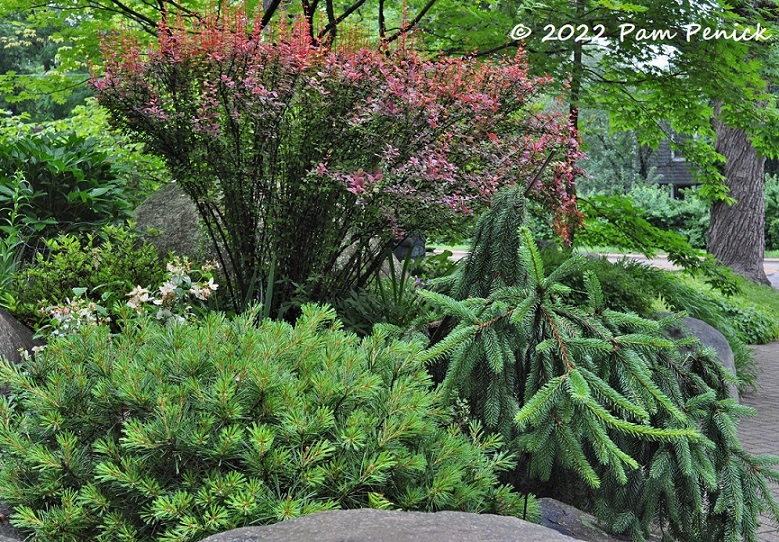 Textural conifers backed by a tall shrub with blushing foliage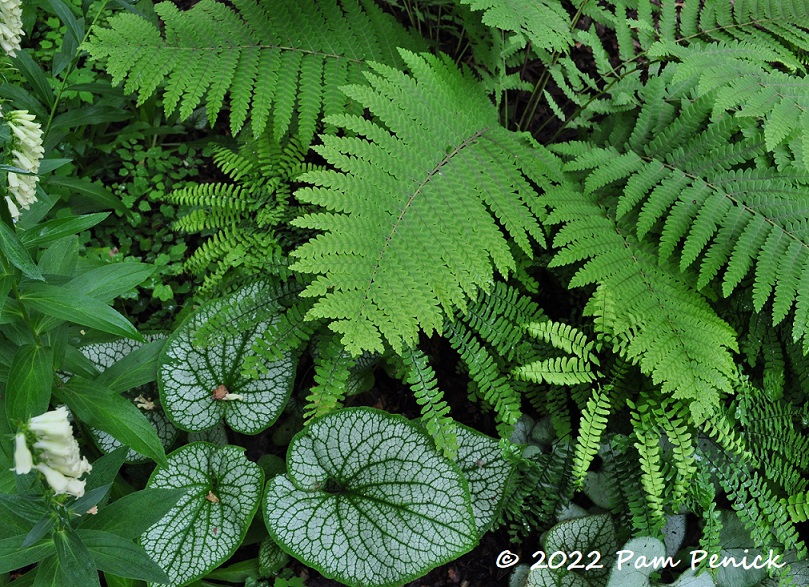 Ferns and 'Jack Frost' brunnera — shade garden goodness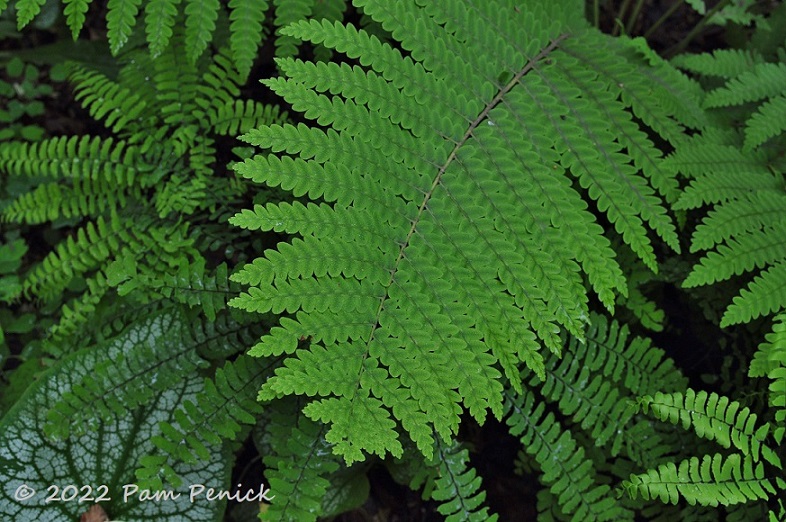 A closer look at rickracked fern fronds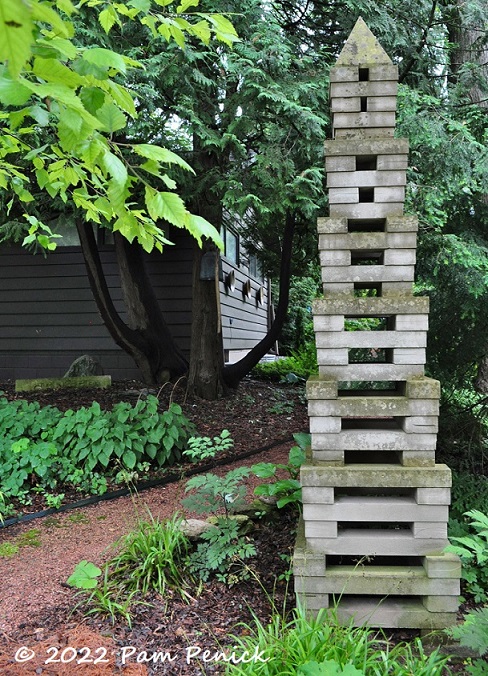 Along one side of the Moon Garden, Mark constructed this pagoda-like tower out of recycled limestone blocks.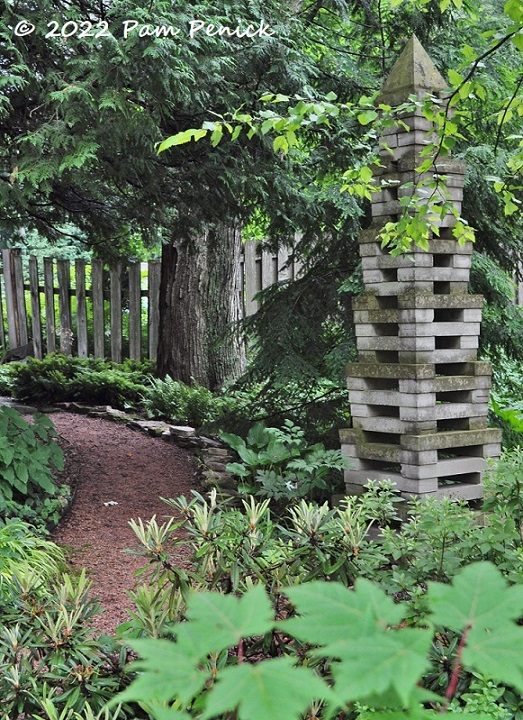 The path leads gently uphill, past the tower, into the side garden.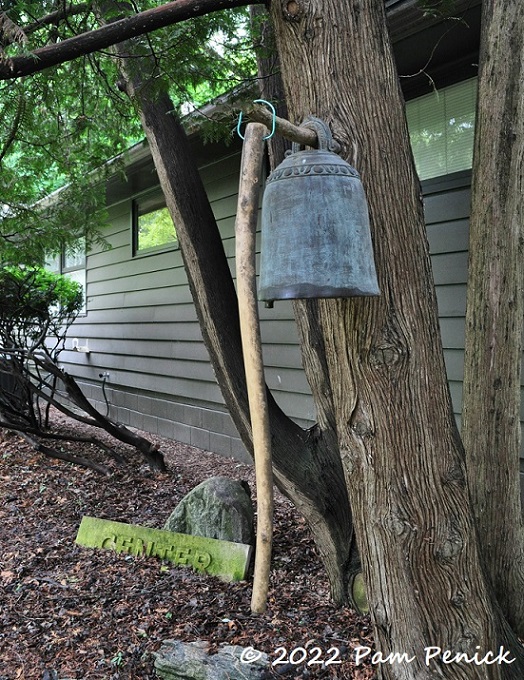 It passes a large bell hanging from a tree, alongside a graceful stick to make it sound.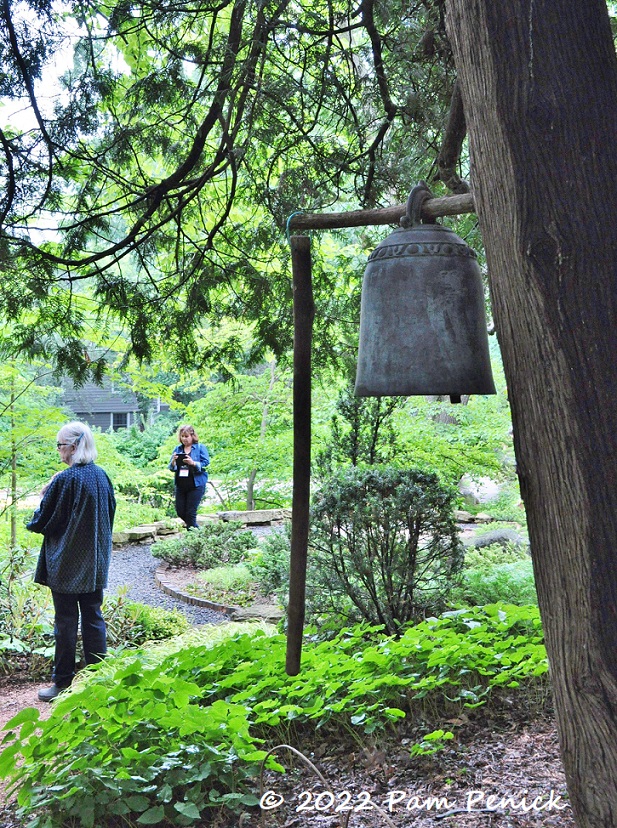 Looking back toward the street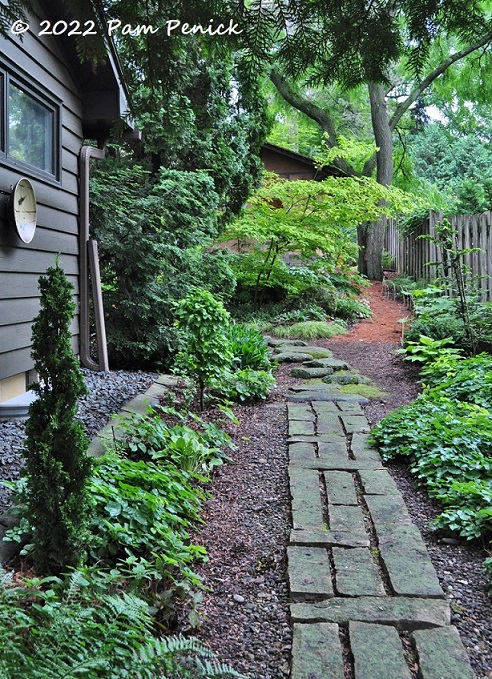 A path of cut stone blocks leads past the house, which is adorned with a line of glazed bowls.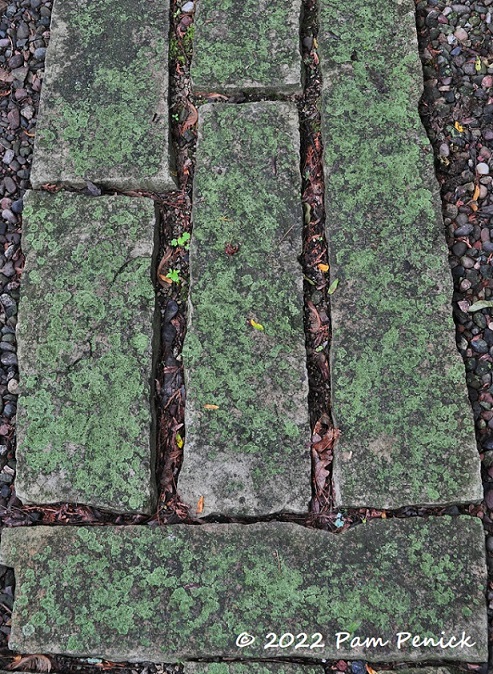 Lichen gives the stone a verdigrised look of its own.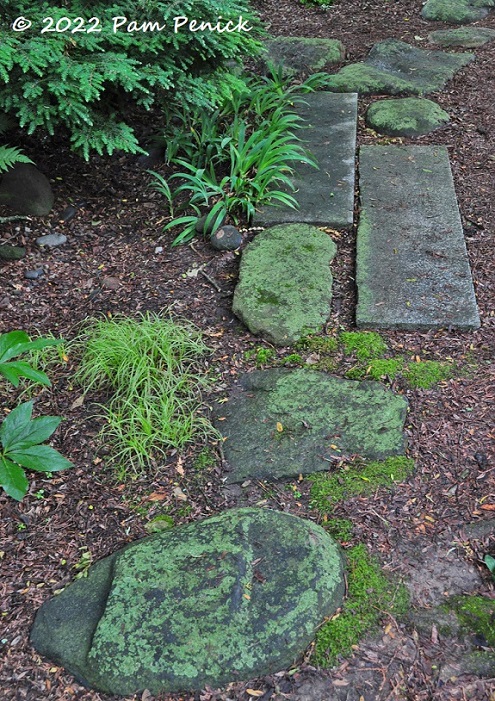 As you enter the back garden, a path of round stepping stones and offset slabs makes you pay attention to your feet.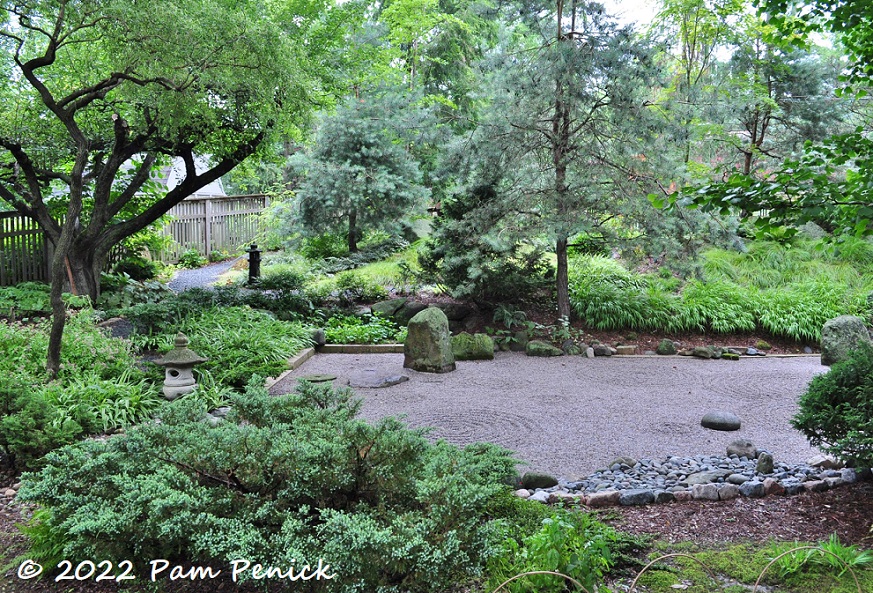 And then you look up and see this. Next time, in Part 2!
Up next: Rippled gravel "ponds," a tea house, and a serene strolling garden make Linda and Mark's back garden a contemplative retreat. For a look back at the Fling's kickoff at a rooftop garden, plus people at the Fling, click here.
I welcome your comments. Please scroll to the end of this post to leave one. If you're reading in an email, click here to visit Digging and find the comment box at the end of each post. And hey, did someone forward this email to you, and you want to subscribe? Click here to get Digging delivered directly to your inbox!
__________________________
Digging Deeper
Join the mailing list for Garden Spark! Hungry to learn about garden design from the experts? I'm hosting a series of talks by inspiring designers, landscape architects, and authors a few times a year in Austin. These are limited-attendance events that sell out quickly, so join the Garden Spark email list to be notified in advance. Simply click this link and ask to be added. The 6th season kicks off in fall 2022.
All material © 2022 by Pam Penick for Digging. Unauthorized reproduction prohibited.