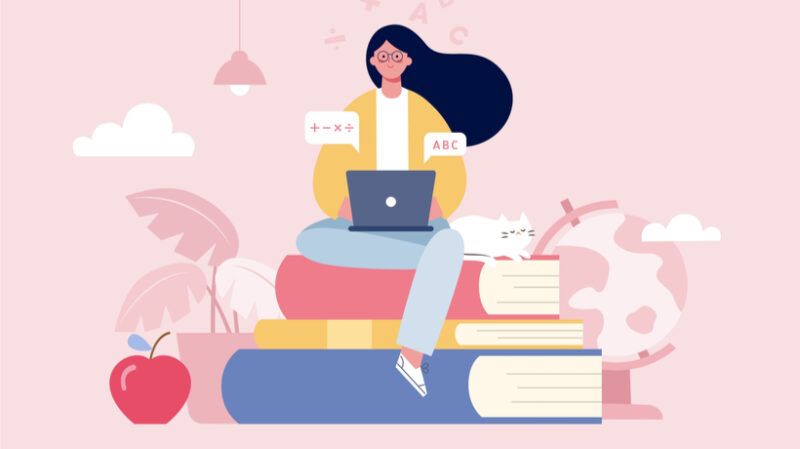 2022 Is The Year Of Evolving eLearning Trends
The eLearning industry has seen plenty of developments since the origin of the concept. From referring to YouTube videos to entirely virtual classes, the eLearning sector has been evolving. However, the development of the eLearning sector has also been impacted by many outside factors, such as making learning more accessible even for students in remote areas, keeping studies going even during a global pandemic like COVID-19, and providing working professionals flexibility and freedom from classrooms among others. In this article, we are going to throw some light on a few influential eLearning trends that we are witnessing and might witness until the end of 2022. If you find the topic intriguing, wait until you hear more about these trends. So, without further ado, let's dive right into the details.
Influential eLearning Trends For 2022
1. Gamification
One of the most popular forms of modern learning is to make learning entertaining. And what can be more entertaining than games? Plenty of education experts and app developers have partnered to develop games that teach players while they get entertained.
This genre works for learning languages, coding, vocabulary, etc. From kids in primary school to adults, gamification has inspired plenty of entertaining learning apps for modern users. Some examples of gamified learning apps include Duolingo, TedEd, Khan Academy, and Coursera, among others.
2. Personalization
Modern learning apps are focusing on customized learning programs for their users. These learning patterns or programs are customized on the basis of the data collected through user behavior, or choices selected by the user during an attempt to get to know them better. Machine learning and Artificial Intelligence (AI) use Big Data and customize learning programs accordingly, to target the specific needs of their users.
From providing in-depth progress reports pointing out weaknesses and strengths to helping users with learning materials that can grow their knowledge, these learning apps are capable of doing more. Coursera uses machine learning to recommend courses that can be suitable for their needs to students. Some other companies like Duolingo and Khan Academy are doing the same.
4. Virtual Reality
Virtual Reality (VR) is a revolutionary technology that offers a more interactive experience to its users. Technology has transformed the way we entertain or educate ourselves. For the education industry, VR lets students become a part of the learning experience. From diving into the world of dinosaurs and learning about them from up close to exploring the depths of infinite space, VR does wonders for education.
However, VR is the gateway: it uses other technologies that put life into the VR-based learning ecosystem. These technologies can include computer graphics, interactive sound experience, gaming consoles to play the content, etc. Many museums and planetariums across the world have started leveraging VR technology to offer better learning experiences to visitors.
5. Microlearning
Human beings have the tendency to get distracted. Thus, the trend of offering bite-sized learning experiences came into existence. The trend offers users learning content in short forms that do not distract users or bore them.
Users attempt these bite-sized learning experiences for a period of time and improve their knowledge. Microlearning also stays on the point and allows users to learn things easily. This trend also helps developers in improving their ROIs. So, it's a win-win situation for both parties.
6. Social Learning
One of the most practical experiences of learning, social learning is the situation when users observe patterns, events, surroundings, and more to learn new knowledge. It can be done online or offline. Users can execute social learning online by observing videos, playing games, talking to people, reading blogs, going through the news, scrolling through social media, etc. For genres like politics, fashion, and entertainment, social learning can be an effective learning strategy.
7. Flexible Learning
2022 is a year when the world is trying to recover from the aftermath of a global pandemic. Thus, people are either trying to return back to their usual lifestyles or are learning to adapt to new freedoms and flexibilities. Learning has also seen the influence of this flexibility.
Plenty of learners have adapted the flexible learning trend to learn depending on their availability and mood. This not only helps in reducing the learning stress but also offers an equal opportunity to everyone who wants to learn, be they a professional or a student with a part-time job.
Wrapping Up
Well, these were some of the best eLearning trends that we found worthy of introducing you to. Now, as these trends still have to gain more popularity across the world, it is safe to say that the world might see their expansion sooner or later. These trends that we discussed above are inspired by sources such as the new learning strategies being applied by corporates, transforming educational sectors across many countries, and more.
Hopefully, you found the article useful. If you want to read more of such informative articles, do not forget to explore the eLearning Industry website for more.