Elon Musk – the richest man in the world, Tesla CEO, and SpaceX founder – is Time's 2021 "Person of the Year," with the publication citing, among other things, his tenacity as an influencer. 
"Musk has spent a lifetime defying the haters; now, it seems, he's finally in position to put them in their place," Time noted in its profile. "For 2021 was the year of Elon Unbound."
TESLA'S MUSK SAYS HE IS 'THINKING OF' QUTTING HIS JOBS
Musk, now with a net worth of more than $260 billion, became the chief executive of Tesla in 2008. The company's first product, the Roadster, debuted that same year and would eventually be followed by the company's Model S, X, Y and 3 vehicles.
Ticker
Security
Last
Change
Change %
TSLA
TESLA INC.
963.57
-53.46
-5.26%
Tesla is developing an all-electric, battery-powered, light-duty truck called Cybertruck and a new version of the Roadster. It is also fine-tuning its Autopilot and Full Self Driving features, which are currently under investigation by the National Highway Traffic Safety Administration following a string of accidents this year.
In 2016, Tesla acquired solar energy company SolarCity for $2.5 billion, a decision which would later send Musk to court after a shareholder lawsuit alleged the deal was rife with conflicts of interest, overlooked SolarCity's fundamental weaknesses and failed to produce the profits Musk had promised. SolarCity was founded by Musk's cousins, Lyndon and Peter Rive in 2006.
ELON MUSK OFFICIALLY 'OWNS NO HOME'
In addition to Tesla, Musk's aerospace company, SpaceX, has set many firsts for the private space industry, including becoming the first private company to send astronauts to the International Space Station. 
SpaceX has also helped NASA send Inspiration4, the world's first all-civilian crew, to space and won an exclusive $2.9 billion contract in April to create a lunar lander that will help transport humans back to the moon for the first time since 1972 under NASA's Artemis program. 
SpaceX's reusable Starship rocket, which will carry humans to the moon, Mars and beyond as Musk looks to make human life multiplanetary, is aiming for its first orbital test launch in January, subject to completion of the Federal Aviation Administration's environmental assessment of its launch site in Boca Chica, Texas, by the end of the year.  
ELON MUSK EXERCISES MORE OPTIONS, SELLS TESLA SHARES WORTH $1.01B
Though Musk has faced scrutiny for putting money into SpaceX that could be used toward Earth's problems, he also established The Boring Company in 2016, a tunneling and construction firm that is looking to tackle the issue of traffic congestion. The Boring Company has already created a "loop system" at the Las Vegas Convention Center which it is planning to expand and is considering additional tunnel projects in Texas and Florida.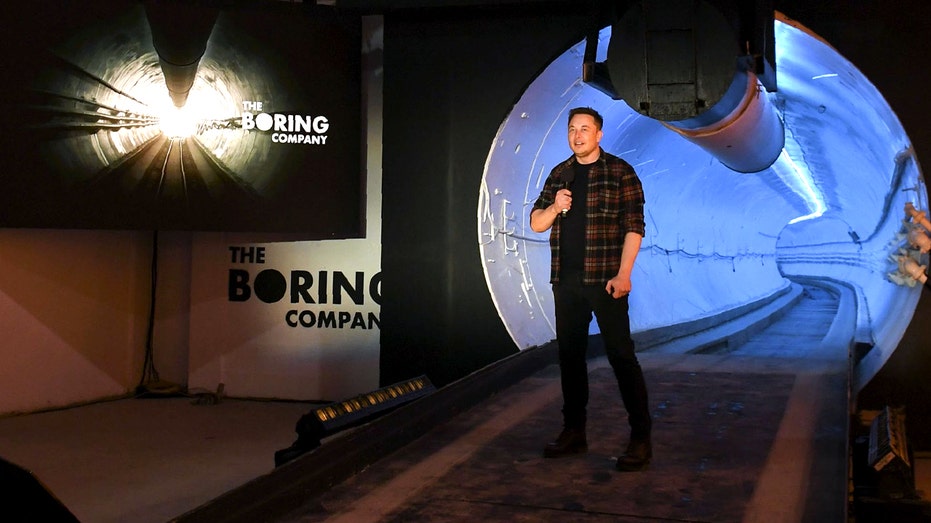 Musk also co–founded Neuralink, a company working on a chip that would be inserted into the human brain and aimed at solving medical conditions including memory loss, seizures, hearing loss, extreme pain, blindness, paralysis, addiction, depression, insomnia, anxiety, strokes and brain damage.
CLICK HERE TO READ MORE ON FOX BUSINESS
Outside of Musk's contributions through his companies, the executive has hosted "Saturday Night Live" and has become known for his tweets that send cryptocurrency prices soaring or tumbling. Despite its growing adoption in the mainstream, Musk told Time that the world's largest cryptocurrency, Bitcoin, is "not a good substitute for transactional currency." Instead, he says the meme token Dogecoin has "much higher potential" when it comes to volume for transactions per day.