Key events
Lucy Bronze speaks to ITV:
Them getting that goal changed the momentum, and right to the end they were creating chances. The second half was a little more even. They got a lot of confidence from scoring their goal. We made a couple of sloppy passes. [The goal] was something we worked on in the World Cup but it never came off. We practised it a lot.
Full-time: England 2-1 Scotland
That was a cracker, and Scotland were unlucky not to get anything from the game. England looked weary and really missed Keira Walsh in midfield, Katie Zelem asked to get through too much work. Two fine goals from England showed they retain their attacking quality but Sarina Wiegman will be delighted to get through that one.
90+3 min: Late Scotland flurry and it takes Lucy Bronze and Mary Earps lying down on the ball to put the fight to its end.
90+2 min: James is ruled offside having run through, then rebounded the ball in. Was she offside? No VAR so the referee's decision is final.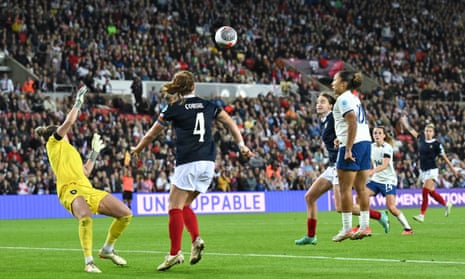 90 min: Three minutes added on, and England, if not quite hanging on, have not fully done their job yet.
89 min: Hanson down, and that's a shame, and she looks in some pain after playing one of the games of her life. Looks like she twisted her ankle in going for a tackle on Lucy Bronze. Most of the night, it's been Bronze chasing Hanson. On comes Davidson of Glasgow City, and get well soon, Kirsty Hanson.
87 min: Some big cheers and chants for Mary Earps, England's star player in Australia. Thankfully, no sign of her catchphrase.
85 min: Scotland break after Zelem is pressed, and Weir breaks, plays in Evans, who passes the ball back and Grimshaw's shot is straight at Earps.
83 min: Two Scotland changes: Thomas off, Evans on. Amy Gallacher is also on, niece of Kevin, and related to Celtic legend Patsy Gallacher.
80 min: The news from the other teams in the group is that Belgium are leading Netherlands in time added on, a shock result that blows the group open.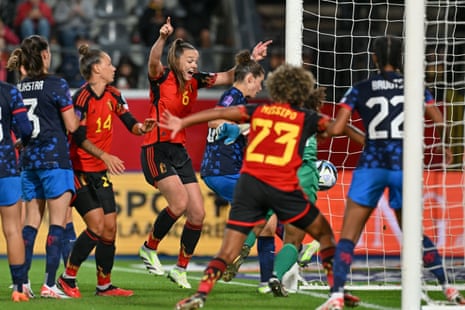 78 min: Stanway tries to score from miles out. England's attacks far more reduced than in the first half.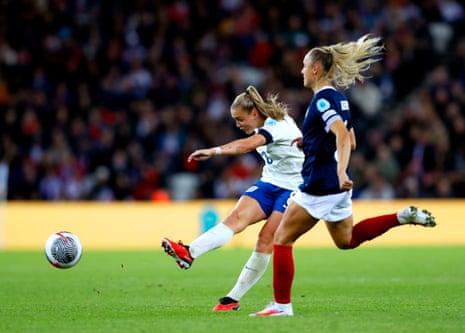 75 min: Scotland chasing that equaliser and it's the excellent Hanson fizzing the ball in. And it takes Alex Greenwood's sense of anticipation to stop Emslie scoring. Hanson then almost scores when hitting a second ball first time – if you follow the meaning. What a game she's had.
72 min: Lauren James shins the ball over the bar after Zelem tips the ball back in after Lucy Bronze's run.
71 min: Scotland pressing up high and pressing well. They've been really rather decent here.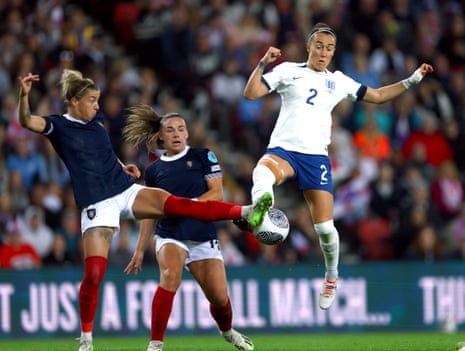 68 min: It's Mary Earps' chance to try and calm things down. England have been struggling in midfield. Katie Zelem has been outnumbered and perhaps targeted in the absence of Keira Walsh.
66 min: Caroline Weir is coming into this. England look a little leggy, as well they might after few of them returning to competitive action. Scotland's players have more action in them.
64 min: A reminder of what make be at stake from this week's Moving The Goalposts.
The more immediate prize at stake are Uefa's Olympic spots at Paris 2024. Since France are hosts, there are two up for grabs. This means that to qualify, a nation needs to reach the final. However, if France are one of the finalists, the last place will go to the third-placed team. For Team GB to qualify, it will need to be England who do this as they are the nominated side.
So, if Scotland make the finals, no Team GB in Paris.
62 min: Thomas goes close, again from a Hanson cross. Good header, but Mary Earps saves well enough.
60 min: Lauren James and Lauren Hemp now leading the England line with Daly slipping out left.
59 min: Chloe Kelly plays the ball across and Rachel Daly misses the pass. That's Kelly's final action as she goes off and is replaced by Ella Toone.
55 min: Hanson, Scotland's best attacking player, again skips past Bronze and plays in Thomas who is thwarted by Millie Bright.
52 min: Scotland sitting deeper and holding their line well. England may have to be patient.
50 min: Players like Rachel Daly will always want to head up the Scotland end so how long this becalmed period lasts is uncertain. Lucy Bronze forces the issue before Lauren Hemp is caught offside.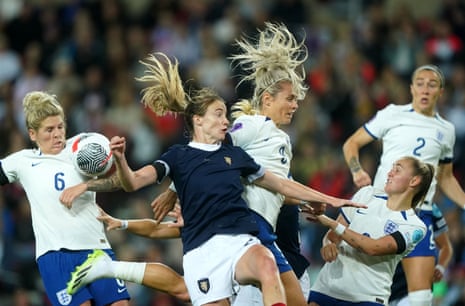 48 min: Yeah, it's been a bit calmer. No doubt Sarina Wiegman has told England to calm it down, at least a little.
46 min: We are back underway. The first half began like a train and stayed that way. Caroline Weir attempts the spectacular almost from the get-go.
Here's the important event of the day.
Half-time: England 2-1 Scotland
It's been a great half of action, real quality attacking play, less so the defence. Scotland have played their full part and England have needed to score two great goals to lead. More of the same, it is hoped.
Goal! England 2-1 Scotland (Hanson, 45+2)
Greenwood loses the ball, and Scotland surge on, and score with the very last kick of the half, and it's Hanson who gets it.
Goal! England 2-0 Scotland (Hemp, 45)
Oh, that's even better. Rachel Daly presses the ball out, and then drips and swerves a cross and Lauren Hemp dives to head home. The crossed ball is England's prime weapon.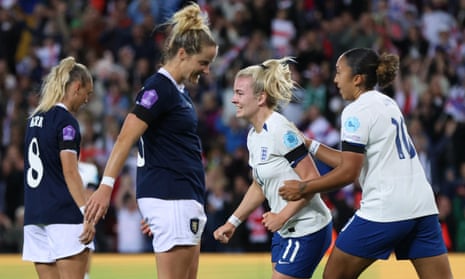 44 min: England continue to push for more, the Scots rocking back on their heels.
42 min: England will be relieved to be ahead but Lucy Bronze, a player who got some criticism for her part in Spain's goal in the World Cup final, leaving space, has always been more about attack than defence.
Goal! England 1-0 Scotland (Bronze, 40)
Oh that's a beauty, Zelem's ball a pearler and Bronze's diving header after ghosting round the back.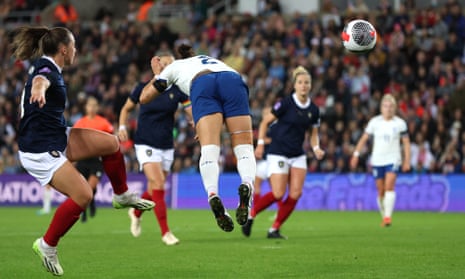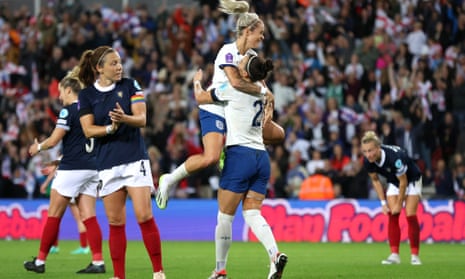 37 min: Scotland still hammering at it. They've really played very well. England could not have asked for a tougher assignment. Millie Bright poleaxes Scotland's Weir and had VAR been around – why not? – that could well have been a penalty.