12:18
48th over: India 199-9 (Goswami 10, Yadav 6) India desperately need some urgency and the last pair do their best to provide it as Poonam Yadav cuts Ecclestone, rather stylishly, for four.

12:14
47th over: India 195-9 (Goswami 10, Yadav 2) There had just been a pause while Raj was seen by the physio, so maybe that blow to the grille was worse than it seemed at the time.

12:12
Wicket! Raj run out (Dunkley/Jones) 59 (India 193-9)
And there is the run-out! Sophia Dunkley misfielded in the deep, recovered to save a boundary, and then threw in so well that Raj was stranded six inches short of her ground. Maybe the misfield was a ploy. That's the end of what looks like a captain's innings on the scorecard, but wasn't: Raj ran out of steam just when her team needed her to accelerate, though it may have been because she wasn't feeling well.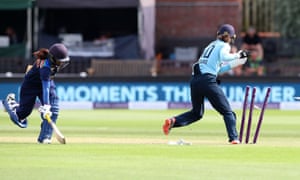 Updated


12:06
46th over: India 190-8 (Raj 59, Goswami 7) Goswami redeems herself with a slap for four through the covers off Sciver. Seven off the over: that's more like it, but India need double that now.

12:04
45th over: India 183-8 (Raj 58, Goswami 1) As Brunt replaces Ecclestone, the only way India could do worse is by contriving a run-out. Jhulan Goswami does her best with a risky single, but the throw is wide.

12:00
44th over: India 181-8 (Raj 57, Goswami 0) Jones is so good standing up to the seamers. And India have blown it again, losing five wickets for 36 off ten overs.
Updated


11:58
Wicket! Pandey c Jones b Sciver 2 (India 181-8)
Oh dear. Another nick behind, another good catch by Amy Jones, another blow for Mithali Raj, who just can't take charge of the situation.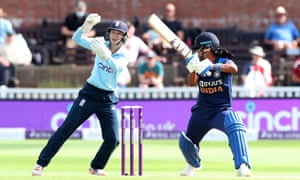 Updated


11:55
43rd over: India 179-7 (Raj 56, Pandey 1) So that's a successful return for Ecclestone, who has been England's second most effective bowler. She has 2-25 off eight overs.
Updated


11:52
Wicket! Bhatia c Jones b Ecclestone 2 (India 178-7)
Another one! Ecclestone spears in a quicker ball, possibly turning an inch or two, and Bhatia can only nick it into Jones's gloves. India are now in all sorts of trouble.
Updated


11:51
40th over: India 177-6 (Raj 55, Bhatia 2) Nat Sciver returns, bearing bouncers. Tanya Bhatia, who is on the small side, can't reach them, and she doesn't get much sympathy from the umpire.
Raj's fifty has prompted Abhijato Sensarma to break into verse.
Mithali is in a league of her own
But is she stuck in an era of the past
The women's game has grown and grown
The batters are powerful and the bowlers fast
Mithali, the accumulator, seems to be left all alone
Making runs and runs, leading an outdated yet fighting cast.


11:45
40th over: India 171-6 (Raj 51, Bhatia 1) Raj pushes Cross into the covers and finally reaches her fifty, off 80 balls. It's her second fifty of this series and her 64th in ODIs. She's been elegant, controlled, but seldom commanding, and she does need to change that now.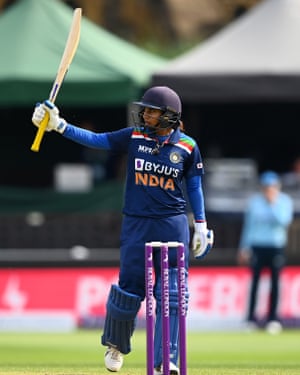 Updated


11:41
Wicket!! Rana c Knight b Cross 5 (India 168-6)
Kate Cross can't stop taking wickets. She persuades Rana to offer up another skyer and, after spending some time in the ether, it's safely pouched by Heather Knight. Cross has a five-for!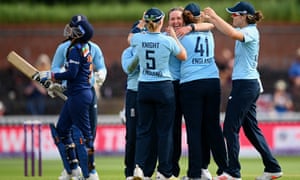 Updated


11:39
39th over: India 168-5 (Raj 49, Rana 5) Rana isn't going to die wondering. She wallops Shrubsole just over mid-on for four, but India are suffering from the same malaise as on Sunday: too many dots.

11:35
38th over: India 162-5 (Raj 49, Rana 1) Cross is finding bowling very easy today. After snaffling Sharma, she induces a nick from the new batter, Sneh Rana, which eludes Jones behind the stumps. It's all happening and Raj isn't getting enough of the strike.

11:32
Wicket! Sharma c Dunkley b Cross 5 (India 160-5)
Cross does it again! She tempts Sharma into another big shot on the leg side, off the front foot this time. It hangs in the air and makes a nice catch for Sophia Dunkley, running in from deep square.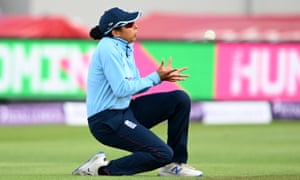 Updated


11:29
37th over: India 160-4 (Raj 48, Sharma 5) Sharma, facing Shrubsole, gets off the mark in style, swinging a perfectly respectable ball over midwicket with a satisfying crunch.

11:26
36th over: India 153-4 (Raj 48, Sharma 0) Cross is bustling in, touching 70mph and bowling a tight line to Raj. She's not putting a foot wrong – until she does, with a no-ball. For the free hit, she bowls a bouncer that strikes Raj in the grille, and possibly puts Amy Jones's nose out of joint, as she is standing up to the stumps. Raj has the usual checks, but she seems fine and guides the next ball for a single. The game needs her.
Updated


11:20
35th over: India 150-4 (Raj 47, Sharma 0) Shrubsole, taking over from Brunt, drifts down the leg side and Raj helps herself to a glance for four. This innings is all about Raj now. She has 47 off 67 balls, and she probably has to double that if India are going to set a decent target.
Updated


11:17
34th over: India 145-4 (Raj 42, Sharma 0) So Cross replaced Glenn, Raj drove through point, and the cover sweeper Sophia Dunkley made a hash of the stop. She produced the long barrier, only to let the ball bounce off her knee and dribble over the Toblerone. Insult and injury, all in one go. But the pain is soon forgotten as Cross picks up another wicket: she has 3-27, and one hand on the Player of the Match award.

11:15
Wicket! Kaur c & b Cross 19 (India 145-4)
The breakthrough England needed! Cross comes back and again makes the difference right away, drawing Kaur into a leading edge that goes up, up and into the hands of the bowler, who called for it loud and clear.
Updated


11:11
33rd over: India 140-3 (Raj 37, Kaur 19) Brunt continues and ties Raj down by bowling cutters. After four dots, Raj manages a cut for a single. So much for a run a ball.

11:04
32nd over: India 139-3 (Raj 36, Kaur 19) Raj gives Glenn a technical chance off her own bowling, but she hit the ball so well, and so low, that I'm going to take an executive decision and not reach for the bold type. That's drinks, with India back in the game, but needing to go at six an over from here on in, to get close to 250.
Updated


11:02
31st over: India 134-3 (Raj 31, Kaur 19) Only three off the over from Brunt, whose second spell has been much tidier than her first. I missed the fifty partnership, which came up with that gloved sweep: given the trouble India were in when they came together, with Raj still on 0, these two have done very well.

10:58
30th over: India 131-3 (Raj 29, Kaur 18) The pendulum swings again as India take seven off this over from Glenn, four of them via a sweep from Raj which may have come off the glove.
Updated


10:54
29th over: India 124-3 (Raj 23, Kaur 17) Sciver comes off, to be replaced by … her fiancée, Katherine Brunt. Kaur plays a straight drive, so straight that the ball is half-stopped by the stumps. That's another good over for England, who have put the plug back in after that spurt.
Updated


10:49
28th over: India 121-3 (Raj 22, Kaur 16) A much better over from Sarah Glenn, conceding only a single. I'd like to tell you how that cake is going down, but the Sky director has lost interest in it. Lightweight.

10:46
27th over: India 120-3 (Raj 21, Kaur 16) Sciver restores order, restricting the batters to three singles.
Updated


10:43
26th over: India 117-3 (Raj 18, Kaur 16) Kaur takes the hint from her captain and feathers a paddle for four to very fine leg. Glenn, rattled, bowls a wide that goes for four too, so that's 11 off the over. Game on!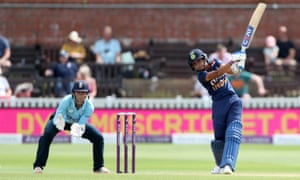 Updated


10:40
25th over: India 106-3 (Raj 18, Kaur 11) Raj opens the face and caresses Sciver for four through the covers. In the stands, a cake is handed to a dad whose birthday it appears to be, though there's a piece of card saying 1 rather than a candle, so maybe it's his baby's birthday, not his. From where I sit, it looks like a chocolate fudge cake from Waitrose.
Updated


10:36
24th over: India 98-3 (Raj 13, Kaur 9) Cross gets a rest at last as Knight sends for Sarah Glenn. Her leg-breaks are a chance for some milking and the batters take it, helping themselves to five singles. That's more like it

10:34
23rd over: India 94-3 (Raj 11, Kaur 6) Raj did bat well on Sunday, but she has started slowly today. Facing Sciver, she finally asserts herself with a pull for four. Kaur, feeling the pressure, gets away with an inside edge onto the pad.

10:30
22nd over: India 88-3 (Raj 6, Kaur 4) Cross stays on and finds her line and length again. India have made 13-2 off the past seven overs, and they're in danger of turning this game into Bristol 2: Not Fast, Just Furious.