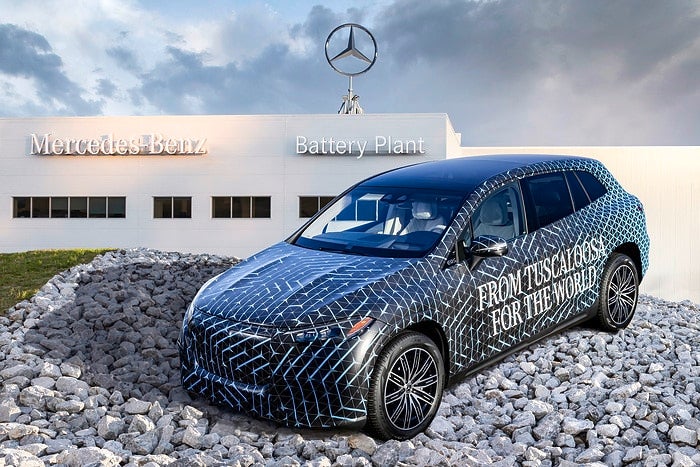 Mercedes-Benz has opened a new battery plant in the US (Bibb County, Alabama), a few months ahead of the start of production of all-electric Mercedes-EQ vehicles in the US.
Mercedes has also announced that Chinese-owned Envision AESC will supply the Mercedes-Benz battery factory in Bibb County with 'high-performance lithium-ion battery modules' from a new plant within the US (location as yet unspecified) and that supplies will commence from the middle of the decade.
China's Envision Group purchased a majority stake in the AESC battery subsidiary from Nissan in 2018. Until the supply from Envision AESC begins mid-decade, Mercedes-Benz will reply on its existing network of partners for battery cells and modules.
Mercedes-Benz will produce the EQS SUV and EQE SUV in its plant in Alabama and the Mercedes battery factory in Bibb County will provide batteries for both.
Mercedes said that, together with partners, it plans to build eight cell factories worldwide with a production capacity of 200 Gigawatt hours by the end of the decade.
Markus Schaefer, Member of the Board of Management of Mercedes-Benz Group AG, Chief Technology Officer, responsible for Development and Procurement said: "Envision AESC will be a major supplier securing capacity for the next generations of our Mercedes-EQ products built in the US in the years to come. With Envision AESC's net-zero carbon solutions and battery technology, this new cooperation underlines our holistic approach regarding our sustainable value chain and allows us to secure supplies, to take advantage of economies of scale, and to provide our customers with superior battery technology."
Ola Källenius, Chairman of the Board of Management of Mercedes-Benz Group AG, said: "The opening of our new battery plant in Alabama is a major milestone on our way to going all-electric. With our comprehensive approach including a local cell sourcing and recycling strategy, we underline the importance of the US, where Mercedes-Benz has been successful for decades. We're proud to create new, future-proof jobs to build all-electric SUVs 'Made in the USA' at a plant that is such an established part of our production family since 25 years."