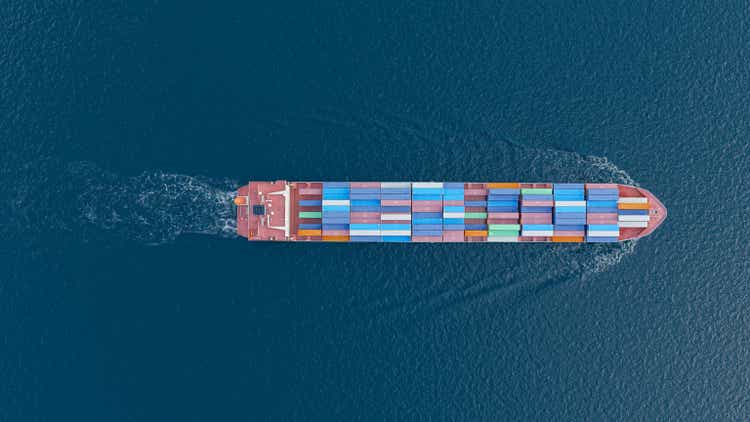 Aristides Pittas, Chairman & CEO of NASDAQ-listed Euroseas (ESEA), said during Capital Link's Trending News podcast that fleet renewal and expansion is at the core of the company's strategy. This comes on the back of Euroseas' recent announcement that it had signed a contract for the construction of two additional fuel-efficient 2,800 TEU feeder containerships.
Fleet Renewal Focusing on Newer Eco Ships
The CEO mentioned that fleet renewal is a natural development given Euroseas' current fleet profile stressed the company's increasing focus on newer eco ships. At the beginning of 2020, Euroseas disposed of five smaller feeder container vessels which were well above 20 years of age. In June 2021 and just recently, the company placed newbuilding orders at the Hyundai Miko Dockyard in South Korea for two pairs of eco-design 2,800 TEU vessels. This brings the total to four new ships with deliveries of three vessels throughout 2023 and one in 20024. These new vessels will consume 30% less fuel than the previous generation, resulting in a more economical and environmentally friendly fleet.
At present, six vessels are over 20 years of age, which in their overwhelming majority are chartered well into the next 2-3 years and are currently contributing significant earnings to shareholders. Furthermore, there are 10 vessels with an average age of about 15 years which are also chartered in similar fashion and contributing collectively record earnings. The CEO further commented that, "Embarking into a newbuilding program, it is a natural step for us, if we want to ensure our continuing presence in the container shipping markets, especially in view of the additional regulatory requirements around GHG coming in effect over the next 2-3 years which might further reduce the carrying capacity of the overall container fleet."
Feeder Fleet Growth
He expressed confidence in the prospects of the overall feeder containership sector and short sea trades. These are expected to continue to grow possibly at faster rates than the overall containerized trade. Thus, new capacity will be needed, especially, as this segment of the containership fleet is underbuilt and quite older compared to the larger ones.
The quartet of 2,800 TEU newbuilds will allow Euroseas to build a stronger presence in the larger feeder containership sector, where Euroseas has been focusing increasingly. The CEO mentioned that vessels between 1,700 TEU and 2,800 TEU are considered the workhorse of this segment and they offer more trading opportunities. Overall, the size of feeder containerships has been expanding, and larger vessels, such as the 4,300 TEU Panamax vessels, are now increasingly assuming feeder roles.
Referring to Euroseas' proforma fleet composition including the four newbuildings on order, 16 out of the 20 vessels will be concentrated on the predominant feeder sizes: four 1,700 TEU vessels, eight vessels that range between 2,500 and 3,100 TEU, and four 4,300 TEU vessels. He mentioned that the investment characteristics for these vessels are easier to handle, in the sense that smaller investment is needed, while there are more chartering options are available. This reduces and spreads risk in line with the company's risk-averse approach.
Focus on Optimizing Fuel Consumption
In reference to GHG regulations, the CEO stressed that the company is committed to adhering to regulatory compliance. While Euroseas is committed to fleet renewal, it will not make hasty decisions regarding the replacement of older vessels, especially given the uncertainty as to what are the fuels of the future and their availability and pricing. Mr. Pittas stressed that current fuels will remain in use for the next ten to fifteen years at least, but upcoming GHG regulations might make them more expensive, especially for ships that burn a lot of fuel. In this context, ships that burn conventional fuels but in smaller quantities will maintain a significance presence in the industry.
Euroseas is ordering new ships that run on conventional fuels but much more economically. Conventional fuels are expected to become "cleaner" over time, and in addition, Euroseas is focusing on measures that further reduce / optimize consumption while improving the overall environmental footprint of the fleet. For example, electrical devices and other measures that allow for reduced fuel consumption and thus for carbon emission reduction. The new vessels will have AMP devices which will allow them not to consume fuel while at port but use electricity instead.
Slow steaming will be one of the ways to address the implementation of upcoming regulations, and this is expected to have an impact on fleet supply and sustain a robust freight market for containerships.
Cash Flow to Finance Fleet Renewal
Regarding the financing of Euroseas' fleet renewal and expansion, the CEO stated, "We plan to continue renewing and expanding the fleet. We expect significant cash flow accumulation on the basis of our existing contracts and from the re-chartering of our open days which can be the main funding source of any investments we might pursue along with bank debt".
Euroseas has booked strong charter cover at lucrative rates for the next three years – 92% of its capacity days in 2022, more than 62% for 2023 and about 40% for 2024 (including the days of the newbuildings after their delivery). At the same time, debt is quite low, which provides additional flexibility. In previous interviews, the CEO had also stated that while the company will be looking at all options regarding the utilization of its strong cash flow – including dividends and share buybacks – fleet renewal and growth taking advantage of accretive expansion opportunities remains the top priority.
Original Source: Author
Editor's Note: The summary bullets for this article were chosen by Seeking Alpha editors.