Fresh blasts of sage, bougainvillea, and sea salt rushed into my helmet and smacked me right in the cortex while the bike handled hard corners up the mountain. Like a ravenous cheetah closing in on its prey, the Superleggera V4 is intuitive, powerful and nimble, engineered to stabilize, steer, and maintain traction. But where a cheetah gasses after brief bursts of speed, the Superleggera is primed for so much more.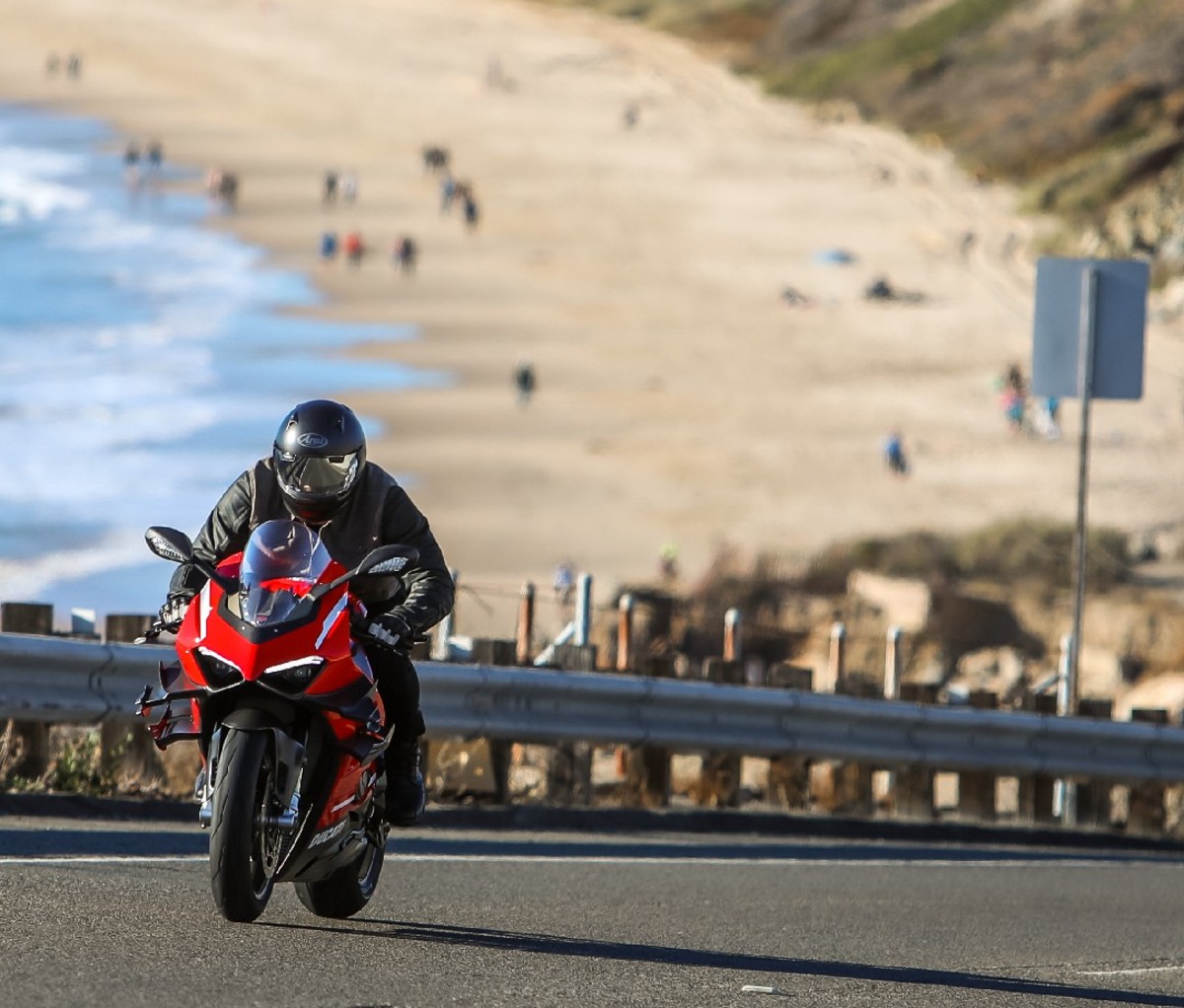 Powertrain
The 998cc, liquid-cooled Desmosedici Stradale V4 powering the Superleggera claims delivery of 234 horsepower (with racing kit). Even with standard 10 percent fall-off calcs, that's more than 200 ponies at the rear wheel. The bike's peak power is reached at 15,250 rpm and peak torque at 11,750 rpm—and this motor loves to rev. To commemorate each hand-built engine, there's a placard on the cylinder head specifying the technician who set the valve clearances.
Heavy on the right wrist, the Superleggera demonstrated refined power and intuitive excellence, roaring up steep hills, punching its way through tight S-turns, and impressively instilling the confidence to probe this daunting superbike to show me more. The Superleggera is outfitted with the latest-generation electronics package, including EVO 2 strategies for "predictive" traction control—quick shifting that made ratcheting through the bike's six cogs effortless up and down.
Styling and Ergonomics
The styling of the Superleggera is Sexy AF. The satin-black carbon chassis, wheels and swingarm (along with a slew of titanium springs, nuts and bits) not only shave weight off the bike but are flat out stunning on the classic Ducati red sport bike. It's no wonder Statham chose this bike as his co-star. Similar to the Ducati Panigale front end, Superleggera designers were admittedly inspired by The Joker's grin (from the DC Comics) when they imagined the front end of the motorcycle stalking the road.