When IMG "reimagined rugby league", they would have struggled to come up with climaxes to the season that are as tight as the ones we have this year – not just in Super League but also in the Championship. The last weekend of the season in the second tier is going to be thrilling, with almost everyone fighting for their lives and little decided until the final whistle.
Going into the final round of regular season games, only two of the 14 clubs in the league know which division they will be in next season: midtable Widnes and relegated Newcastle. The top four clubs – league leaders Featherstone, runners-up Toulouse, surprise package Sheffield Eagles and Bradford Bulls – have booked their spots in the playoffs. The four sides below them are scrambling for the final two playoff spots. And the four teams above Newcastle are still fighting to avoid going down with them when the music stops on Sunday evening.
This time next year clubs near the top of the Championship will be comparing IMG points as much as league positions, working out how they can garner more points than the club that finishes bottom of Super League. It may well be a shambles. With Wakefield finally relegated after years of circling the Super League plughole, any other club hoping to pip them to promotion next year will not only have to win the Championship grand final but also have more IMG points than both Trinity and whoever is bottom of Super League. Given that Wakefield have a revamped stadium, an academy, a women's team and an average gate of 4,000 fans, that seems unlikely.
This season was the last chance for wealthy owners to invest heavily in players to win promotion to the top flight. From next year, widespread investment in club infrastructure will be required to secure sufficient IMG points to reach Super League. None of this year's promotion contenders resembles a Super League side, as Leigh did a year ago and Toronto, to a lesser degree, in 2019. Even Featherstone, the odds-on favourites who eased to the League Leaders Shield, did so with few experienced top-flight players still at their peak.
Below Featherstone, in an intense penultimate round last weekend, two games were decided by a single point, another pair by two. One of those games was at Wimbledon, where Bradford Bulls edged London Broncos 12-10 to leapfrog above them into fourth. Bradford looked solid and extremely hard to break down.
At the heart of that effort was former France captain Jason Baitieri. A veteran of 250 appearances with Catalans, he is having his first taste of the Championship after a season in Elite 1, the top tier in France. "Going from Super League to Elite 1 was a big drop, and the Championship is a step back up," says the Paris-born loose forward.
"There's less speed than Super League but it's a lot more physical. We've played Featherstone, York and London in the last three weeks and the physicality really stepped up. London are in really good form but we understood what they wanted to do and executed the gameplan really well. We were a lot more disciplined than we've been in the last couple of weeks."
Bradford are unpredictable but a win over Sheffield would take them to third, their highest finish since 2015. "It's not just Bradford – most teams in the Championship have been inconsistent," says Baitieri. "But for us to get consistency is about individual preparation. It's about individuals doing their jobs for 80 minutes: that's where you get good performances. We need four more now."
At 34 and with a family vineyard in the south of France beckoning, Baitieri is hoping to end his storied career in style: "I'm in the twilight end and I'm here to do a job. If we get to the playoffs, get to the final and win, that would be great. I'd be so happy for the club. It would be the cherry on top. As far as playing in Super League, I don't think I would. I'd love to go out on a high."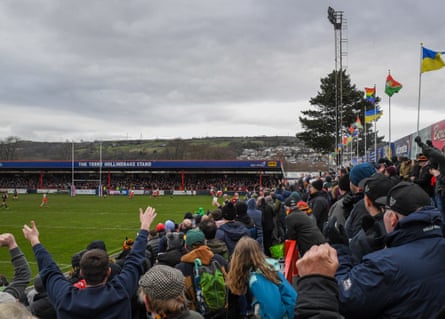 The relegation battle is as exciting as the race for the playoffs. The four clubs above Newcastle – Barrow Raiders, Whitehaven, Keighley Cougars and Swinton Lions – go into the final day knowing a victory could keep them up, but might not.
It's all change from a year ago. This time last season we wondered if Barrow might gatecrash the top flight against all odds. The year before, Whitehaven secured an equally extraordinary playoff place. They have both spent this summer aiming for the safety of 12th place.
"We've got one of, if not the, lowest budgets and our target all the way has just been to stay up," says Whitehaven coach Jonty Gorley. "I told my backroom staff at the start of the season I didn't want to have to go into the last three games needing anything, but that's what's happened."
The survival battle is closer than a Mikey Lewis buzzcut. Swinton's extraordinary 21-20 win over Whitehaven on Sunday means four teams are separated by just one point. Barrow's hugely superior points difference means they could survive even if they lose at home to York this weekend, but the other three clubs have the same number of points and near identical points differences. A dead heat remains a possibility.
Gorley is aware that points difference could be crucial. "We've been blown out a few times – both games against Featherstone, away at Toulouse and Halifax – and at the time you think those aren't the results that impact on where you finish, but they have," he says. "Every point counts."
All four strugglers have beaten clubs who are heading to the playoffs and yet, until Barrow beat Swinton in early September, none had won more than half of their four-pointers against each other. "Keighley and Barrow have done the double over us and we've done the double over Sheffield and York – it's bizarre," says Gorley, who grew up in Whitehaven and is desperate for them not to drop out of the second division on his watch.
"When we go into games with no pressure on us and are a bit more relaxed, we've done well," says Gorley, whose injury-ravaged side have lost five on the bounce at the worst possible time. "My lads are looking at the floor and I'm trying to get their heads up and get my belief into them."
There is hope for Whitehaven yet: Toulouse are guaranteed a playoff spot so might not send their a full strength team on the mammoth trip to west Cumbria on Saturday afternoon. Swinton and Keighley, who go to playoff chasers Halifax and London, respectively, will be desperately hoping that Toulouse do them a favour. Someone is likely to go down via points difference, and three small clubs, who would all look equally at home in the third division, will stay in the second.
If Barrow stay up, the relegated clubs can argue that the extra fixture caused by the Summer Bash ended up dictating the outcome of the whole season. Barrow were alone among the bottom five to win that weekend in late May. But for their victory over Haven, Barrow would be second bottom going into their win-or-bust game at home to York on Sunday.
Whatever happens, nothing IMG comes up with will match the excitement levels of this Championship climax.
Follow No Helmets Required on Twitter and Facebook