March 02, 2021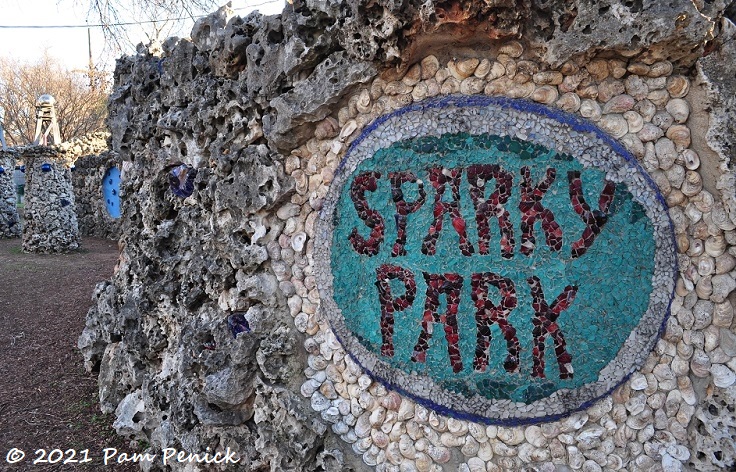 At Austin's Sparky Park, craggy, curved walls of karst limestone and blue slag glass display mosaics of seashells, ceramic tile, petrified wood, and other found objects, all fashioned into fantastical trees and solar systems. Rock arches connect turret towers bejeweled with blue and silver gazing globes, creating a fairy-tale ambience. It's all part of a public art installation in the North University neighborhood.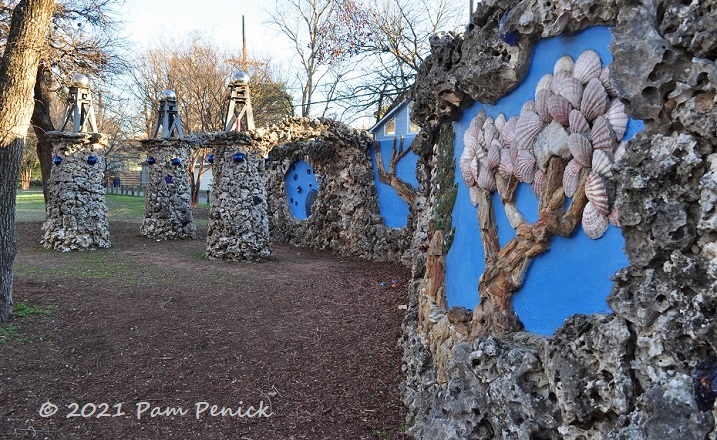 As a creative re-imagining of an old electric substation (where sparks once flew during thunderstorms, according to legend), Sparky Park was built through a public/private partnership between the neighborhood association, the City of Austin, and a company wanting to install a cell tower on the site.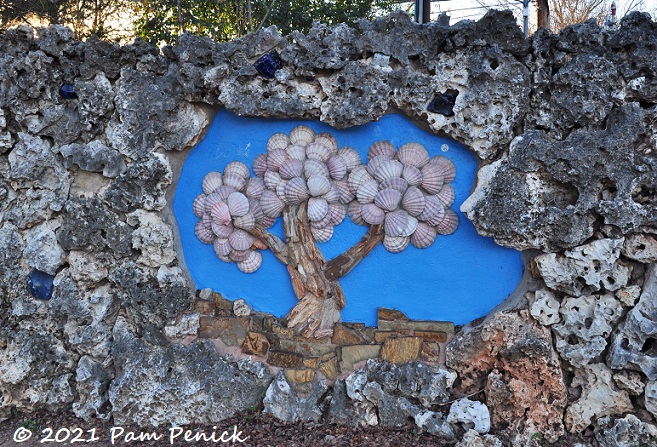 To hide the eyesore of the cell tower and other mechanicals, local artist Berthold Haas (former co-creator of the enchanting, shell-studded Stone Palms garden) was commissioned to construct his fantastical wall.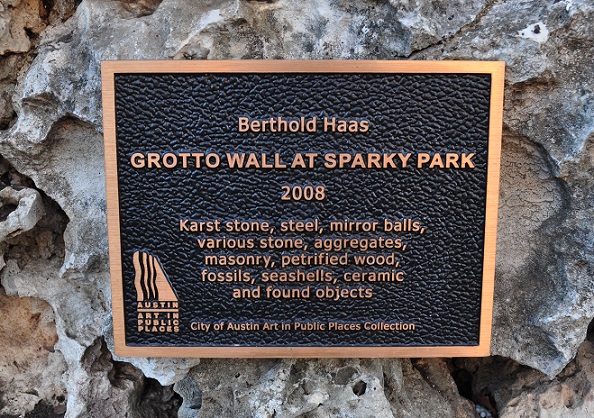 A sign from 2008 lists the building materials he used: karst stone, steel, mirror balls, various stone, aggregates, masonry, petrified wood, fossils, seashells, ceramic and found objects.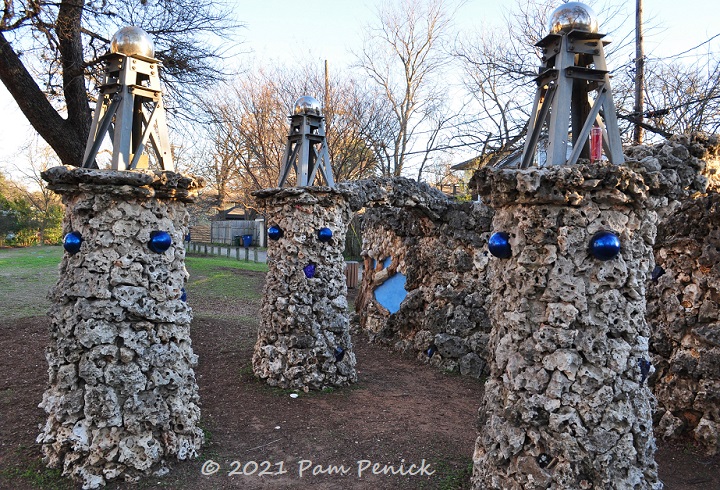 It's a whimsical work of art for the neighborhood and a sightseeing attraction for all of Austin.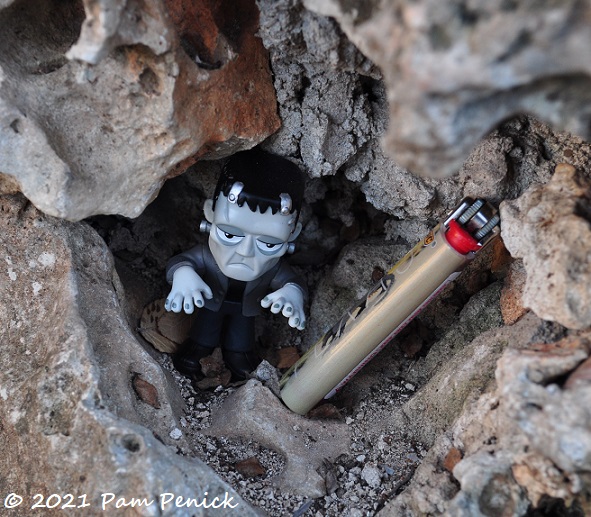 Neighbors add to it by leaving little treasures, like this Frankenstein toy and lighter, in the karst cavities.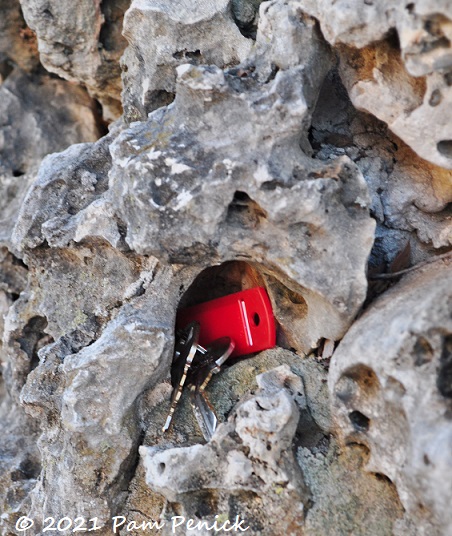 Here are someone's keys!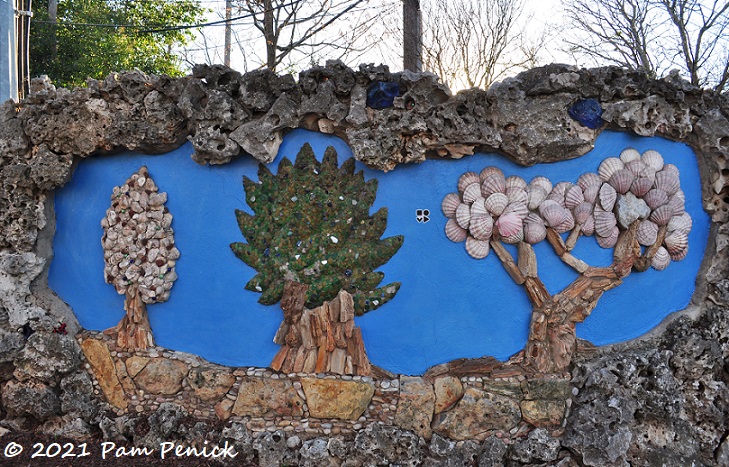 Late one afternoon in early February, I visited Sparky Park for the first time, curious to see this place I'd read about over the years.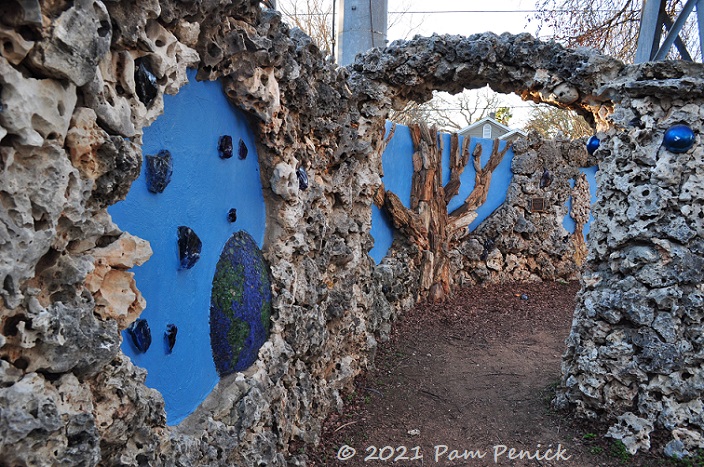 A young couple arrived at the same time to take some selfies under the arches, so I explored the outer edges until they were done.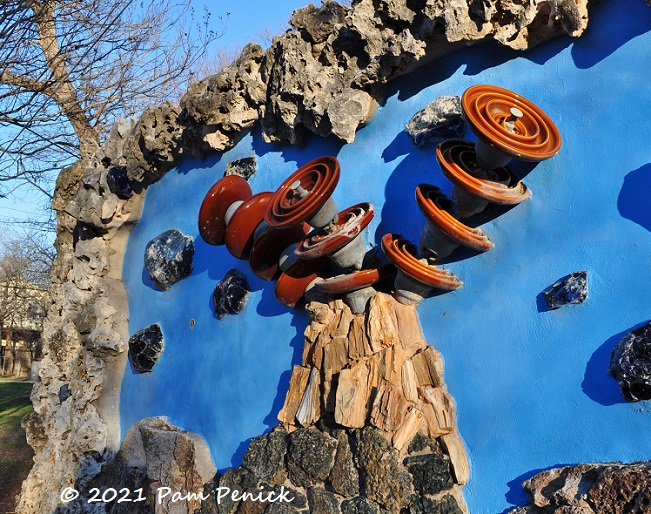 Is this "tree" beaming messages to faraway galaxies?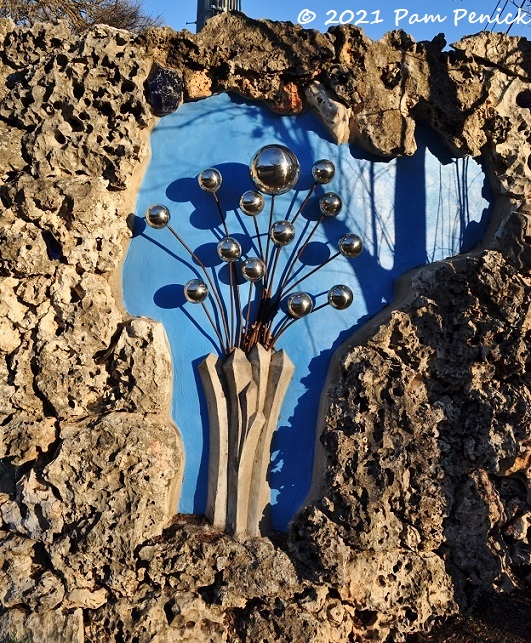 How about this one? Is it a vase of glass-ball flowers? Or an otherworldly plant?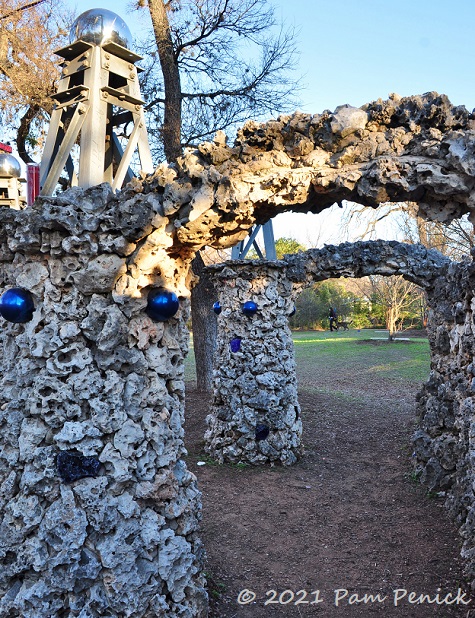 Beyond the stone arches, people were picnicking on the lawn and playing with their dogs. This was during the warm week before the Texas snowpocalypse, and flowers were blooming in a pretty garden down the street.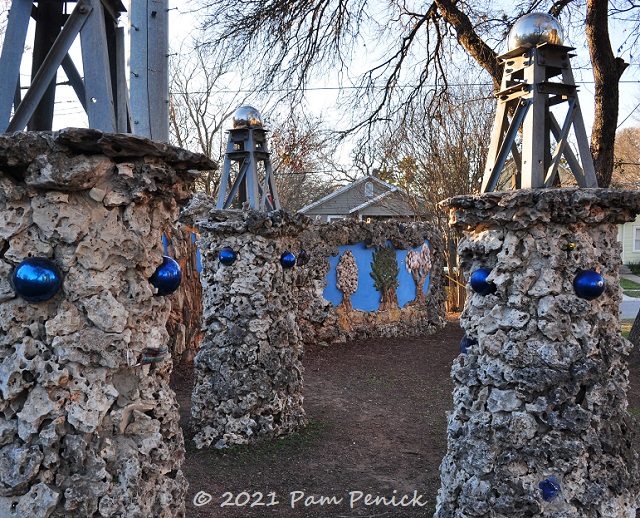 As I wandered around, I suddenly felt like I was being watched. Who are these blue-eyed, bug-eyed creatures?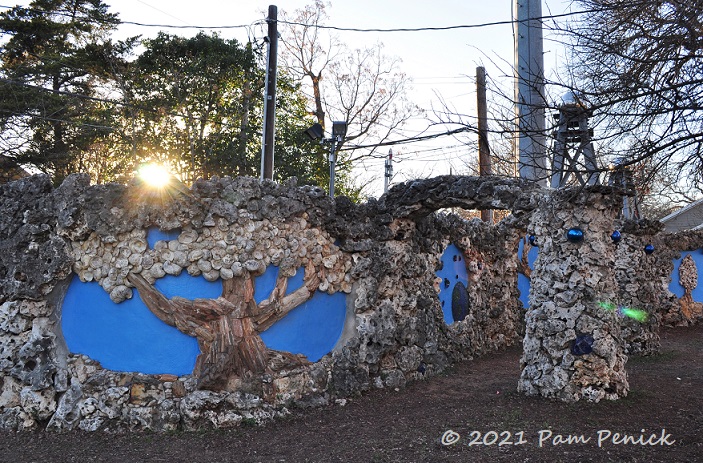 It's wonderful to see old industrial sites like this turned into parks and art installations for neighbors to enjoy. Sparky Park is truly a place to spark the imagination.
I welcome your comments; please scroll to the end of this post to leave one. If you're reading this in a subscription email, click here to visit Digging and find the comment box at the end of each post.
_______________________
Digging Deeper: News and Upcoming Events
New to central Texas? Learn about native Texas plants and gardening tips in "Gardening for Newcomers," a virtual class at the Lady Bird Johnson Wildflower Center on March 6, from 9 to 11 am. Cost is $35, with a discount offered for members of the garden.
Join the mailing list for Garden Spark! Hungry to learn about garden design from the experts? I'm hosting a series of talks by inspiring garden designers, landscape architects, and authors a few times a year in Austin. (While in-person talks are currently on hiatus due to the pandemic, I plan to resume again as soon as possible.) Talks are limited-attendance events that sell out quickly, so join the Garden Spark email list to be notified in advance. Simply click this link and ask to be added.
All material © 2021 by Pam Penick for Digging. Unauthorized reproduction prohibited.