March 08, 2022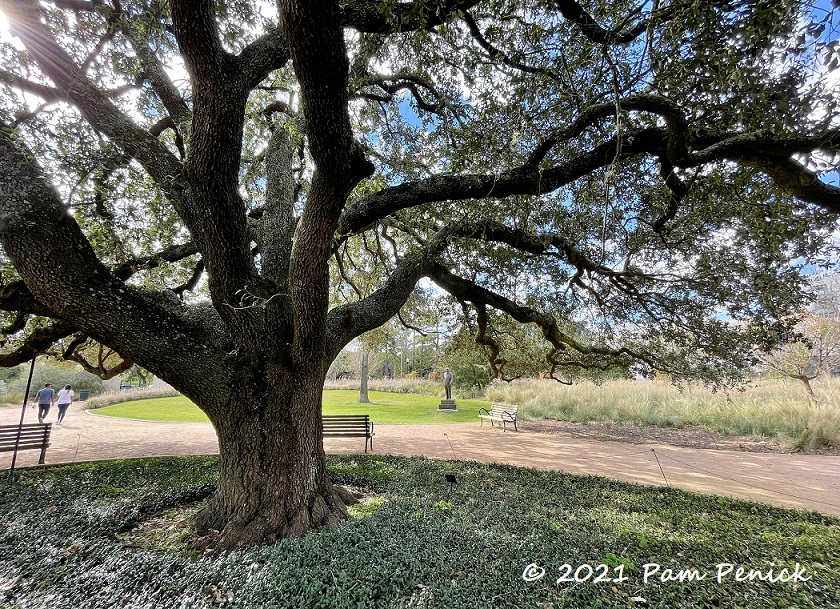 During the Houston oil bust of the late 1980s, when I was a student at Rice University, I'd occasionally jog across Main Street to visit Hermann Park's ancient-looking zoo or outdoor amphitheater. Those were hard times for Houston and its parks — though I was too young and wide-eyed about being in a big city to notice — but much has changed since then. Today Houston hums with growth and has been making a massive investment in its urban parks and green spaces, with an eye toward quality of life and preparing for the coming challenges of climate change.
A few days before Christmas, in town to visit family and friends, we found time to explore 445-acre Hermann Park — at least, the McGovern Centennial Gardens and the Japanese Garden, both constructed after I'd graduated and left Houston. It was great to see how Hermann Park has come to life since then, with gardens and people enjoying them.
And yes, these pictures show just how green Houston looks in late December.
McGovern Centennial Gardens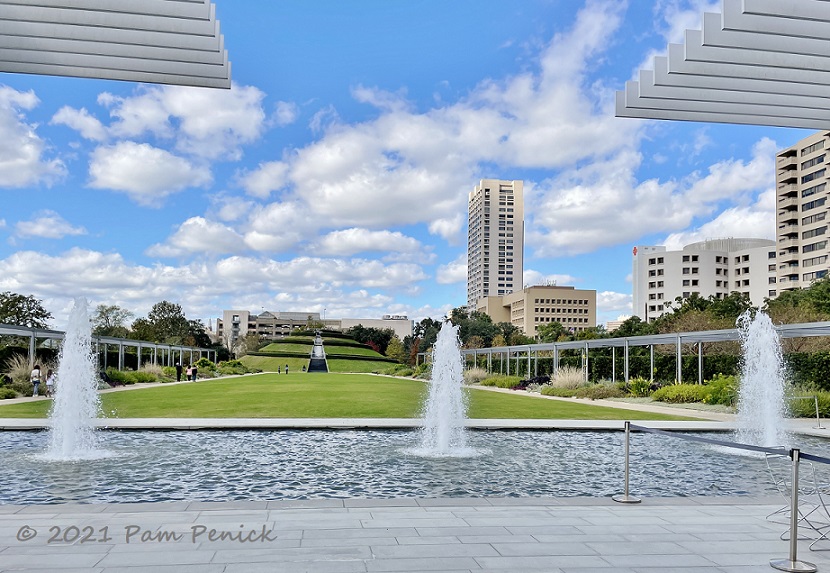 Eight-acre McGovern Centennial Gardens opened in 2014 to commemorate the 100th anniversary of Hermann Park. We entered through a wide, hall-like pavilion framing a green mound at the far end of a lawn.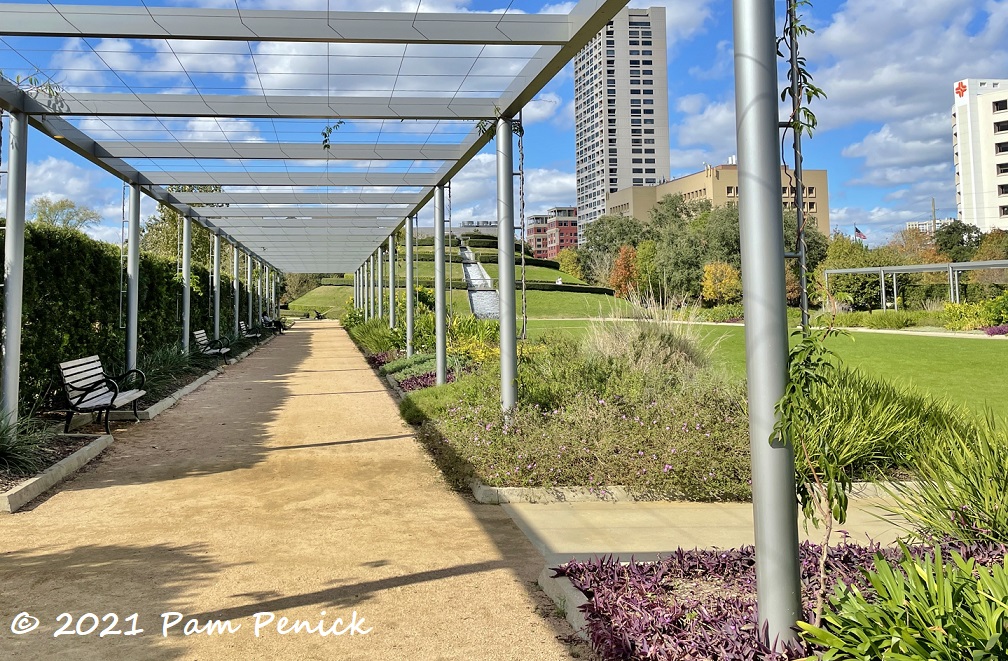 On each side, a metal pergola runs the length of the lawn, providing shade (once vines cover the pergola) and places to sit. A wide perennial border parallels each pergola, adding color and movement and creating wildlife habitat.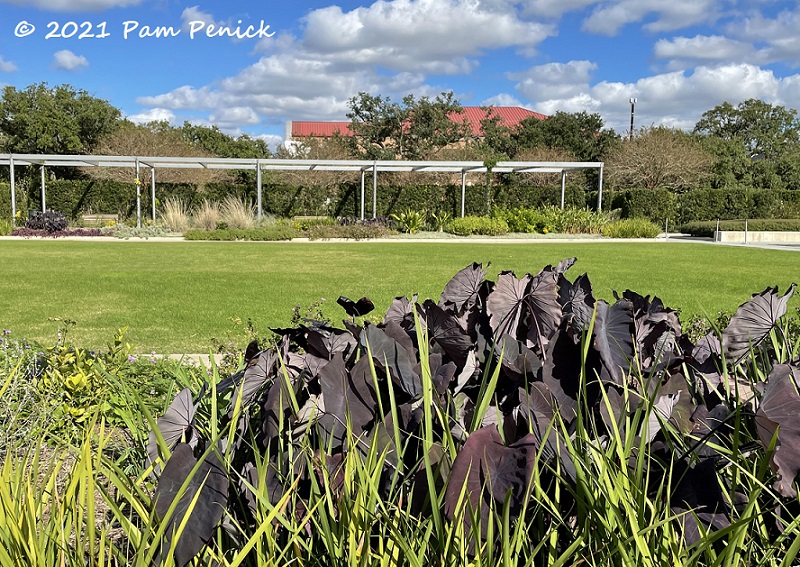 Velvety purple colocasia with the lawn — aka Centennial Green — beyond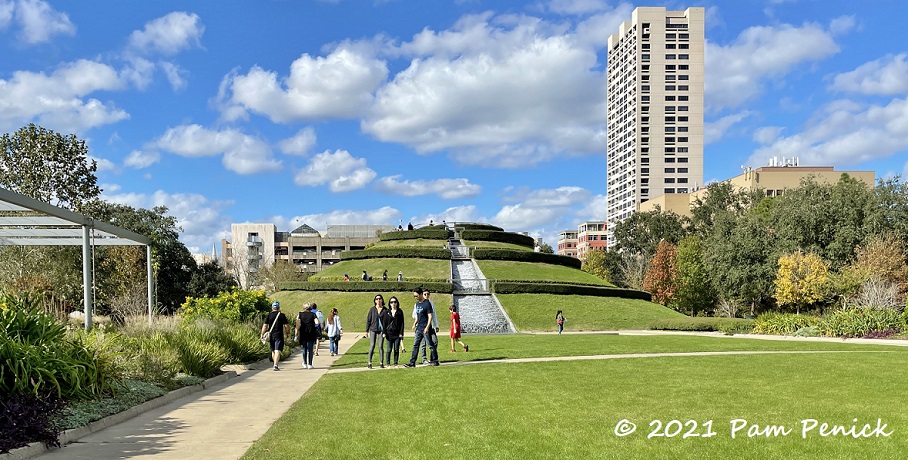 At the end of the lawn, a green mound known as the Mount rises like a ziggurat to provide a lookout. A spiraling path outlined by a spiraling hedge leads to the top.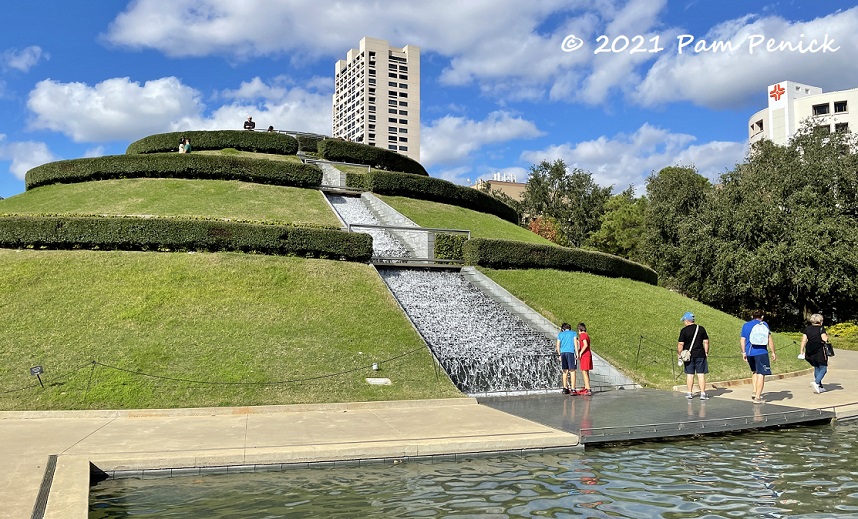 Bisecting the conical mound, a cascading fountain rushes down to a reflecting pool, its shhhhhhhhhh drowning out city noise.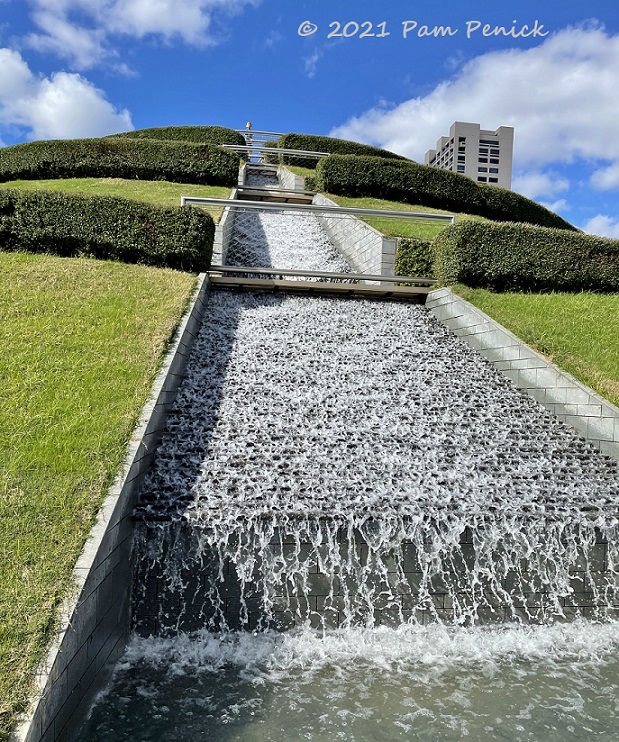 It looks kind of like a salmon ladder.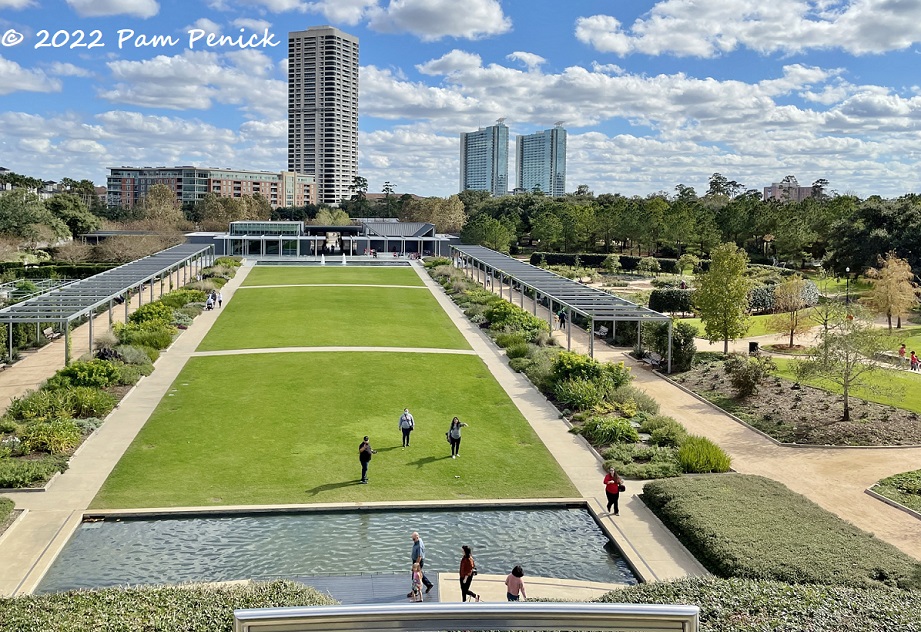 From the peak we enjoyed a high view of the great lawn, pergolas, and perennial borders, as well as nearby high-rises.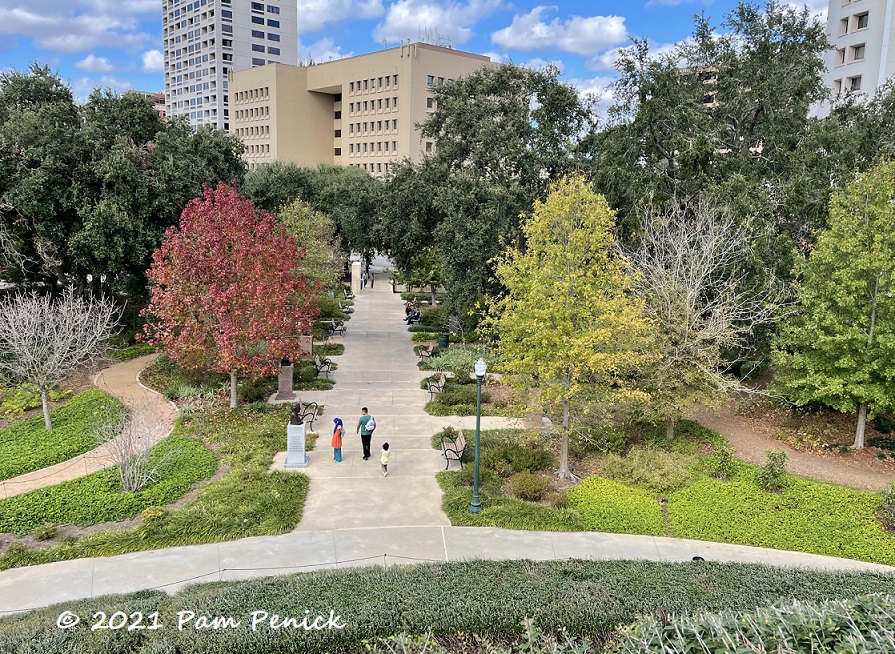 On the back side of the Mount, visitors were checking out the Hawkins Sculpture Walk, lined with 10 busts of notable figures (all men) from around the world. Donated to the City of Houston over past decades, they are now gathered here for a sort of heroes' walk.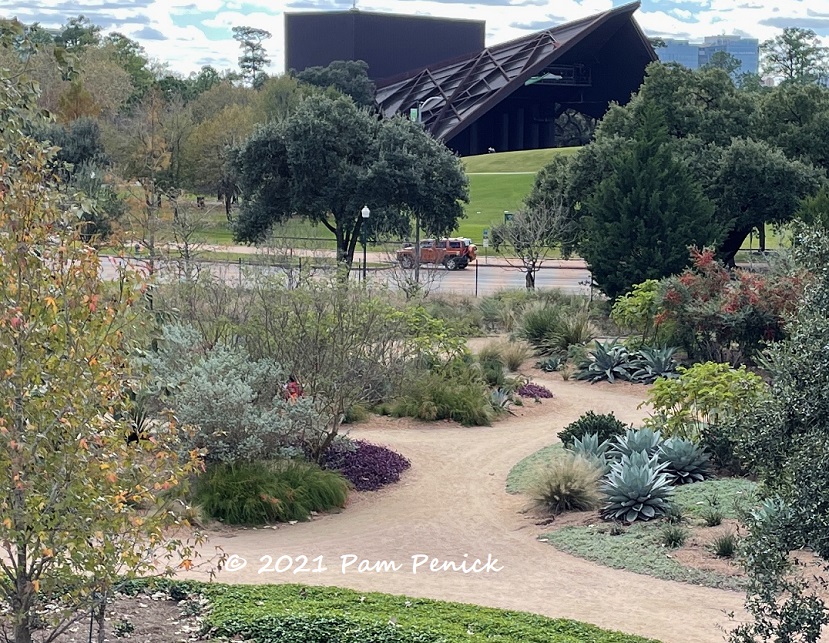 But what do we have here? Much more interesting to my eyes than a bunch of busts is the Arid Garden, an informal arrangement of gravelly berms planted with, well, Austin-style plants. Houston gets an average of 50 inches of rain a year — far more than Austin's 35 inches — and is notoriously prone to flooding. So you don't tend to see agave, yucca, sotol, cenizo, and other dry-loving species there unless planted high, as these are. I made a beeline for it.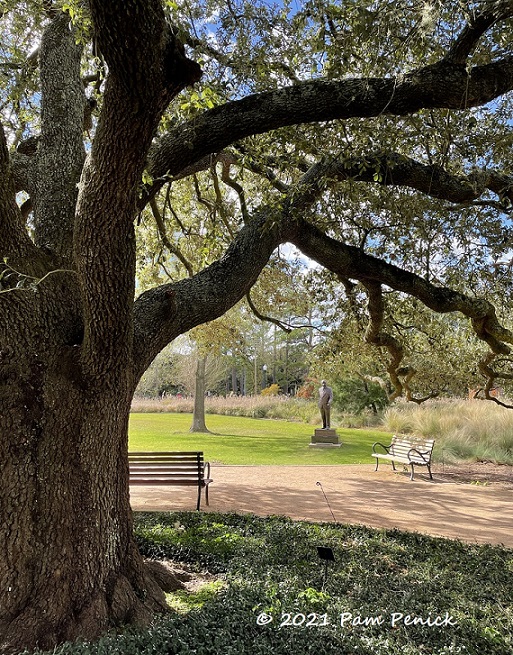 But let's stop along the way to admire this beautiful live oak framing a statue of Dr. Martin Luther King, Jr., amid a border of flowering grasses.
Arid Garden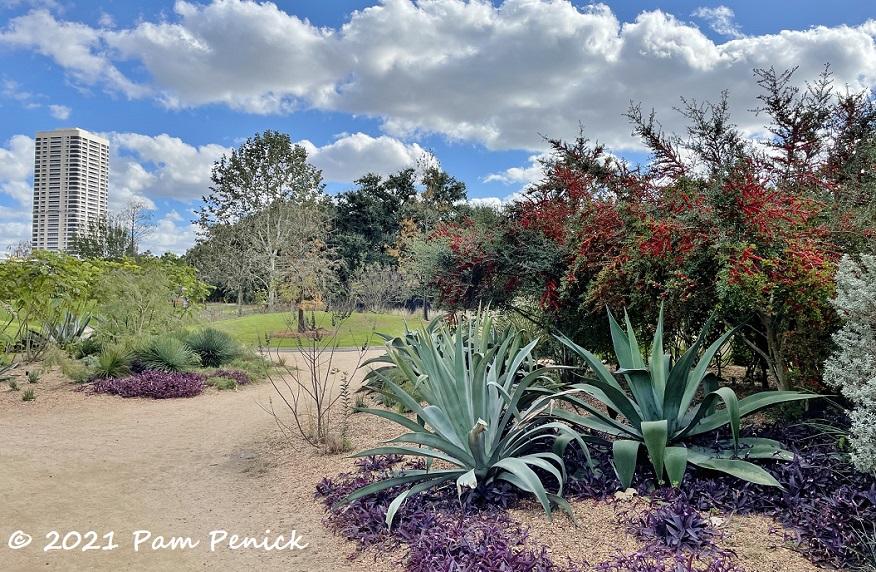 Considering the devastating Texas freezepocalypse of February 2021, this garden looked good. Big agaves showed some freeze damage, but they were still very much alive and well.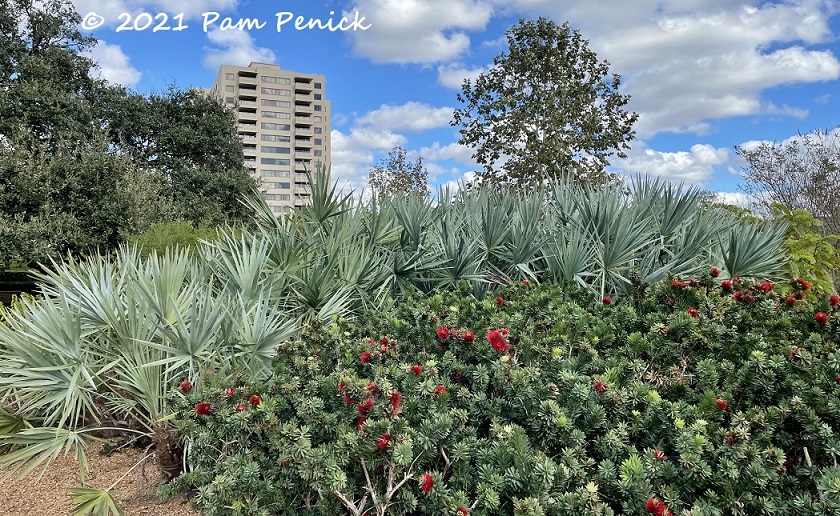 Palmettos — maybe silver saw? — and 'Little John' bottlebrush make a pretty, glaucous pairing.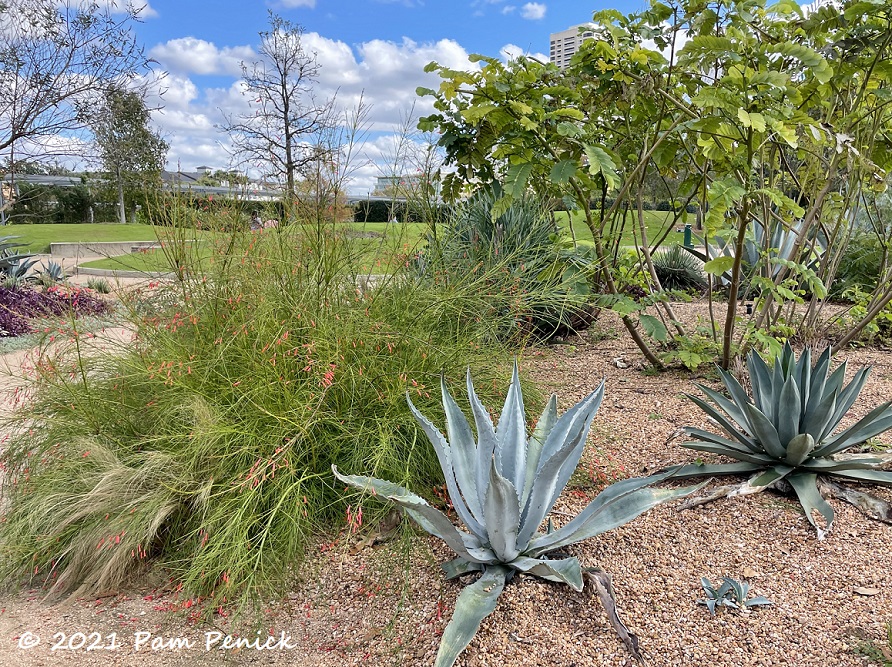 Firecracker fern with what looks like Agave americana and 'Sharkskin' agave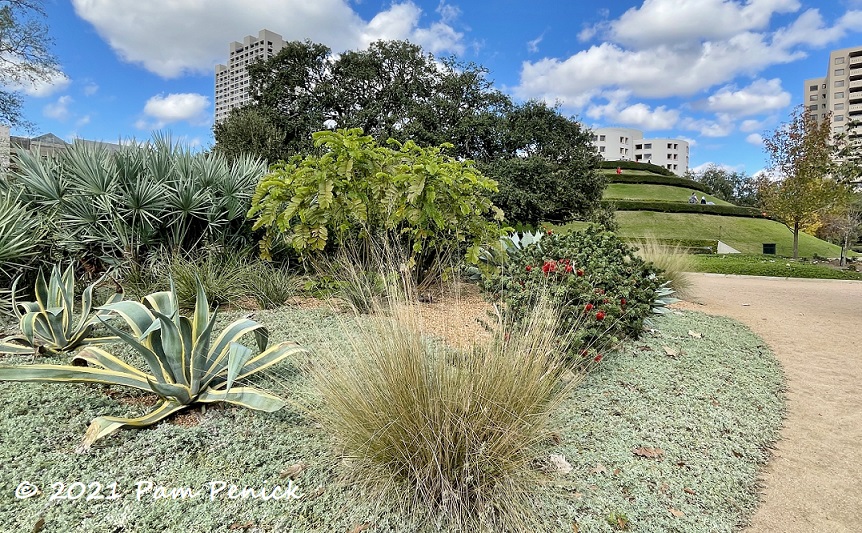 'Opal' American agave with perhaps Lindheimer muhly, 'Little John' bottlebrush, and a groundcover of woolly stemodia. I'm not sure what the shrubby light-green plant in the center is. The Mount is visible at right.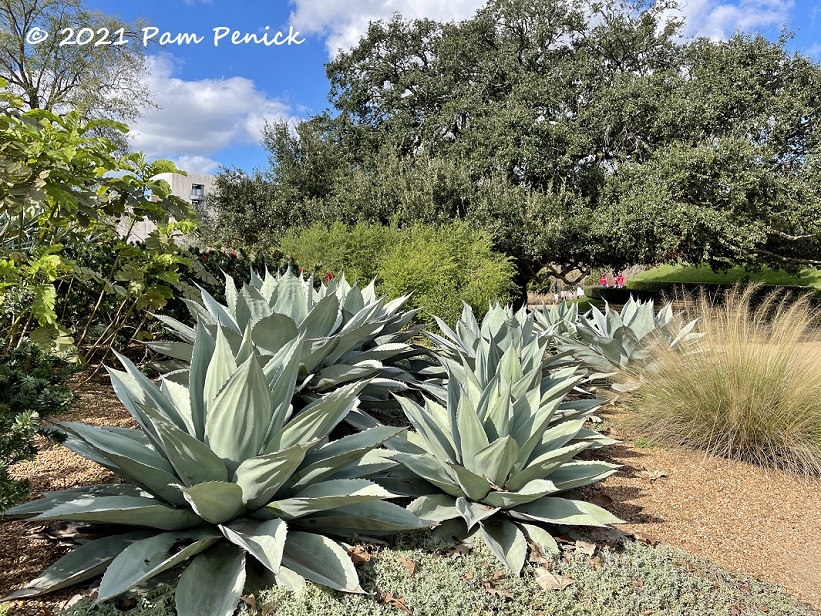 Ah, my old favorite, whale's tongue agave. Planted en masse — even better.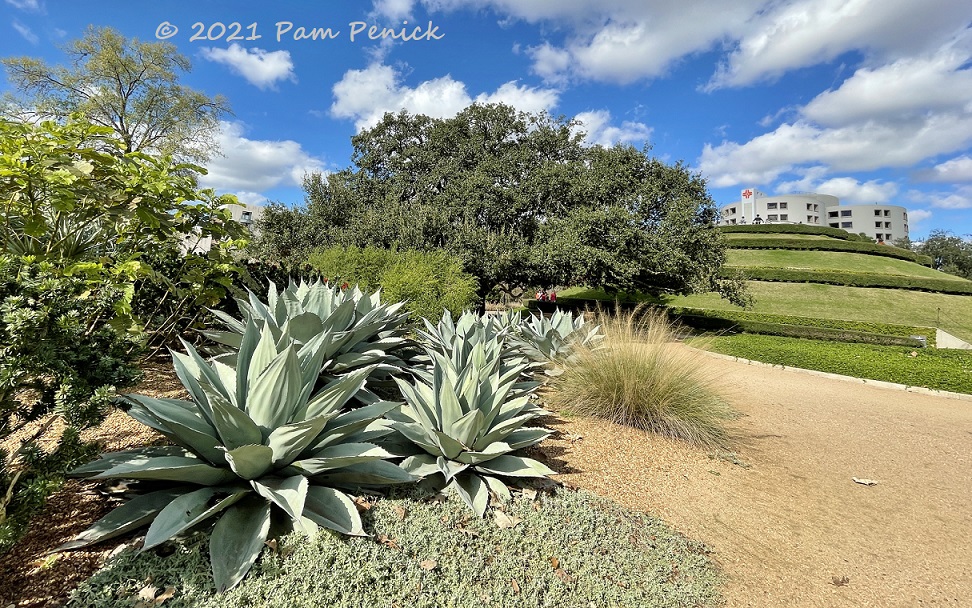 A wider view. The gravel paths and mulched beds are well maintained — no weeds to speak of.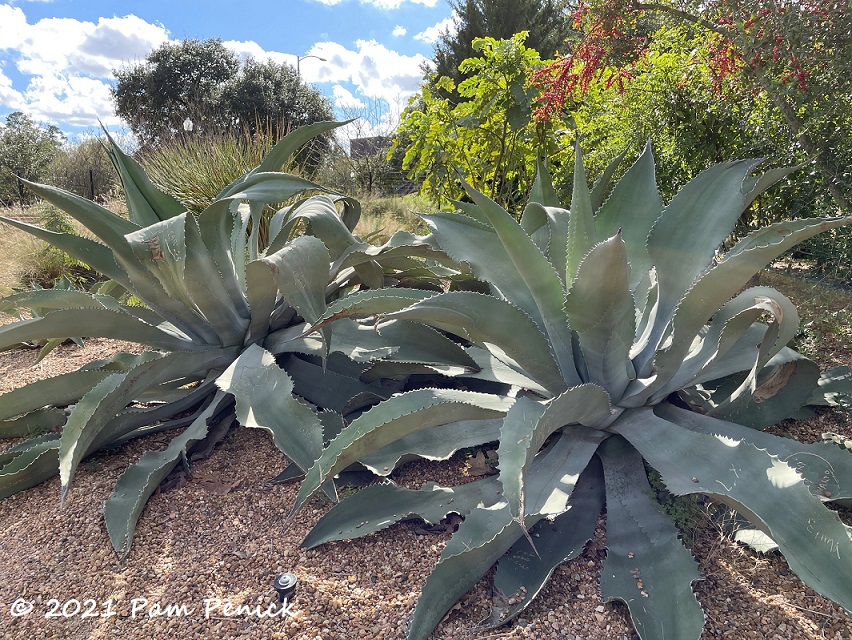 I don't know this beautiful agave — so big and sort of wavy-leaved. Anyone know the ID?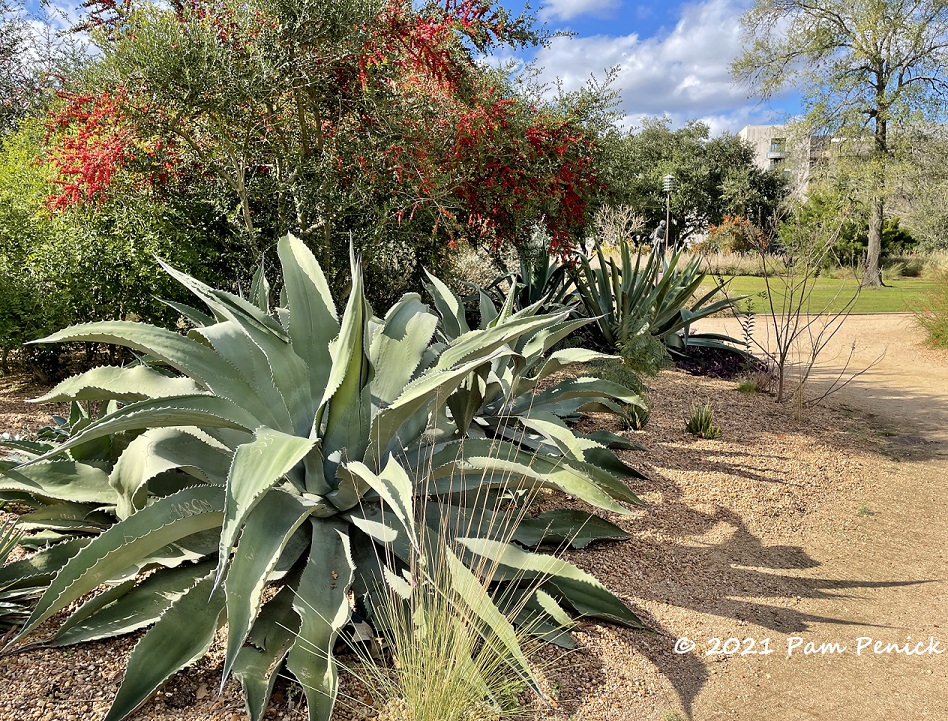 Another view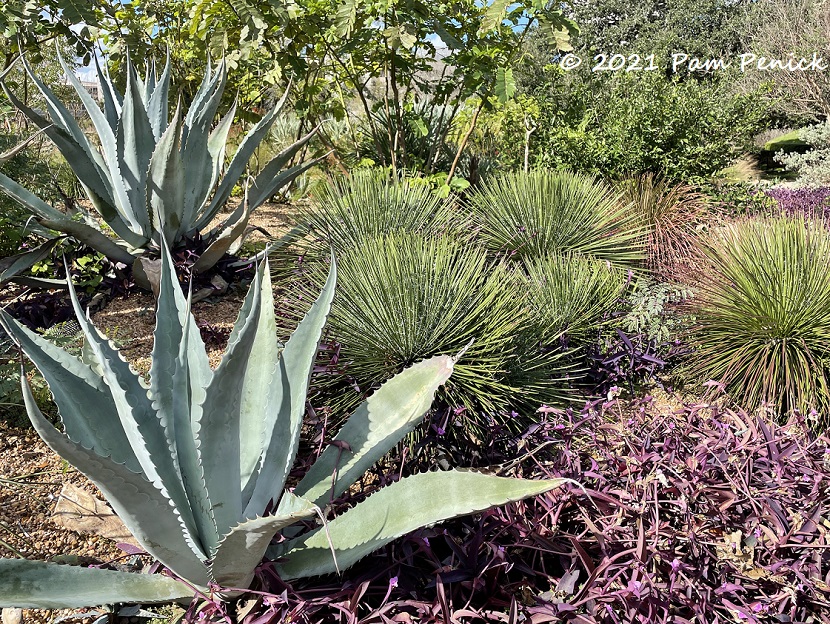 American agave, purple heart, and Agave geminiflora, maybe?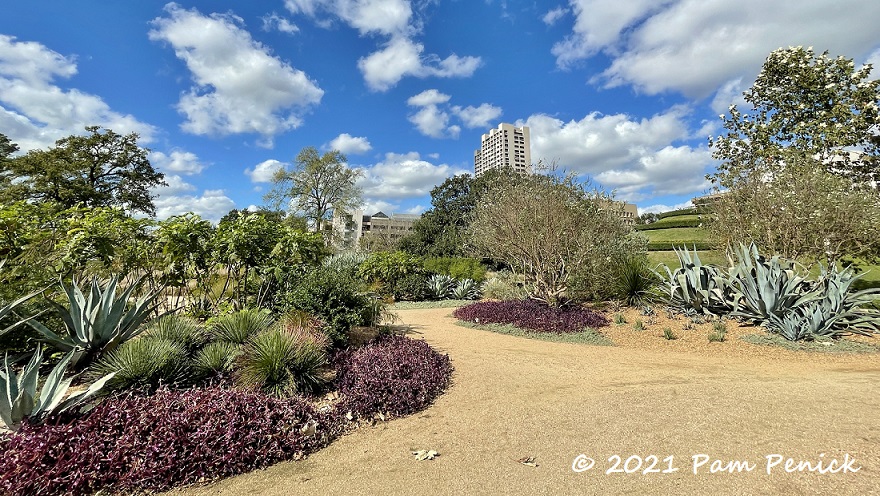 In earlier images online, I noticed a number of Italian cypresses adding vertical punctuation to the Arid Garden. Probably the February freeze killed those, and I was glad not to see them here. The agaves and other dryland plants look more natural without them.
Japanese Friendship Pavilion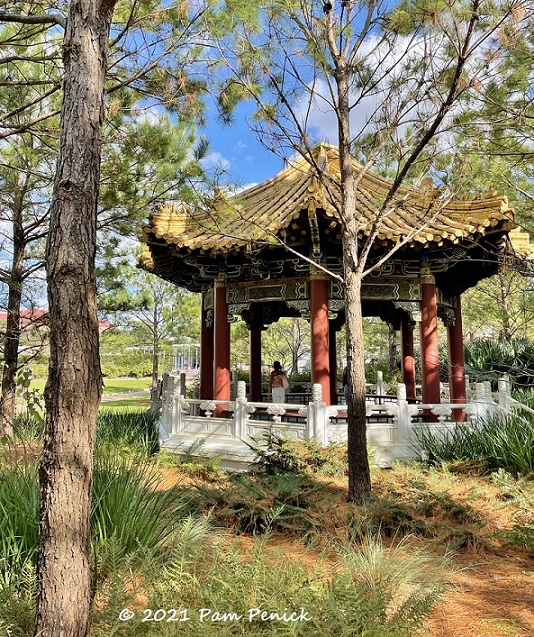 Moving on to the Pine Hill Walk, where pine trees rose high around us, we were charmed to find the Friendship Pavilion, "a gift to the City of Houston from its sister city Taipei, made for the United States Bicentennial in 1976."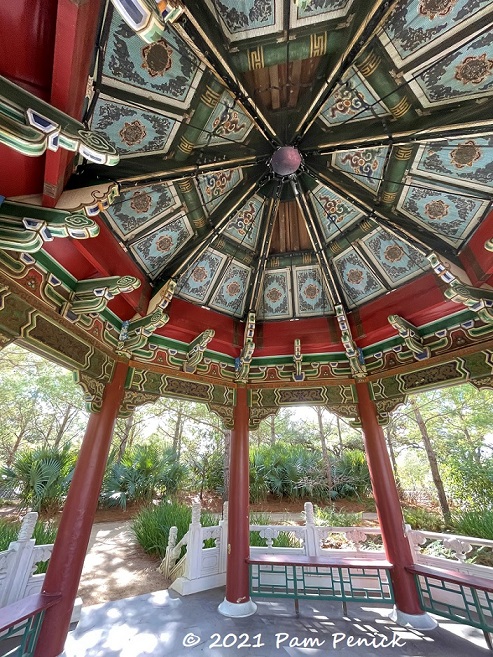 The carved and painted ceiling is stunning in red, green, and turquoise.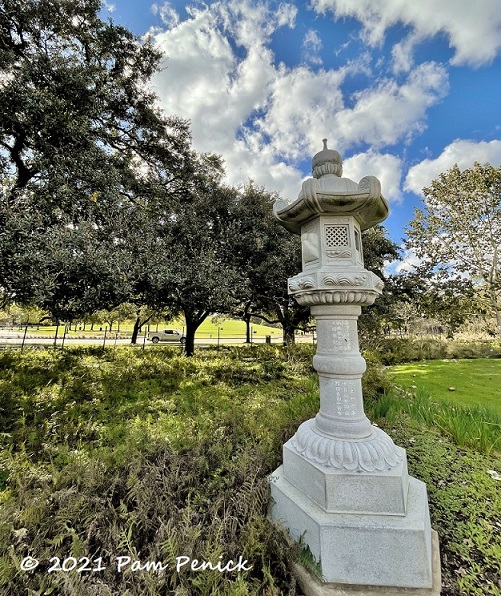 A stone lantern marks the entrance to the garden.
Marvin Taylor Trail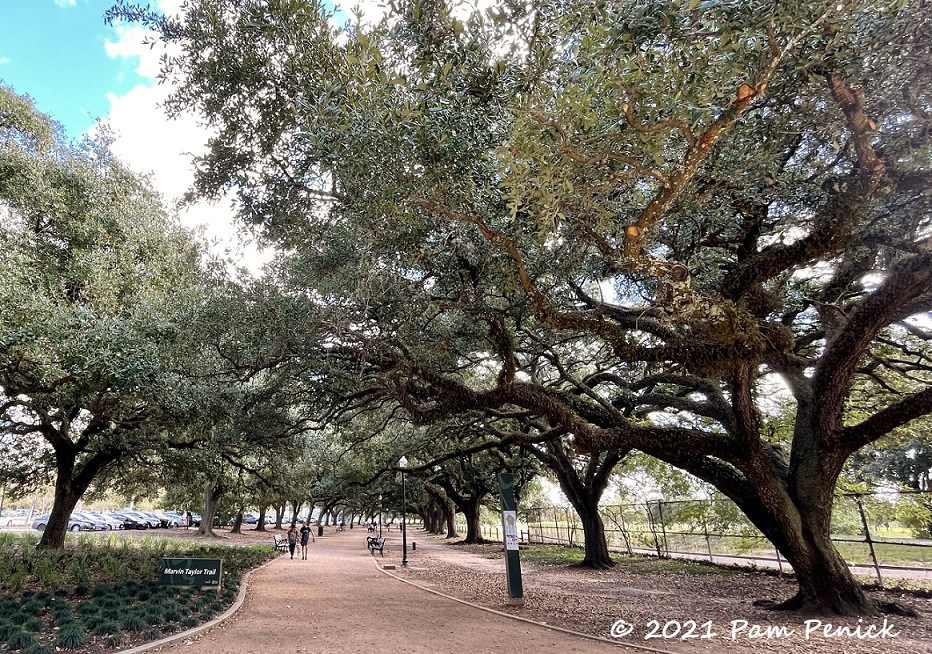 Leaving Centennial Gardens, we walked a little way along the Marvin Taylor Trail, where big, spreading live oaks arch over the jogging path. If you ever drive or walk through the beautiful Rice University campus across the street, you'll see a lot more of this sort of thing.
Hermann Park Japanese Garden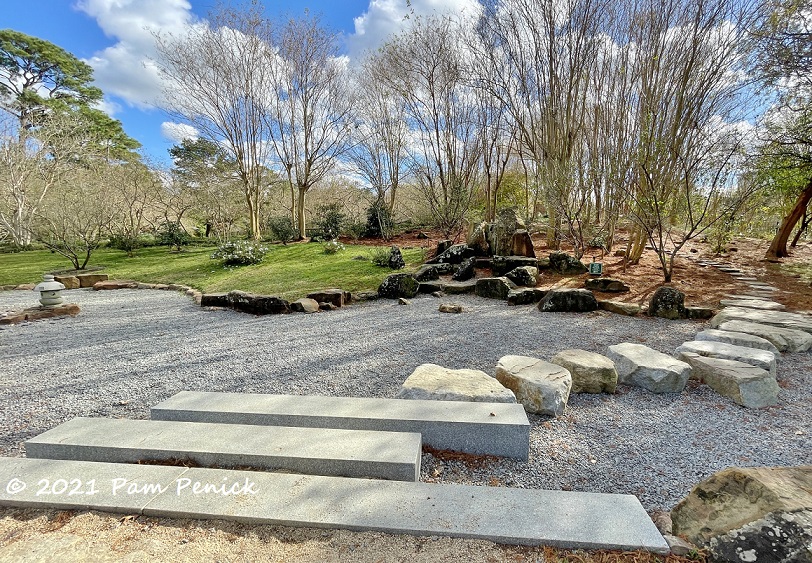 On the other side of Hermann Park we explored the Japanese Garden, which opened in 1992. Long slabs of granite and chunky stepping stones cross a "lake" of gravel, leading to a small grove of crape myrtles.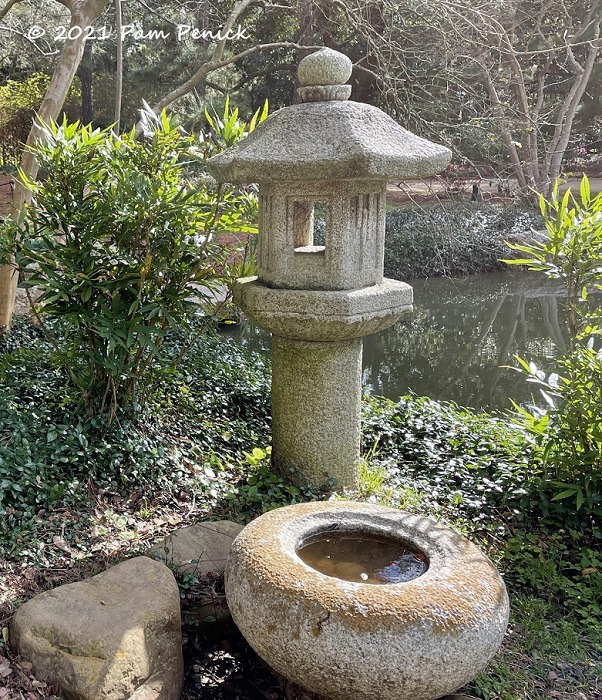 A stone lantern and bowl of water at the edge of a pond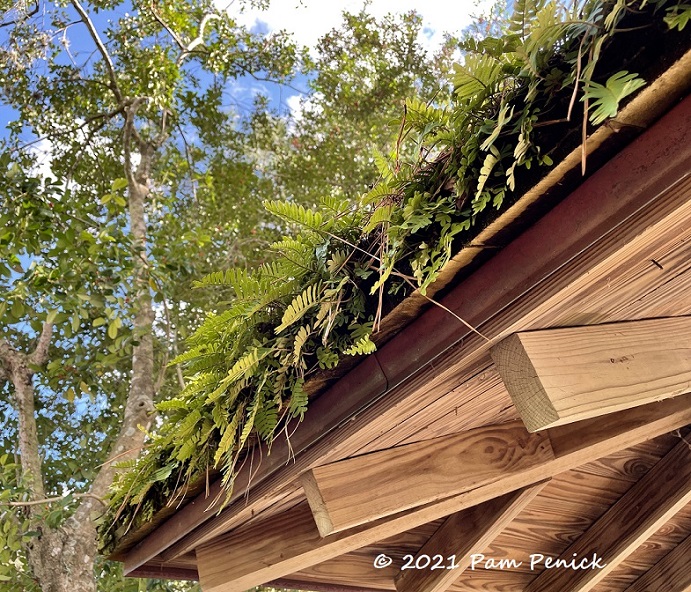 Ferns colonizing a cedar roof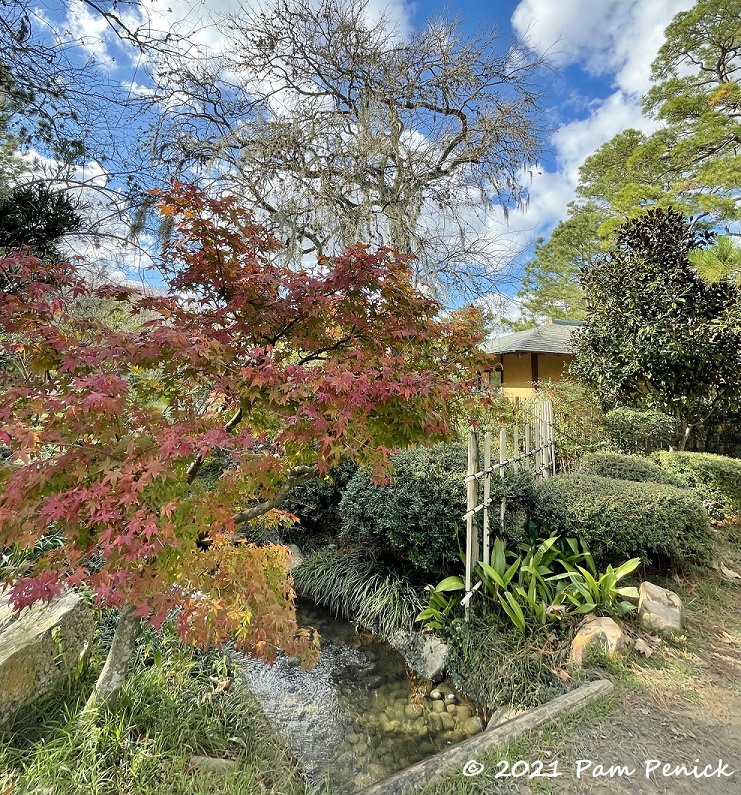 Late fall color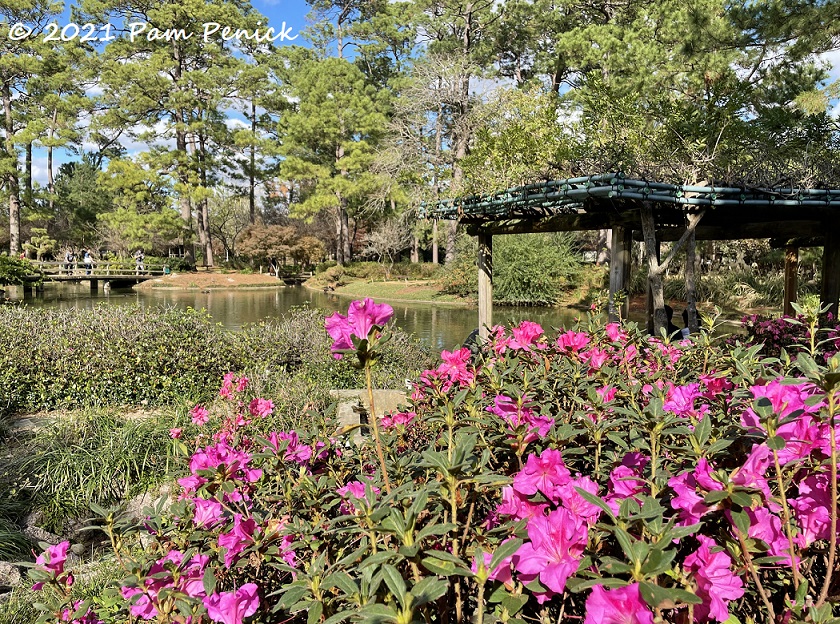 And the surprising sight of pink azaleas blooming in December. How strange! I've lived outside the Southeast's azalea belt for so long that I didn't know fall-flowering azaleas were a thing. Is it an improvement?
Who can say. I do know, however, that we had a lovely afternoon at Hermann Park and especially Centennial Park. And I'll be back again soon to admire the Arid Garden.
I welcome your comments. Please scroll to the end of this post to leave one. If you're reading in an email, click here to visit Digging and find the comment box at the end of each post. And hey, did someone forward this email to you, and you want to subscribe? Click here to get Digging delivered directly to your inbox!
_______________________
Digging Deeper
Need design help with your yard? Hire me as your personal garden coach! Maybe you need replacement plant ideas after the big freeze. Or maybe your landscaping has grown tired, and you want fresh curb appeal. Or perhaps you're ready to get rid of some lawn and create a pollinator garden, bird habitat, or hangout space for you and your friends. I'm here to help! Contact me to let me know what's going on, and let's figure it out together. My range is Austin and suburbs within a 25-min. drive of NW Austin, but I'm flexible and can travel farther with a surcharge, so let me know where you are. Weekday morning appts. only.
Attend the John Fairey Garden's annual Budding Out Plant Sale & Festival on Saturday, March 19 in Hempstead. Rare and distinctive plants from the garden's nursery and other vendors will be available, plus art, ceramics, jewelry, food, music, and entertainment for the whole family. Open 10 am to 4 pm. Members get first dibsat the plant sale with 9 am entry (memberships available at the gate). Check the webpage for a continually updated vendor list.
Join the mailing list for Garden Spark! Hungry to learn about garden design from the experts? I'm hosting a series of talks by inspiring garden designers, landscape architects, and authors a few times a year in Austin. Check out the 2021-22 schedule. These are limited-attendance events that sell out quickly, so join the Garden Spark email list to be notified in advance. Simply click this link and ask to be added.
All material © 2022 by Pam Penick for Digging. Unauthorized reproduction prohibited.