Far Cry 6, the next installment in Ubisoft's popular Far Cry series, is due to land on consoles and PC this October.
In a serious departure from the setting of Far Cry 5, Far Cry 6 will take us to a "tropical paradise frozen in time" called Yara. Yara is controlled by dictator Anton Castillo (played by Breaking Bad's Giancarlo Esposito), who aims to restore the island paradise to glory with help from his son, Diego – through any means necessary. However, a revolution is taking place in Yara which aims to take down Castillo. Players will step into the shoes of protagonist Dani, a revolutionist in the fight against Castillo.
Initially due to release on February 18, 2021, Far Cry 6 is now set to release on October 7, 2021, with Ubisoft unveiling the new release date during a Far Cry 6 gameplay reveal on May 28. Want to know more? Then read on for everything we know about Far Cry 6 so far.
Far Cry 6: key facts
What is it? The sixth installation in Ubisoft's Far Cry series
When's it out? October 7, 2021
What can I play it on? PC, PS4, PS5, Xbox One, Xbox Series X, and Stadia
Far Cry 6 release date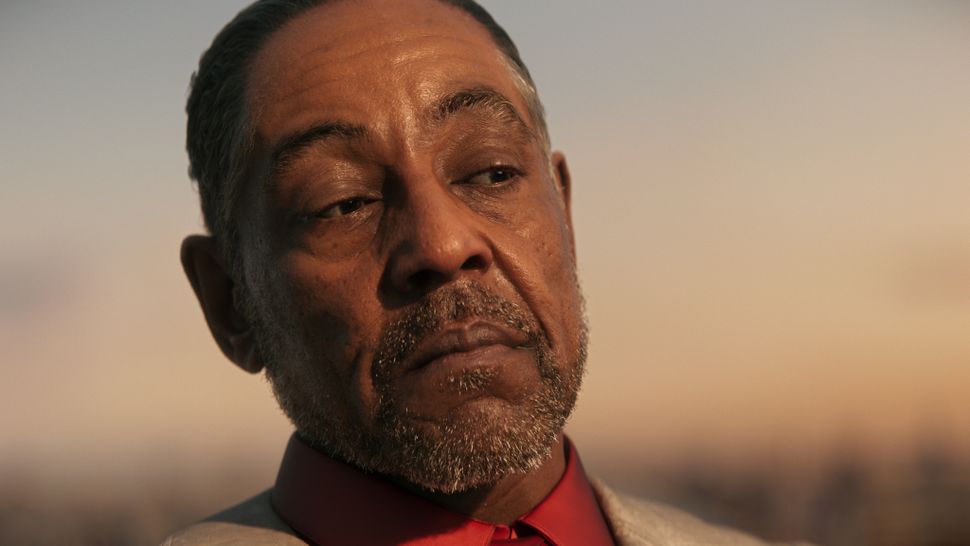 Far Cry 6 will release on October 7, 2021 for PC, PS4, PS5, Xbox One, Xbox Series X, and Google Stadia.
The new Far Cry was initially set to release on February 18, 2021 but Ubisoft announced the game was delayed during a financial earnings report, stating that the game would arrive after April 2021 but no later than March 2022. 
Ubisoft has confirmed that PS4 and Xbox One players will be able to upgrade their versions of the game to the Xbox Series X and PS5 versions for free. 
Far Cry 6 trailers
Far Cry 6 gameplay trailer
The latest Far Cry 6 trailer gave us a look at gameplay for the first time. The trailer shows how Far Cry 6 will focus more on brutal guerrilla warfare than its predecessors and even gave us a closer look at some of the Amigos we can enlist for help, including the adorable Chorizo and a (less adorable) alligator buddy. Check it out below:
Far Cry 6 character trailer
This trailer gives us a closer look at protagonist Dani Rojas and the modern guerillas of Far Cry 6. Check it out below:
Far Cry 6 world premiere trailer
Ubisoft released the Far Cry 6 world premiere trailer during its Ubisoft Forward event on July 12, 2020. 
In the trailer, we see Castillo giving his son Diego a bit of tough love, as civilians riot in the streets outside their mansion. Check it out below:
Far Cry 6 cinematic title sequence trailer
In addition to the world premiere trailer, Ubisoft also revealed the Far Cry 6 cinematic title sequence trailer during the Ubisoft Forward event on July 12. Check it out below:
Far Cry 6 gameplay and setting
In Far Cry 6, players take on the role of Dani Rojas, a guerrilla fighter aiming to topple Castillo's tyrannical regime. You will be able to choose Dani's gender at the start of the game and customize them, like in Far Cry 5. In addition, Dani's actions will have a direct impact on the world and they will have more agency than we've seen with other protagonists in the series to date – with Dani starring in cutscenes and having their own voice.
Although Far Cry 6 is set in the present day, due to Castillo's oppressive regime the island appears as though stuck it's stuck in the 1960s. That means you can expect vintage cars, gadgets and weapons – and even horse riding. In an interview with GameSpot, narrative director Navid Khavari called Far Cry 6 the "ambitious open-world yet". According to Khavari, the island of Yara encompasses a mix of jungles, coastal towns, farmland, and urban environments for the player to explore.
Guerrilla combat is at the heart of Far Cry 6, with Dani and their comrades leading their operations from secret camps across Yara, where they can train, participate in games like dominoes and even partake in cockfights. Some operations will see Dani bribing officials, sabotaging equipment, intercepting and sometimes just simply playing it cool. 
We also know that Fangs for Hire will be making a return in the form of 'Amigos', allowing you to recruit animal companions to assist you in fights. So far we know of two animal recruits: Chorizo, an adorable (but feisty) Dachshund, and an alligator.
Far Cry 6 news and rumors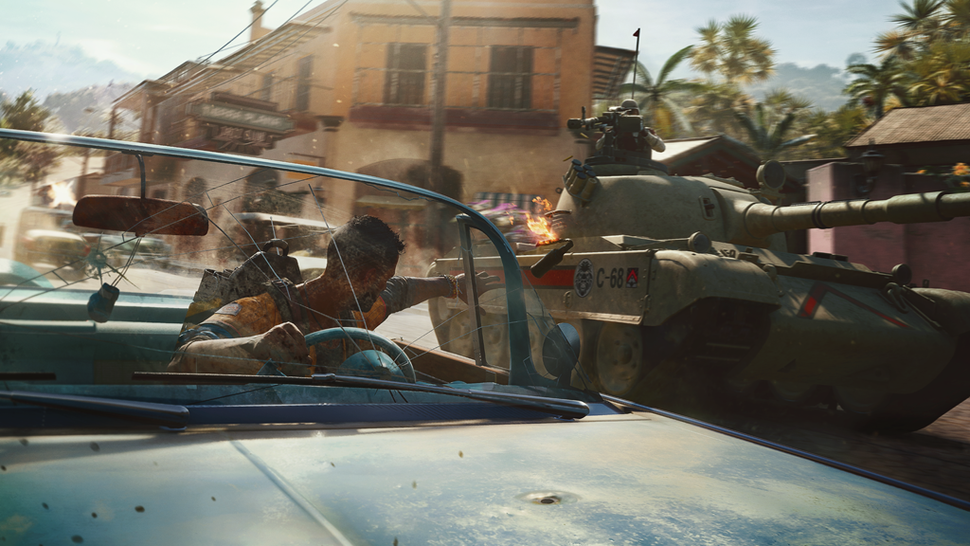 Below we've rounded up all the biggest news and rumors surrounding Far Cry 6:
Anton Castillo is "a hero"
While players may have cast Castillo as the game's villain, Esposito disagrees, and calls the dictator "a hero". He also shared some insight into what inspired him to take on the role in Ubisoft's next
Speaking to Geoff Keighley at Summer Game Fest Live Kickoff! show, Esposito said: "No, I'm not a villain. This guy loves his country. He wants to empower you to stand up and speak your truth.
"There is good and bad about all people, but this guy, out of his love and passion for his people, even if they're faceless to him at certain points in time, allow him to be an absolute hero."
Far Cry 6 end game will offer "something else"
It looks like there will be plenty to do after completing Far Cry 6's main campaign. Ubisoft's lead game designer David Grivel said that there will be "something else" awaiting players upon the game's completion, and that more would be shared soon.
We're expecting to hear more at Ubisoft Forward, the company's E3 event which takes place on June 12 at 12pm PT / 8pm BST / 3pm ET (or June 13 at 5am AEST). 
Far Cry 6 features a third-person perspective and let you choose your gender
Far Cry 6 features a third-person perspective during certain scenes and will also let players choose which gender they want to play as.
Speaking to GameSpot, narrative director Navid Khavari said the team experiment with showing a third-person perspective, and thought it created a greater connection between players and the character.
"In cinematics, [third-person] is something the team tried early on, and it felt surprisingly seamless," Khavari wrote. "It instantly felt like there was more of a connection to Dani's journey in the world, more of a connection to this epic story in Yara.
"Players will also be able to see their character customizations in these highly-realized story beats. In Guerrilla Camps, this is also an opportunity for players to be able to see their fully customized character, everything from their backpack to their clothes."
Players will also be able to choose which gender they want to play as. Khavari posted a video on Far Cry's Twitter account and said that having a choice was "important to us". Khavari also specified that the team didn't want to create two separate storylines and that "if you pick male or female, that choice is for you to make, and that journey of Dani will be one and the same."
There won't be an Arcade Mode or map editor
There are currently no plans to include an arcade mode or map editor in Far Cry 6, according to the game's developers. 
This was confirmed in a recent Reddit AMA on the Far Cry subreddit, during which a group of Far Cry 6 developers took questions from fans. 
When asked by a user if the map editor feature would make a return in Far Cry 6, Game Director Alexandre Letendre replied, "No, Arcade will not come back." According to Letendre, dropping the mode was "a difficult decision" but he explained that doing so "allowed us to focus our efforts on the main campaign, transporting players into the heart of a modern-day guerrilla revolution."
Far Cry 6 is "running fine" on PS4 and Xbox One
Ubisoft has promised to show Far Cry 6 running on last-gen consoles before the game's release, which should hopefully come as good news to PS4 or Xbox owners who are wondering whether the game will run properly on the older platforms.
Ubisoft Toronto's David Grivel told VGC that the game is "running fine" on PS4 and Xbox One, and that the game will be shown on different platforms in the near future.
"As we go in the next few weeks and months, we'll definitely start showing more on different platforms," Grivel said. "What I can say, and I cannot go so much in details [sic] about specs or things like that, is that both on previous generation and the new Xbox Series and PS5 generation, the game is running fine."
When VGC explicitly asked if Far Cry 6 would suffer from any issues when running on the older consoles, Grivel's answer was reassuring for those who haven't upgraded to the next-gen of consoles just yet.
"No," Grivel said. "We really aim to target maximum quality on all of these platforms. "We're really, really cautious about that (the game not running well on last-gen systems), so we'll show more detail and more info very soon," he added.

Ubisoft attending E3
E3 2021 will be an all-digital affair and Ubisoft has been confirmed as one of the publishers that will be attending. Naturally, we don't know what Ubisoft is planning to bring to the table for E3 2021 but we think it's possible the game will make an appearance at the show. It would, after all, be the perfect time for Ubisoft to give further details on Far Cry 6.
Don't fall for the beta scam
Ubisoft has warned eager Far Cry fans not to be taken in by a recent email scam promising access to a Far Cry 6 beta. YouTuber theRadBrad (via Eurogamer), called attention to the phishing scam, tweeting, "There is an email from the official Ubisoft address going around that claims beta access to Far Cry 6. It even has an embargo with a special password for access." 
Ubisoft itself responded to confirm that the emails are a scam and said, "Please do not respond if you have received this email or similar."
We can confirm the email regarding FC6 beta access is a phishing attempt. It has been reported. Please do not respond if you have received this email or similar. Thank you for the report! https://t.co/G7jBlRS6IWFebruary 19, 2021
See more