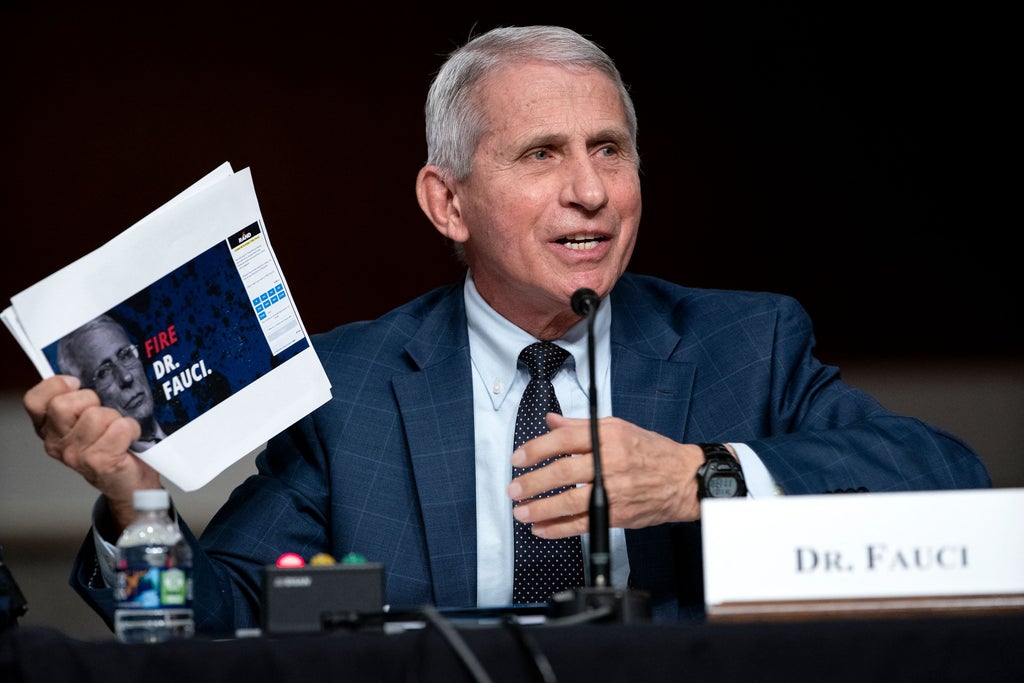 Fauci heard calling Roger Marshall 'a moron' after heated exchange
Dr Anthony Fauci has defended remarks made during a recent hearing of the Senate Committee on Health, Education, Labor, and Pensions.
The National Institute of Allergy and Infectious Diseases director was heard calling Mr Marshall "a moron" when the senator questioned if he should have a publicly available financial disclosure form on Tuesday.
Dr Fauci told MSNBC on Wednesday that he was stunned to know "that a sitting United States senator doesn't realise that my financial statement is public knowledge".
The infectious diseases expert also clashed with Senator Rand Paul during the hearing, who he accused of politicising the pandemic and "kindling the crazies" with his remarks. Dr Paul has since doubled down on his remarks.
Dr Rochelle Walensky, director of the Centers for Disease Control and Prevention, also appeared before lawmakers to answer questions on the US response to new variants of Covid, as cases in the US appear to reach a new high.
Dr Fauci suggested on Tuesday that a new "super vaccine" could be needed to target future variants, and suggested that the US was on the "threshold" of Covid becoming endemic.
1642069287
Five times Anthony Fauci and Rand Paul clashed
Dr Anthony Fauci and Senator Rand Paul came to verbal blows again in the senate this week, with the Republica senator accusing the NIAID director of funding "gain of function" research at the Wuhan Institute of Virology in the creation of Covid-19.
Mr Paul asked Mr Fauci it was appropriate to use his $420,000 salary to attack scientists who disagreed with the science of Mr Fauci's, who has become the public face of the federal government's Covid response.
"In usual fashion, senator, you are distorting everything about me," Mr Fauci said. "There you go again, you just do the same thing every hearing," he added, accusing the Republican of issuing misinformation.
As Justin Vallejo writes, it was the latest in the long-running battle of one-upmanship provided more zingers between the two, with Mr Fauci increasingly frustrated over questions from some Republicans:
Gino Spocchia13 January 2022 10:21
1642060667
Biden wants federal mandate on Covid testing by 15 Feb
Federal agencies should require weekly Covid testing for unvaccinated employees by 15 February, the Biden administration said on Tuesday.
Unvaccinated employees, including those seeking religious or medical exemptions "should be tested weekly for any week during which they work on-site or interact in person with members of the public as a part of their job duties.
Agencies may require more frequent testing," the administration said in a statement, reported Reuters. Federal agencies may impose disciplinary action against those employees who refuse to get tested, the statement added.
Sravasti Dasgupta13 January 2022 07:57
1642057778
US facing 62,000 Covid deaths in next four weeks: CDC
The US could see 62,000 Covid-19 deaths in the next four weeks, according to an ensemble prediction by the Centers for Disease Control and Protection (CDC) published on Wednesday.
Using data from Johns Hopkins University, the forecast could imply 2,624 Covid deaths a day, up from a current average of 1,715 per day.
The CDC also predicted a continued increase in hospitalisations over the coming weeks and said there may be 17,900 to 48,000 new confirmed Covid-19 hospitalisations reported on 4 February.
However the CDC said that "current forecasts may not fully account for the emergence and rapid spread of the Omicron variant or changes in reporting during the holidays and should be interpreted with caution.
Sravasti Dasgupta13 January 2022 07:09
1642055054
US slams China for Covid-induced flight cancellations
The US on Wednesday hit out at China and warned it would take action against the country for cancelling flights originating from the US due to the increasing number of passengers testing positive for Covid-19 in recent weeks.
In a statement, the US Transportation Department said: "China's actions are inconsistent with its obligations under the US-China Air Transport Agreement. We are engaging with the (Chinese government) on this and we retain the right to take regulatory measures as appropriate."
The statement came after Beijing cancelled six more flights from the US to China on Wednesday.
A total of 70 flights have been cancelled this year alone between the two countries.
Last week Airlines for America, which represents the largest US passenger and cargo carriers, said it was discussing the issue of flight cancellations with US and Chinese officials.
China has imposed strict border restrictions and cut down international flights in a bid to stop spread of the pandemic.
Sravasti Dasgupta13 January 2022 06:24
1642053673
Trump calls out "gutless" politicians who won't disclose booster doses
Former president Donald Trump has endorsed booster shots and hit out at politicians who won't disclose whether they got booster shots, calling them "gutless".
"I watched a couple of politicians be interviewed and one of the questions was, 'Did you get the booster?' …. And they, 'Oh, oh,' they're answering it — like in other words, the answer is 'Yes,' but they don't want to say it. Because they're gutless."
"You gotta say it. Whether you had it or not, say it," Mr Trump added during his appearance on One America News Network on Tuesday.
While Mr Trump did not name any politician, however, reports said that his comments were a veiled attack on Florida governor Ron DeSantis, who may be a possible Republican contender for 2024 and is known to not disclose whether he has received a booster shot, as Tom Fenton reports:
Sravasti Dasgupta13 January 2022 06:01
1642051800
Debate over mask mandates renewed by soaring Covid cases
Officials across the U.S. are again weighing how and whether to impose mask mandates as COVID-19 infections soar and the American public grows ever wearier of pandemic-related restrictions.
Much of the debate centers around the nation's schools, some of which have closed due to infection-related staffing issues. In a variety of places, mask mandates are being lifted or voted down.
Oliver O'Connell13 January 2022 05:30
1642051699
White House to double Covid testing in schools
The White House has announced that it will double the volume of testing in schools across the US as the Omicron variant spreads rapidly across the country.
In a press release on Wednesday, the White House said that it will double testing in schools by 10 million per month "to increase access to Covid-19 testing".
"With the additional ten million tests per month, we will make available to schools more than double the volume of testing that took place in schools across the nation in November 2021," the statement said.
In a bid to keep schools open and safe from infections, the Biden administration has also announced a slew of measures to increase testing including sending federal testing units near schools and connecting schools with testing providers.
The White House said that the additional tests in schools "will help schools safely remain open and implement screening testing and test to stay programs."
Sravasti Dasgupta13 January 2022 05:28
1642049942
Covid deaths due to Delta not Omicron, says CDC
While the surge in cases in the US is being driven by the Omicron variant of Covid-19, a rise in hospitalisations and deaths is being driven by the Delta variant, the Centers for Disease Control and Protection (CDC) said on Wednesday.
Speaking at a media briefing, CDC director Rochelle Walensky said the rise in hospitalisations and deaths is "likely a lagging effect of the Delta variant, which was surging before Omicron took hold in the United States in December."
As Tom Fenton writes, rhe number of daily hospitalisations has surpassed the previous record from January 2021:
Sravasti Dasgupta13 January 2022 04:59
1642048579
Pfizer/BioNTech vaccine 94% effective against hospitalisations among adolescents
Pfizer/BioNTech's Covid-19 vaccines are 94 per cent effective in preventing hospitalisations among adolescents, a new study has found.
The study conducted by the US Centers for Disease Control and Protection (CDC) along with 31 hospitals across 23 states in the country included data on adolescents between the ages of 12 to 18 who had been hospitalised between 1 July and 25 October.
It analysed data from 445 adolescents hospitalised with Covid and 777 hospitalised without the disease.
"Despite eligibility for Covid-19 vaccination, 96 per cent of the patients who were hospitalised with Covid-19 and 99 per cent of those who received life support had not been fully vaccinated," the researchers wrote in the study, reported CNN.
"We found that vaccination with two doses of the BNT162b2 mRNA (official name of the Pfizer/BioNTech vaccine) vaccine reduced the risk of hospitalisation from Covid-19 by 94 per cent among adolescents between 12 and 18 years of age in the United States," the study said.
The study has been published in the New England Journal of Medicine.
Sravasti Dasgupta13 January 2022 04:36
1642048230
Don Jr bemoans Fauci characterised as 'victim'
Donald Trump Jr has bemoaned Dr Anthony Fauci for being a "victim" after the infectious disease expert defended calling a Republican senator a "moron" and accused another of misinforming the public on Covid.
"Remember Lord Fauci is always the victim folks," Mr Trump Jr tweeted on Tuesday, "No one else!"
Gino Spocchia has the story.
Oliver O'Connell13 January 2022 04:30