April 12, 2022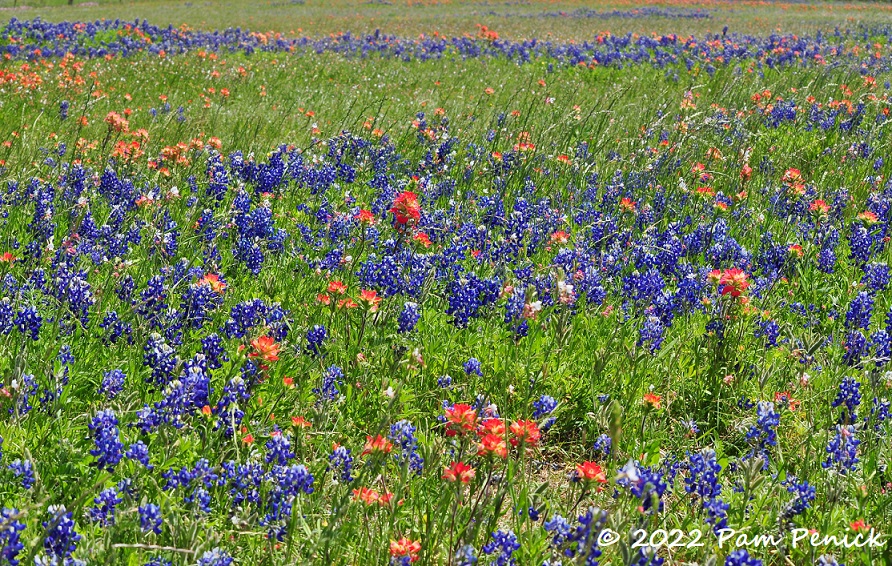 It's peak bluebonnet season in Central Texas! And while the consensus is that bluebonnets are paltry this spring because of ongoing drought, even a poor year is a good year where bluebonnets are concerned. Seeing bonnie blue flowers mingling with orange-red Indian paintbrush, how can you feel anything but happy?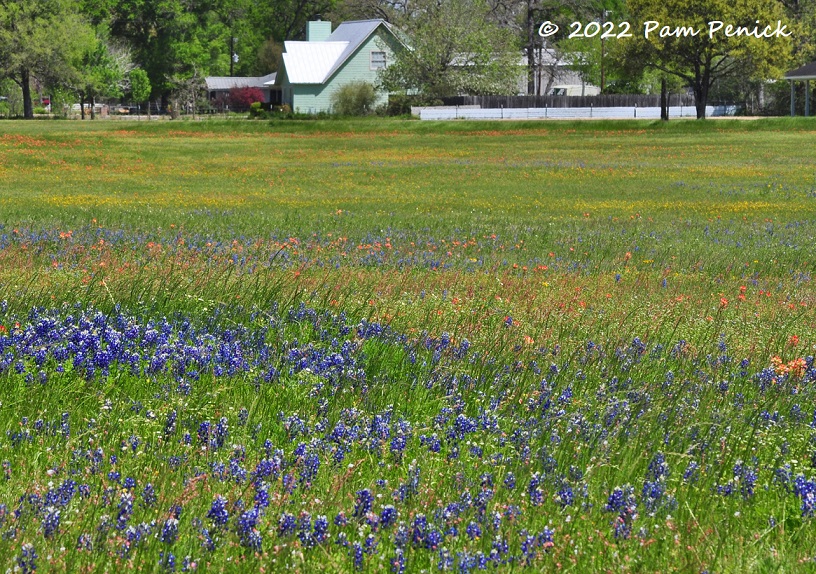 April means it's time for my annual wildflower safari. Last Friday I headed east, aiming for back roads in Brenham and Independence, having heard that bluebonnets are a little thicker there than in the drier Hill Country west of Austin. Along for the ride were Pat Webster, visiting from Canada, and Diana of Sharing Nature's Garden.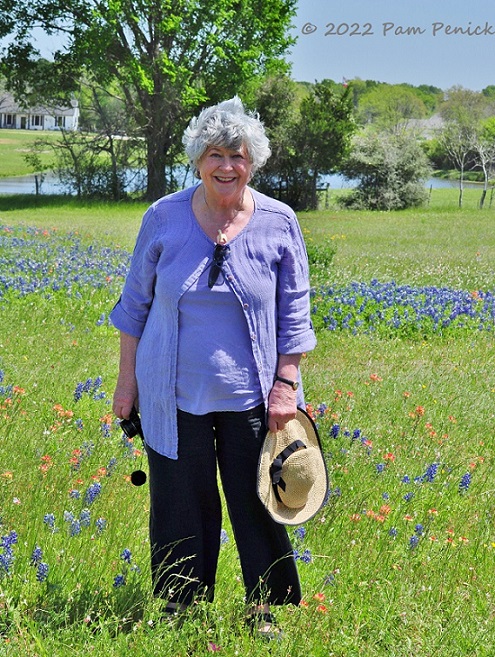 Pat had never seen bluebonnets before her visit to Austin for Garden Spark, so we were on a mission. A blue-ribboned field a few miles from the Antique Rose Emporium called for a photo op at a roadside pull-out.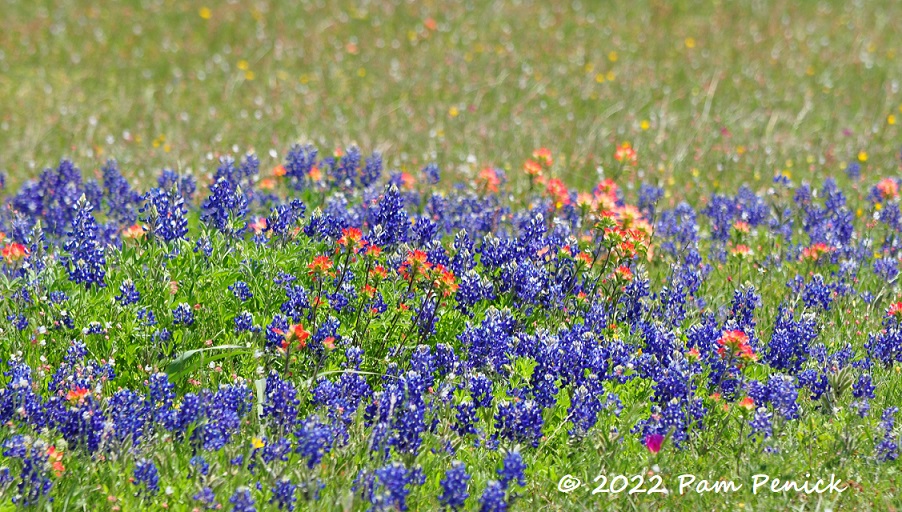 Texas bluebonnets (Lupinus texensis), Indian paintbrush (Castilleja indivisa), and the stray magenta winecup (Callirhoe involucrata) — native Texas beauties.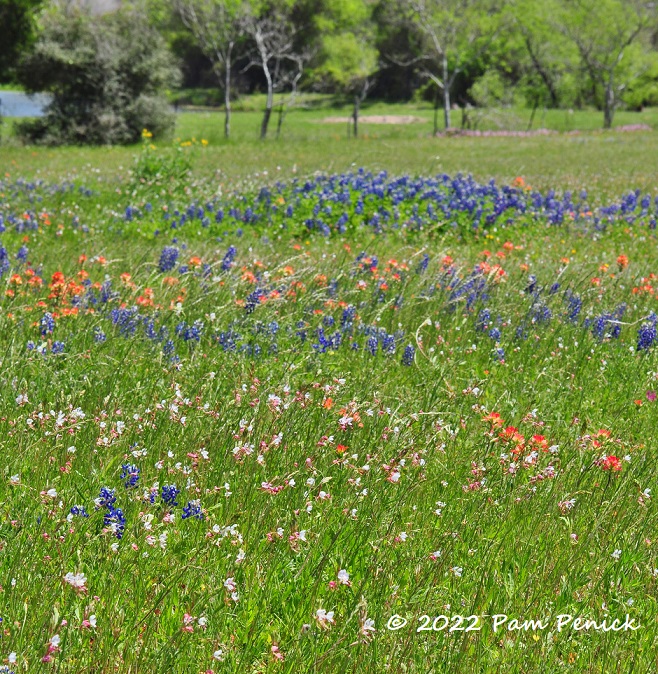 I was excited to see wild white gaura growing here too.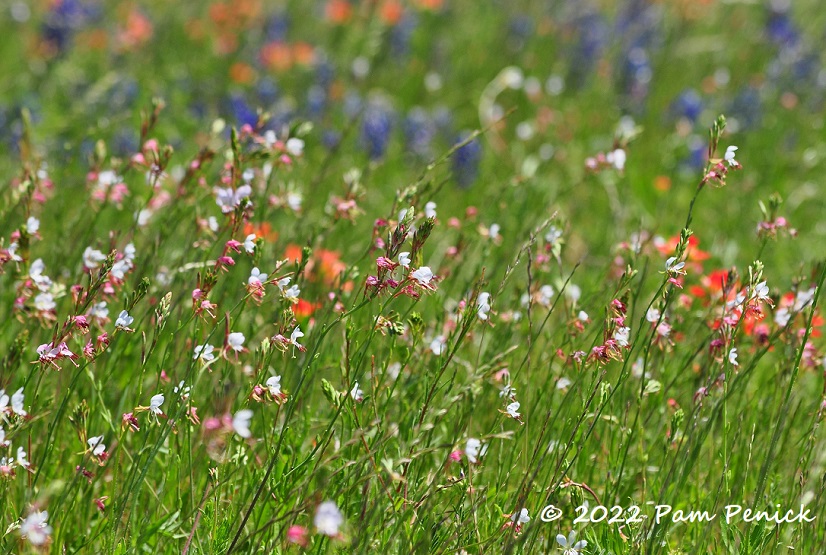 I grow a cultivated variety in my home garden, known formerly as Gaura lindheimeri but now Oenothera lindheimeri.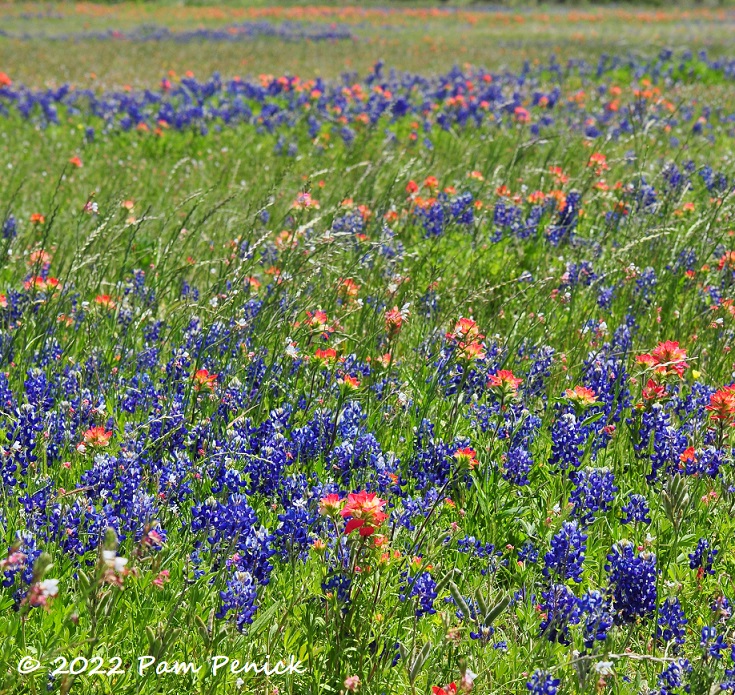 Bluebonnets and paintbrush, a classic sight along Central Texas roadsides in April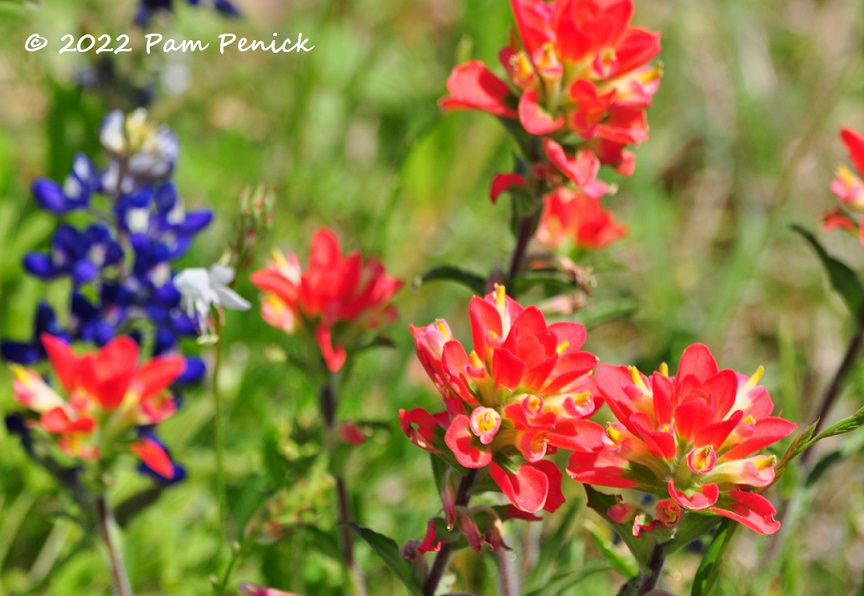 Indian paintbrush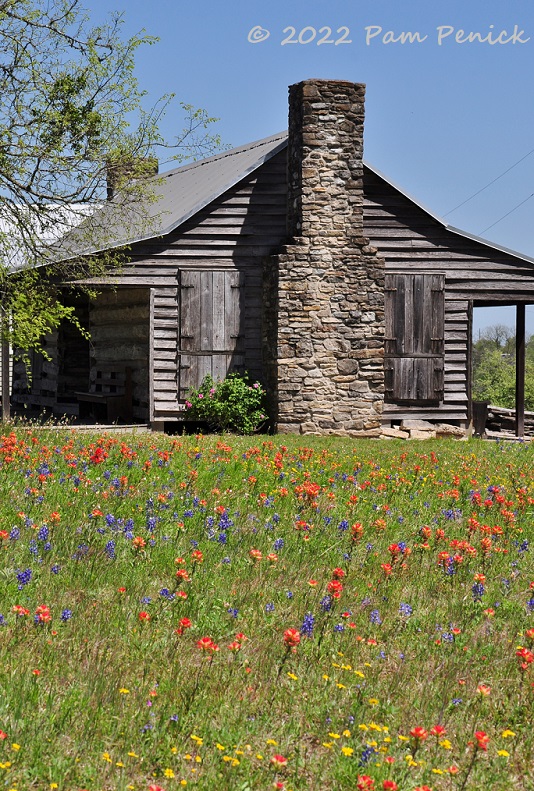 After shopping at the Antique Rose Emporium, we headed down the road to Old Baylor Park, where we found more wildflowers. An dog-trot log cabin makes a picturesque backdrop.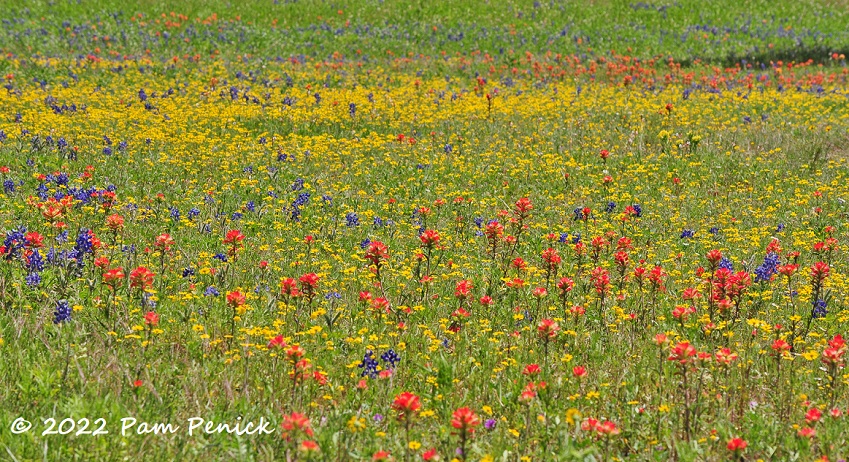 Yellow wildflowers joined the crazy quilt here. Anyone know the name of this yellow flower?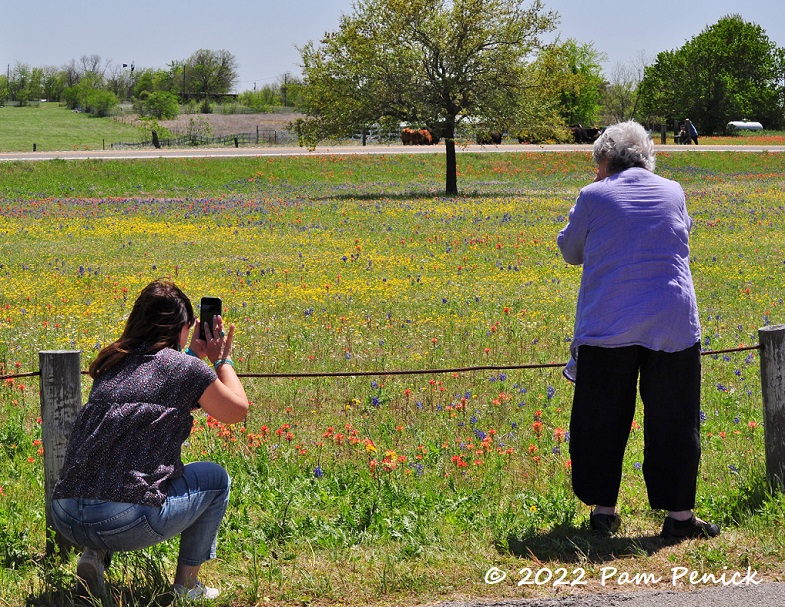 Diana and Pat were wildflower paparazzi too.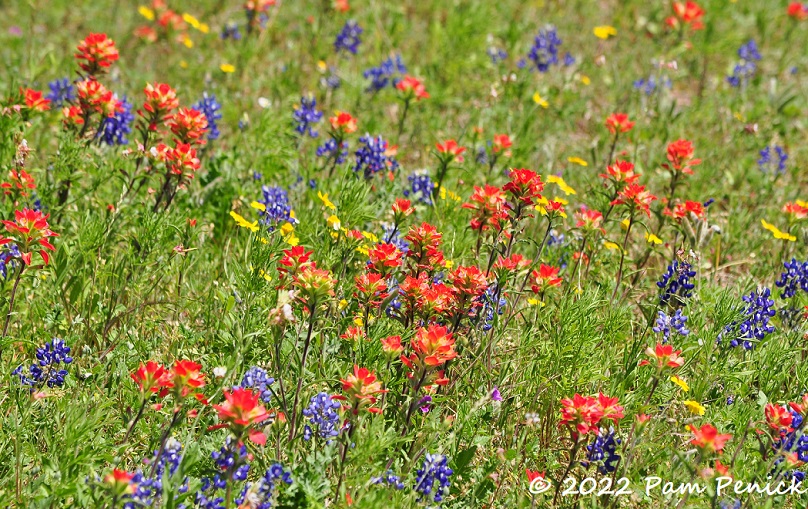 Beautiful reds, blues, and yellows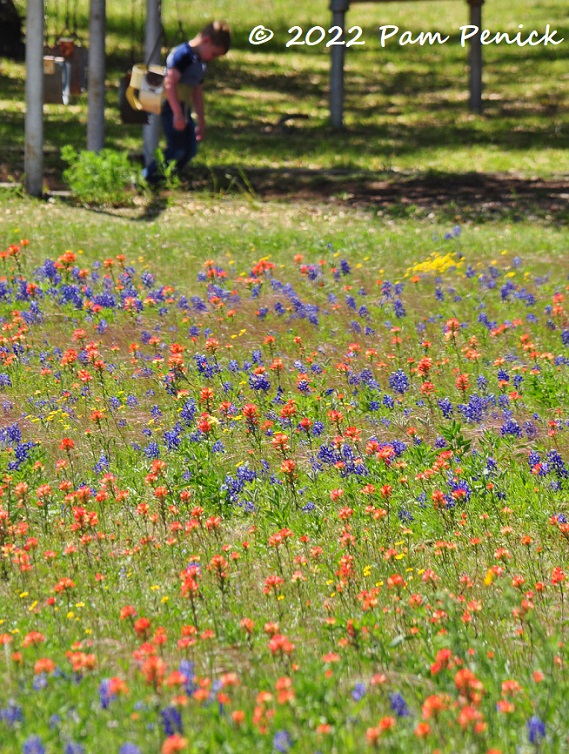 A swing set under the trees had a pretty view of wildflowers.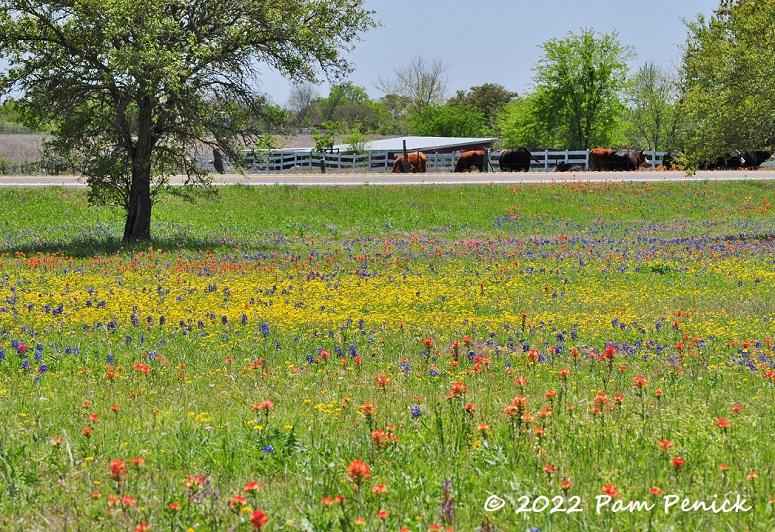 A small herd of cows across the road added to the pastoral scene.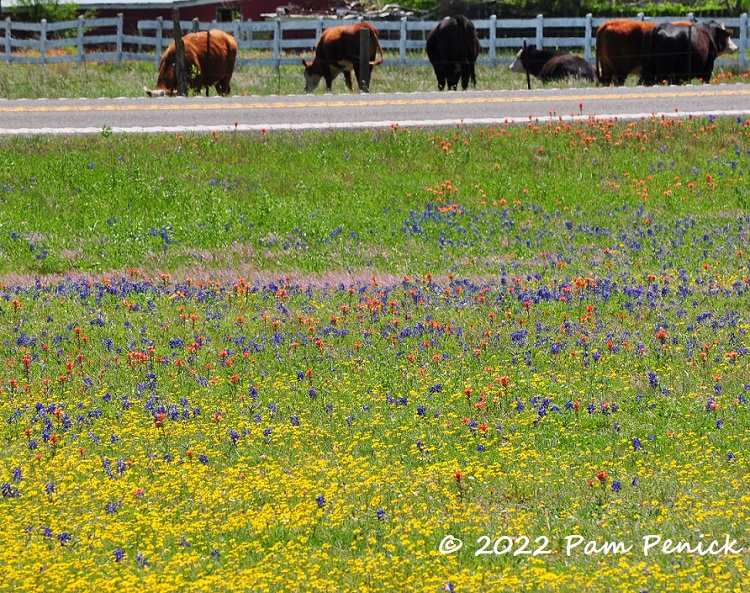 Mooooving on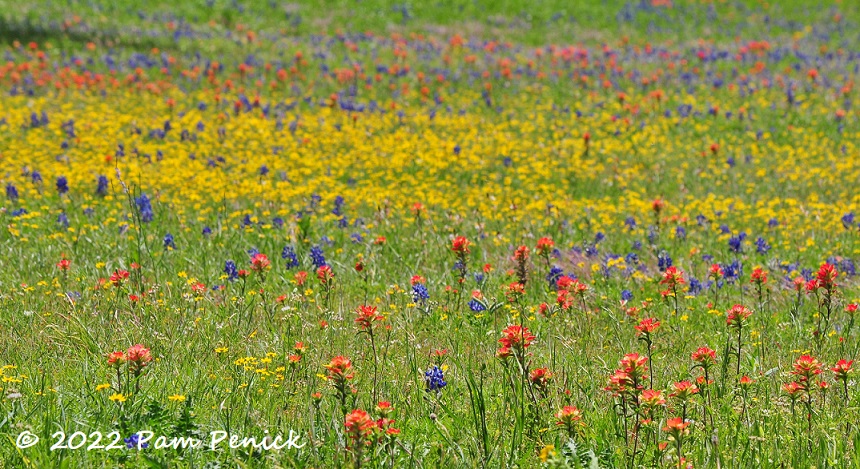 A fellow wildflower hunter here told us she'd seen an amazing field of bluebonnets near the Salem Lutheran Church in Whitehall, and I was tempted to head that way. But the afternoon was getting along, and we had plans to visit Round Top on the way home, so we had to pass up that field of bluebonnet dreams. Ah well, we saw some pretty dreamy fields ourselves. Happy spring, y'all!
I welcome your comments. Please scroll to the end of this post to leave one. If you're reading in an email, click here to visit Digging and find the comment box at the end of each post. And hey, did someone forward this email to you, and you want to subscribe? Click here to get Digging delivered directly to your inbox!
__________________________
Digging Deeper
Explore the Surreal Garden at Zilker Botanical Garden. For two consecutive weekends, the public is invited to attend evening soirées at Zilker Botanical Garden, including botanical-themed neon surrealism, interactive art sculptures, local-favorite foods, craft cocktails, live music, costumes, dancing, and more! A portion of the proceeds benefits the ZBG Conservancy. Tickets are $40 in advance, $50 at the door (plus fees & tax). Dates are April 22-23 and 28-30 from 6 pm to 10 pm. Get tickets here.
Join the mailing list for Garden Spark! Hungry to learn about garden design from the experts? I'm hosting a series of talks by inspiring garden designers, landscape architects, and authors a few times a year in Austin. Check out the 2021-22 schedule. These are limited-attendance events that sell out quickly, so join the Garden Spark email list to be notified in advance. Simply click this link and ask to be added.
All material © 2022 by Pam Penick for Digging. Unauthorized reproduction prohibited.