Floyd Mayweather says that Sunday's exhibition boxing match against Japanese mixed martial artist Mikuru Asakura will be an "easy payday, easy cheque, easy opponent".
The 45-year-old boxing great, who is reportedly close to agreeing a rematch with UFC superstar Conor McGregor, beat Japanese kickboxer Tenshin Nasukawa after just two minutes when they fought in an exhibition in Japan in 2018.
Watch Floyd Maweather vs Mikuru Asakura LIVE on Main Event available on Kayo & Foxtel, Sunday 25 September from 1pm AEST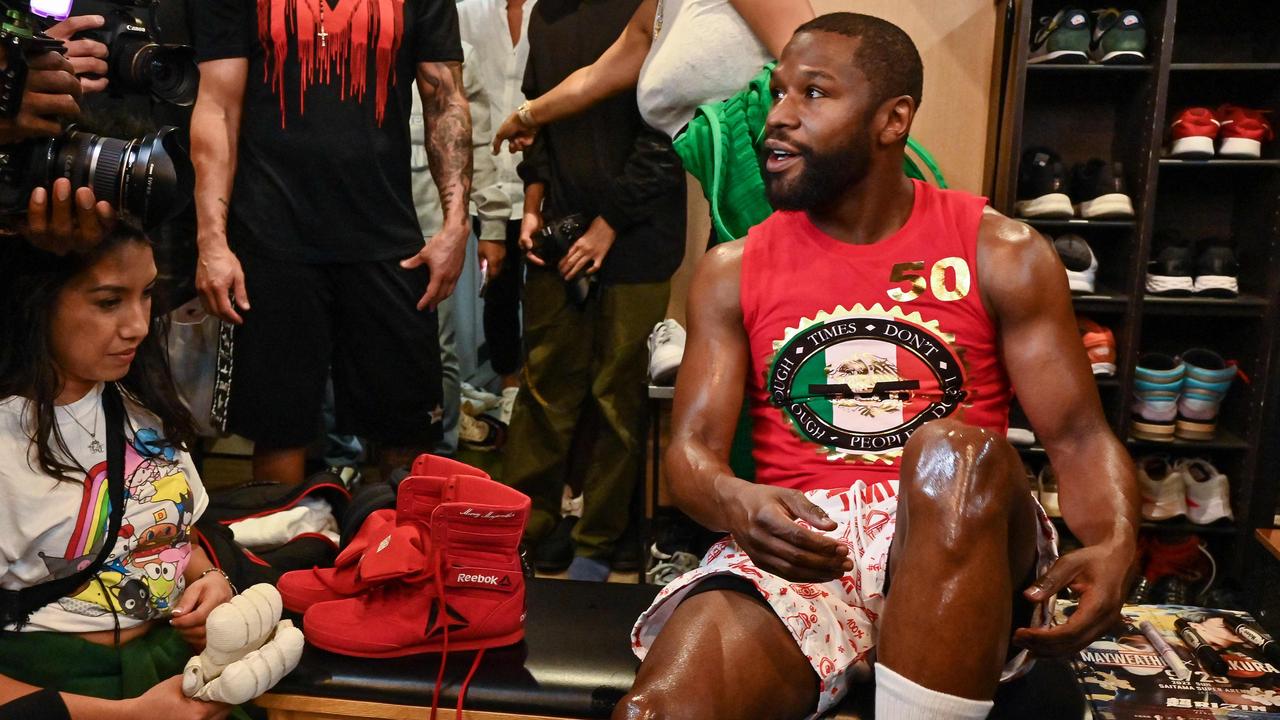 The fight was widely seen as a farce but the American vowed to give the crowd this weekend at Saitama Super Arena, just north of Tokyo, their money's worth in his latest lucrative post-retirement performance.
"I think the last time I came here, it was so quick nobody got a chance to enjoy it," Mayweather, whose nicknames include "Money", said after a practice session which was delayed by an hour because he "overslept".
"I'll make it quick, but there's not many bouts on the card so I'll make sure to go to three (rounds), unless you all want me to make it quick."
Mayweather was asked by Sportsmail how much money he will be making from the fight and was just as confident sharing that information.
"It's always a few million a minute," Mayweather said. "From this exhibition alone I will be making somewhere upwards of $15-20 million. That's just from this exhibition. So, it's cool. Nine minutes, 20 million, not bad."
That is $2.2 million per minute.
Mayweather was reported this week as saying that he will fight McGregor for a second time next year.
The two met in a much-hyped boxing match in 2017, with Mayweather winning by a 10th-round technical knock-out to retire with a perfect 50-0 record.
His previous exhibition match was against "Dangerous" Don Moore in Abu Dhabi in May.
Mayweather was inducted into the International Boxing Hall of Fame in June.
WHO IS MIKURU ASAKURA?
Asakura said he is using the opportunity to fight McGregor to "raise" his name and value on the international stage, boldly declaring: "I will win this fight".
Asakura comes into the bout with McGregor on a two-fight win streak and has a 3-1 record in his last four fights, having made his RIZIN debut back in 2018, boasting a 10-2 record.
Asakura could be close to another shot at the RIZIN featherweight title but wants a shot at McGregor instead first as he looks to claim a huge scalp in what is the biggest fight of his career.
HOW TO WATCH
You can watch Floyd Maweather vs Mikuru Asakura LIVE on Main Event available on Kayo & Foxtel, Sunday 25 September from 1pm AEST.
START TIME
The exhibition fight will take place on Sunday, with the Super RIZIN event expected to kick off around 1pm (AEST). Timings for the ring walk are unknown at this stage but as always will be dependant on how long the earlier fights go for.
FULL FIGHT CARD
Super RIZIN
Floyd Mayweather vs. Mikuru Asakura
Nadaka Yoshinari vs. Bandasak So Trakunpet; kickboxing
REASON
Kyoji Horiguchi vs. Yuto Hokamura
Hiromasa Ogikubo vs. Soo Chul Kim
Kyohei Hagiwara vs. Chihiro Suzuki
Jury Ohara vs. Luiz Gustavo
Shoma Shibisai vs. Cally Gibrain de Oliveira