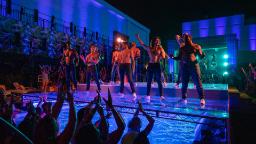 Sure, the show features its share of rippling abs and grinding lap dances, while vying for a $100,000 prize. But it keeps returning to the theme of these male contestants using their involvement to find themselves, casting a few guys who wouldn't be naturals for anybody's pinup calendar.
Set in Las Vegas (where else?), they begin with 50 hopefuls and quickly whittle that down to 10. "What we're looking for is guys who've lost their magic," explains host Adam Rodriguez, a co-star in the movies who hosts the show. He's joined in conducting the search with choreographers Alison Faulk and Luke Broadlick, as well as the producer of the live "Magic Mike" show and guests like comics Robin Thede and Whitney Cummings.
At another point, Rodriguez says the show seeks to "help them find what they came here looking for." As if to address that, one of the contestants in his direct-to-camera confessional says, "I just want to prove to the world I can go after my goals and actually achieve something."
If you think that sounds a little touchy-feely for a show about stripping, you're right. Yet the idea of men being besieged has become a rallying cry in some Republican circles, with Missouri Senator Josh Hawley recently delivered a speech contending that masculinity is under assault from the left, calling for a "revival of strong and healthy manhood in America."
As is so often true, "Finding Magic Mike" seems to operate on multiple levels, a few of them contradictory. The show can be salacious — one of the more in-your-face contenders, Ross, keeps boasting about his, er, assets — and at the same time sentimental, with tears and hugs every time one of the guys gets sent home.
Still, there's no escaping a theme here that dates back to 1997 movie "The Full Monty," where ordinary men shed their clothes and in the process liberate a side of themselves that will get their mojo back and shake them out of their doldrums.
CNN political analyst Gloria Borger recently considered Hawley's argument and identified a less-than-selfless rationale behind it. "The political motive is obvious: Conservative, alienated men are a political treasure chest," she wrote.
In the case of "Finding Magic Mike," the commercial motive is fairly obvious too. On its face, the show seems calibrated to appeal women, showing its participants' sensitive side as well as their chiseled one.
Nevertheless, for men who do tune in, the series and its framing deliver a not-so-subtle pep talk, not all that different than Hawley's: Hey guys, you can still "find the magic" inside you. Just be prepared to get stripped down, literally or figuratively, to do it.
"Finding Magic Mike" premieres Dec. 16 on HBO Max, which, like CNN, is a unit of WarnerMedia.