4 min read
Jacob Rees Mogg's attack on Scottish Tory leader Douglas Ross, in which he called him a "lightweight" and "not a big figure" in the Conservative party, was "foolish" and a "grotesque error of judgement," a former senior Cabinet minister has said.
David Lidington, who served alongside Johnson in Theresa May's Cabinet as the de facto deputy prime minister, said the remarks were "counterproductive" and harmed the Conservative govenrment's efforts to shore up the Union.
Last week Ross was the first senior Tory to explicitly call on Johnson to resign over allegations of a string of parties in Downing Street during lockdown.
Speaking to PoliticsHome, former Conservative MP Lidington said Johnson needed to "think very carefully about his position" as the Prime Minister fights to stay in Downing Street.
Rees-Mogg, the Leader of House of Commons, last week sparked an extraordinary row with Ross when he dismissed the Conservative MP for Moray's comments over Johnson's future as predictable and insignificant. "I don't think Douglas Ross is a big figure," he told LBC. Speaking to BBC Newsnight later that day, he described Ross as a "quite a lightweight figure".
A war of words between the Westminster and Scottish Tory parties ensuded, with Conservative MSP Jamie Greene saying Rees-Mogg ought to "have a long lie down".
Lidington, who has been a leading Conservative voice on the challenge of keeping Scotland in the UK, was damning of Rees-Mogg's remarks.
"The comments were crass and completely counterproductive," he told PoliticsHome.
"I have been in the position of trying to persuade Douglas Ross of things and he is someone who is very independent minded. If he has made up his mind, you have to persuade him with evidence that he should think again.
"As leader of the Scottish Conservatives, elected by the Scottish Conservative Party, he is entitled to respect from whoever serves in the UK cabinet. In terms of handling it and winning his support, it was utterly incompetent."
He added: "In terms of the Union, which is supposed to be a government priority, it is only damaging.
"It was a grotesque error of judgement on Rees Mogg's part and I hope that they will learn from this. I doubt it has done Douglas Ross too much harm in Scotland — it may well have boosted him.
"It really was a foolish way to deal with issue."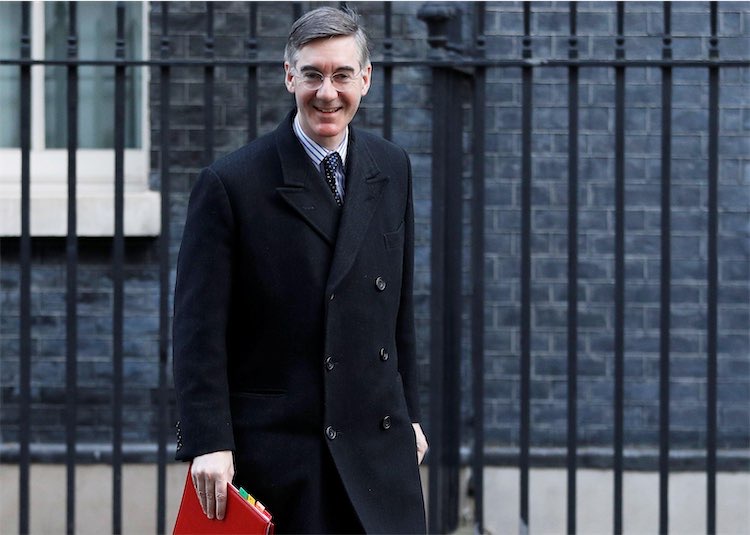 Lidington, who was a Conservative MP for nearly 30 years, stopped short of explictly calling on Johnson to resign, but said he needed to think hard about whether he had the authority to stay in Downing Street.
The former minister said Tory MPs needed to consider whether the government would have the credibility to lead with Johnson still in charge, as the Prime Minister faces the prospect of Conservative MPs triggering a no confidence vote.
"They have to judge how the interest of the country will best be served, and what troubles me most is not the harm to my political party — and I've been a member under eight leaders and had agreements and disagreements with them all — but it's the fact that the country is heading a very difficult year," he said.
"We have the health, social, and economic impacts of Covid to deal with.
"We have inflation at highest level for 30 years and enormous pressure on peoples' incomes.
"We have a very dangerous world scene with Russia and China becoming more assertive, and we also need to sort out the relationship with the EU.
"For that, you need a Prime Minister and a Cabinet which has political authority, and which people are willing to trust. This is the judgement that Conservative MPs have to make: are the chances of this being achieved better with Boris Johnson staying in officer, or having a new leader?"
Johnson faced another bruising day on Wednesday, with senior Tory MP and former Cabinet minister David Davis telling him to resign in an eventful Prime Minister's Questions.
Davis, the former Brexit Secretary, stood up in the House of Commons and told the Tory leader "in the name of God, go", after accusing him of failing to take responsibility for the parties in Number 10 during lockdown.
Moments before the Conservative party was rocked by the news that Christian Wakeford, their MP for Bury South, had quit the party and defected Labour.
Wakeford, who was among the so-called Red Wall MPs elected in Johnson's 2019 election win, chastised the Prime Minister's conduct in the parties scandal and government policy.
PoliticsHome Newsletters
PoliticsHome provides the most comprehensive coverage of UK politics anywhere on the web, offering high quality original reporting and analysis: Subscribe