Key events
Lap 33/51 Gasly, in 19th, takes out Bottas for go 18th, while Perez leads Veratappen by 2.398s. There's nothing we're seeing which suggests Perez won't win this race handily.
Lap 32/51 Alonso is gaining on Leclerc in third, but as I type that, Leclerc puts in a really good lap that re-establishes a lead of around 1.8s, so safe from DRS.
Lap 31/51 With 20 laps to go, we're thinking two-stop strategies, with Red Bull unlikely to risk changing Verstappen at this point in case we get another safety-car situation.
Lap 30/51 Verstappz complains that the engine breaking isn't working well relative to the diff, and Perez is now dominating on the slower corners. It's only when he has slipstream that Verstappen s quicker, and Perez's lead is now 2.384s.
Lap 29/51 "Time for Perez to shine by winning this ahead of Verstappen," emails Yash Gupta. "He is much more than just being a sidekick to Verstappen. With Red Bull so dominant, think Perez will push more for himself."
Yup, and Verstappen has just told his team his engine-breaking isn't working well.
Lap 28/51 Alonso is lapping faster than Leclerc, the difference between them 2.170, and if he can get in front, he can finish third for the fourth race in a row – which'd be a new record.
Lap 27/51 Stroll has done a good job in fending off Russell to hang onto seventh – the gap between them is 1.271s – but Russell is also preserving his tyres, so.
Lap 26/51 We hit the halfway mark and David Croft notes that the gap between Perez and Verstappen has stayed pretty much the same for 20 or so laps. I guess things might be decided by the stop strategy.
Lap 25/51 Perez leads by 1.431s, and the gap to Leclerc in third is now 11.685s. Alonso is 2.671s behind that, and these last few laps have been pretty quiet.
Lap 24/51 Hamilton might have an overheating situation while, in front, Verstappen sets another fastest lap. But so far, Perez is keeping him off.
Lap 23/51 Perez leads, then Verstappen, Leclecr, Alonso, Sainz, Hamilton, Stroll, Russell, Ocon, Hulkenberg, Norris, Tsunoda, Piastri, Albon, Gasly, Magnussen, Zhou, Sargeant.
Lap 22/51 We've now got a scrap for first and second between Perez and Verstappen; behind, Leclerc is 9.49s away.
Lap 21/51 Verstappen sets another fastest lap – he trails Perez by 1.345s, then Perez corners poorly – while poor old Stroll now has Russell behind and trying to overtake.
Lap 20/51 A terrible piece of cornering from Stroll allows Hamilton to use DRS to shoot by with the greatest of ease. He goes fifth, 1.235 behind Sainz.
Lap 19/51 Perez leads Verstappen by 1.461s, and this should be a terrific tussle. Remember, no team instructions, which sort of tells us Red Bull are so confident in their car they don't need to make sure Verstappen wins the driver championship, he just will.
Lap 18/51 Hamilton has DRS but can't get at Stroll, while Verstappen has put 5s between him and Leclerc, setting another fastest lap.
Lap 17/51 Stewards have had a look at Russell's pit-lane behaviour and decided it's fine.
Lap 16/51 Perez was briefly investigated for resiting his overtaking but he's let off, and leads Verstappen by 1.506. We then see Stroll clip a wall, but unlike De Vries, he doesn't seem to jiggered his car.
Lap 15/51 Perez sets a fastest lap than Hamilton rinses by Russell and we see Verstappen passing Leclerc; he used the slip, then made sure he had the inside line, so though Leclarc's Ferrari speed was OK on the straight, round the bend he had no hope.
Lap 14/51 Leclerc goes at Perez who holds him off; Verstappen goes at Leclerc who holds him off … then cannot! Verstappen goes second, Stroll diddles Russell following his snide overtake in the pit-lane, and Alonso takes out Sainz at the largely consolidatory t6!
Lap 13/51 The safety car still runs and Perez leads by 1.774s from Leclerc with Verstappen a further 0.956s behind, followed by Sainz, followed by Alonso, followed by Russell. The safety cars dips out and we're properly back under way again.
Lap 12/51 De Vries has to retire for the first time in F1 and we see him clipping a wall, which then sent him into another wall. And we also see some lovely snide driving from Russell, sneaking up on Stroll as he sought to pit but had to hang back because Alonso, his teammate, was in front.
Lap 12/51 Perez, Leclerc and Sainz pit, Russell and Stroll too. Perez leads, from Leclerc from Verstappen from Sainz from Alonso.
Lap 11/51 A yellow flag, so Verstappen stops and there's no room for Perez so he keeps going; the safety cars comes out.
Lap 10/51 Perez closes on Verstappen, the gap 0.732s, and he's got a chance here! Hamilton meanwhile, stops and is now 12th. Verstappen then tells his team he's got problems with his tyres while, De Vries looks to have spun!
Lap 9/51 Alonso is sure Hamiltons tyres are graining, so is still waiting behind him, whole Piastri comes in hoping to come out ahead of Tsunoda in 15th but doesn't.
Lap 8/51 Verstappz leads by 1.627s but lets his team know he clipped a wall at turn four … then we learn he just recorded the fastest lap of the race. He seems fine.
Lap 7/51 Albon is pitting and comes out ahead of Gasly and Bottas – who've also pitted – I think changed to mediums.
Lap 6/51 Stroll and Alonso decide the latter won't attack the former; Alonso, in front in sixth, thinks Hamilton, fifth, has issues with his tyres, so rather than jigger himself attacking, he wants to wait and allow things to deteriorate.
Lap 6/51 Yup, there we go: Perez skates by Leclerc on the outside and now he can get at Verstappen – there don't appear to be team orders, so this should a straight race.
Lap 5/51 Not this time! Perez screams down the final straight but can't quite get by before the first corner. Leclerc, though, is on notice, the gap between them 0.586s while, in fifth, Hamilton is starting to worry Sainz.
Lap 4/51 Verstappen leads by 1.006s, with Perez a further 0.636s behind. It feels like a matter of time before those two swap places.
Lap 3/51 Watching via drone, we can see how much quicker on the straight Verstappen is than Leclerc, but Leclerc's straight-line pace is pretty good too. However next time round, Verstappen will have DRS and here he comes, bousting by effortlessly! These Red Bulls are rapid.
Lap 2/51 Verstappen gains on Leclerc and our standings are:
1 Leclerc
2 Verstappen
3 Perez
4 Sainz
5 Hamilton
6 Alonson
7 Stroll
8 Norris
9 Russell
10 Tsunoda
11 Pistri
12 Albon
13 Magnussen
14 Sargeant
15 Gasly
16 Zhou
17 De Vries
18 Bottas
19 Ocon
20 Hulkenberg
Lap 1/51 Verstappen gets away quicker than Leclerc but Leclerc hangs on, Stroll makes up two places, Russell has made up two places, and we've got two yellow flags out but for debris, our trackside lads reckon.
AND AWAY WE GO!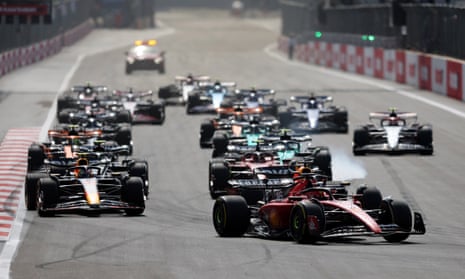 Talking of driving, I just had a flashback: I was driving back from a football match in Bolton and, feeling sleepy, reached for my water to pour over my head, did it, and realised I'd picked up the Cherry Coke instead.
The drivers are all carred, and we're getting ready to go. Fifty-one laps, and the parade lap is away.
With whom would you rather have a jar: Christian Horner or Toto Wolff?
I've always kind of wondered how these races would go if the cars were the kind of jalopy I bought for £400 when I was 17, an X-reg Fiesta with go faster stripes. Perhaps a few width restrictors, speed humps and roundabouts would also shake thingsa up.
Eight minutes to lights-out and barely a mention of Lewis Hamilton. He needs a proper car a-sap.
Toto Wolff tells Sky they had good moments yesterday when Russell was fast at the end, but thinks he needs to make up a few places quickly then be patient. On Russell/Verstappz, he says it's emotional , banter, and a bit of fun.
There's a chamber feel to this.
It's pretty hot on the track, much more so than earlier in the weekend – we'll see how that affects things. But for now, it's anthem time.
Russell says no hard feelings with Verstappz and he'll shake his hands when he sees him. But what'll happen next time they meet wheel-to-wheel? He also says he was thinking about softs, but he got a message on his radio yesterday that Norris – who's with him – was struggling on them.
Christian Horner says he could understand Verstappen's vex yesterday, his car wasn't working as meant to. But he shook it off quickly and both Red Bull's drivers are free to race on a track that can be brutal – they just need to bring home as many points as possible.
Yesterday, Pérez overtook Leclerc from 0.569s behind. That must be terrifying for everyone not driving a Red Bull. Given the track, it seems unlikely his Ferrari will be in front for long, nor much of a threat once passed.
On that point, I should also say that overkill is annoying for fans, but for players things can be more painful. The mental and physical stress of competing so often, of being away from home all the time, and having so little time to relax is not easily borne.
Email! "Max is a great racer," says Yash Gupta, "and he also polarises people with his style which I quite like: elbows out and stuff. However he's bang on about this F1 schedule. It is getting crowded more and more and as a result I'm already starting to lose a bit of interest. F1 should take a look at football. You can only add so much stuff before traditional supporters get worn out. You can parade around higher sponsorship deals but ultimately it takes its toll. I've already lost interest in wrestling, cricket and same has started with football especially since November. With upcoming changes F1 might be next."
Yes, I'd say cricket in particular is struggling with this issue – it feels like it's in the throes of becoming two different things: Tests and T20. This is what happens when those who run ting think sport exists to make money, rather than makes money because it exists.
Or this piece:
This has nothing to do with F1 but also everything to do with F1 because it has everything to do with everything – see the piece below, for example.
Catch yourselves up on the weekend's action so far:
Also going on:
Charles Leclerc (Ferrari)

Max Verstappen (Red Bull)

Sergio Pérez (Red Bul)

Carlos Sainz Jr (Ferrari)

Lewis Hamilton (Mercedes)

Fernando Alonso (Aston Martin)

Lando Norris (McLaren)

Yuki Tsunoda (AlphaTauri)

Lance Stroll (Aston Martin)

Oscar Piastri (McLaren)

George Russell (Mercedes)

Alexander Albon (Williams)

Valtteri Bottas (Alfa Romeo)

Logan Sargeant (Mercedes)

Zhou Guanyu (Alfa Romeo)

Kevin Magnussen (Haas)

Pierre Gasly (Alpine)

Nyck De Vries (AlphaTauri)

Esteban Ocon (Alpine)

Nico Hulkenberg (Haas)
Ocon and Hulkenberg to start from pit-lane.
"It's great racing track," says Damon Hill, also bigging up Baku the city. If only it was so simple.
Before the first race of the season in Bahrain, we discussed in these pages that, though we knew what was going to happen – Max Verstappen and Red Bull winning again, going away – in the course of that, stuff would also happen. And, as we get ready for Azerbaijan (land of fire), that very much looks to be the case.
We've got the new sprint-race format going – to the chagrin of the champion, naturally protective of an existing system that favours him – and following yesterday's iteration, he and George Russell got into it after a little on-track contretemps. The ensuing accusations of dickheadery and vows of revenge – everything that no one wants to see – promise to sustain us through this term and hopefully for many more to come.
Also fascinating were Verstappen's comments at the start of the weekend. "I have to be careful what I say now," he said. "I've always said anyway that even if there weren't any more sprint races, but if we keep expanding the calendar and the whole weekend is that long, at one point you question yourself 'is it worth it?' "I do like racing, I do like winning. I know that of course the salary and everything, you have a good life, but is it actually a good life?"
He went on to say that he's enjoying it at the moment and has a contract till 2028, but also that he has other ambitions. Which is to say the sport is on notice: its current golden boy is already contemplating the end, which might come sooner than we thought. And beyond that, if the life it imposes on those involved is suboptimal even for the driver it's bringing most success, perhaps something needs re-evaluating?
Lights out: 3pm local, 12pm BST