7 min read
Boris Johnson has suffered a major blow to his already bruised authority after four senior members of his Downing Street team resigned on Thursday.
Director of policy Munira Mirza, was the first to unexpectedly announce her resignation on Thursday, closely followed by communications director Jack Doyle, chief of staff Dan Rosenfield and principle private secretary Martin Reynolds. 
Mirza, one of the most senior figures in Downing Street, said her sensational resignation was triggered by Johnson's failure to apologise for falsely claiming Keir Starmer failed to prosecute sex offender Jimmy Savile.
The Downing Street director of policy who co-wrote the election-winning 2019 Conservative party manifesto has previously been considered to be a staunch Johnson ally. 
In a letter to Johnson published today by the Spectator magazine, Mirza wrote: "I believe it was wrong for you to imply this week that Keir Starmer was personally responsible for allowing Jimmy Savile to escape justice.
"There was no fair or reasonable basis for that assertion. This was not the usual cut and thrust of politics; it was an inappropriate and partisan reference to a horrendous case of child sex abuse.
"You tried to clarify your position today but, despite my urging, you did not apologise for the misleading impression you gave."
Mirza had worked alongside Johnson for 14 years and also had a role as a deputy mayor of London when Johnson was mayor. She has been replaced by Andrew Griffiths MP, Boris Johnson's Parliamentary Private Secretary, who was today appointed head of hte No 10 Policy Unit. 
A Downing Street spokesperson said: "We are very sorry Munira has left No 10 and are grateful for her service and contribution to government."
Jack Doyle also announced his resignation late on Thursday afternoon, but claimed it was not linked to Mirza's departure. In comments to staff, he reportedly said he had always planned to leave after two years in the role and that his family had faced a "torrid time" in recent weeks.
Late on Thursday, Doyle also left his Downing Street role as the Prime Minister's director of communication, reportedly telling staff: "It was always my intention to do two years. Recent weeks have taken a terrible toll on my family life.
"Thank you for all your hard work and dedication. I wish you all the best for the future."
A Downing Street spokesperson confirmed Doyle had left, saying: "He has made a huge contribution and the Prime Minister is immensely grateful for the work he has done."
Rosenfield and Reynolds also offered their resignations on Thursday. Reynolds is the author of the "bring your own booze" email at the centre of the "partygate" scandal that is being investigated by the Metropolitan Police. Both were key members of Johnson's No.10 inner circle. 
A spokesperson for Number 10 said: "Dan Rosenfield offered his resignation to the Prime Minister earlier today, which has been accepted.
"Martin Reynolds also informed the Prime Minister of his intention to stand down from his role as Principal Private Secretary and the Prime Minister has agreed to this. 
"He has thanked them both for their significant contribution to government and No 10, including work on the pandemic response and economic recovery. 
"They will continue in their roles while successors are appointed, and recruitment for both posts is underway."
Once a successor is appointed Reynolds will move to a new role at the Foreign, Commonwealth and Development Office.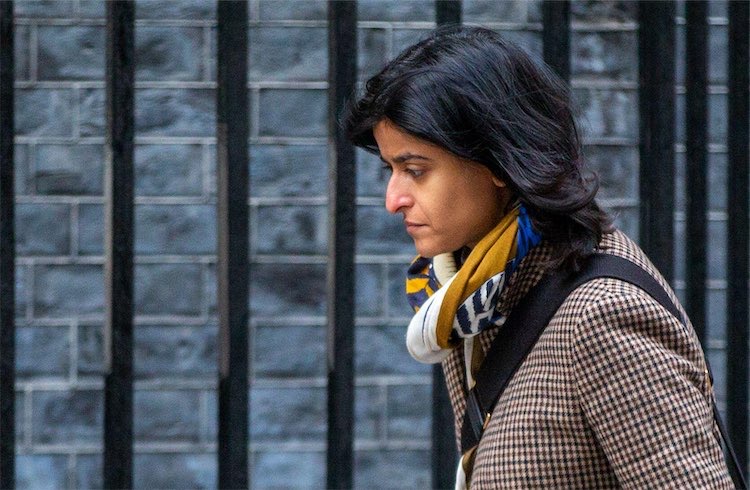 Responding to Mirza's resignation Chancellor Rishi Sunak offered a clear condemnation of Johnson's Savile comments. 
"Being honest, I wouldn't have said it and I'm glad the Prime Minister clarified what he meant," he said. 
Sunak repeatedly refused to answer whether he believed the Prime Minister should go further with his apology, but said of Mirza that she was a "valued colleague who I very much enjoyed working with".
Conservative mayor of the West Midlands, Andy Street, also offered a scathing assessment of Johnson's leadership, and said he was "waiting to see" if the prime minister followed through on making changes to his operation before giving him his backing. 
Street said what the Prime Minister had done "very clearly, is wrong" in terms of Downing Street party allegations.
"It's bad by any measure. And I find it very hard to understand how on earth it could have happened," he said.
"So I can't be happy with it in any way.
"However, he has apologised. He appears to me to be a man who is genuine in that apology. You can see that from his demeanour."
He added: "But what we've now got to see is that this apology follows through in terms of actions, how he leads and what is done within Downing Street to make it very, very different.
"The honest answer is that we are waiting to see if he follows through on what he's now said."
Earlier today the Prime Minister issued a clarification on his remarks after days of pressure from his own backbenchers, as well as criticism from Speaker Lindsay Hoyle.
While Starmer was director of public prosecutions and head of the Crown Prosecution Service when accounts of Savile's abuse first emerged, he was not in charge of the investigation and was not involved in the decision not to charge Savile. He did however order an inquiry into police mishandling of evidence and apologised for the fact that no charges were brought.
"I'm talking not about the leader of the opposition's [Starmer's] personal record when he was when he was DPP and I totally understand that he had nothing to do personally with those decisions," Johnson told reporters today in Blackpool.
Johnson has previously sought to defend the comments, including in an interview with The Sun this week in which he said "as far I'm aware, it's fairly accurate".
Moral courage from Munira who has done her best to make progress with a professional team throughout the horror since 11/20. It's also an unmistakeable signal the bunker is collapsing & *this PM is finished*.
Flicker of moral courage from Cabinet & Cabinet Office asap please

— Dominic Cummings (@Dominic2306) February 3, 2022
The Prime Minister's decision to link Starmer directly to Savile not being prosecuted in his lifetime was heavily criticised by the Labour leader who said Johnson was pedalling a right wing conspiracy theory. 
Senior government figures Dominic Raab and Michael Gove defended his comment and said he did not need to apologise.
However a string of senior Tory MPs said Johnson should withdraw the remarks, including former chief whip Julian Smith and chair of the Justice Select Committee Bob Neill. 
Smith wrote on Twitter: "The smear made against Keir Starmer relating to Jimmy Saville … is wrong and cannot be defended. It should be withdrawn.
"False and baseless personal slurs are dangerous, corrode trust & can't just be accepted as part of the cut & thrust of parliamentary debate."
Chair of the Northern Ireland Select Committee, Simon Hoare said it was a false allegation should be withdrawn. Starmer said it was a "violent fascist conspiracy theory".
The victims of Jimmy Savile accused Johnson of trying to weaponise their suffering this week to sure up his own popularity, and deflect from the findings of the Sue Gray update. 
On Wednesday Conservative MP Anthony Mangnall submitted a letter of no confidence in the Prime Minister criticising "mistruths" from Johnson. 
Praise for Mirza's work flooded in from former colleagues this afternoon on social media. 
Oliver Lewis, a former senior Downing Street official, Tweeted: "Munira is one of the smartest, toughest and kindest people I have worked with – both during the referendum and when I was in Government. A woman of total integrity and extreme ability. What a loss to the state."
PoliticsHome Newsletters
PoliticsHome provides the most comprehensive coverage of UK politics anywhere on the web, offering high quality original reporting and analysis: Subscribe