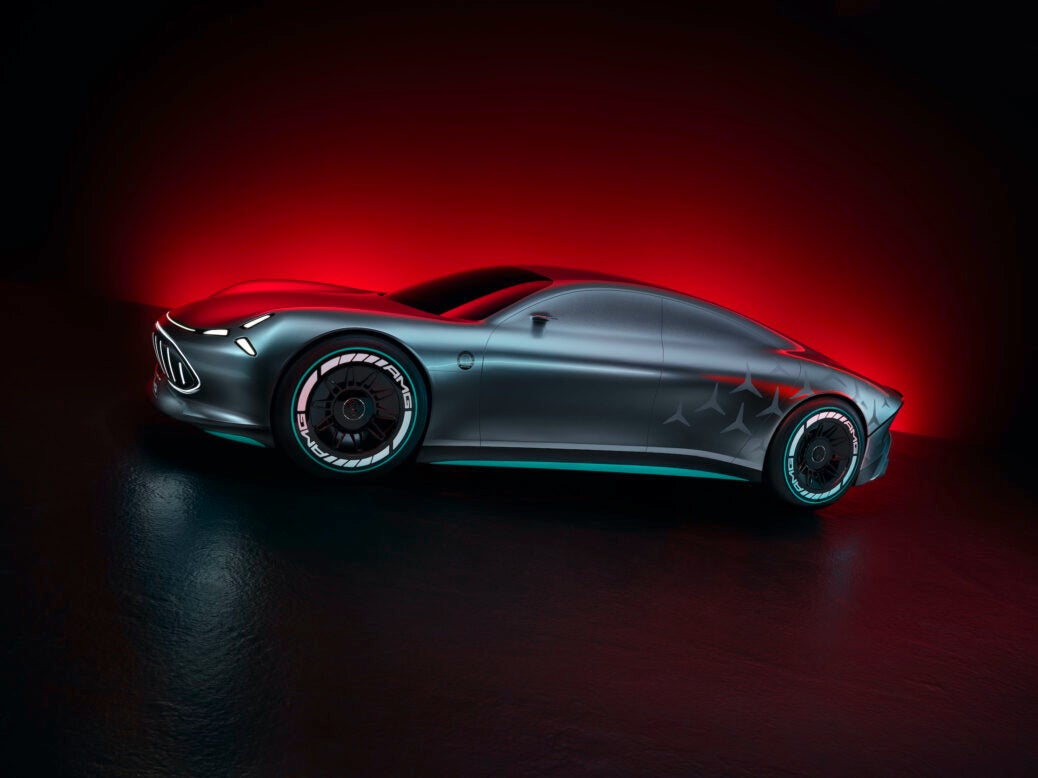 A newly stated emphasis on returns from high-end Mercedes-Benz Group models means AMG's sales volume in 2021 may remain the division's record for many years. There will also be a transition to electrification and that's already begun via PHEVs and, increasingly mild hybrids.
One such MHEV is the latest generation AMG C-Class, the C 43 4MATIC sedan and estate having been announced a few weeks ago.
Powered by Mercedes' M139l engine (l for longitudinal installation), this 1,991 cc four-cylinder turbocharged unit features 48V electrics.
The US importer quotes outputs of 402 hp and 369 pound-foot while Mercedes-Benz notes European market equivalents of 300 kW (408 PS) and 500 Nm plus 10 kW (14 PS) for occasional bursts of acceleration. The extra power is provided by a belt-driven starter-generator. All cars come with standard all-wheel drive and a nine-speed automatic gearbox.
A C 53 or C 63 may follow. As for the life cycle, there will be a facelift in 2024 and a successor in 2028.
The latest SL-Class was revealed in October 2021. Coded R232, it is based on Daimler's Modular Sports Architecture (MSA) and unlike previous SLs, this one is a Mercedes-AMG only. That also means that it replaced the AMG GT roadster. Mercedes dealers began taking orders in March.
The 4,705 mm long convertible returned to having a fabric roof and there is a 2+2 seat layout, while for the first time since the fourth generation, there could be a coupe too. All-wheel drive, meanwhile, is a first for an SL-Class.
The SL 55 4MATIC+ and SL 63 4MATIC+ launch versions are both powered by the M 177 4.0-litre bi-turbo V8. Mercedes-AMG announced a third version in April, SL 43. This one is rear-wheel drive and powered by the 1,991 cc four-cylinder M139 engine.
Outputs are:
SL 43 – 280 kW (381 PS) & 480 Nm, plus an additional short-term boost of 10 kW (14 PS) from a 48V starter-generator in certain situations
SL 55 4MATIC+ – 350 kW (476 PS) & 700 Nm, 0-100 km/h in 3.9 seconds, 295 km/h top speed
SL 63 4MATIC+ – 430 kW (585 PS) & 800 Nm, 0-100 km/h in 3.6 seconds, 315 km/h top speed
The 63 has air suspension, active roll control and mustard coloured brake callipers, while the 55 has steel springs and can be distinguished by red callipers. All three cars have the AMG Speedshift MCT 9G transmission (MCT = Multi-Clutch Transmission) with a wet start-off clutch replacing the torque converter.
R232 should be facelifted in 2026 and gain revised engines at the same time. The replacement is due in 2030 or 2031.
The EQS 53 4MATIC+ was a world premiere for Mercedes-AMG at the Munich IAA motor show in September 2021, sales commencing three months later.
This, the brand's first series production EV, is available in two versions. Both have two motors and four-wheel drive. In the base car, power and torque are 484 kW and 950 Nm. An optional AMG Dynamic Plus package lifts these numbers to 560 kW and 1,020 Nm (in Race Start mode with boost function).
The battery pack has a capacity of 107.8 kWh usable (WLTP), top speeds are 220 and 250 km/h and the lightest variant weighs a hefty 2,655 kg.
Mercedes' Sindelfingen and AMG's Affalterbach factories will in all likelihood make this model until 2029.
It's been a long time coming but the One should be in production at last, fairly soon.
This mid-engined hypercar was first publicly spoken about in 2016 and a prototype revealed at the following year's Frankfurt motor show. Another prototype was exhibited at the Munich IAA motor show in September 2021.
The engine is to be based on the Mercedes-Benz 1.6-litre V6 used in its Formula 1 car from the 2017 season and there will be MGU-K and MGU-H motor generator units too.
Again in line with the F1 car, Project One's gearbox forms part of its structure. However, it will be an automated manual gearbox. Fewer than 275 cars will be made.
Range on electricity alone will be around 30 km and the car will run on ordinary 98 octane unleaded and the top speed will be in excess of 350 km/h, Mercedes-AMG claims.
The monocoque, body panels and suspension systems are expected to be sourced from Mercedes' F1 facilities in England.
Some three years after the One arrives, a sedan or hatchback to challenge the Porsche Taycan, Audi e-tron GT and others in the circa-5m long four/five-door EV class will be launched. This was confirmed by Mercedes-AMG on 19 May as it revealed a conceptual preview, the Vision AMG Showcar at an event in Nice. The 5.1 m long study is labelled a four-door coupé. 
The production model – the project code of which is said to be C295 – will use a new architecture called AMG.EA which is being developed in Affalterbach.
Some of the striking features of the concept may make production. These include, potentially, six circular lights at the rear which resemble tail pipes, with three-pointed stars at the front end for headlights, fog lamps and DRL.
C295 might also replace the Mercedes-AMG GT Coupé.
Reports for many other manufacturers' future models are grouped in the OEM product strategy summaries section of Just Auto.
Future platform intelligence
More detail on past, current and forthcoming models can be found in PLDB, the future vehicles database which is part of Globals Data's Automotive Intelligence Center.
This is the fourth of four reports looking at the current and future models of Mercedes-Benz Group's passenger vehicle brands. Prior to this one, there were explorations of current and future Mercedes-Benz cars and MPVs as well as SUVs, and then an examination of what could be ahead for EQ and Mercedes-Maybach.