August 10, 2022
Garden Spark returns for its 6th season on September 22, kicking off a new series of entertaining speakers — garden designers, authors, landscape architects — who'll be sharing their expertise and ideas at in-person events here in Austin. This season we'll be inspired to reclaim our front yards for our own enjoyment; we'll learn about African Americans in the world of floriculture; we'll be encouraged to create ecosystems, not just gardens; and we'll learn how baseball — yes, baseball — can teach us something about effective plant selection. If you love gardens, design, and learning, these talks are for you.
Talks are held at Barton Springs Nursery's outdoor classroom (or indoors if weather necessitates) on Thursday evenings. Exact times are announced when talks go on sale, about a month in advance. I hope you'll mark your calendar for the following dates and make plans to join us!
Note: Tickets must be purchased in advance, and talks tend to sell out quickly, so don't miss out. SUBSCRIBE to Garden Spark's email list to be notified as soon as tickets go on sale. Simply click this link and ask to be added.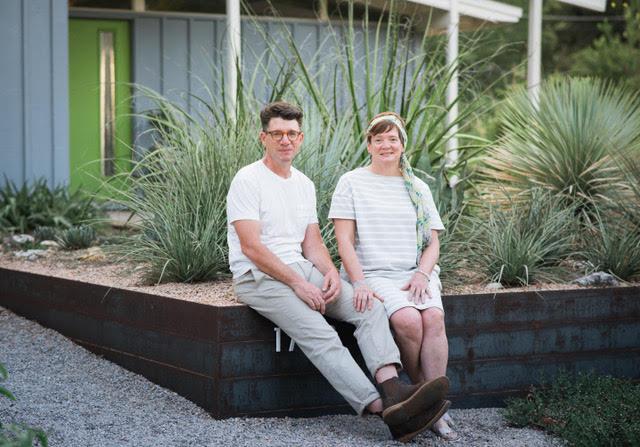 September 22 – Lorie Kinler and Michael Kinler
Reclaim the Front Yard: From Just-For-Show to Private Retreat
Most front yards are strictly visual. The owner never even uses it. Given up to the public street, these expanses of lawn do little but waste resources and energy. Let's reclaim our front yards as a space to actively enjoy! Lorie and Michael Kinler of Kinler Landscape Architecture will show us projects that rethink traditional front yards – from the lawn to foundation plantings to the driveway and more. By reducing or removing the lawn and perhaps reconfiguring parking, we can make the approach to our homes more inviting. Using native plants instead of typical foundation shrubs, we create a sense of place and resiliency. Seating areas and plant-filled courtyards give us a reason to hang out and enjoy the front yard.
Speaker Bios
Lorie has always loved art, so after finishing high school in Texas she earned a Bachelor of Fine Arts from Hunter College in Manhattan. Living in New York City helped her understand how people and places shape each other. Art and its relationship with the environment led her to the University of Texas at Arlington, where she earned a master's in landscape architecture and met her future husband Michael, a talented designer in his own right. She continued her studies by interning at the Chinati Foundation in Marfa and worked for the SWA Group. Lorie has worked with many notable architects in Fort Worth/ Dallas and led a redesign of the plantings at the Amon Carter Museum.
Michael was born in Kitchener, Ontario, and has lived in Ogden, Seattle (he still loves the Mariners and Seahawks), Portland, and Fort Worth. After earning a bachelor's in business administration at Texas A&M, he moved to London and discovered the pleasures of not needing a car, as well as the world of art and design. He met Lorie at the University of Texas at Arlington, and they have been an unstoppable force since as the owners of Kinler Landscape Architecture (formerly Redenta's Landscape Design) in Fort Worth.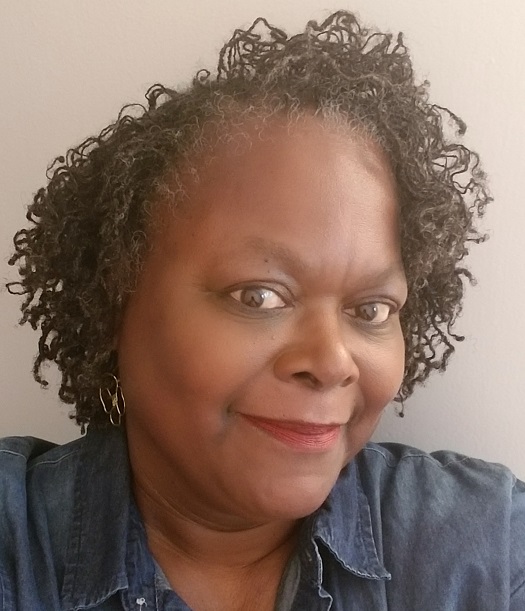 October 20 – Teresa Speight
Black Flora: Seeds of Our Ancestors 
Teresa Speight, author of Black Flora, a new book about African Americans in the world of floriculture, tells the stories of farmers, florists, and other floral creatives who answered the call of the flowers, tapped into their passion, and listened to their hearts. There is a rich, beautiful, complex, and diverse narrative being told by African Americans and other persons of color in the floral marketplace. It is long past time to recognize their excellence and contributions to cut-flower farming and floristry, as they sow the seeds for the next generation.
Speaker Bio
Author, podcaster, and garden writer Teresa J. Speight is a proud native of Washington, DC, as well as a mother, grandmother, garden writer, and history lover. With ancestral sharecropping roots originating in North and South Carolina, she feels deeply connected with the earth. She's honored those roots through her work as head gardener for the City of Fredericksburg, Virginia; as a founding farmer of an organic CSA farm; as founder and president of Jabali Amani Garden Collective, an online African American garden club focusing on "beautifying urban areas in our communities"; and as an estate gardener. Teresa also works to reconnect people with the soil through one-on-one garden coaching and by offering curated garden experiences for small groups.
Teresa is the author of Black Flora: Profiles of Inspiring Black Flower Farmers + Florists and co-author of The Urban Garden: 101 Ways to Grow Food and Beauty in the City. On her podcast Cottage in the Court (available on Anchor or Apple Podcasts), Teresa introduces interesting people, discovers unique places, and adds a little poetry to remind everyone to embrace the garden, as it is here for us.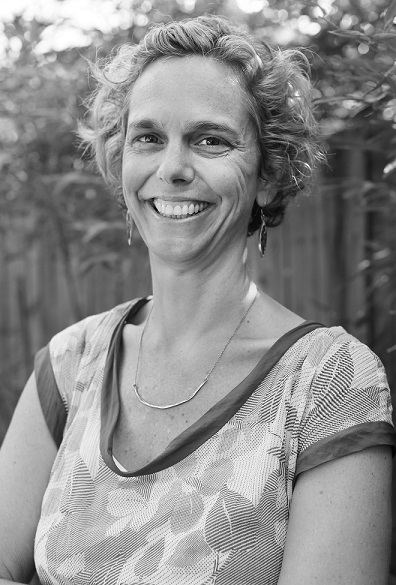 November 17 – Jennifer Orr
Less Gardens, More Ecosystems!
Austin is tough​ ​– our soil is tough ​– and now our already challenging weather requires us to design for a 10- to 110-degree world. ​Jennifer Orr, founding principal at Studio Balcones, will talk about designing functional landscapes that provide habitat, are symbiotic, and can survive ​the ​harsh Central Texas​ elements. ​By prioritizing soil, grading, shading, and plant communities, we can make garden​s​ that not only survive but thrive.​ ​We'll look at projects that go from gardeny to wild through moments​ of curated color​ ​and texture that transition to a more natural fringe and beyond, and that transform degraded areas into ​lush native prairie-plant landscapes. Well-developed ecosystems are the key to setting up our landscapes for success.
Speaker Bio
A founding principal of Studio Balcones, Jennifer brings her playful design sense, extensive plant knowledge, and deep understanding of ecological systems to each project. Jennifer's experience ranges from large-scale green infrastructure projects to small-scale residential gardens, both urban and rural, public and private. She has 20 years of experience in the field and thrives on creating resilient landscapes that are integrated, functional, engaging, and beautiful. Jennifer is active in her community, is a mother of two, and has a great love of the Texas landscape with its unique and often challenging characteristics. She is thrilled to be working in her beloved hometown.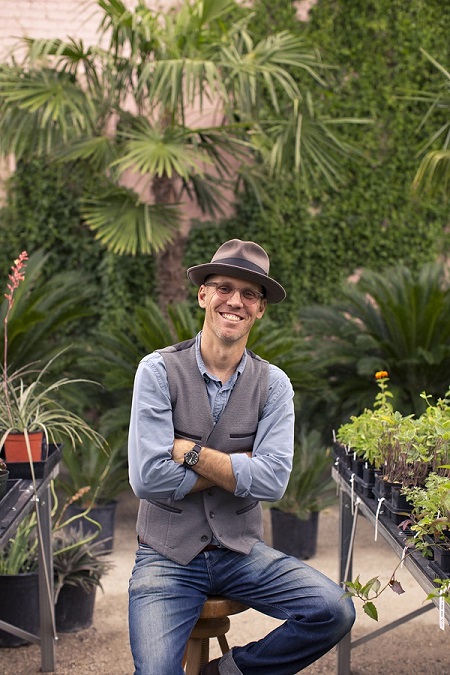 February 23 – Mark Word
Fantasies, Baseball, and Plant Selection
Choosing the "right" plants for your garden means looking beyond the basics of function, maintenance, and site adaptability. Sentimentality, appropriateness, culture, and neighborhood posture also come into play. Austin designer Mark Word explores the ways in which we can create successful gardens without a stats-driven approach.
Speaker Bio
Mark Word's interest in art, graphic design, and botany has led to a 35-year career designing commercial and residential landscapes. The work of his Austin-based company, Word + Carr Design Group, is centered on place-making and is noted for its sensitivity to regional character. 
__________________________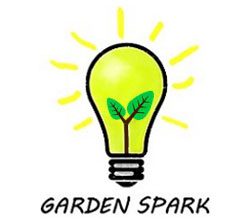 How to Attend
Subscribe to Garden Spark for first dibs on tickets! Simply click this link and ask to be added.
Sponsor Thank-You
Grateful thanks to Barton Springs Nursery for sponsoring Garden Spark, providing use of their beautiful venue, and their hospitality!
I welcome your comments. Please scroll to the end of this post to leave one. If you're reading in an email, click here to visit Digging and find the comment box at the end of each post. And hey, did someone forward this email to you, and you want to subscribe? Click here to get Digging delivered directly to your inbox!
All material © 2022 by Pam Penick for Digging. Unauthorized reproduction prohibited.