September 26, 2021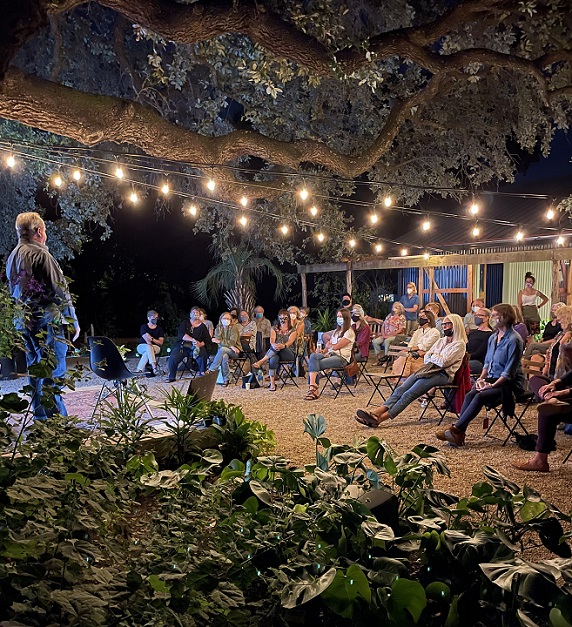 After a hiatus of a year and a half, my Garden Spark speaker series returned last Thursday with a presentation by always-inspiring landscape architect Tait Moring, in a beautiful new outdoor classroom at Barton Springs Nursery. I've been trying to get Tait for Garden Spark for quite a while, and then his talk had to be postponed twice due to covid. But thanks to the outdoor venue and other safety measures, 40 ticket holders were able to enjoy Tait's humorous stories and images of beautiful gardens he's designed around the Central Texas triumvirate of limestone, water, and tough native plants.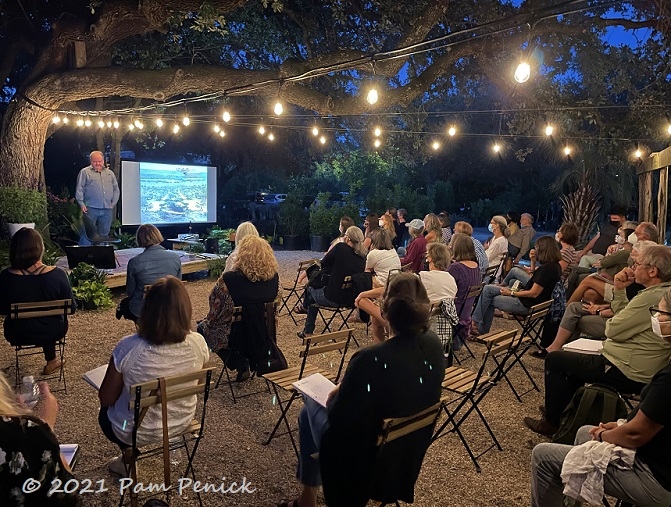 Barton Springs Nursery has generously agreed to sponsor Garden Spark through the use of their new meeting space under a majestic live oak. Music, cafe chairs and benches, and an overflowing snack table made for an inviting set-up as everyone arrived. As the sun set, the soft glow of string lights and a sapphire sky added to the lovely ambience. On top of all that, the weather was cool and dry, as if October had arrived early!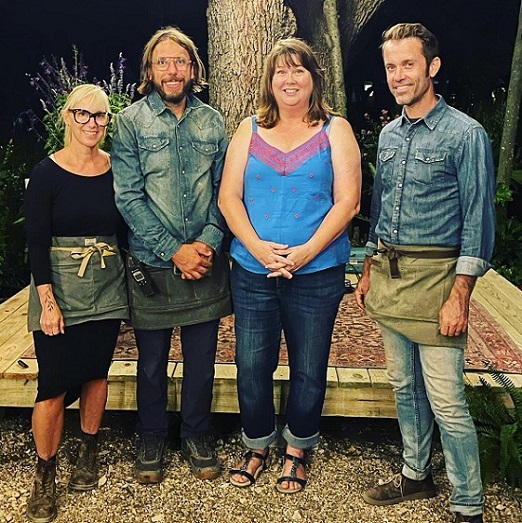 The new owners of Barton Springs Nursery — Amy Hovis, Greg Thomas, and Willy Glenn — along with members of their staff (special thanks to Charlotte Boyle for helping me out), couldn't have been more welcoming and generous. My thanks to them for providing a perfect new venue for Garden Spark!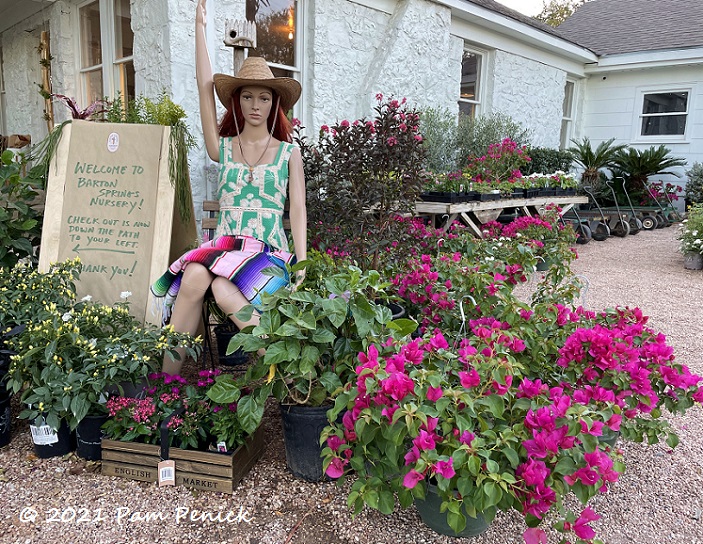 Next up for Garden Spark, on October 28, is Portland, Oregon, author Loree Bohl of Danger Garden, who'll be prodding us out of timid gestures and urging us to be fearless in our gardening. I can't wait! If you're interested in attending any Garden Spark talks (in-person, not webinars – sorry), I invite you to join my email list. Garden Spark subscribers receive early notification of ticket sales. Tickets must be purchased in advance to attend. So subscribe today! Simply click this link and ask to be added.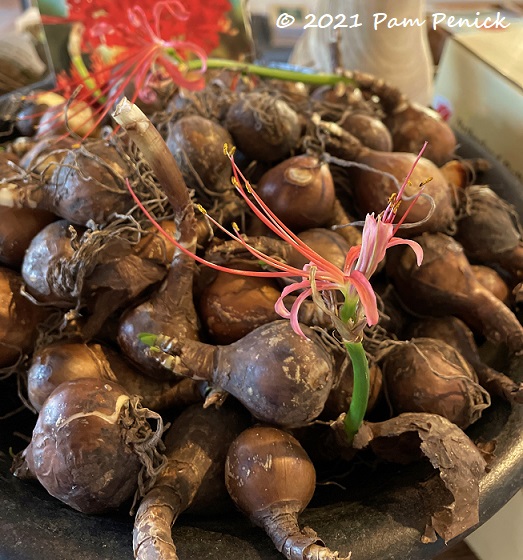 I can't resist sharing a couple of things that caught my eye as I explored the nursery's shop recently. Check out these spider lily bulbs piled on a dish, a couple of them blooming sans soil.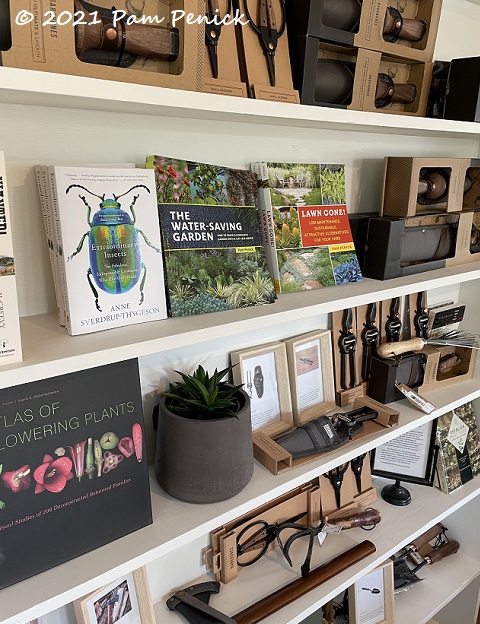 And — oh hey! — my books on a shelf of garden tools and other books! Thanks for supporting my work, BSN!
I welcome your comments; please scroll to the end of this post to leave one. If you're reading this in a subscription email, click here to visit Digging and find the comment box at the end of each post.
_______________________
Digging Deeper: News and Upcoming Events
Join the mailing list for Garden Spark! Hungry to learn about garden design from the experts? I'm hosting a series of talks by inspiring garden designers, landscape architects, and authors a few times a year in Austin. Check out the 2021-22 schedule. These are limited-attendance events that sell out quickly, so join the Garden Spark email list to be notified in advance. Simply click this link and ask to be added.
Need design help with your yard? Hire me as your personal garden coach! Maybe you need replacement plant ideas after the big freeze. Or maybe your landscaping has grown tired, and you want fresh curb appeal. Or perhaps you're ready to get rid of some lawn and create a pollinator garden, bird habitat, or hangout space for you and your friends. I'm here to help! Contact me to let me know what's going on, and let's figure it out together. My range is Austin and suburbs within a 25-min. drive of NW Austin, but I'm flexible and can travel farther with a surcharge, so let me know where you are. Weekday morning appts. only.
All material © 2021 by Pam Penick for Digging. Unauthorized reproduction prohibited.