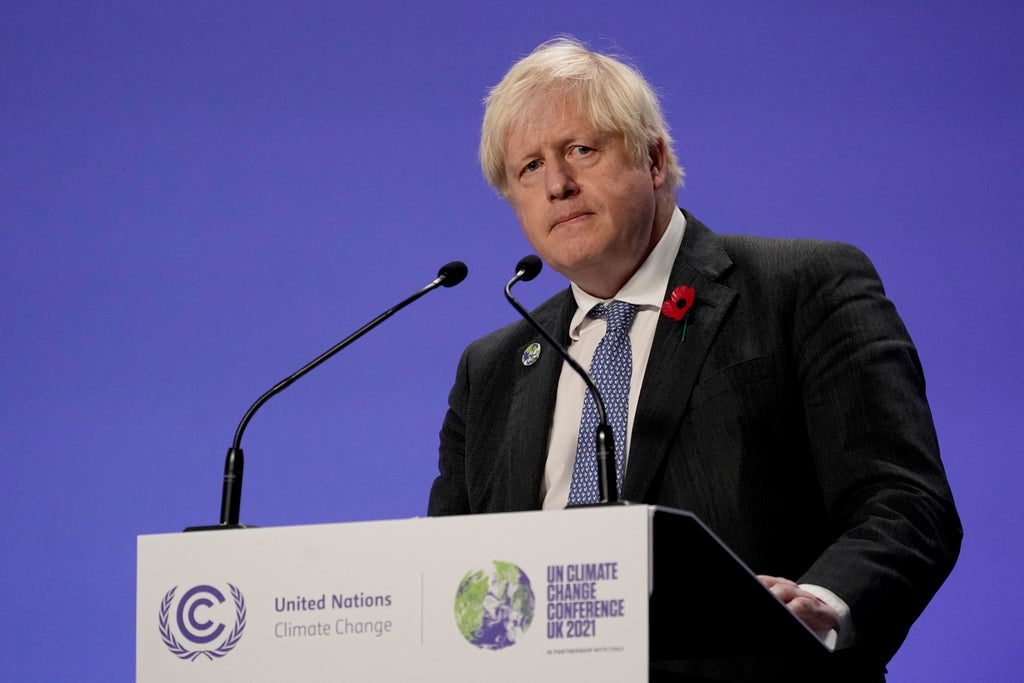 Geoffrey Cox accused of working second job from Commons office
Boris Johnson has claimed one of the "most important" rules in government is that MPs "who break the rules must be investigated, and should be punished" accordingly.
Speaking at a Cop26 press conference, during which he made a last bid attempt to rally world leaders to commit to stronger climate pledges, the PM also said the rules about MPs holding second jobs are "clear" – and that they must put their role as constituency representatives "first".
Insisting that he "genuinely believes the UK is not remotely a corrupt country", Mr Johnson told reporters on Wednesday: "For hundreds of years, MPs have gone to parliament and also done work as doctors, lawyers or soldiers or firefighters … but, if that system is going to continue today, then it is crucial that MPs follow the rules".
It comes after Sir Geoffrey Cox – who served as attorney general between 2018 and 2020 – earlier denied breaching Commons rules, despite footage which appears to show him conducting non-parliamentary work from his MP office. He was working at the time as an adviser to the British Virgin Islands during an inquiry, launched by the UK government, into possible corruption there.
Follow our live coverage below
1636567233
Foreign Office to press for release of Zaghari-Ratcliffe in meeting
Let's get an update on Richard Ratcliffe's demonstration now. The government has vowed to "press firmly" for the release of unfairly detained British nationals in Iran when they meet with the country's deputy foreign minister this week.
It comes as Nazanin Zaghari-Ratcliffe's husband endures his 18th day on hunger strike outside the Foreign, Commonwealth and Development Office (FCDO) in London.
Richard Ratcliffe began his demonstration last month after his wife lost her latest appeal in Iran, saying his family is "caught in a dispute between two states".
Ms Zaghari-Ratcliffe, a British-Iranian dual national, has been in custody in Iran since 2016 after being accused of plotting to overthrow the government.
Iranian deputy foreign minister Bagheri Kani is due to meet officials from the FCDO on Thursday afternoon.
It is understood Mr Ratcliffe will then meet with Foreign Office minister James Cleverly afterwards for an update.
Sam Hancock10 November 2021 18:00
1636566089
'UK not corrupt, Johnson and his government are,' says Rayner
Back to the PM's press conference now, and Labour's deputy leader Angela Rayner has had her say about remarks he made.
Sam Hancock10 November 2021 17:41
1636565725
How are Labour and Lib Dems using sleaze scandal to their advantage?
After the extraordinary scenes last week, with Boris Johnson attempting to neuter the Standards Committee and prevent the suspension of a Tory MP found to have carried out an "egregious" breach of lobbying rules, sleaze is firmly back on the agenda at Westminster.
There has also been a steady stream of embarrassing revelations for the government, notably a report that 15 of the last 16 Tory former treasurers have been offered a peerage, having each donated in excess of £3m to the party's coffers.
In addition, the disclosure that the Conservative MP Geoffrey Cox, though no longer a government minister, voted from the Caribbean in spring while working at a second job in the British Virgin Islands will inevitably add to the impression of sleaze.
So, what are the opposition parties doing about it? Our political correspondent Ashley Cowburn takes a closer look.
Sam Hancock10 November 2021 17:35
1636565176
PM insists his activities 'within the rules' before making speedy exit
Prompted by a journalist, the PM insists all his activities as an MP and a minister have been "within the rules".
"All my declarations are in conformity with the rules, and you can certainly study them, and that will remain the case," he says sternly.
Johnson quickly tells reporters he has a "climate friendly mode of transport" to catch and must leave Cop26 promptly, before heading offstage.
And that's the press conference finished.
Sam Hancock10 November 2021 17:26
1636565121
Johnson's remarks on MPs' second jobs in full
Here's what Johnson said on MPs' second jobs in full:
"On second jobs, I would say that for hundreds of years MPs have gone to parliament and also done work as doctors, lawyers or soldiers or firefighters or writers, or all sorts of other trades and callings.
"And on the whole, the UK population has understood that that has actually strengthened our democracy, because people basically feel that parliamentarians do need to have some experience of the world.
"But, if that system is going to continue today, then it is crucial that MPs follow the rules.
"And the rules say two crucial things: you must put your job as an MP first and you must devote yourself primarily and above all to your constituents and the people who send you to Westminster, to parliament.
"And they also say that you should not use your position as an MP to lobby or otherwise intervene on behalf of any outside commercial interest. And it is not only that you have to register those interests – you can't lobby or make representation while an MP on behalf of those interests.
"Those are the rules and they must be enforced and those who don't obey them should of course face sanctions."
Sam Hancock10 November 2021 17:25
1636565038
Johnson does not believe UK 'remotely corrupt'
Johnson, responding to a question from The Telegraph, says he "genuinely believes that the UK is not remotely a corrupt country, nor do I believe that our institutions are corrupt".
"We have a very, very tough system of parliamentary democracy and scrutiny, not least by the media," he says.
"I think what you have got is cases where, sadly, MPs have broken the rules in the past, may be guilty of breaking the rules today. What I want to see is them facing appropriate sanctions."
Sam Hancock10 November 2021 17:23
1636563562
PM claims rule-breaking MPs 'must be investigated' and warns over second jobs
On MPs and second jobs, Boris Johnson replies to a reporter:
"I just want to say that the most important thing is, those who break the rules must be investigated and should be punished."
This comes after the PM received a barrage of criticism for instructing his Cabinet to vote against suspending ex-Tory MP Owen Paterson, and in favour of an amendment that essentially tried to rewrite the Commons rulebook on standards.
He goes on to say the rules about second jobs are "clear" and that MPs must put their role as constituency representatives "first".
Sam Hancock10 November 2021 16:59
1636563277
PM addresses media at Cop26
Boris Johnson is addressing those at Cop26 now and has urged "everyone to come together and show the determination needed to power on through the blockages".
"Here in Glasgow, the world is closer than it has ever been" to combatting the climate crisis once and for all, the PM suggests.
Appealing to world leaders "now back in your home cities", Johnson asks them, "Will you work with us or against us?".
The PM is now taking questions from the British media, with the first reporter jumping in with a question about sleaze and Geoffrey Cox.
Sam Hancock10 November 2021 16:54
1636562582
Donaldson urges EU to 'focus' and 'be serious' in Brexit talks
Let's get a Brexit update before the PM's presser. DUP leader Sir Jeffrey Donaldson has urged the EU to "step up to the mark" in Brexit negotiations.
"What Northern Ireland needs is a focused approach on this – time is marching on, we've had nearly four weeks of negotiation and I think what we need to decisive action," he said.
"I note there will be a further couple of weeks of negotiation and that presents an opportunity for the EU to step up to the mark, and it is evident from what Lord Frost has said and from our own understanding, that the EU isn't being serious about putting proposals on the table that are capable of dealing with the very real problems caused by this Irish Sea border.
"We need to focus now and I think beyond the next couple of weeks we need decisive action by the UK government if the EU isn't prepared to take that action."
Sam Hancock10 November 2021 16:43
1636562176
PM to give press conference from Glasgow
Boris Johnson is set to make an address to the Cop26 climate summit in the next few moments, which we'll keep an eye on and bring you the relevant political updates from.
The PM returned to Glasgow, which is hosting the UN event, today in the hope of furthering climate discussions.
Sam Hancock10 November 2021 16:36