Global issuance of impact bonds — a form of goals-based financing with environmental and social objectives — soared past the $1 trillion mark for the first time last year, led by France, China and Germany, according to a report set to be released on Monday.
The unreleased report from the Atlanta-based Intercontinental Exchange was provided to MarketWatch on Wednesday. It showed issuance soaring 77% to $1.036 trillion as of Dec. 31. The total number of securities issued worldwide in the impact category nearly doubled to 3,020 in 2021 from the prior year, while the region known as EMEA — for Europe, Middle East and Africa — was the largest contributing region.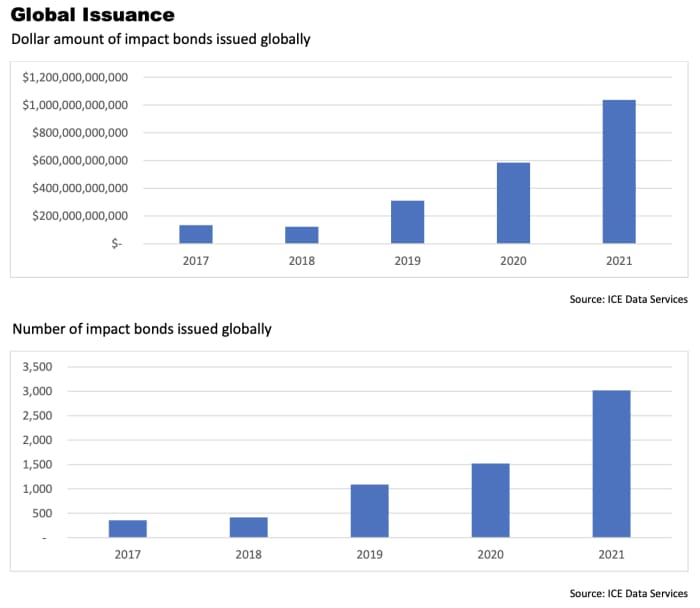 Debt instruments tied to specific environmental, social and governance (ESG) goals have exploded since 2017 as investors and issuers alike look for ways to demonstrate responsibility. Verizon Communications Inc.
VZ,
+1.13%,
for example, was one of the companies that emerged as a green-bond heavyweight in the U.S. in 2021, using its vast network to raise another $1 billion and add more renewable energy to the electricity grid.
"Issuance by corporates, governments, investment vehicles and private entities have all grown in 2021, with only supranational entities issuing 3% less year on year in terms of dollar amount of issuance," according to Intercontinental Exchange's report.
Green bonds, or those which have environmental objectives, remained the largest category of impact bonds by issuance over the past five years, followed by sustainable bonds and social bonds. The report defines social bonds as those aimed at a specific social issue and/or achieving "positive social outcomes," while sustainable bonds are used to finance "a combination of both green and social projects."
Of note, Intercontinental Exchange didn't include bonds with stated governance goals in its tally. The more commonly known group of securities referred to as ESG bonds — with environment, social, and governance objectives — come with suggested financing uses, but often lack follow-up reporting or enforcement mechanisms.
Read: Earth-saving promises in ESG fund prospectuses aren't all that green: report
Intercontinental Exchange, which operates global exchanges and clearinghouses, is a provider of market data and indices such as the ICE BofA MOVE Index, which tracks fixed-income market volatility.