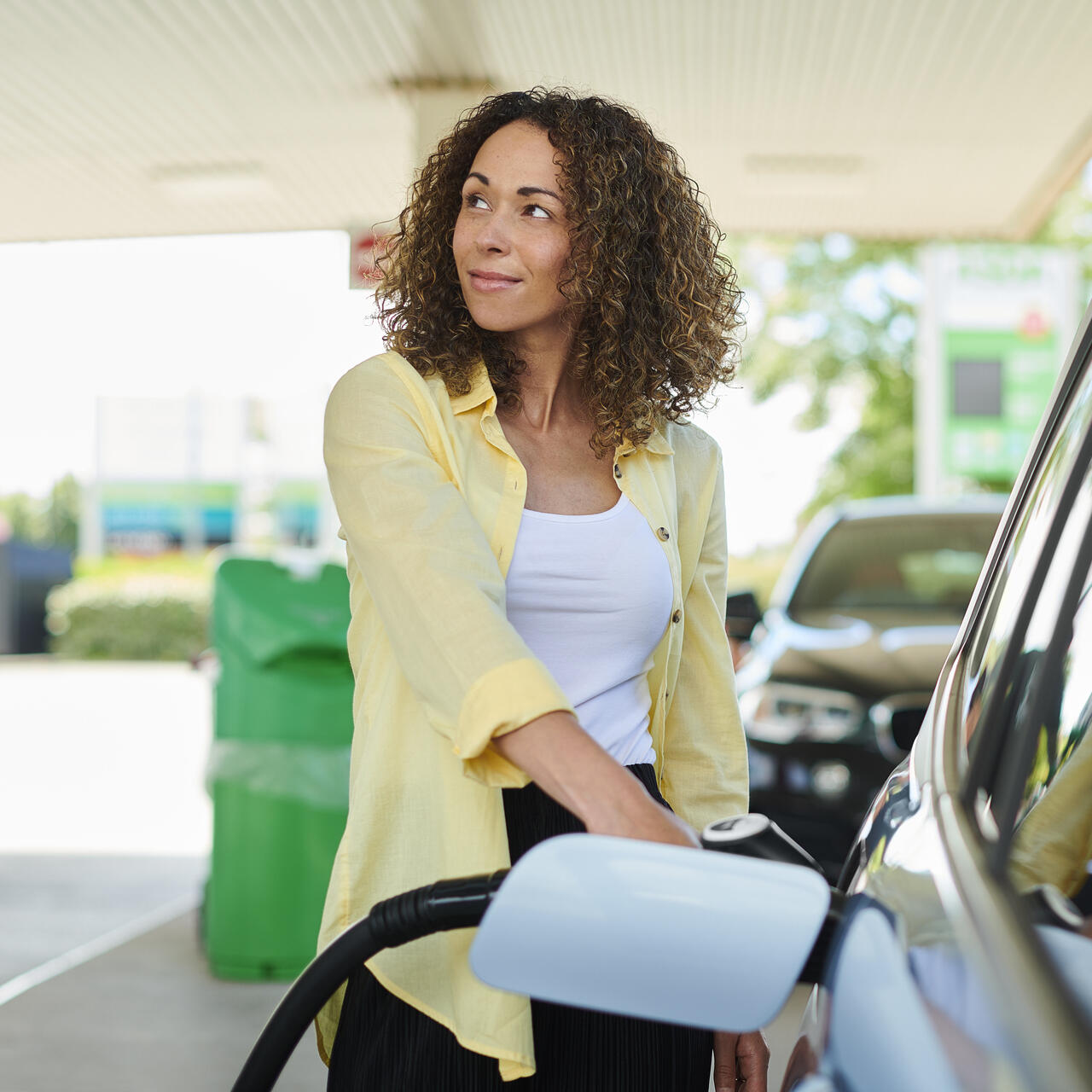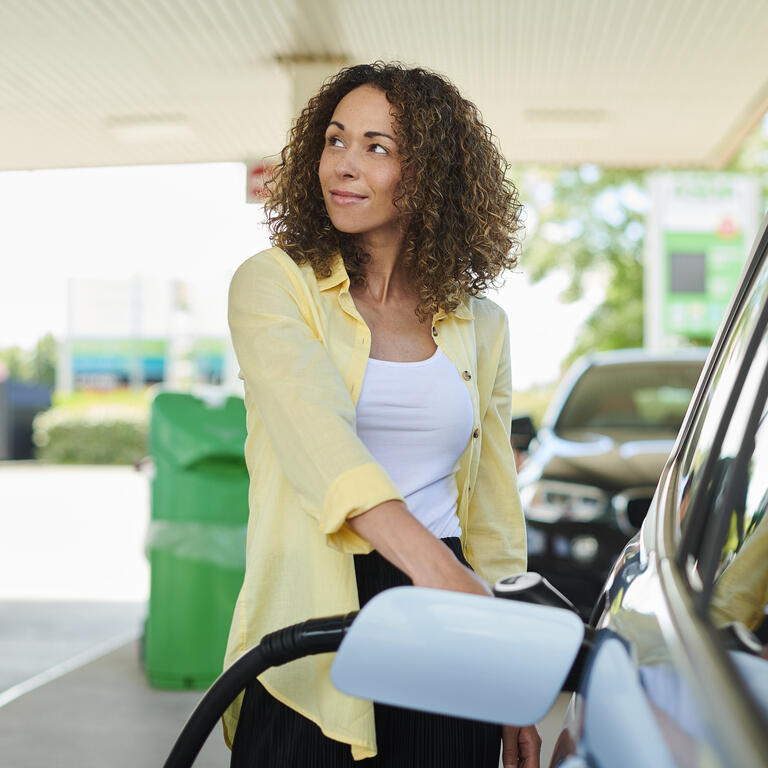 Looking for outperforming high-yield income vehicles?
The energy sector continues to have a joyride in the market. After being the leading sector in 2021, it's up by 10% in this first week of 2022: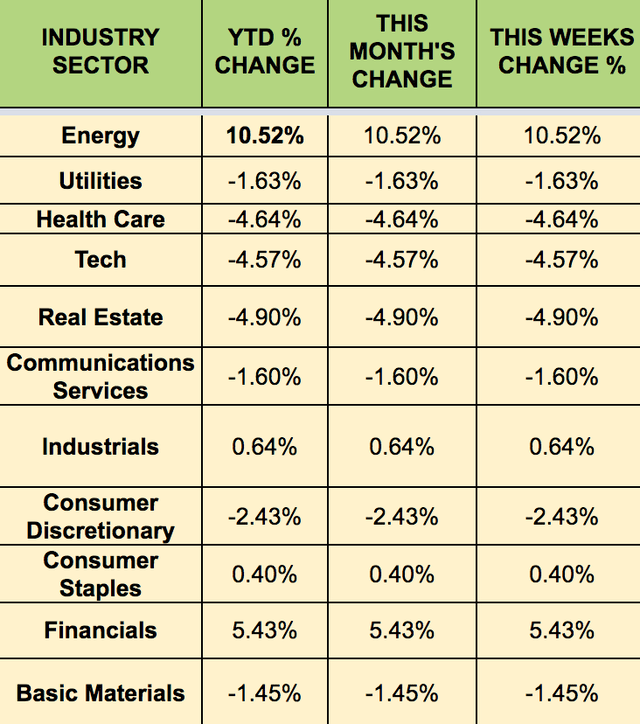 When we last wrote about Global Partners LP (GLP) in the fall of 2021, it was at $20.37. Since then, it has delivered a 26% total return, outpacing the S&P 500 by a wide margin, and keeping just ahead of the broad energy sector:
Profile:
Although Global Partners LP was founded in 2005, its roots go back much further than that. It began more than 75 years ago, delivering heating oil – door to door – in the neighborhoods around Greater Boston. It's one of the largest fuel distributors in the New England area, selling via retail C-stores and wholesale divisions.
It's also involved in the transportation of petroleum products and renewable fuels through rail from the mid-continent region of the United States and Canada, and has a rail and waterborne terminal on the West Coast, in Oregon. GLP is based in Waltham, Massachusetts.
Although alternative energy sources and electric vehicles continue to make progress, the US economy still needs gasoline to fuel our vehicles, and oil to heat our homes. Americans also like to buy those munchies, wieners and other fine comestibles that C-Stores sell.
(GLP site)
As of 9/30/21, GLP had a portfolio of 1,564 owned, leased, and/or supplied gasoline stations, which included 295 directly operated convenience stores, and owned, leased, or maintained storage facilities at 26 bulk terminals with a collective storage capacity of 11.9 million barrels.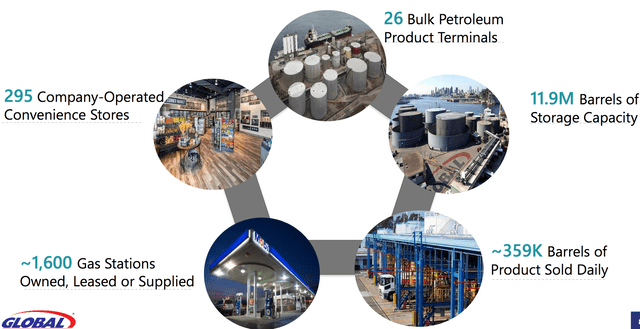 (GLP site)
GLP's Gasoline Distribution operations supplied 50% of the company's product margin in Q3 '21, while its Station Operations chipped in 29%. Wholesale contributed 19%, and 10% came from Gas Blendstocks: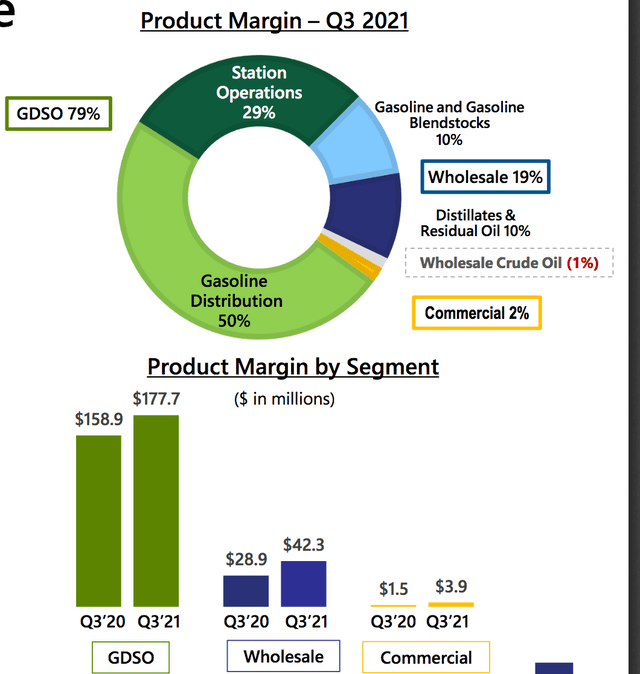 (GLP site)
Earnings:
GLP had strong year-over-year growth in Q3 '21, with Product Margin up over 18%, Net Income up 20%, Adjusted EBITDA up 21%, and Distributable Cash Flow up 59%: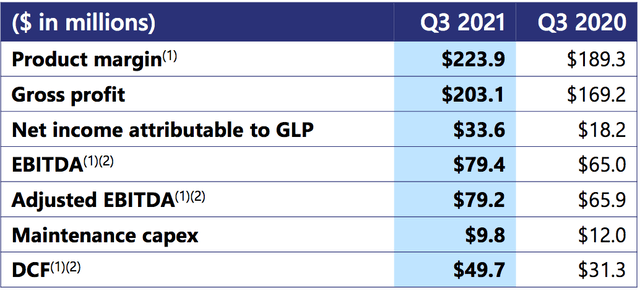 (GLP site)
GLP's higher sales volumes have helped mitigate GLP's 2021 growth figures, which were poor, due to a much higher Cost of Goods Sold, which has risen by ~55% in the first three quarters.
Operating expenses also increased by $28M to $423.5M, in part due to an increase in credit card fees, which are a function of volume and price. Higher rent and maintenance expenses also contributed to the increase due in part to greater activity at GLP's stores as well as the expansion of its footprint in the Philadelphia area, where GLP added more than 30 sites since mid-2020.
There was also a one-time $6.6M special deferred expense in SG&A earlier in 2021 related to the passing of GLP's General Counsel. The expense relates to contractual commitments, including the acceleration of grants previously awarded, as well as a discretionary award in recognition of his more than 30 years of service.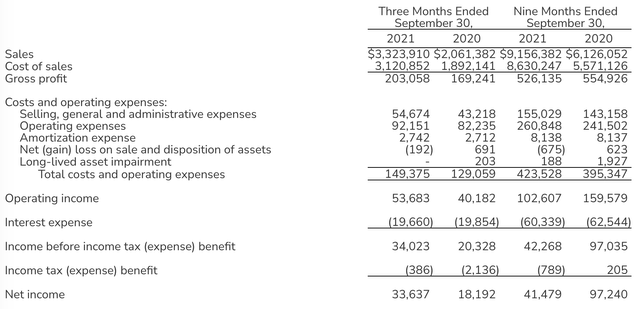 (GLP site)
While revenue has jumped ~50% so far in 2021, profitability and cash flow growth has declined due to weakness in Q1-2 '21. GLP had some very tough Q2 '20 comps to beat in Q2 '21 due to a very favorable fuel price swing in Q2 '20.
However, given Q3 '21's strong showing, we should see trailing figures improve further in Q4 '21.
Acquisitions:
GLP's acquisitions are bolstered by the fact that the C-Store industry is highly fragmented, with 66% of the industry owning one to 10 stores.
GLP's management continues to expand the company's operations. GLP acquired 14 convenience stores and Citgo-branded retail gas stations, predominantly in Vermont, in Q3 '21.
Another deal involves acquiring the retail fuel and C-Store assets of Consumers Petroleum of Connecticut, Inc, with fuel supply agreements for ~ 25 stations. These are company operated retail gas stations in Connecticut and Wheels-branded C-Stores in NY. This deal was expected to close in Q4 '21-Q1 '22.
GLP also greatly expanded its presence in the Philadelphia area in 2020, adding over 30 sites since mid-2020.
Common Distributions:
Like the other high yield income vehicles in our articles, GLP has a very attractive yield.
At its 1/7/22 closing price of $25.12, GLP yields 9.16%. It should go ex-dividend next on ~2/4/22. Its trailing DCF/distribution coverage was 1X in Q3 '21.
However, DCF/Distribution coverage soared to 2.49X in Q3 '21, with $49.7M in DCF, which is 61% of GLP's $81.5 in Q1-3 2021 DCF.

GLP also has two preferred issues but both of them are trading above their $25.00 call values.
Valuations:
GLP's 9% yield sits in between its peers, CrossAmerica Partners LP (NYSE:CAPL), and Sunoco LP (SUN), while its Price/Book of 1.81X is by far the lowest. They all have low P/Sales metrics, but GLP's is very low, at just .08X.
GLP's and SUN's EV/EBITDA is similar, while GLP and CAPL have the same Price/DCF. While GLP's trailing 12 month's coverage is just 1X, its Q1-3 '21 coverage is 1.20X, putting it more in line with CAPL:
Profitability and Leverage:
Management has decreased GLP's Debt/Equity considerably since Q2 '20, but, due to the lower EBITDA figures earlier in 2021, Net Debt/EBITDA is higher, and Interest coverage is a bit lower. However, those figures should improve in coming quarters.
Analysts Estimates and Price Targets:
Analysts have raised their 2022 earnings estimates for GLP from $1.12 to $1.64 in the past 30 days, a 64% increase.

(Yahoo)
GLP has outpaced analysts' price targets, and currently stands at 4.67% above the $24.00 highest price target. However, price targets tend to lag financial performance, especially after big market pullbacks, so take them with a grain of salt.
Parting Thoughts:
GLP has a solid foothold in its regional business, which isn't going away anytime soon. We're continuing to hold it as another source of diversified high-yield income.

All tables by Hidden Dividend Stocks Plus, except where otherwise noted.