September 14, 2021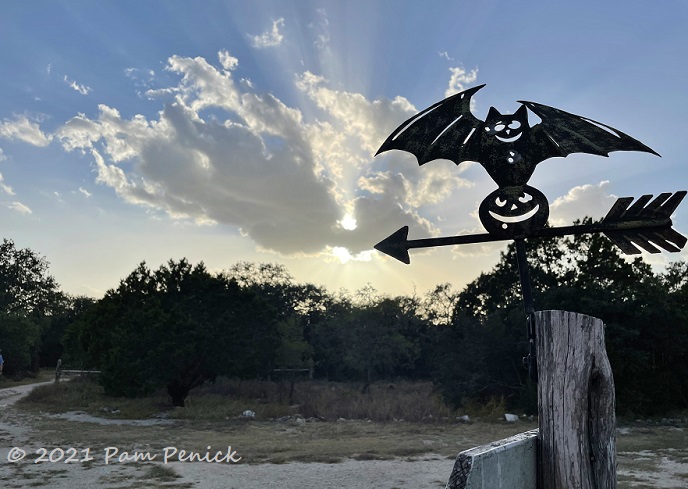 Austin is justifiably proud of the 1.5-million-strong bat colony that roosts under downtown's Congress Avenue Bridge. I've watched the nightly emergence from the bridge as the bats take flight many times over the years. But when I heard that nearby Bracken Cave contains 15 to 20 million bats, I knew I had to see it.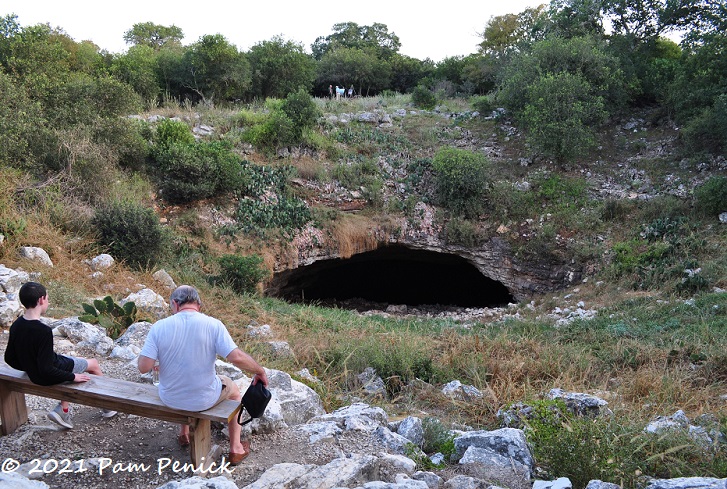 Located an hour southwest of Austin, just northeast of San Antonio, Bracken Cave houses the largest known bat maternity colony in the world. After overwintering in Mexico, where they mate, female Mexican free-tailed bats (the same species and sex as the bats under Austin's Congress Avenue Bridge) migrate north to their summer digs at Bracken Cave. In June, each pregnant bat gives birth to a single pup. (Males roost in bachelor colonies elsewhere.)
The mothers emerge from the cave each evening to hunt for moths and other flying insects by the millions. While nursing their pups, they must consume nearly their body weight in insects each night, providing an invaluable source of free pest control for farmers within a 60-mile radius. In July the pups join their mothers in flight, doubling the nightly spectacle of a tornado of whispery-winged bats swirling up from the cave's mouth and tracing black ribbons across the darkening sky.
This I had to see.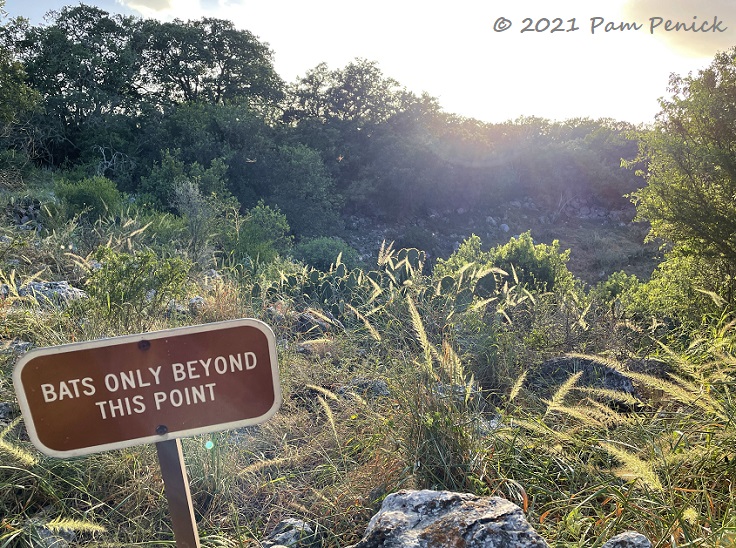 How to watch the bats
To see the bats, I learned, you must join Bat Conservation International. Membership, which currently starts at $45, entitles you to a single viewing at Bracken Cave during the bat-watching season from June through September. You can bring up to 3 guests, but even with a membership, scoring a bat-viewing isn't always easy. As soon as the online calendar opens for each date, you must be waiting at your computer to pounce for a spot. I only just managed to get the last 3 tickets (couldn't get a fourth) for a Saturday evening in early September. And then you have to hope the weather cooperates, ideally warm and dry — which it did!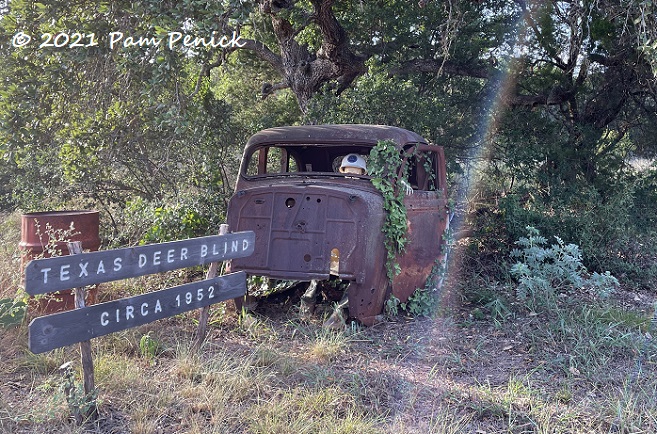 We arrived in late afternoon and were directed down a dusty gravel road for 2 miles to a parking area. Along the way we admired Hill Country views of sprawling live oaks, backlit grasses, and prickly pear, plus this humorous display.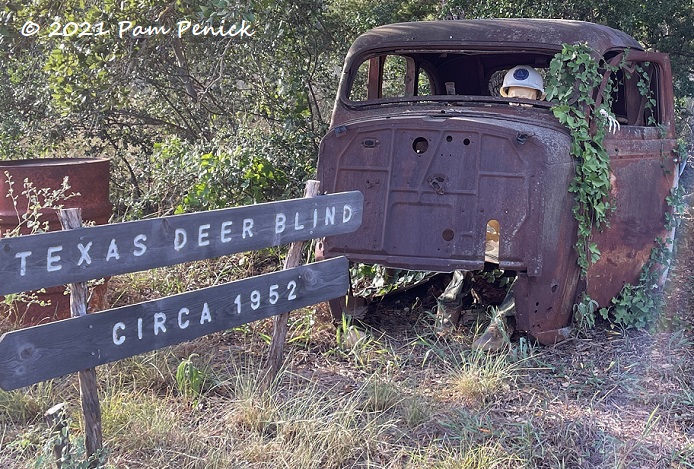 Yep, that's a helmeted skeleton sitting behind the wheel in a rusted-out car, which a sign proclaims to be a Texas Deer Blind, Circa 1952. Did he die waiting for a deer? Somehow I doubt they are scarce. Anyway, it made us smile.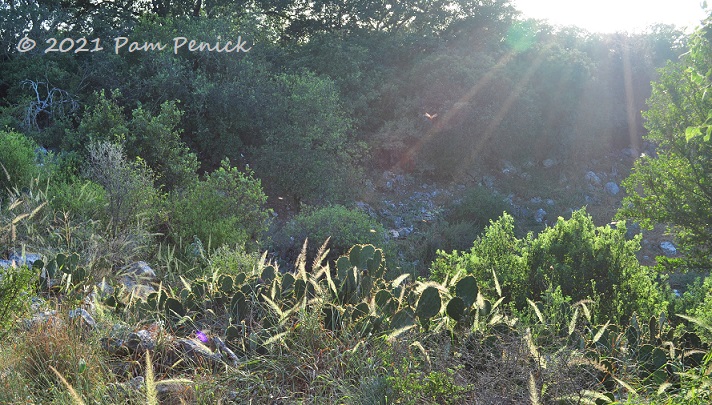 After parking we were invited to check out the cave and explore the area. We followed our noses to the cave, which even at a distance of about 100 feet reeked of ammonia. It was too early for the bats to fly, so we walked the trail, where docents were on hand to tell us about the bats and the history of the cave.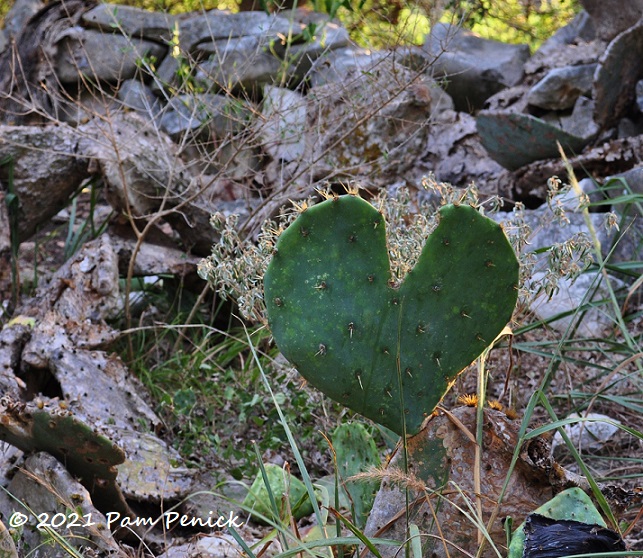 History of Bracken Cave
Scientists estimate that bats have been roosting in Bracken Cave for 10,000 years. Ten thousand years! They've produced a lot of poop, known as guano, during that time. Guano makes good fertilizer, and it also can be used to make gunpowder. During the Civil War, guano miners at Bracken Cave shipped it by the trainload to keep the Confederacy in ammo.
A docent told us that guano continued to be mined (in winter when the bats are away) until fairly recently, when the fungus that causes white-nose syndrome was found in the cave. Guano mining then ceased to keep from spreading the fungus to other bat colonies. Since white-nose syndrome primarily affects hibernating bats, and Mexican free-tails are non-hibernating, Bracken Cave's bats haven't been decimated like other species. However, scientists continue to study the effects of the fungus.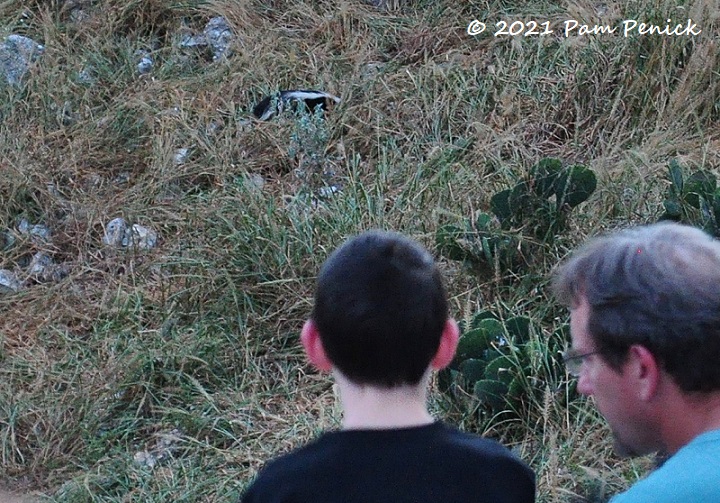 Other wildlife at Bracken Cave
While bats prey on flying insects, they're on the menu themselves for other predators. Hawks, owls, snakes, raccoons, and even skunks, we were told, may hang out near the cave in the evening to pick off grounded or injured bats. Even so, we were surprised to see a skunk come waltzing through the grass as the sun went down. It foraged for a while and disappeared into the trees.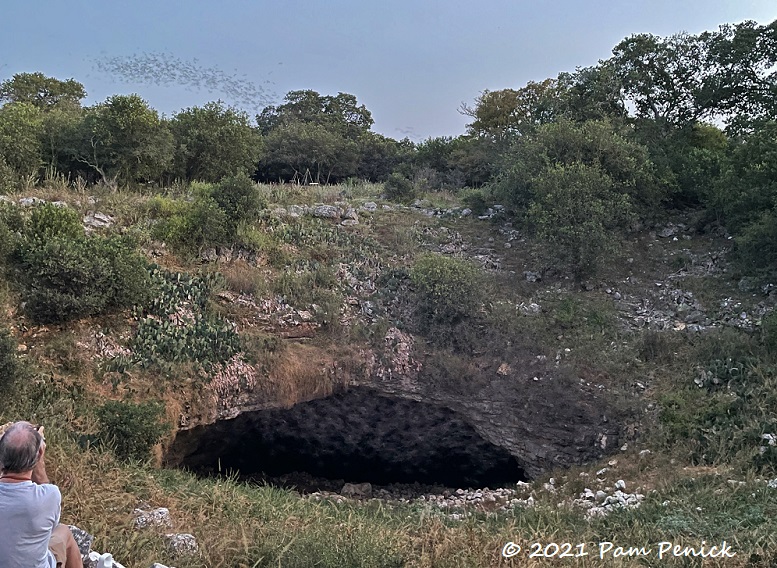 As darkness fell, a few bats darted from the cave, and on cue we took seats on wooden benches facing the cave mouth, speaking in whispers and waiting expectantly with cameras raised. In a sibilant whoosh, the exodus began. Bats poured from the cave like brown smoke, swirling around the bowl of the hillside in a fluttery bat-nado. Gathering height, they streamed en masse over the trees and into the darkening sky. Meanwhile the exodus below just kept coming. And coming. And coming. We watched for about 45 minutes, but it was only the beginning of the 3-to-4-hour spectacle. Yes, it takes hours for all 20 million bats to emerge.
Here's video of the bat-nado. Watch with volume on and in full screen for best effect. These speedy little bats can fly, with a tailwind, at 60 miles per hour and up to 10,000 feet! There are so many they even show up on radar at San Antonio's airport.
While filming I caught sight of a hawk soaring over from the right. It dived into the cloud of bats and then flew off. Whether it snagged a bat or not, I couldn't tell. But how could it miss among so many targets?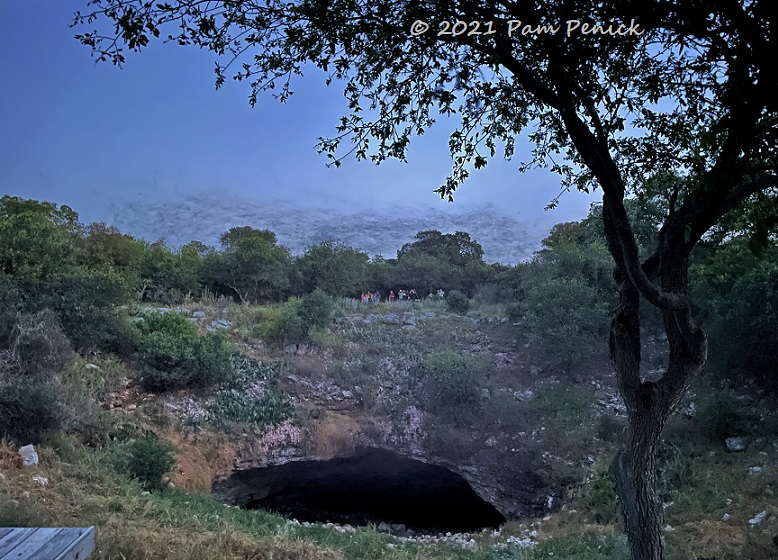 As the bats set off on their nightly journey, we headed back to Austin, suitably impressed and thinking of those millions of bats perhaps flying above I-35 on their own mysterious route. Central Texas is truly batty, and a more wonderful place for it.
To learn how Bracken Cave was saved from developers in 2014 by the Nature Conservancy, Bat Conservation International, and other donors, read this informative article at the Nature Conservancy website.
I welcome your comments; please scroll to the end of this post to leave one. If you're reading this in a subscription email, click here to visit Digging and find the comment box at the end of each post.
_______________________
Digging Deeper: News and Upcoming Events
Need design help with your yard? Hire me as your personal garden coach! Maybe you need replacement plant ideas after the big freeze. Or maybe your landscaping has grown tired, and you want fresh curb appeal. Or perhaps you're ready to get rid of some lawn and create a pollinator garden, bird habitat, or hangout space for you and your friends. I'm here to help! Contact me to let me know what's going on, and let's figure it out together. My range is Austin and suburbs within a 25-min. drive of NW Austin, but I'm flexible and can travel farther with a surcharge, so let me know where you are. Weekday morning appts. only.
Join the mailing list for Garden Spark! Hungry to learn about garden design from the experts? I'm hosting a series of talks by inspiring garden designers, landscape architects, and authors a few times a year in Austin. Check out the 2021-22 schedule. These are limited-attendance events that sell out quickly, so join the Garden Spark email list to be notified in advance. Simply click this link and ask to be added.
All material © 2021 by Pam Penick for Digging. Unauthorized reproduction prohibited.