February 02, 2022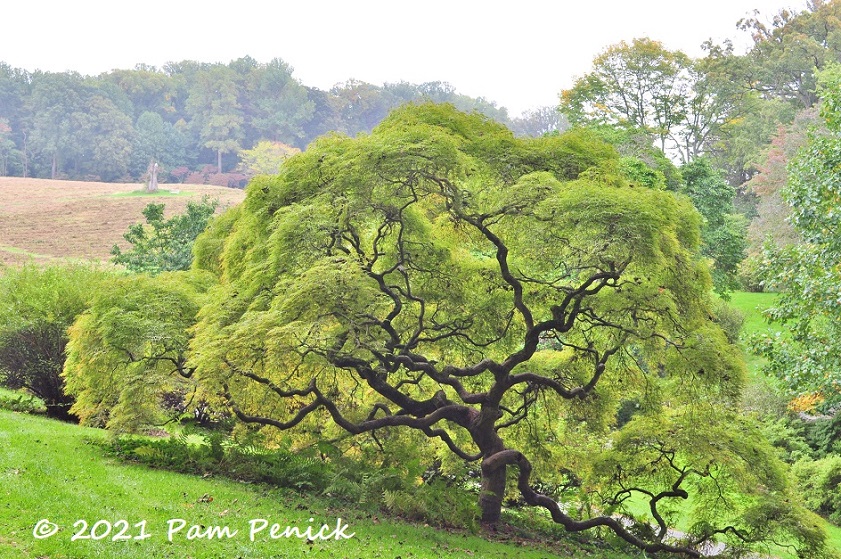 I first visited Winterthur on a blustery June day in 2016. In mid-October last year, I returned to see the garden at the turn of a new season, its summer greens tinged with pale gold and rusty orange, berries and quince brightening bare branches, and pastoral fields stubbled with mown grass. Its country grandeur was as beautiful as I remembered.
Winterthur kicked off three days of garden visiting in the picturesque Brandywine Valley. It was also the start of the solo portion of my big road trip from Maine to Virginia. Here's part 1 of my tour of Winterthur's gardens, established by the du Pont family in Wilmington, Delaware, in 1839.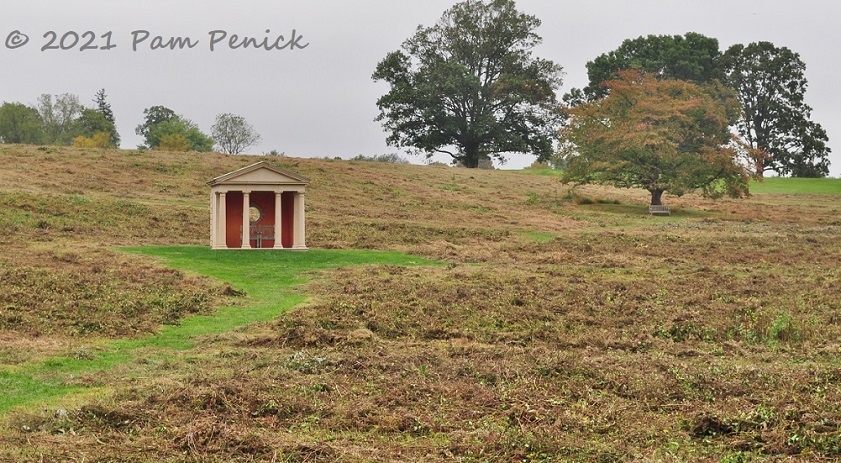 Nearly a thousand acres of farmland surrounds the 60-acre garden at Winterthur, "all of it protected under a conservation easement so the property can never be commercially developed." Views of rolling fields extend beyond the naturalistic outer gardens, where grand old trees spread sheltering limbs over benches and pavilions, and flowering trees create a glorious spectacle in early summer.
The place is huge. And hilly. I skipped the tram tour and felt like I was tramping all 1,000 acres on the uphill walk from the entrance to the back of the garden.
Pinetum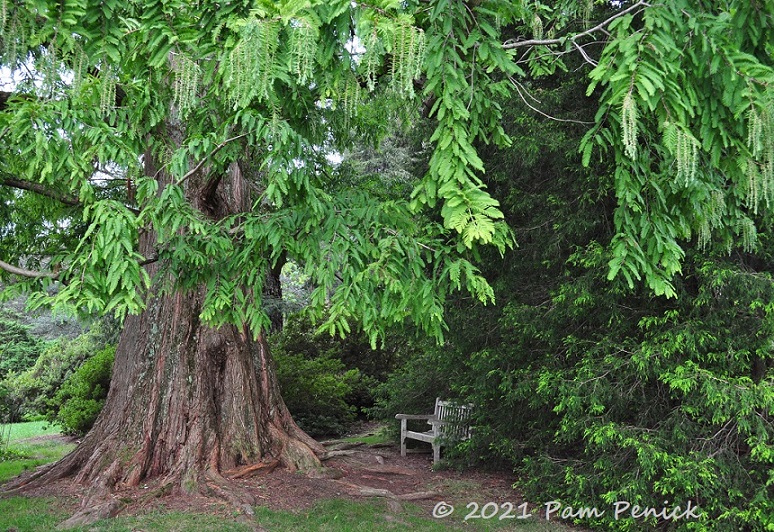 I skipped the winding paths of Azalea Woods and Magnolia Bend, since their flowering seasons were over. When I reached the solemn evergreen giants of the pinetum, I stopped and sat for a while among the shaggy-trunked trees.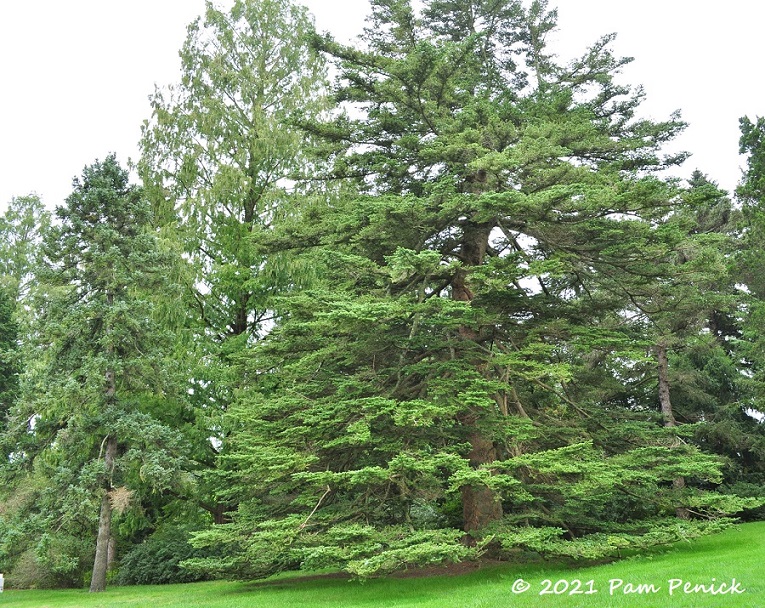 Scented branches nearly brushed the ground…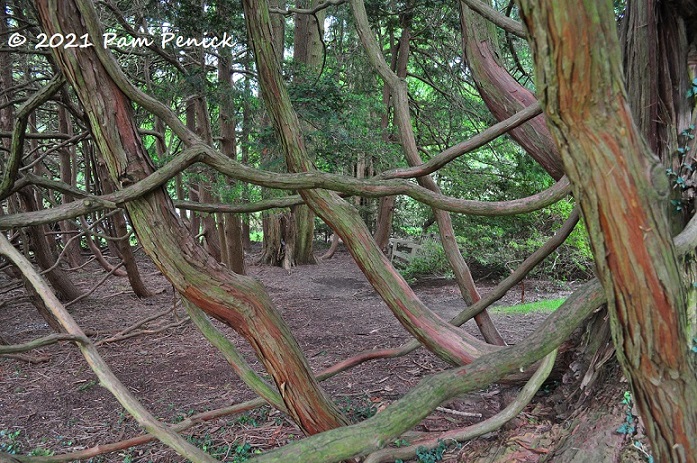 …creating secret rooms beneath the skirts of the trees.
Sycamore Hill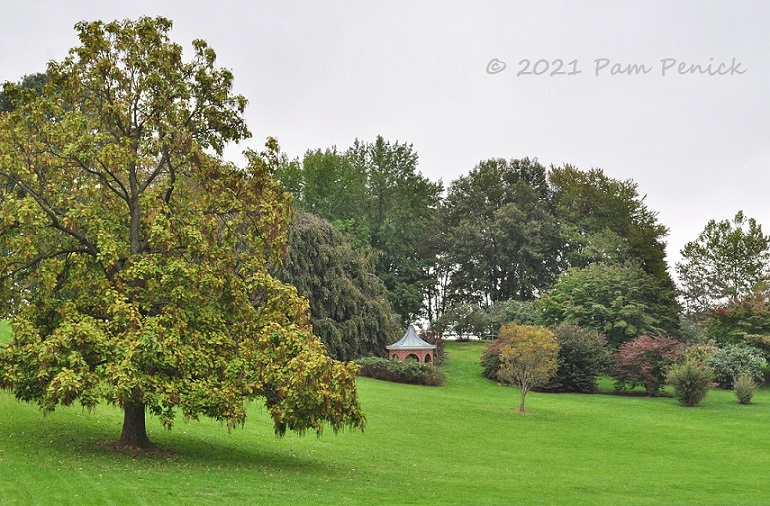 Sycamore Hill came into view as I rounded a bend at the outer edge of the garden. Great trees, a sweeping lawn, a brick pavilion, and large flowering shrubs combine to make a romantic vista.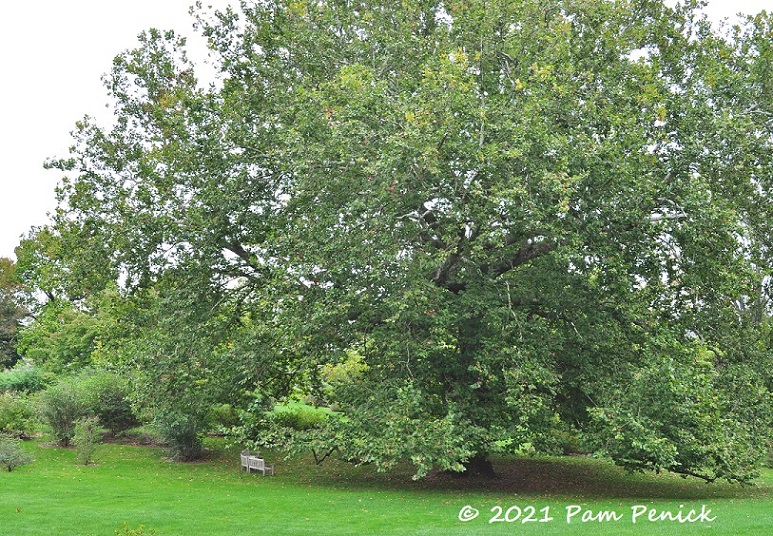 A granddaddy sycamore, as wide as it is tall, sheltered a curved garden bench.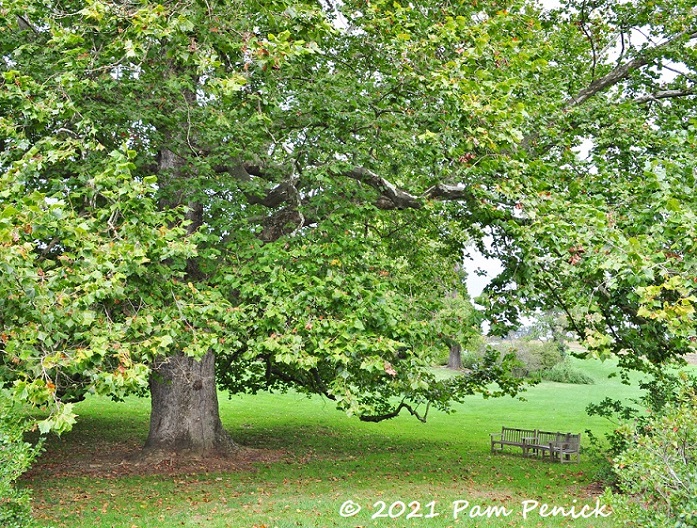 A bench and a grand old tree — maybe that's all you need for a transcendent moment in a garden.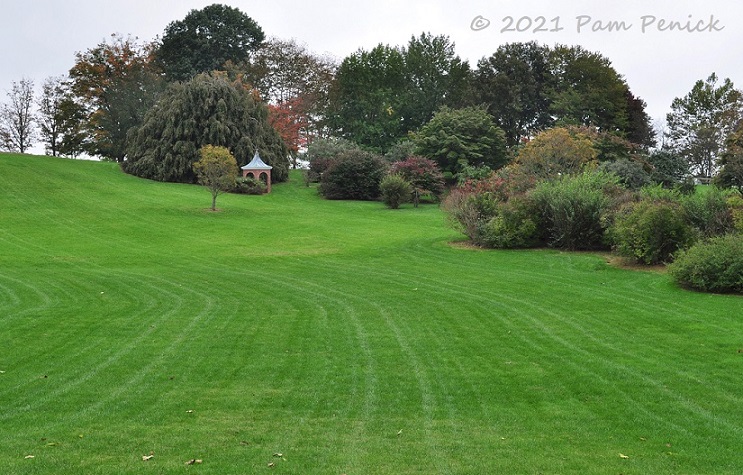 Although the grass was wet, I continued my tramping and high-stepped out to the brick summerhouse.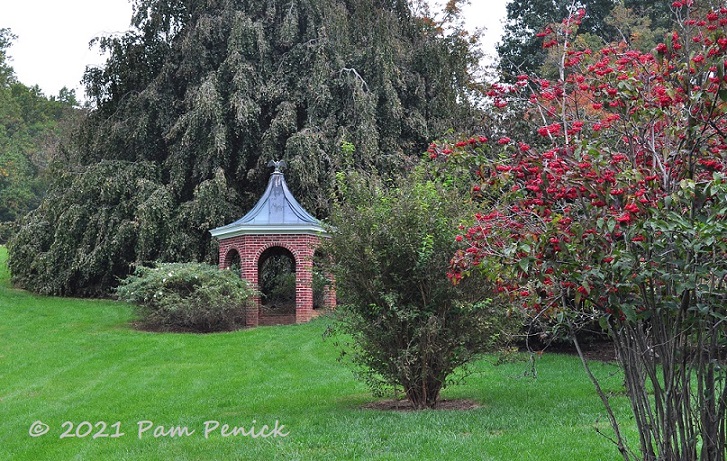 No one else was around — just me and the trees and birds twittering in the shrubbery.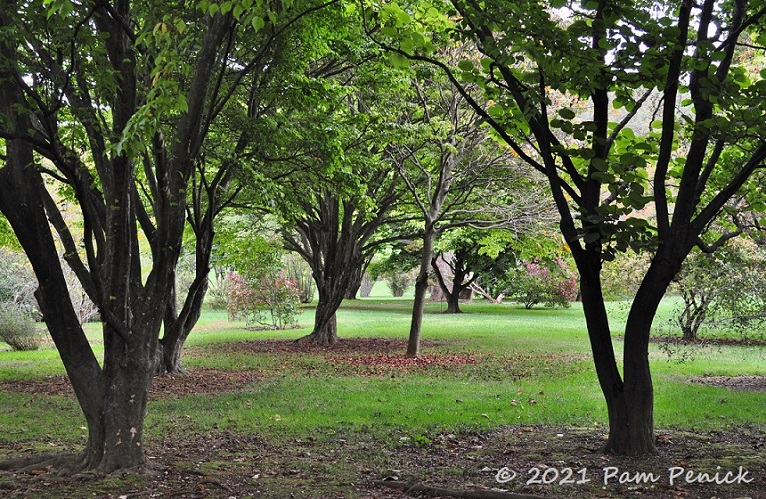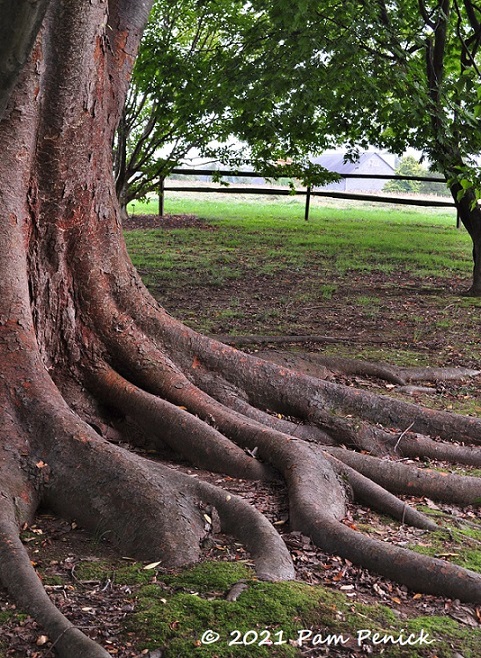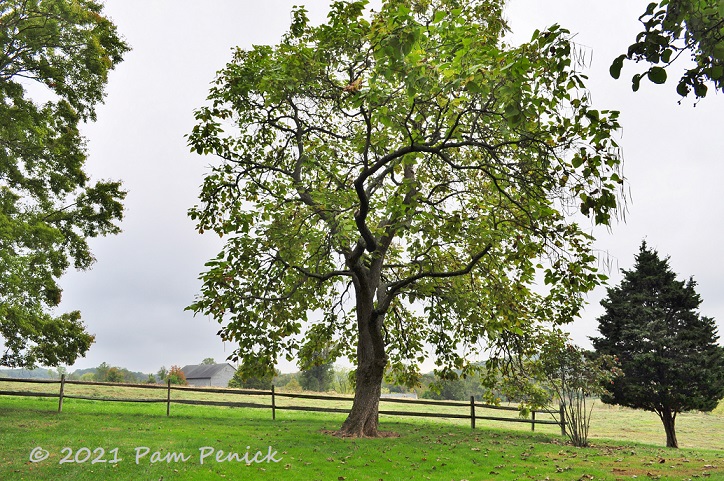 At this time of year, Winterthur's famous displays of spring bulbs and colorful azaleas are quiet, and the blazing colors of fall await brisker days in late October or early November.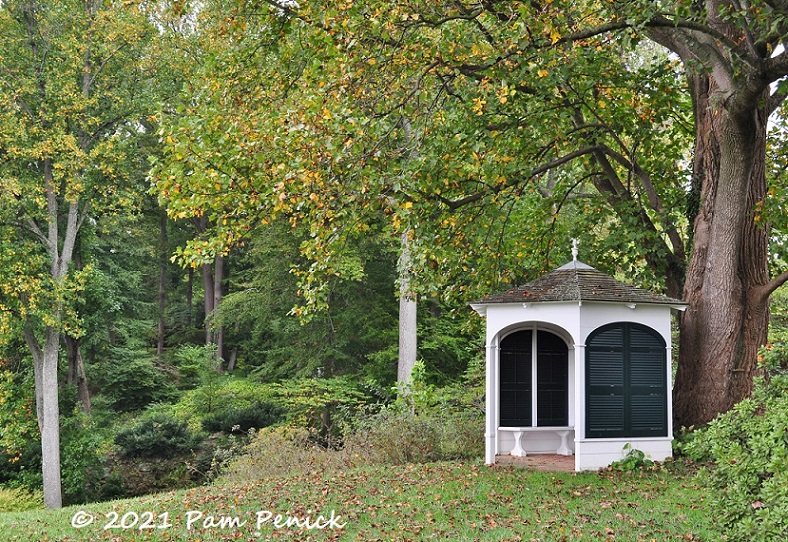 That suits me fine. I love a feeling of solitude in an old garden.
Quarry Garden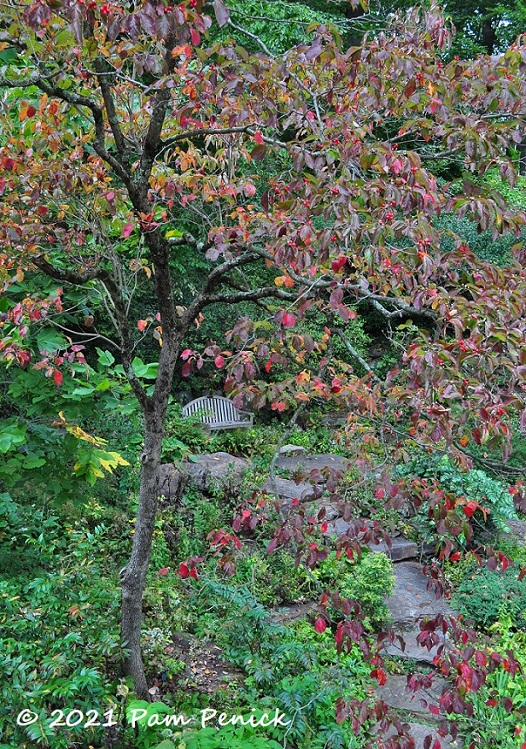 Just beyond Sycamore Hill, rock steps lead down into a hollow.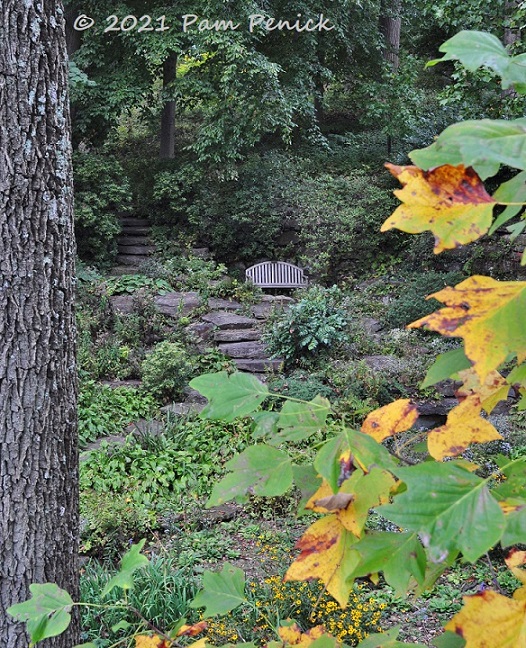 Formerly a rock quarry, this space was transformed into a garden in the 1960s.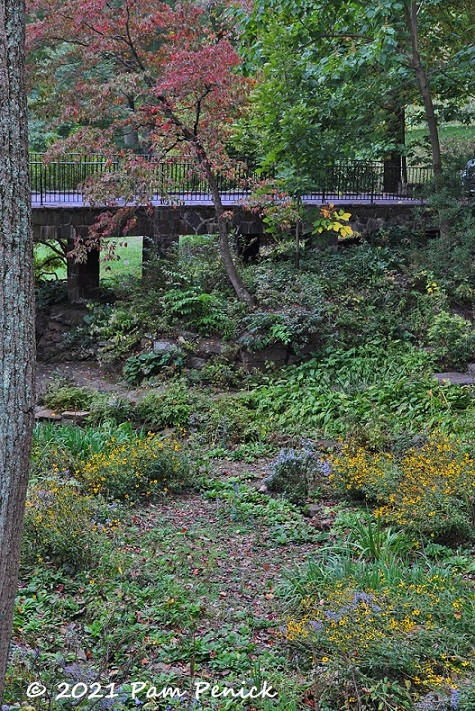 At the bottom, a channel carries water through naturalistic planting beds, where asters and other fall perennials were blooming.
Oak Hill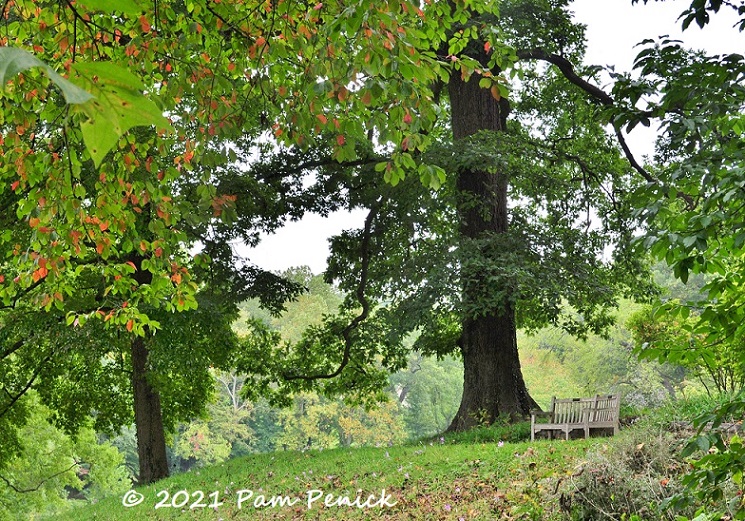 Above, on a hill shaded by venerable oaks, a bench overlooked fields and a large pond.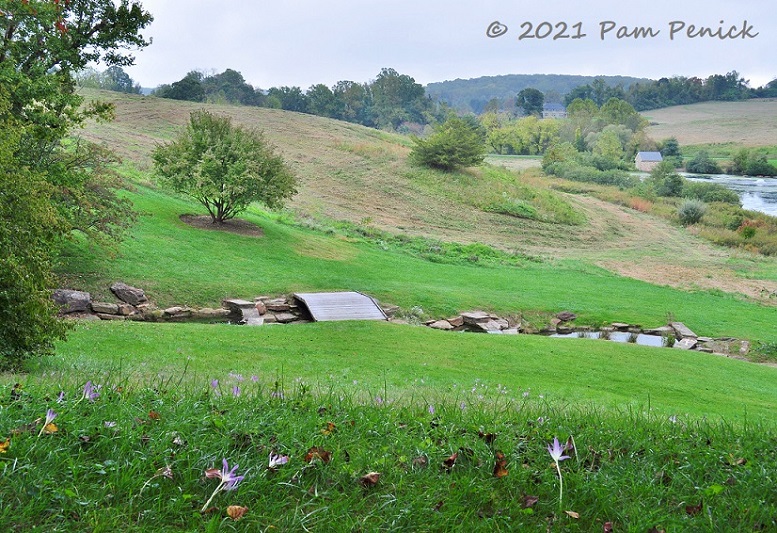 Cochiums leaned soggily in the grass, giving the hillside a faint lavender haze.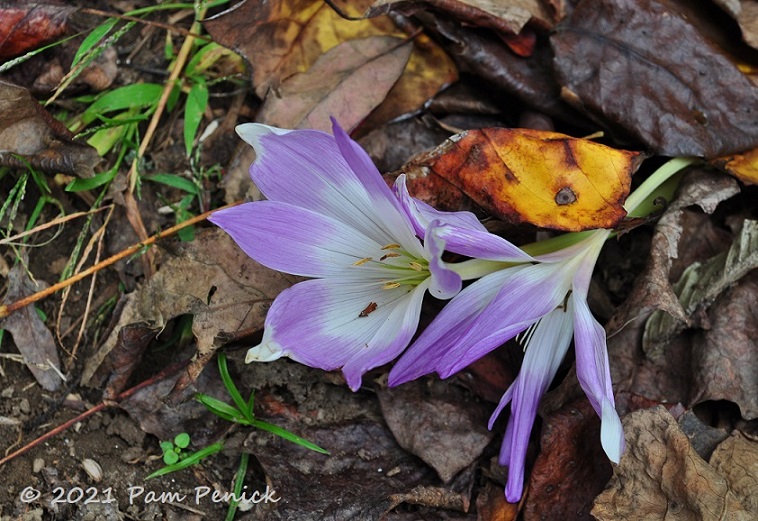 These beautiful little autumn-flowering bulbs are unknown in Austin, or at least I've never seen them. Too hot and dry in Texas, probably.
Sundial Garden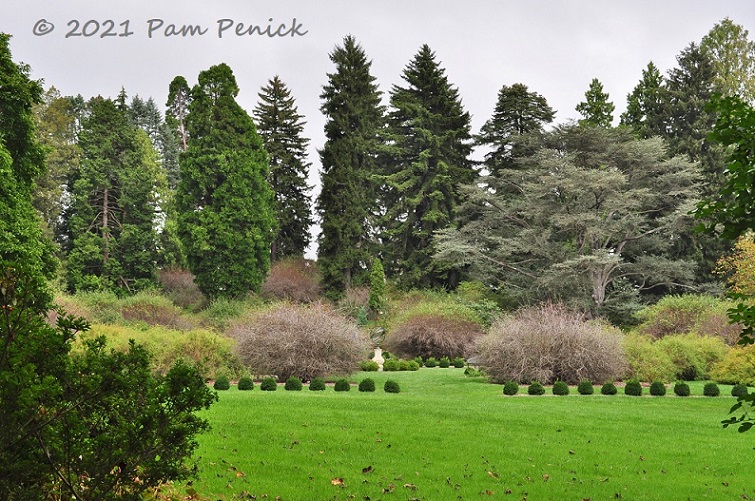 Heading into the inner-loop gardens, I found the formal Sundial Garden. The du Ponts once played tennis here, but in 1955 Henry Francis du Pont asked his friend and landscape architect Marian Coffin to redesign the space as a garden. The dark conifers of the pinetum loom tall on a ridge in the background.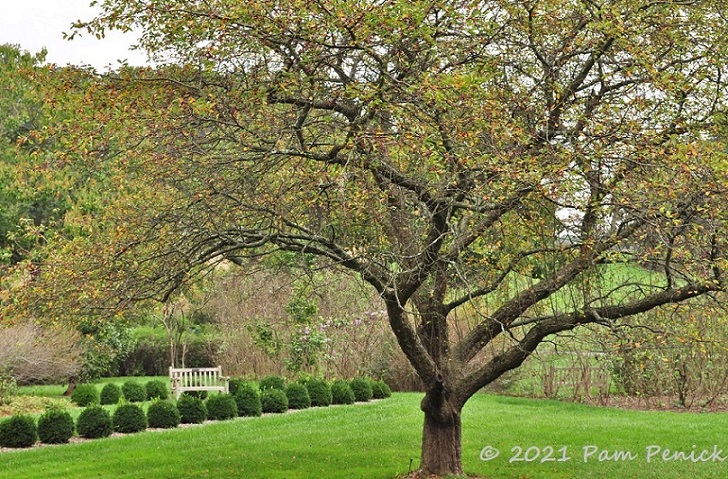 Boxwood balls outline the borders like sewn stitches on a quilt.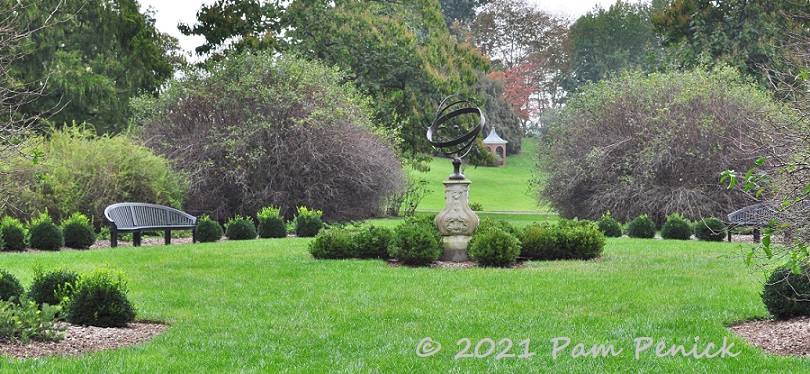 A long axis in the center leads the eye to an armillary sundial and beyond, to the brick summerhouse on Sycamore Hill.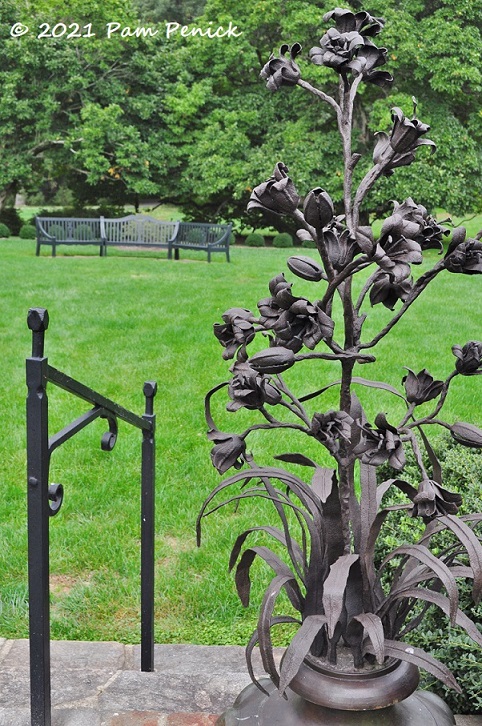 A bronze flowering yucca — or agave? — attracted my notice on some stone steps. A matching one stood on the other side.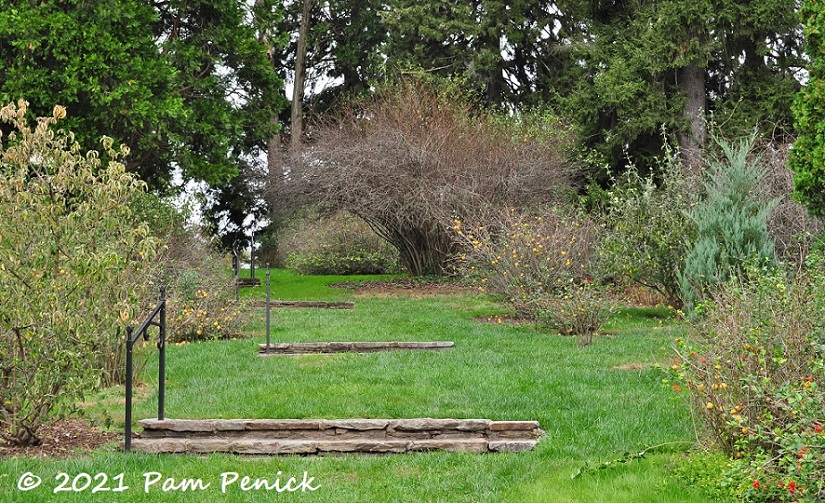 Steps terracing a lawn path lead up to the pinetum. On each side, flowering quince showed off fall fruits.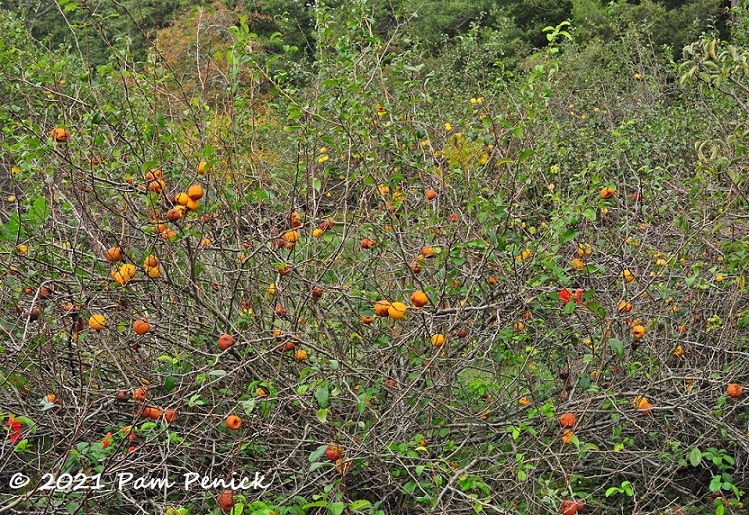 Orange fruit and a few orange-red blossoms hanging on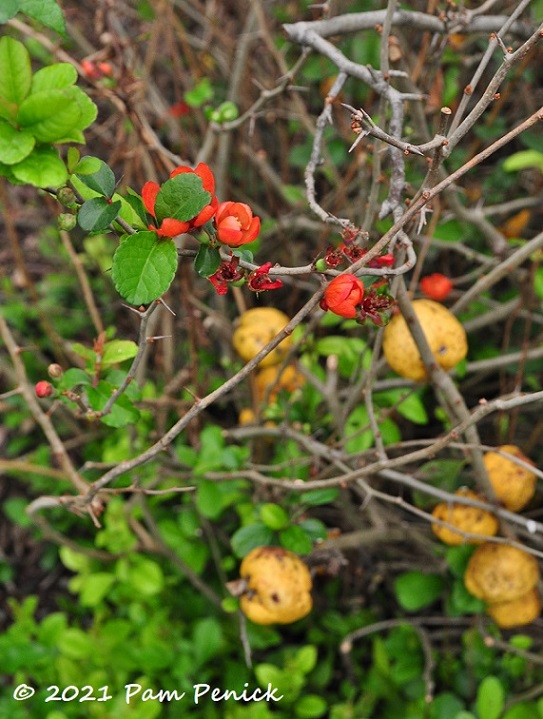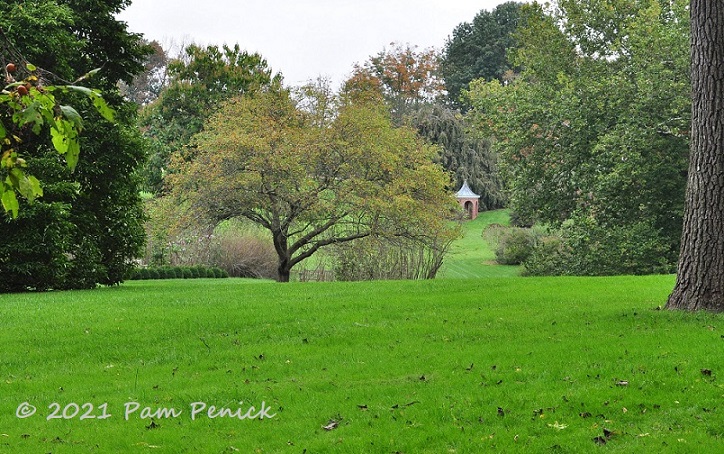 As I headed to the Enchanted Woods, I enjoyed another long view of the brick summerhouse in the distance.
Up next: The Enchanted Woods children's garden and reflecting pool garden at Winterthur. For a look back at James Golden's acclaimed Federal Twist garden in New Jersey, click here.
I welcome your comments. Please scroll to the end of this post to leave one. If you're reading in an email, click here to visit Digging and find the comment box at the end of each post. And hey, did someone forward this email to you, and you want to subscribe? Click here to get Digging delivered directly to your inbox!
_______________________
Digging Deeper
Need design help with your yard? Hire me as your personal garden coach! Maybe you need replacement plant ideas after the big freeze. Or maybe your landscaping has grown tired, and you want fresh curb appeal. Or perhaps you're ready to get rid of some lawn and create a pollinator garden, bird habitat, or hangout space for you and your friends. I'm here to help! Contact me to let me know what's going on, and let's figure it out together. My range is Austin and suburbs within a 25-min. drive of NW Austin, but I'm flexible and can travel farther with a surcharge, so let me know where you are. Weekday morning appts. only.
Attend the John Fairey Garden's annual Budding Out Plant Sale & Festival on Saturday, March 19 in Hempstead. Rare and distinctive plants from the garden's nursery and other vendors will be available, plus art, ceramics, jewelry, food, music, and entertainment for the whole family. Open 10 am to 4 pm. Members get first dibs at the plant sale with 9 am entry (memberships available at the gate). Check the webpage for a continually updated vendor list.
Join the mailing list for Garden Spark! Hungry to learn about garden design from the experts? I'm hosting a series of talks by inspiring garden designers, landscape architects, and authors a few times a year in Austin. Check out the 2021-22 schedule. These are limited-attendance events that sell out quickly, so join the Garden Spark email list to be notified in advance. Simply click this link and ask to be added.
All material © 2022 by Pam Penick for Digging. Unauthorized reproduction prohibited.