February 21, 2022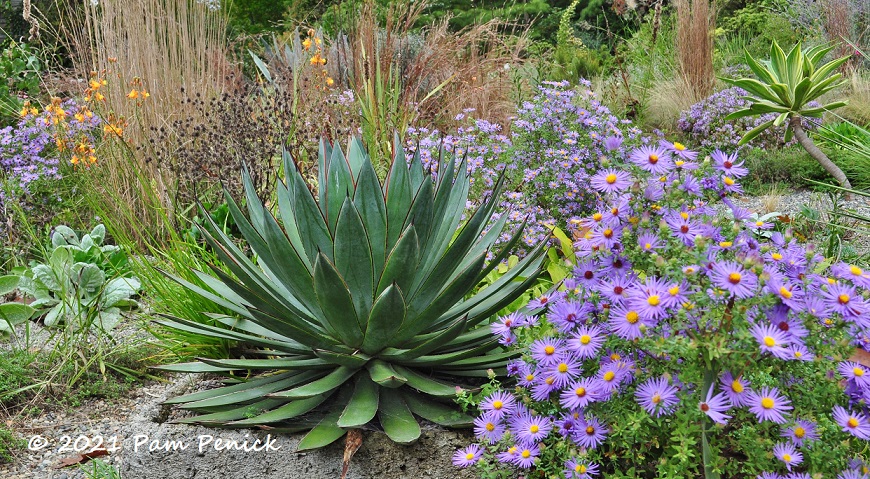 Whether you love plants, exciting planting combos, design and gardening artistry, or overlooks and hideaways to sit and enjoy a beautiful garden, Chanticleer has it all. Located near Philadelphia, Chanticleer dubs itself "a pleasure garden," and it's been my favorite public garden since I first visited in 2008. I returned in 2016 and was bowled over again; check out my 2016 blog posts for the Chanticleer backstory and lots of photos. Naturally I'd reserved tickets for another day-long visit during the Pennsylvania portion of my big road trip last October. And now I've cued up 6 new Chanticleer posts to share with you!
Let's start with the garden that reminds me most of my Texas home — an idealized version, mind you: the Gravel Garden.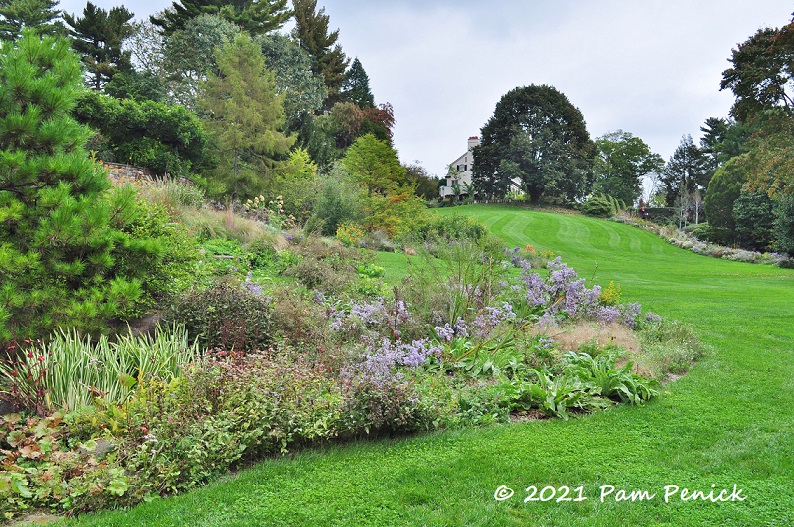 Well, OK — obviously this isn't Texas but the fertile Brandywine Valley. The Gravel Garden sits upslope to the left, encircled on two sides by a broad, curving lawn that acts as a view corridor from the house on the hill down to a pond garden.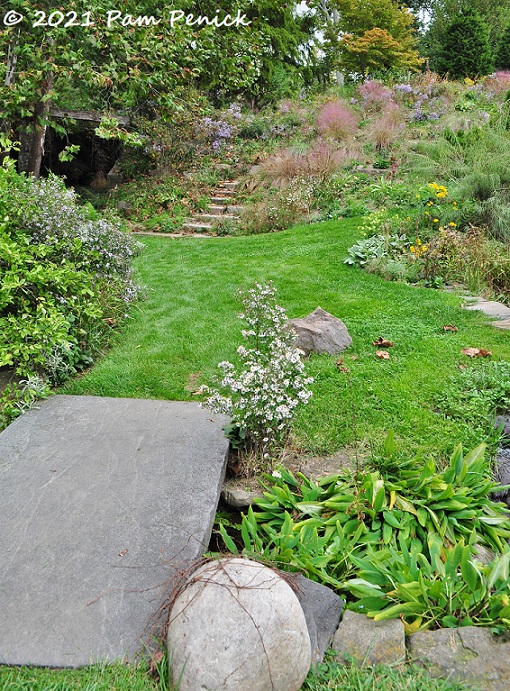 Let's cross the stone bridge and head up the hill, where fluffy, pink-flowering Gulf muhly beckons.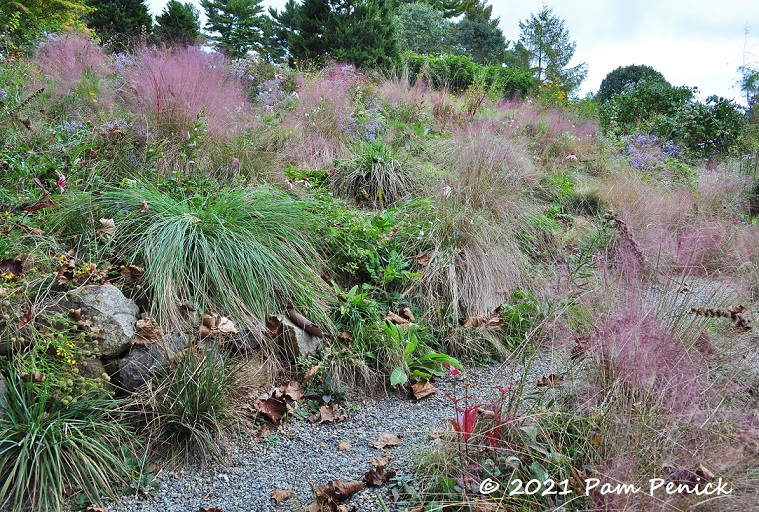 Now this could be Texas, if you ignore the tall conifers in the background.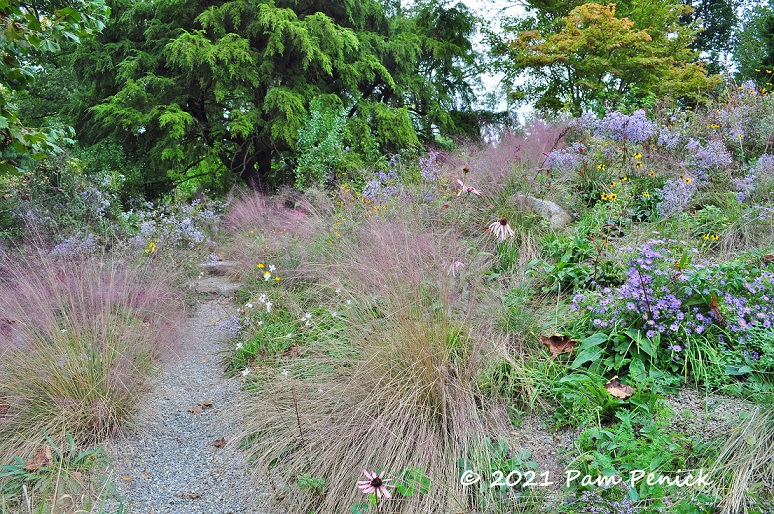 Gulf muhly grass and asters and even purple coneflower — a glorious fall combo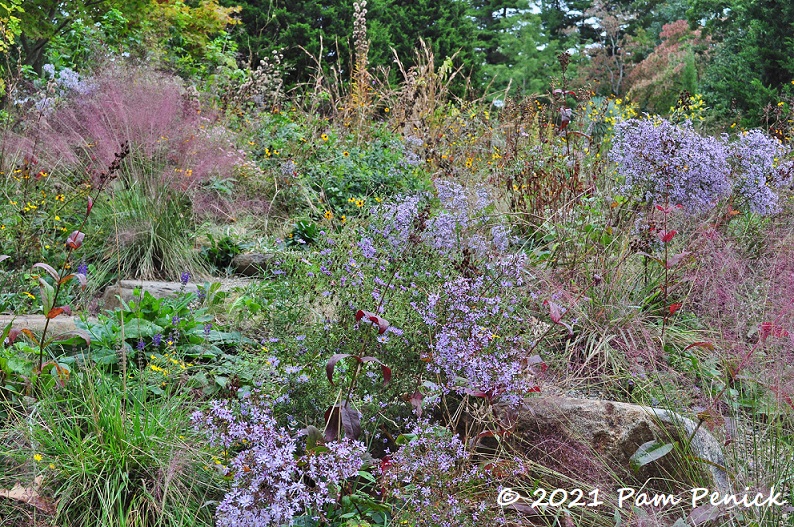 The upslope view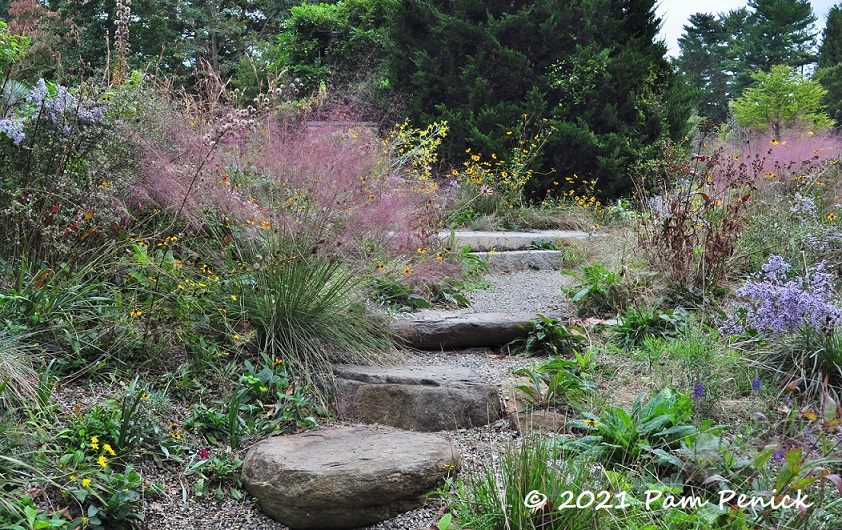 A switchback stone-and-gravel path offers many opportunities to enjoy the view above…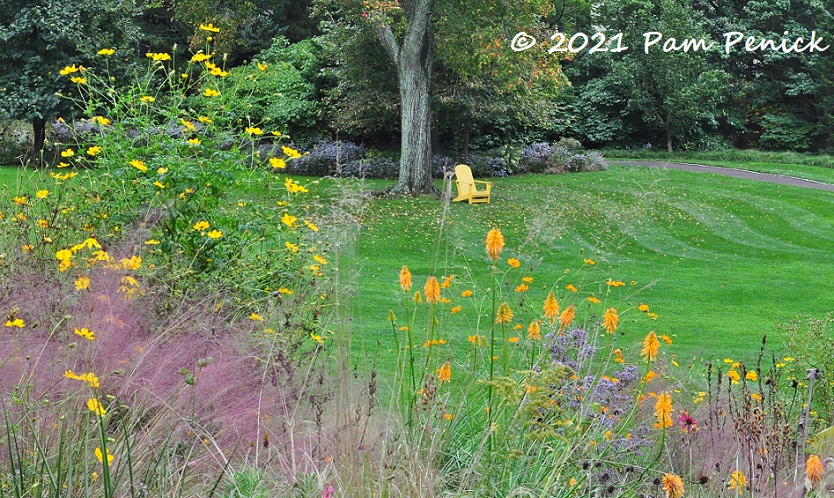 …and below.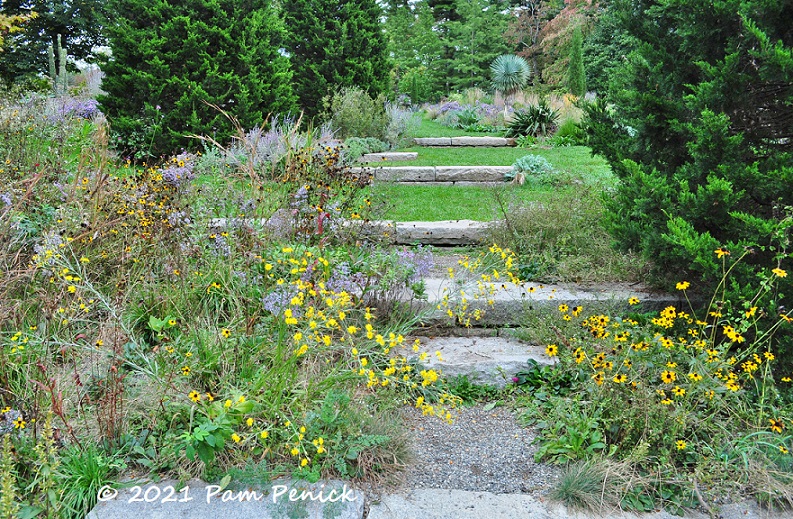 Near the top, stone terracing zigzags across a small lawn. Ahead a shimmering Yucca rostrata — yes, in Pennsylvania — beckons.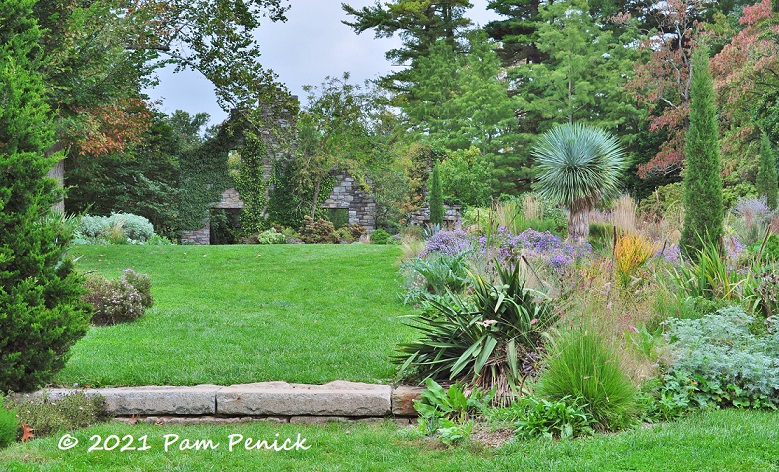 An ivy-cloaked ruin — a fabricated ruin, so more of a folly? — appears at the lawn's end, framed by the garden.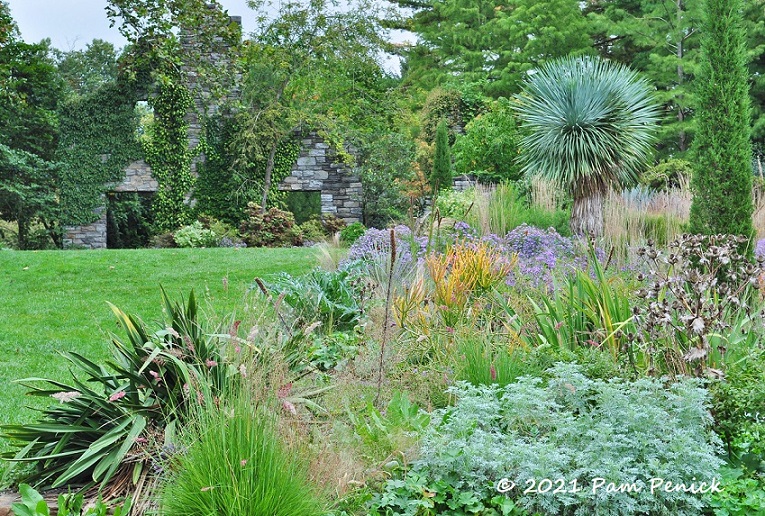 I see plants familiar to Central Texas gardeners: ruby grass, 'Powis Castle' artemisia, eryngium, aster, yucca.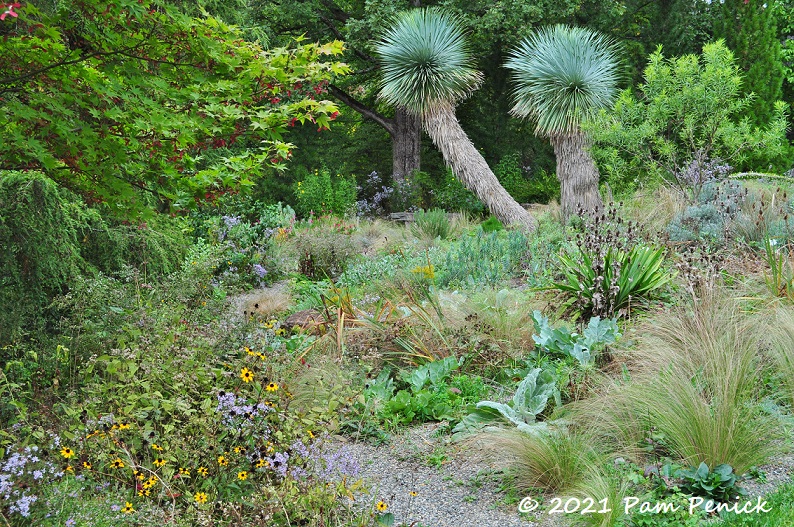 Looking left across the lawn, another bobble-headed cluster of Yucca rostrata makes a surprising focal point. A mix of silvery green and tawny gold plants echoes the color of Austin gardens in the fall.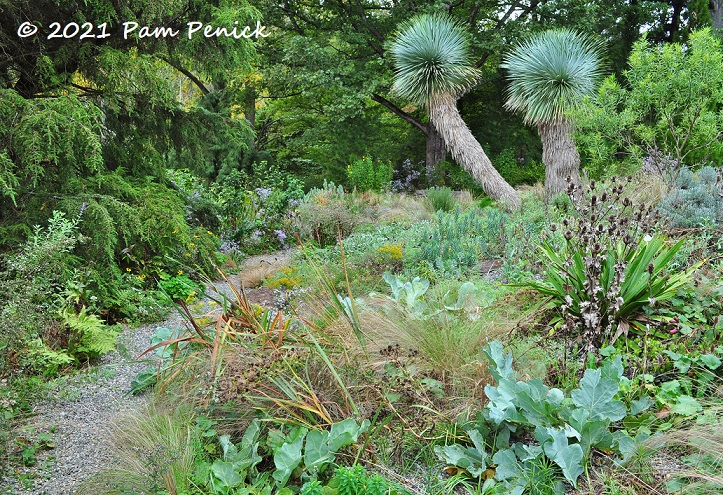 Let's explore a side path.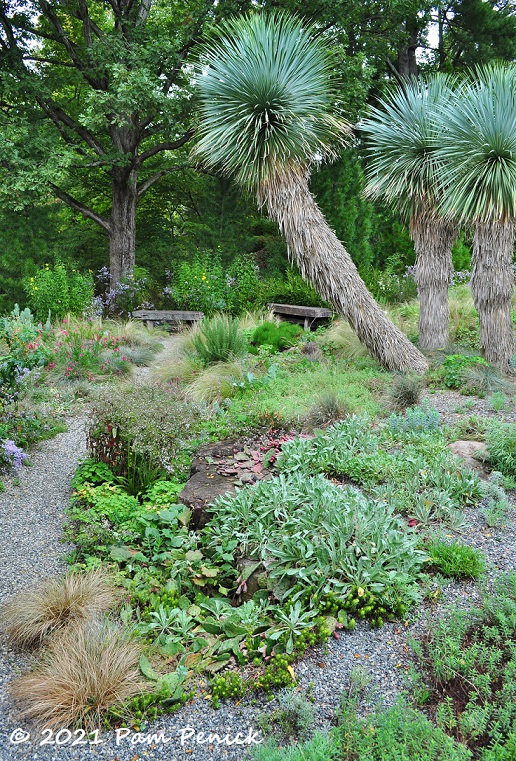 It leads to a semi-secret pair of benches tucked against a green backdrop.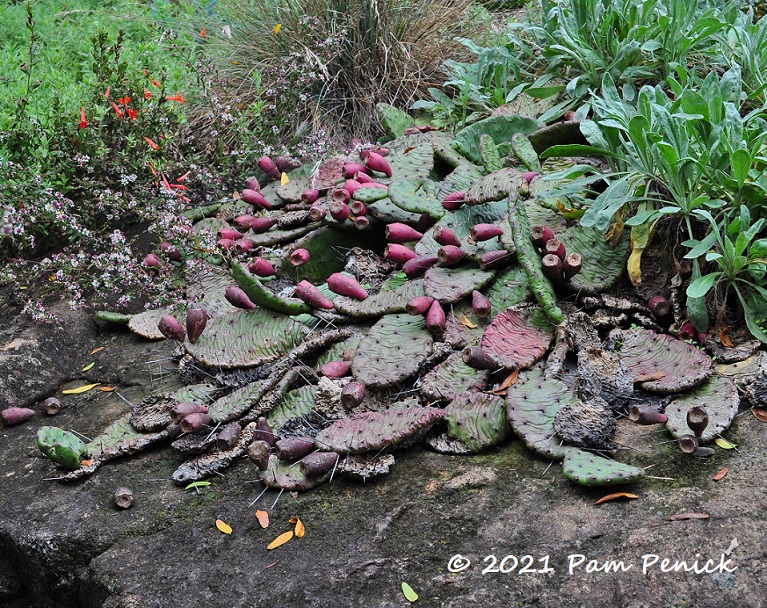 An exhausted prickly pear, still adorned with raspberry-colored tunas (fruit), lies in flattened heap on a large rock. Is this normal fall behavior for prickly pear in Pennsylvania?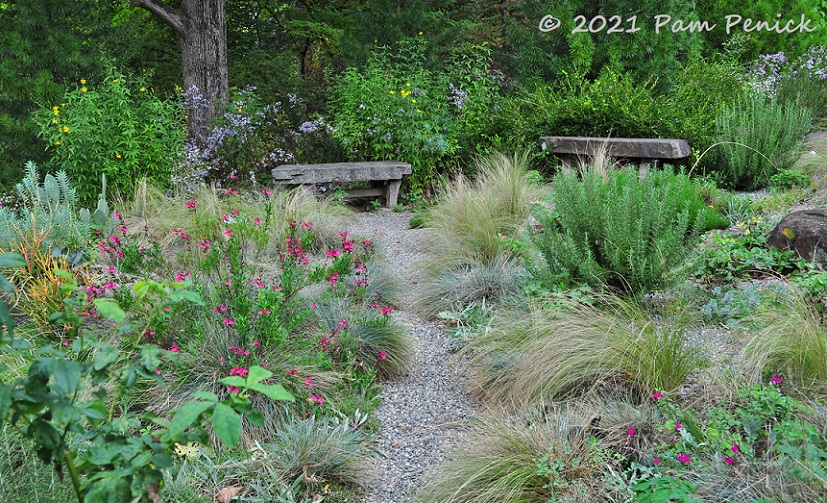 Hot-pink Salvia greggii, arching clumps of Mexican feathergrass, and rosemary bring on the Texas vibes.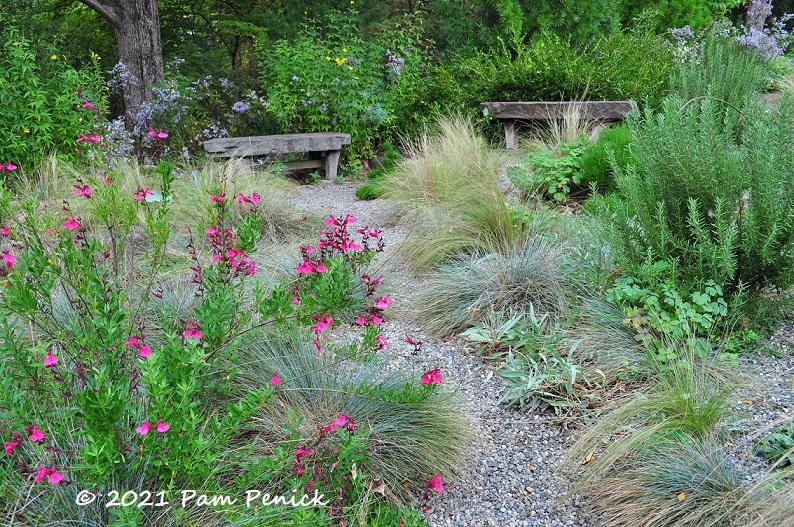 I covet the addition of blue fescue, which I rarely see in Austin.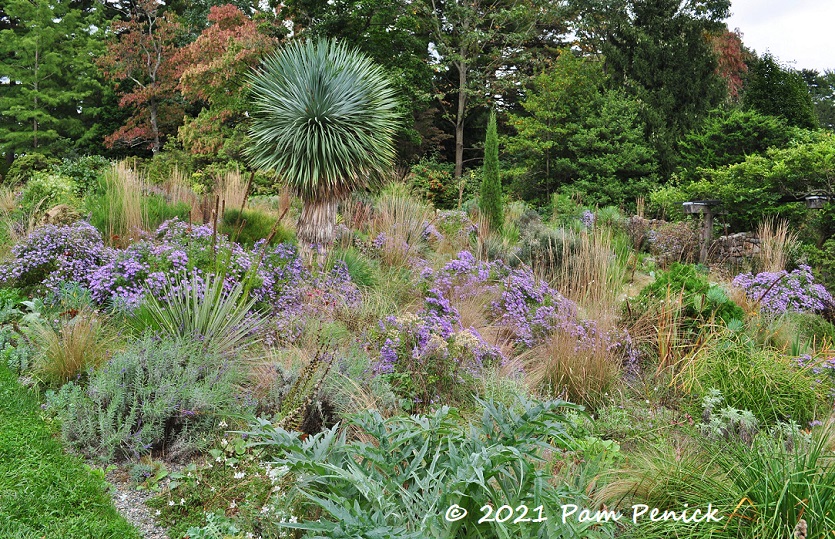 Heading back over to the larger dry garden, I love this scene with asters running like a purple stream through tawny grasses and the silvery blues of yucca and cardoon.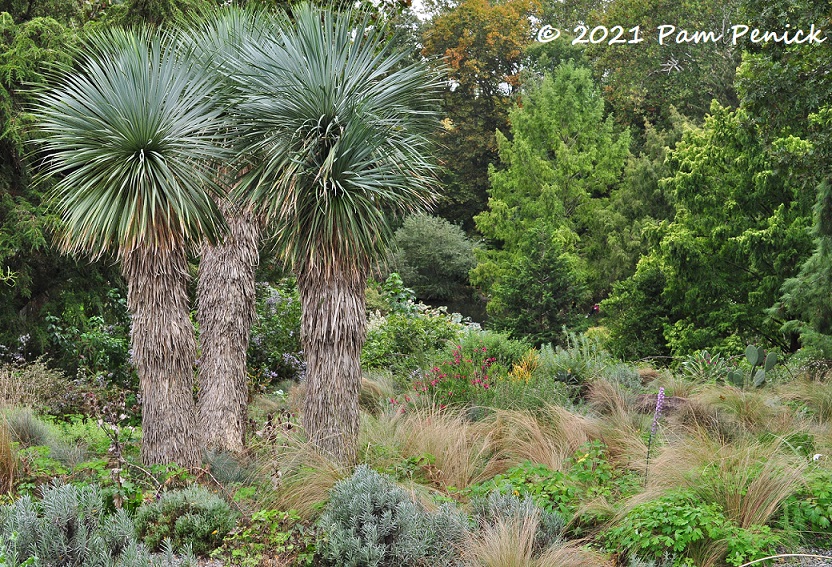 Statuesque Yucca rostrata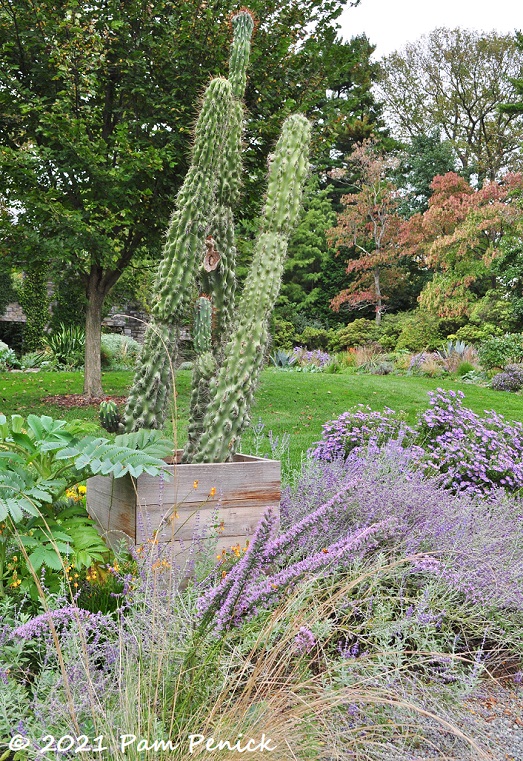 Another striking vertical accent: a boxed cactus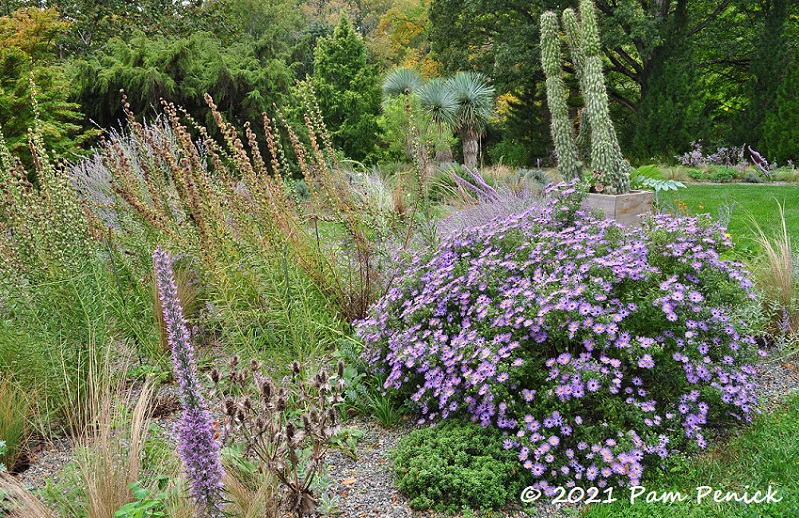 Cactus-echoing vertical flower spikes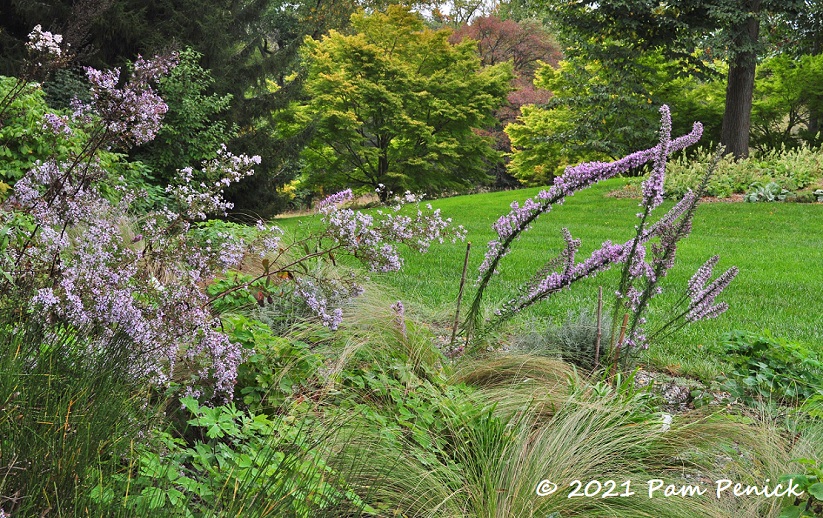 More lovely purples, with trees starting to turn in the background.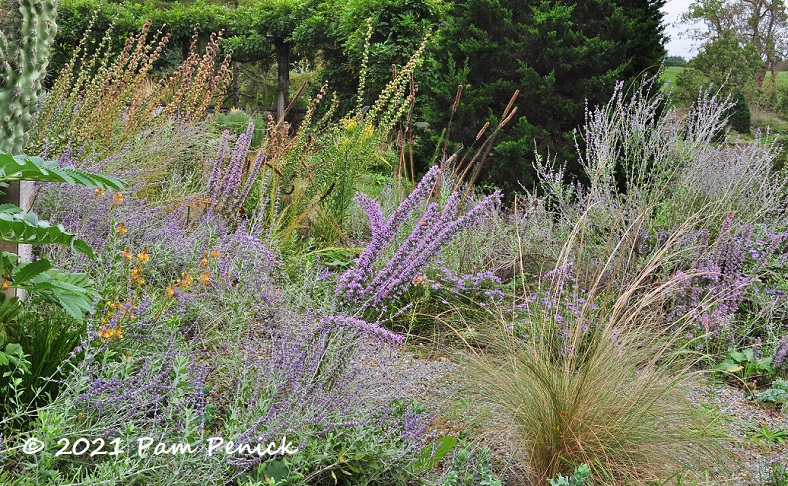 Beautiful texture and color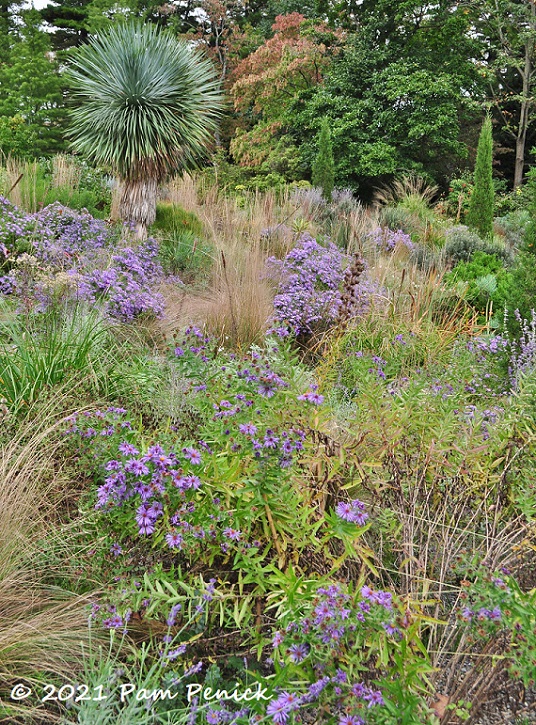 It's a mini-meadow, a pocket prairie.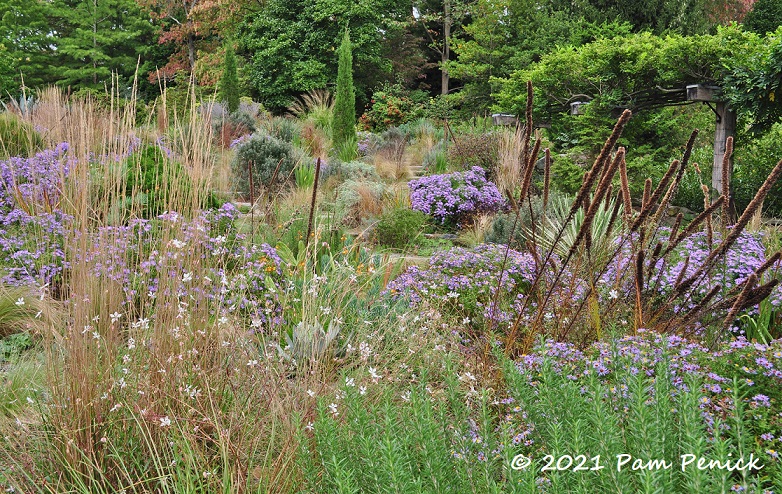 Skinny columnar trees at the back add verticality, as does a vine-covered pergola, a scrim of 'Karl Foerster' grass, and liatris flower spikes gone to seed.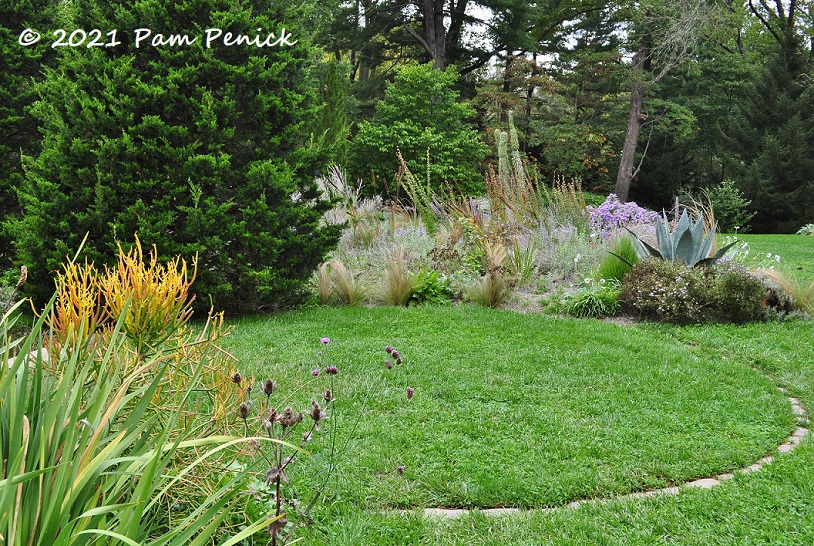 A stone circle inset into the lawn makes a unique landing as you come up the terraced steps (at left) and look ahead to the ruin.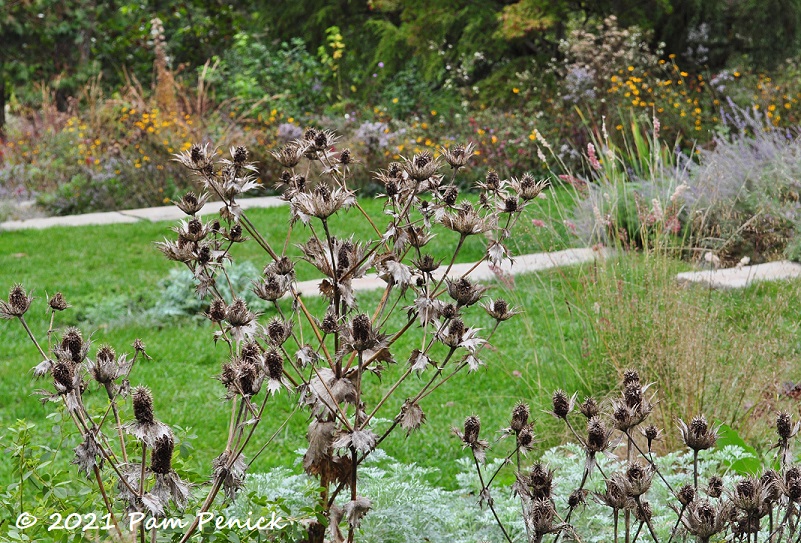 Eryngium gone to seed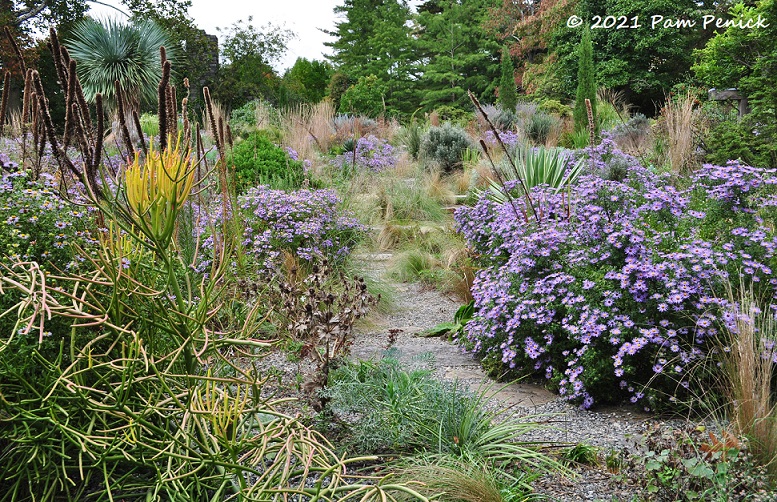 A narrow path winds through this bed, past masses of 'October Skies' asters and the occasional surprise of sticks-on-fire euphorbia.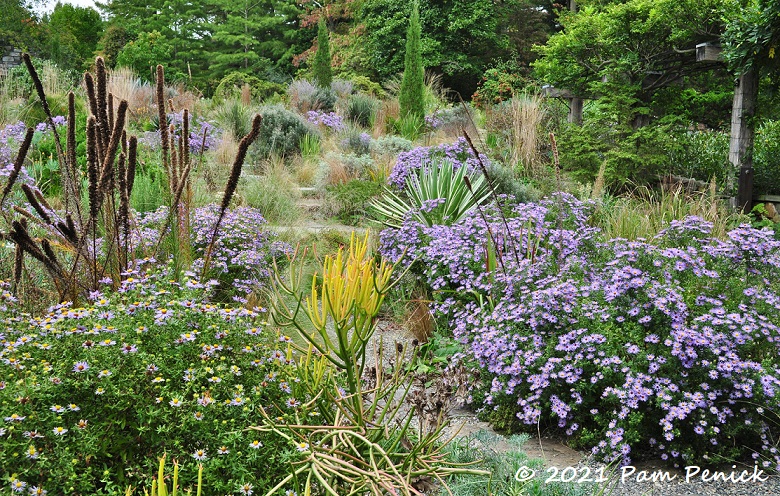 More liatris wands and asters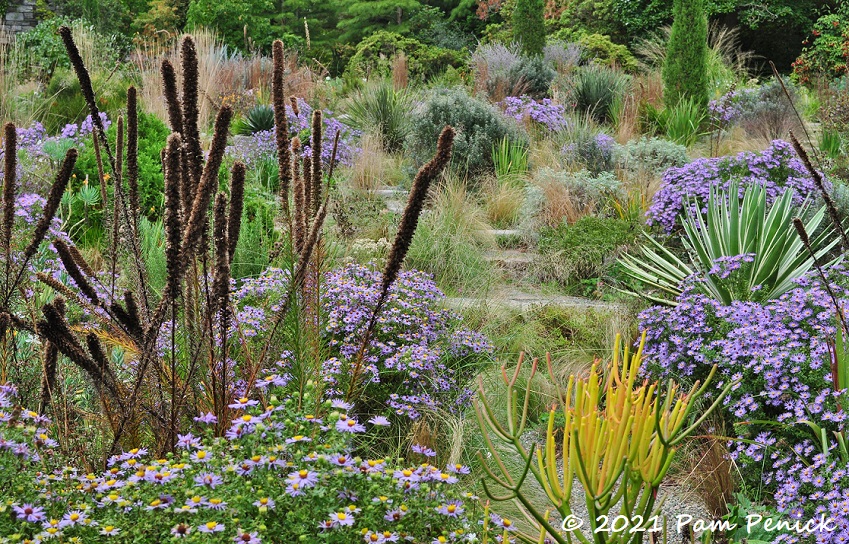 Even after its flowers have faded, liatris adds structure and, yes, color — a toasty, chocolate brown.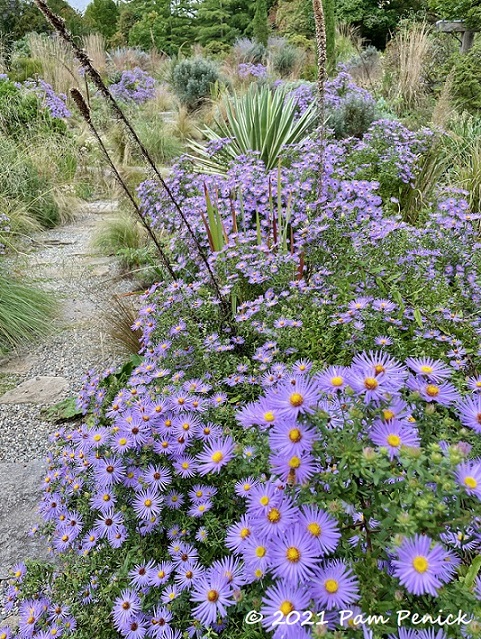 Loads of 'October Skies' asters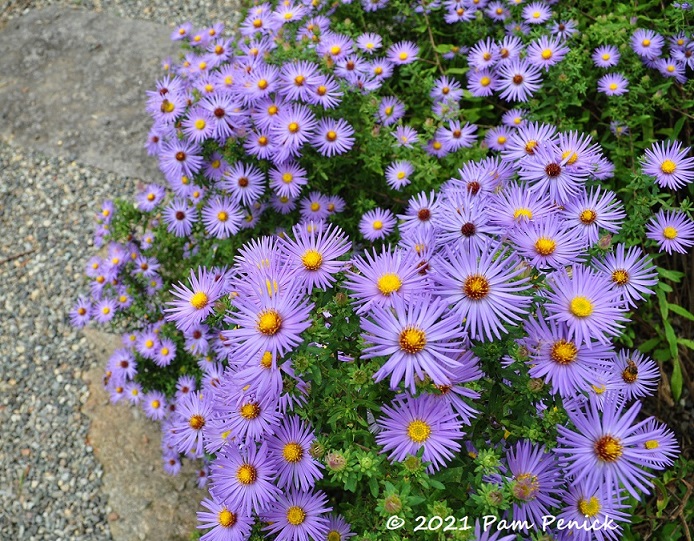 More!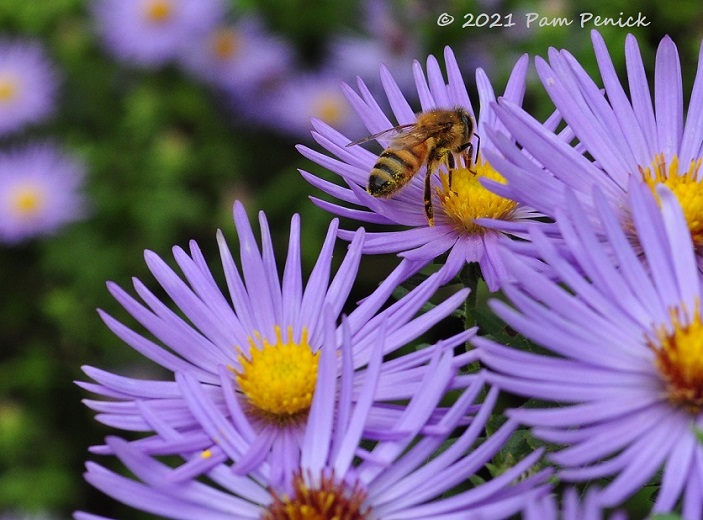 Bees love it too.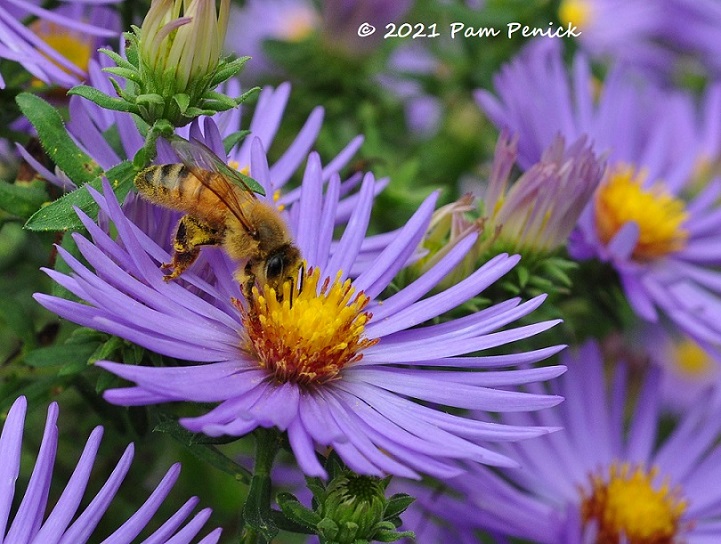 Getting after it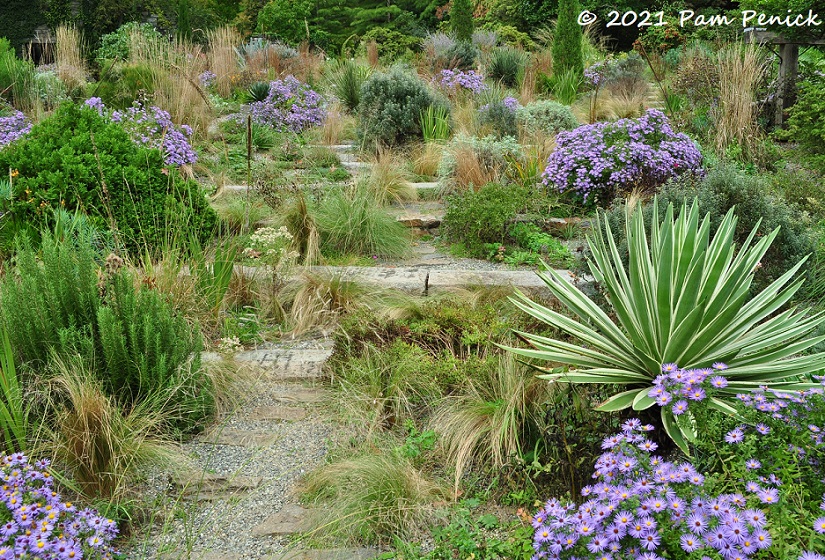 A variegated yucca — or agave? — adds spherical form.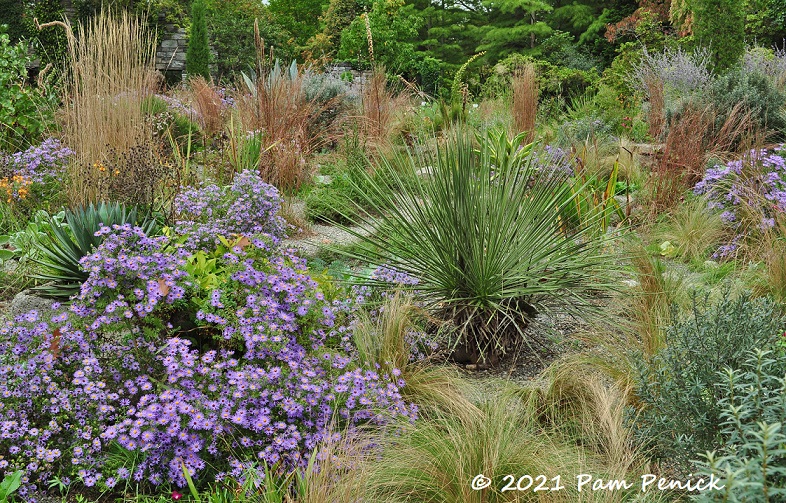 And what is this strappy plant — a dasylirion?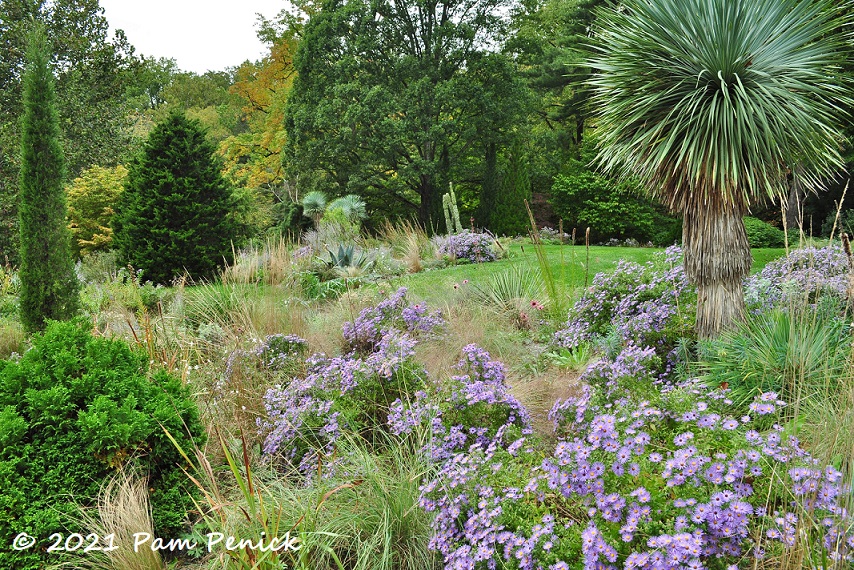 I wandered in this beautiful space, soaking it all in.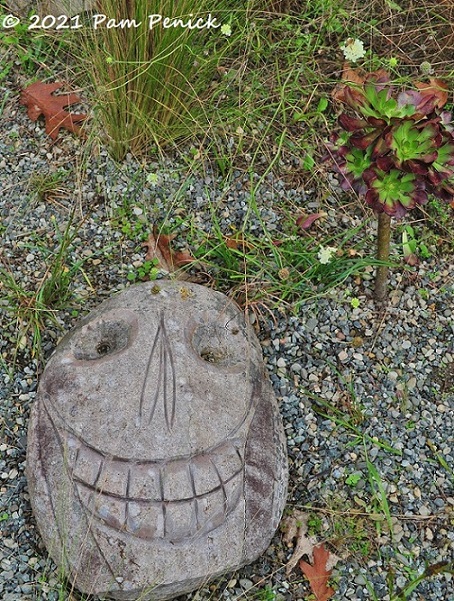 Someone else is looking pretty happy here too. I believe this is a Marcia Donahue stone carving.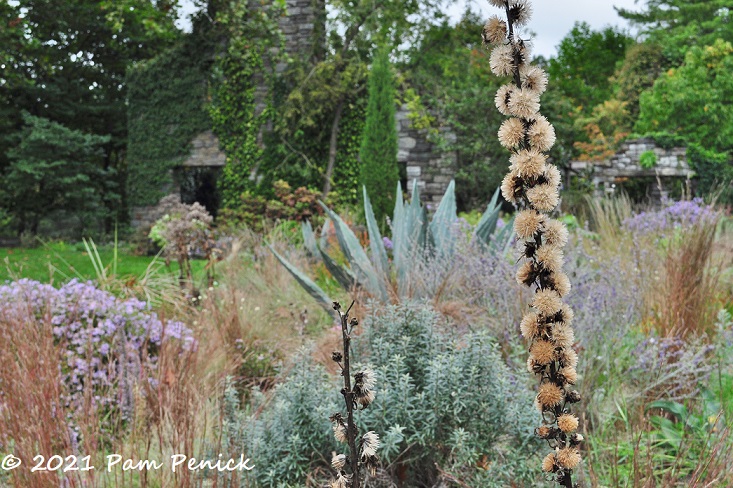 This garden makes me appreciate the silver-green and rusty-brown Texas color palette even more.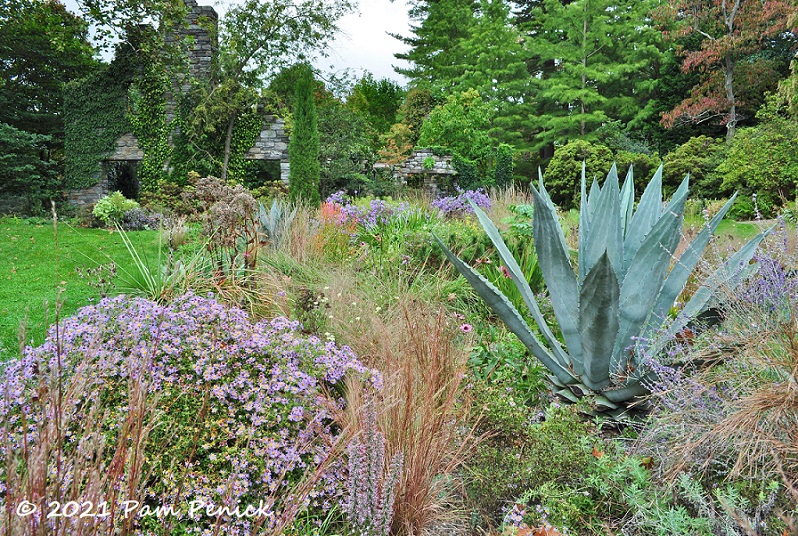 A few medium-sized American agaves add muscular form amid the wispy grasses and mounding asters.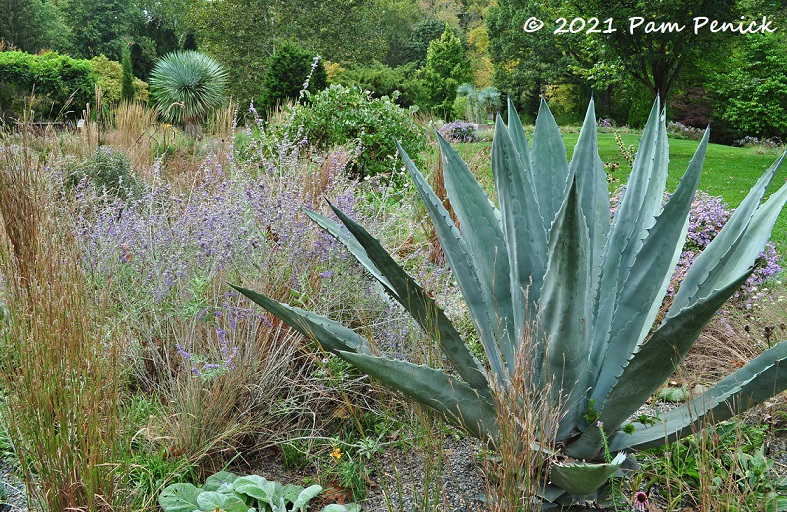 I assume these are dug up before winter and stashed in a greenhouse until spring.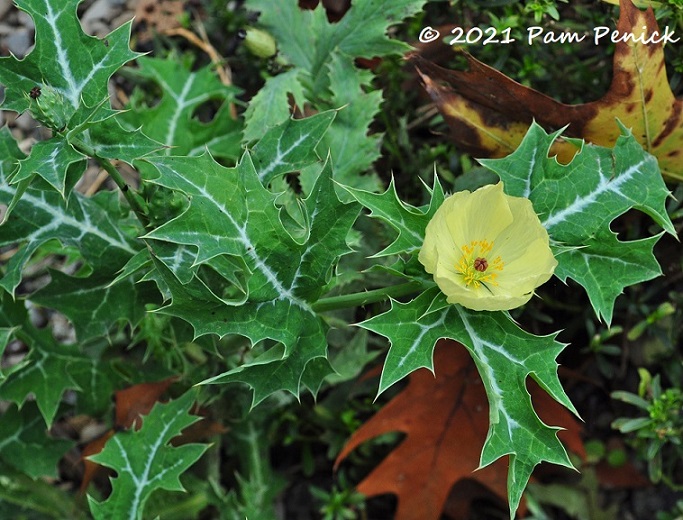 A pretty plant with holly-like leaves and mallow-like flower — some sort of mahonia?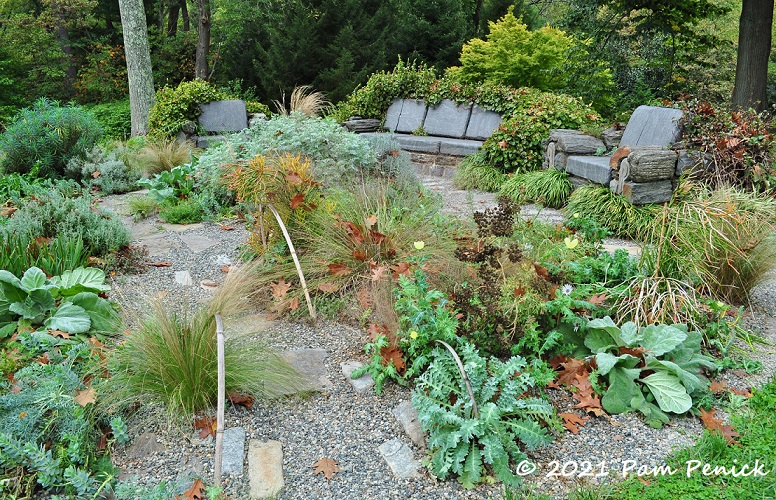 Just outside the ruin, an entire living room set of furniture made of stone is becoming one with the encroaching garden. This surprising and witty scene always makes me smile.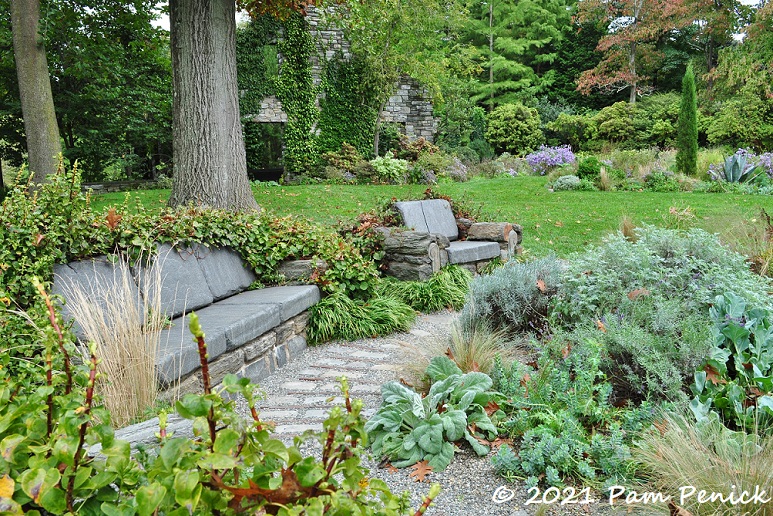 The stone cushions are actually pretty comfortable.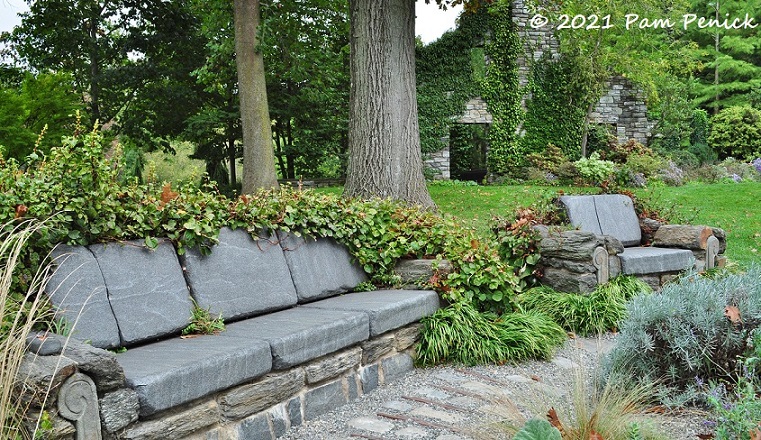 A stone TV remote even perches on the sofa arm!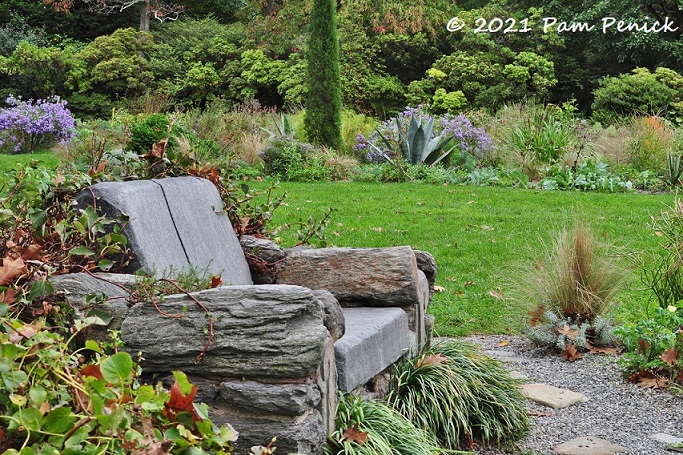 But who could dream of watching television when this view surrounds you?
Up next: The mystical, mournful Ruin garden at Chanticleer. For a look back at Paxson Hill Farm's remarkable garden, Part 3, click here.
I welcome your comments. Please scroll to the end of this post to leave one. If you're reading in an email, click here to visit Digging and find the comment box at the end of each post. And hey, did someone forward this email to you, and you want to subscribe? Click here to get Digging delivered directly to your inbox!
_______________________
Digging Deeper
Need design help with your yard? Hire me as your personal garden coach! Maybe you need replacement plant ideas after the big freeze. Or maybe your landscaping has grown tired, and you want fresh curb appeal. Or perhaps you're ready to get rid of some lawn and create a pollinator garden, bird habitat, or hangout space for you and your friends. I'm here to help! Contact me to let me know what's going on, and let's figure it out together. My range is Austin and suburbs within a 25-min. drive of NW Austin, but I'm flexible and can travel farther with a surcharge, so let me know where you are. Weekday morning appts. only.
Attend the John Fairey Garden's annual Budding Out Plant Sale & Festival on Saturday, March 19 in Hempstead. Rare and distinctive plants from the garden's nursery and other vendors will be available, plus art, ceramics, jewelry, food, music, and entertainment for the whole family. Open 10 am to 4 pm. Members get first dibs at the plant sale with 9 am entry (memberships available at the gate). Check the webpage for a continually updated vendor list.
Join the mailing list for Garden Spark! Hungry to learn about garden design from the experts? I'm hosting a series of talks by inspiring garden designers, landscape architects, and authors a few times a year in Austin. Check out the 2021-22 schedule. These are limited-attendance events that sell out quickly, so join the Garden Spark email list to be notified in advance. Simply click this link and ask to be added.
All material © 2022 by Pam Penick for Digging. Unauthorized reproduction prohibited.