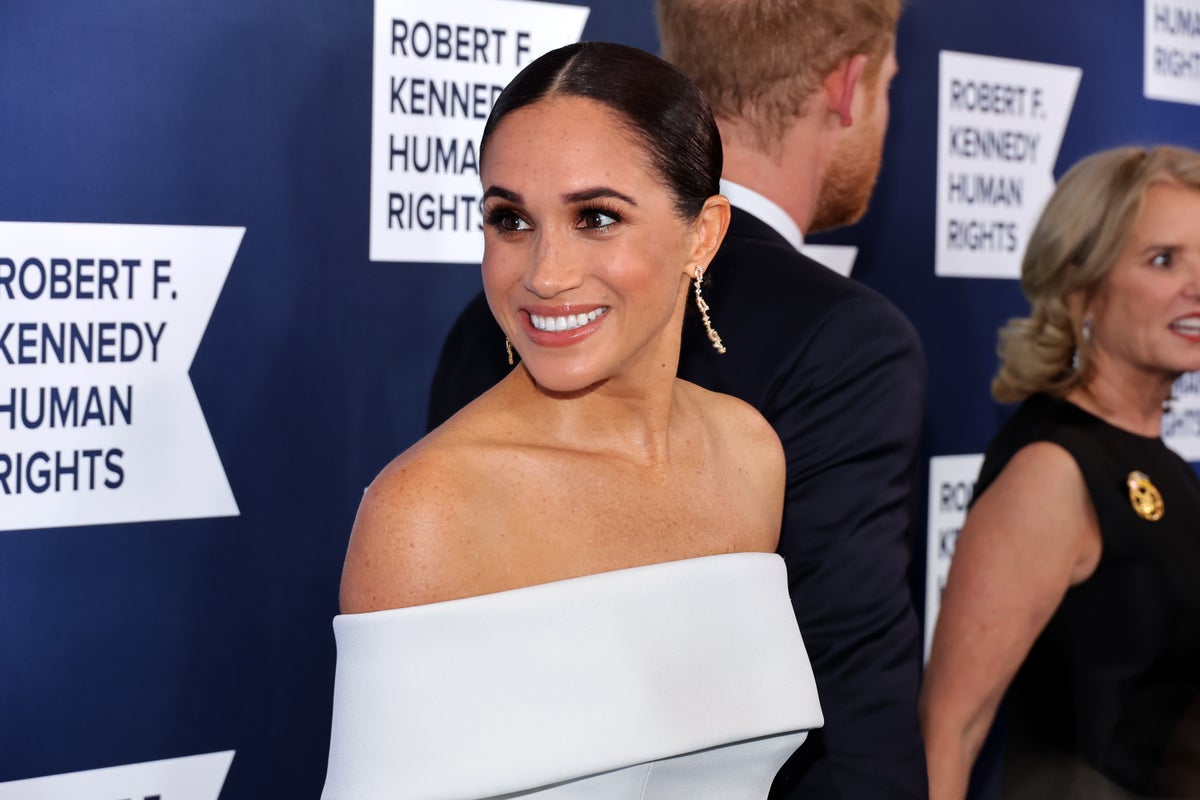 Harry & Meghan new trailer
The Duke and Duchess of Sussex have joked about enjoying a "date night" while accepting an award at the Robert F Kennedy Ripple of Hope Award gala on Tuesday night.
Prince Harry and Meghan Markle, who travelled to New York City via private jet from their home in California on Monday, were honoured at the Manhattan gala alongside Ukrainian President Volodymyr Zelensky and late NBA star Bill Russell for their work "to protect and advance equity, justice, and human rights".
For the occasion, Meghan echoed Princess Kate's Boston look with a custom white off-the-shoulder dress by Nicolas Ghesquière for Louis Vuitton, with Prince Harry joking on stage that he thought the couple were "just going on a date night".
The royal couple's trip comes just days before the first instalment of their highly anticipated Netflix documentary Harry & Meghan will be released, with the first three episodes to be released on Thursday 8 December. Three additional episodes will be released on Thursday 15 December.
Follow along with the latest updates about Meghan and Harry's trip to New York City below.
1670434027
The first three episodes of the couple's Netflix series will air tomorrow, more than two years after the Sussexes signed a deal with the streaming platform.
You can find everything you need to know about the series below.
Chelsea Ritschel7 December 2022 17:27
1670432108
The trailer for the duke and duchess' Netflix series has been described as "misleading" after certain clips and photos were identified as being from events that did not pertain to Meghan and Harry.
One such example is the inclusion of footage of members of the press awaiting TV star Katie Price arriving outside Crawley Magistrates Court, where the former model was handed a 16-month suspended sentence for driving under the influence.
Chelsea Ritschel7 December 2022 16:55
1670428807
Piers Morgan claims he's being 'exploited' by Harry and Meghan documentary
Piers Morgan has claimed that he is being "exploited" by the forthcoming Netflix documentary Harry & Meghan. Morgan's voice can be heard in the first trailer for Harry & Meghanwhich dropped on Monday (5 December).
In it, he can be heard saying that Markle is "becoming a royal rock star".
Louis Chilton reports on what Morgan had to say:
Kate Ng7 December 2022 16:00
1670428471
While speaking on stage on Tuesday night during the Ripple of Hope awards, Prince Harry jokingly revealed that he'd assumed he and Meghan were just going on a "date night".
"I actually thought we were just going on a date night, so I find it quite weird that we're sharing the room with 1,500 people," the Duke of Sussex said to laughter from the crowd.
Chelsea Ritschel7 December 2022 15:54
1670427007
OP-ED: No matter what they do, Harry and Meghan will always be 'wrong'
Victoria Richards writes that "the Prince Harry and Meghan Markle furore is reaching peak circus".
In her op-ed, The Independent's Voices Editor says: "It isn't Harry and Meghan's fault. They're damned if they do… well, anything; and damned if they don't. It is a game they cannot win."
Kate Ng7 December 2022 15:30
1670425207
Who is in line for the British throne?
Ahead of the Sussexes' explosive documentary, Furvah Shah has everything you need to know about the line of succession to the throne:
Kate Ng7 December 2022 15:00
1670422507
Royal family to unite at carol concert on day of Harry & Meghan series finale
Senior members of the royal family will come together for the Princess of Wales's carol concert on the day that Netflix airs the final episode of the Duke and Duchess of Sussex's forthcoming docuseries, Harry & Meghan.
Kate Ng7 December 2022 14:15
1670421394
Who is Liz Garbus, director behind Harry and Meghan's Netflix documentary?
Liz Garbus, the Oscar-nominated director behind the Duke and Duchess of Sussex's Netflix docuseries, is known for her critically acclaimed exposes and documenting the stories of "survivors".
Raised in New York by a civil rights lawyer father, her career has spanned almost 25 years, covering documentaries, true crime and high-end drama.
Her notable titles include The Farm: Angola, USA; Bobby Fischer Against The World; Love; Marilyn; and The Fourth Estate.
Garbus is also co-founder and co-director of New York City-based documentary film production company, Story Syndicate.
Her films have been nominated for multiple awards, including the 2002 Sundance Film Festival documentary Grand Jury Prize, a Directors Guild Of America award and several Emmys.
She was also twice nominated for the Academy Award for best documentary feature – first in 1999 for Farm: Angola, USAand more recently in 2016 for What Happened, Miss Simone?about the troubled life of jazz singer Nina Simone.
Garbus also directed the series four finale of dystopian drama The Handmaid's Talein which June, played by Elisabeth Moss, orchestrated the murder of her former abuser, Commander Fred Waterford.
Kate Ng7 December 2022 13:56
1670418007
Princess Kate wears tiara and scarlet gown ahead of Harry and Meghan's Netflix documentary
The Princess of Wales donned a sequinned red evening gown and the Lotus Flower Tiara as the royal family welcomed diplomats to Buckingham Palace while the wait for the Duke and Duchess of Sussex's Netflix docuseries intensified.
Kate joined the Prince of Wales, the King and the Queen Consort for the first Diplomatic Corps reception in three years as they greeted hundreds of guests at the glittering affair in London on Tuesday evening (6 December).
Read the full report here:
Kate Ng7 December 2022 13:00
1670416554
Harry and Meghan talk about bringing down 'walls of oppression' at Ripple of Hope Awards
The Duke and Duchess of Sussex gave a speech at the Ripple of Hope Awards, in which they praised the late Robert F Kennedy.
Prince Harry told the audience as the couple accepted the award: "As we all face a complete and challenging time in the world, we choose the path of optimism of care for each other and our communities.
"We understand this honour, not about the culmination of a life's work, but instead and in many ways for us, a beginning."
He added: "Bobby Kennedy said, 'Each time a man stands up for an ideal or acts to improve the lot of others or strikes out against injustice, he sends forth a tiny ripple of hope'."
Meghan continued: "The enduring dream of Robert F Kennedy of a just and peaceful world is so much more than a simple hope. It's a direct ask, a specific challenge, a call to action, a test of individual courage and collective spirit.
"And his appeal to humanity is as relevant today as it was in 1966 when he stood before the University of Cape Town, a place we've visited and hold close to our hearts. And he delivered a vision for the common good of society.
"He also said those ripples build a current which can sweep down the mightiest walls of oppression and resistance."
Kate Ng7 December 2022 12:35