June 27, 2021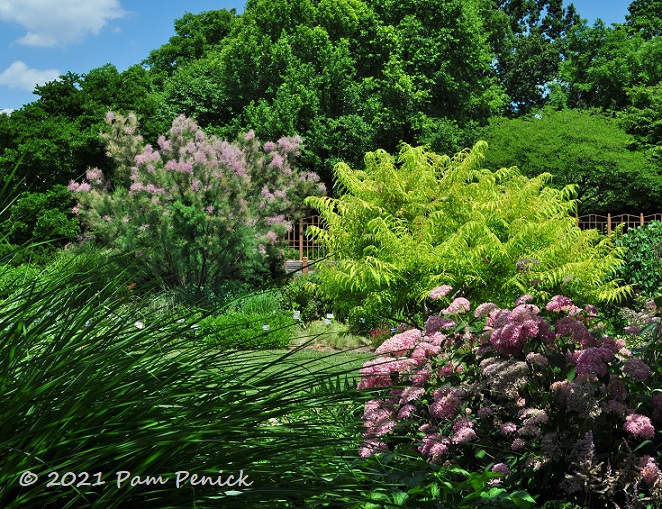 Visiting Missouri Botanical Garden (MOBOT) earlier this month for the first time, I expected to breeze through the Center for Home Gardening and get on to more interesting parts of the garden. Instead I found myself poking around this space for close to an hour. I was happy to be surprised!
Kemper Center for Home Gardening
What did I expect? Oh, a lackluster example or two of a home-style landscape: a lawn bordered by locally appropriate shrubs, some perennials, and colorful bedding annuals, with a few vegetable garden beds on the side. Lots of signage and not enough plants. Too much open space.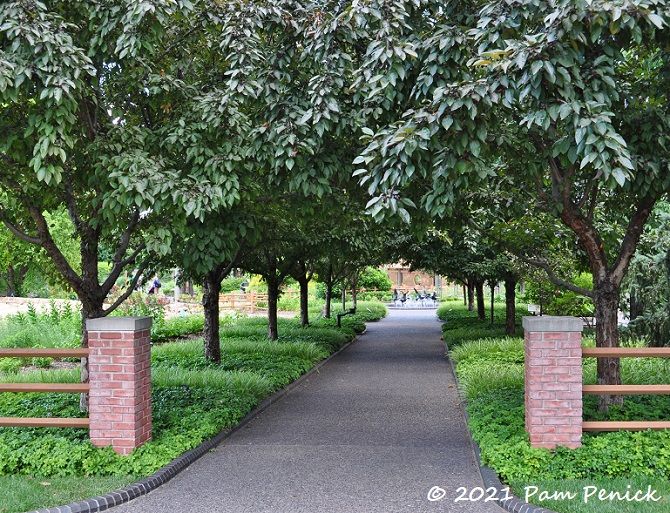 But the Kemper Center includes some dramatic design moments, like this entrance through a crabapple allée (imagine this in spring bloom), leading the visitor to…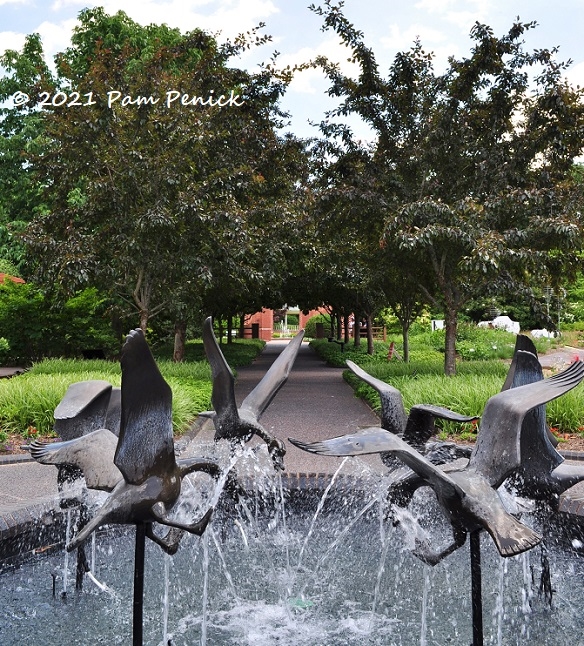 …a humorous fountain of splashing geese.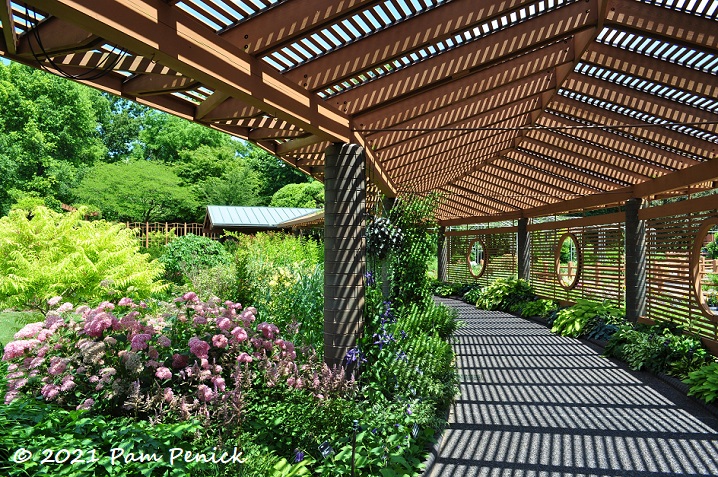 And then you find yourself walking under a curving, lath-roofed pergola, which offers much-needed shade on a hot day and creates beautifully patterned shadows. Lath screens on one side are inset with oval windows for views of other garden spaces.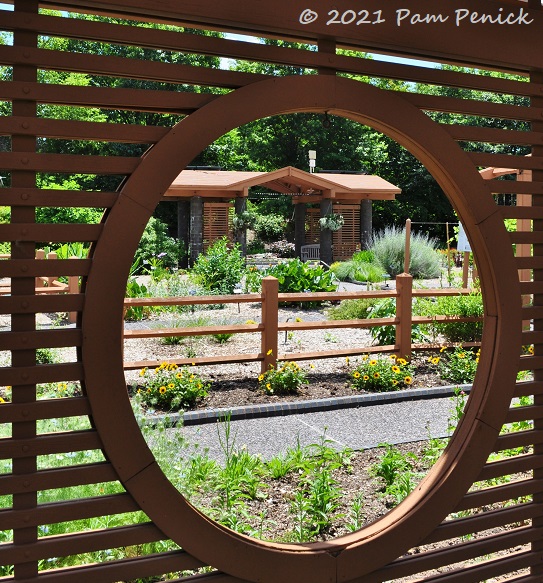 OK, this view is just so-so, but perhaps it's in transition between spring and summer.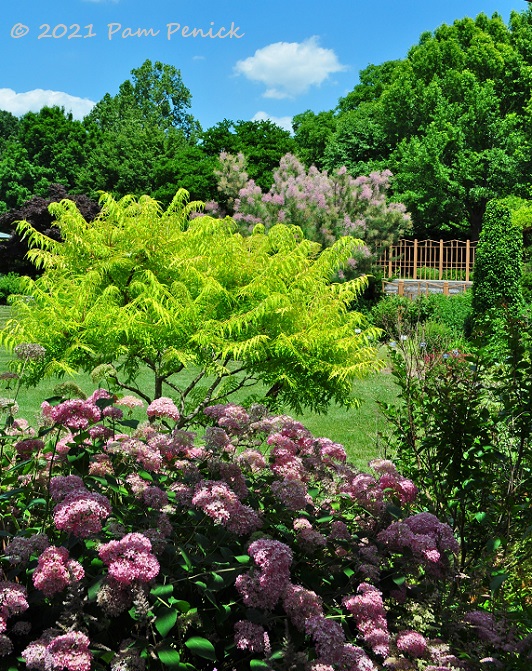 The garden view on the other side, however, is stunning, with color echoes and wonderful textures and lots of interesting plants. Later I traipsed across the lawn to get the ID of the pink-flowering tree pictured in the background of this photo. It's a tamarisk or saltcedar (Tamarix ramosissima), which unfortunately is designated as a noxious weed in many U.S. states, including Texas and the Midwest. Do not plant, clearly — in which case, why is it featured in a home-gardening demonstration garden? However, it is undeniably beautiful.
Overall the Kemper Center contains 8-1/2 acres of residential display gardens, 23 demonstration gardens, and an 8,000-square-foot pavilion. While the pavilion was closed due to covid precautions during our visit, normally it's open and staffed with master gardeners and other volunteers available to answer gardening questions — a welcome supplement to MOBOT's excellent Plant Finder database (click for the link under Gardening Help).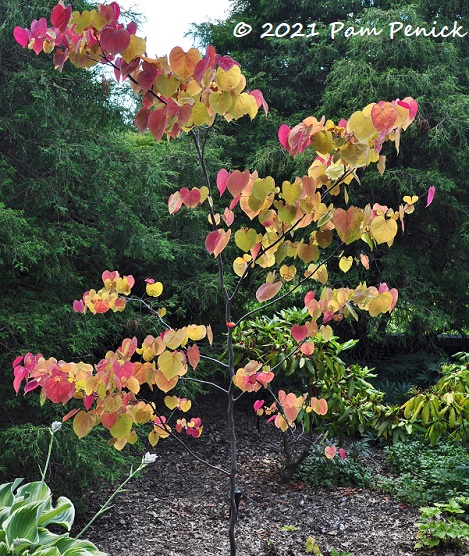 A Flame Thrower redbud — a new-to-me variety with sunset-hued leaves — caught my eye as we headed out.
Origami sculpture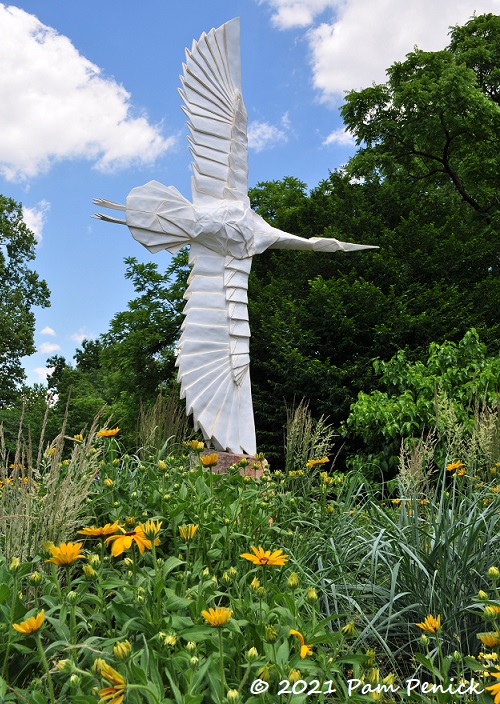 Santa Fe artists Jennifer and Kevin Box are displaying their wonderful origami sculptures in an exhibition called Origami in the Garden. This soaring crane stands in the center of a raised bed of native prairie grasses and wildflowers.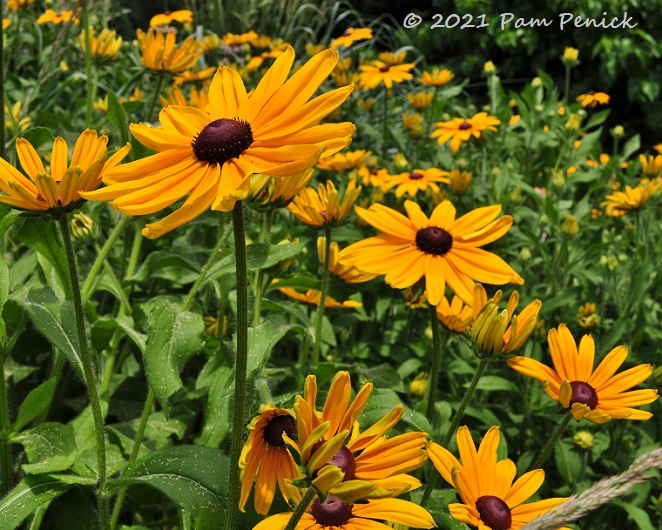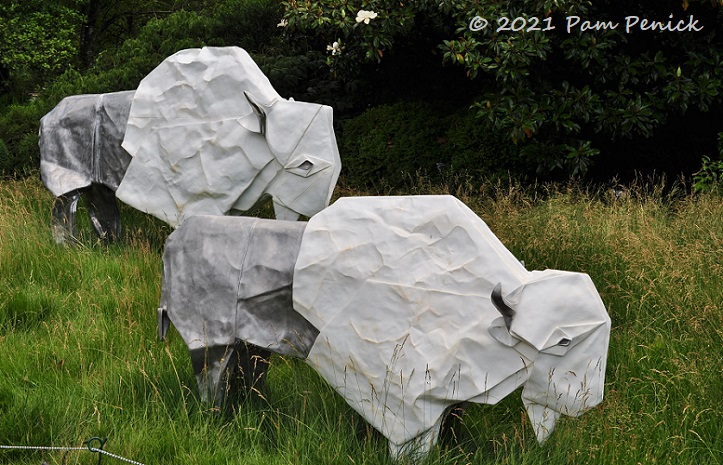 In a micro-meadow of grasses, two origami bison serve as a ghostly reminder of the region's not-so-distant past.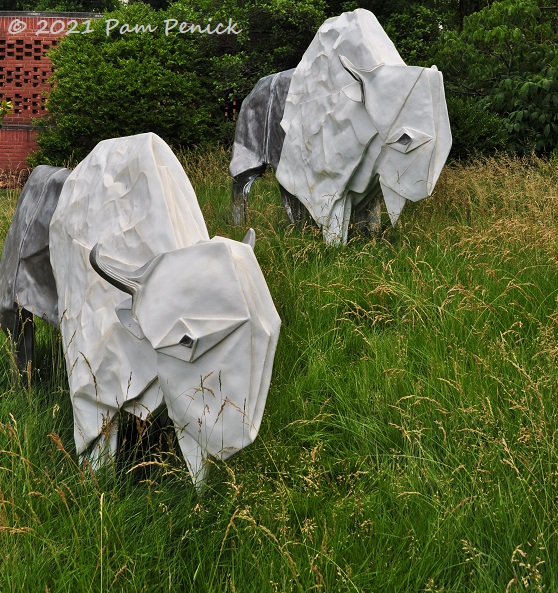 Boxwood Garden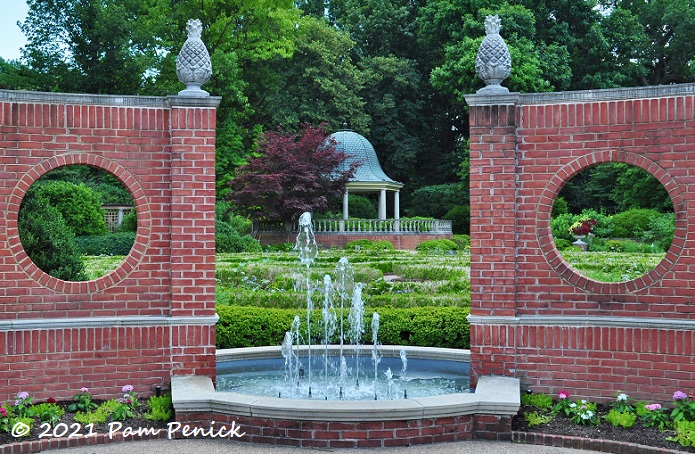 Nearby, a formal Boxwood Garden beckons. Red-brick walls with round windows framing views into the garden bookend a fountain with dancing vertical sprays of water.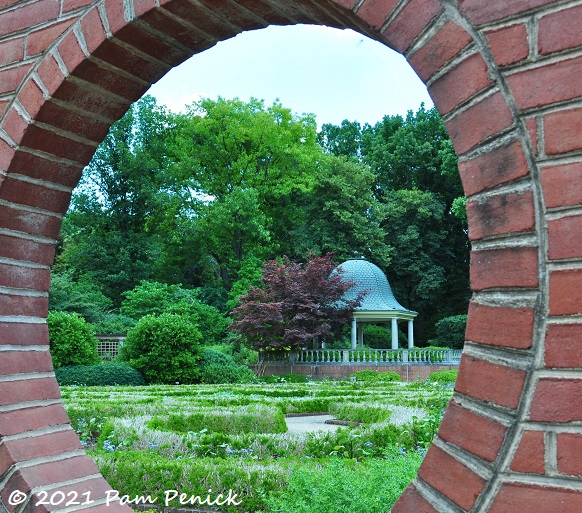 Directly ahead, a handsome pavilion with a bell-shaped verdigris roof nestles alongside a burgundy Japanese maple.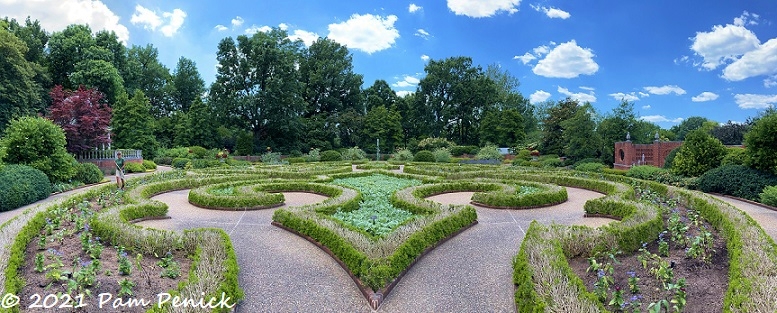 The main garden is a curlicued pattern of boxwood parterres, with groundcovers and perennials planted within. A sign explains that boxwood is notoriously difficult to grow in the Midwest, and indeed it looked like it was suffering from die-back.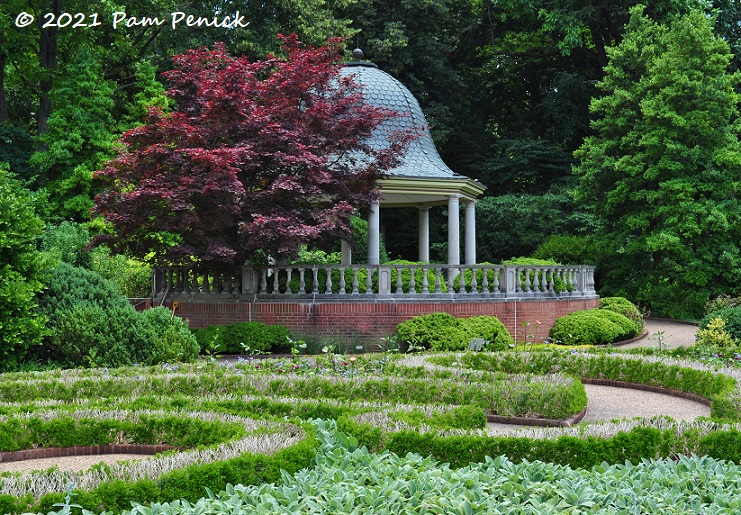 But when I asked a woman working in the garden what had happened, she said the boxwood had grown too large and was recently cut back hard. That's why the interior branches are showing. Soon the boxwood will green up again, she explained.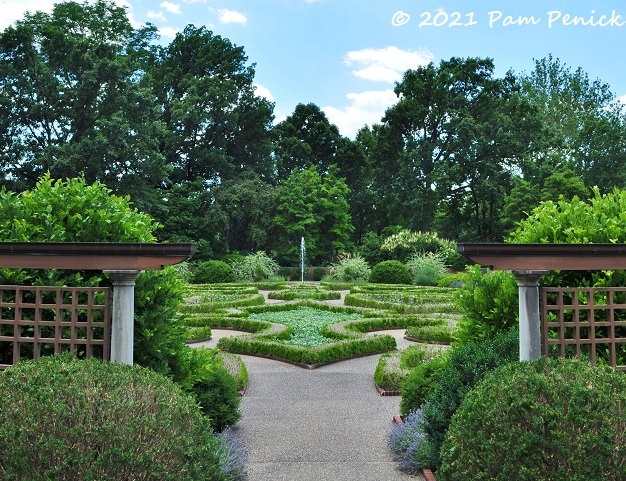 It's still pretty to my eyes, almost as if the parterres are outlined in two colors instead of just green.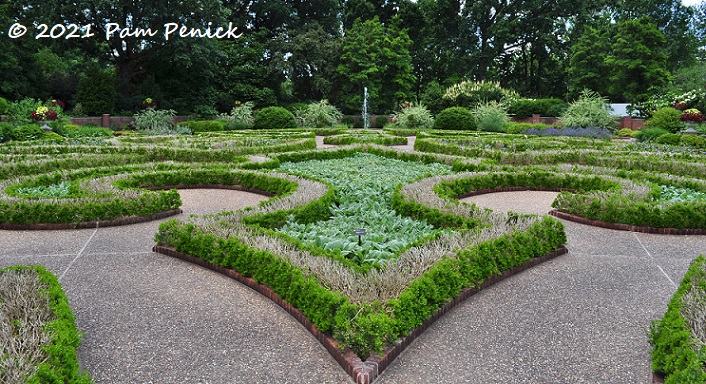 Up close you see the effect of the cutback more clearly.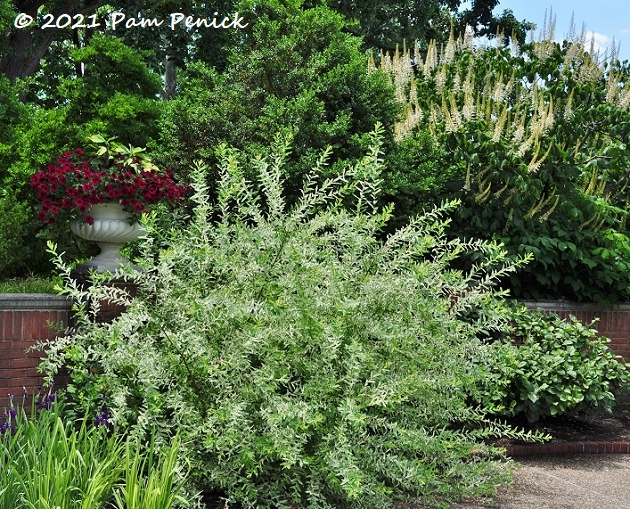 Along the walled edge, dappled willow (Salix integra 'Hakuro-nishiki') caught my eye. Such a pretty shrub, especially against red brick.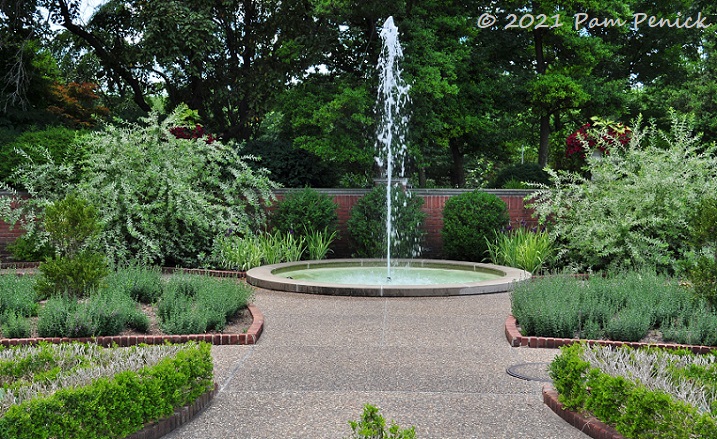 Two are planted on either side of a round pool with a vertical splashing fountain.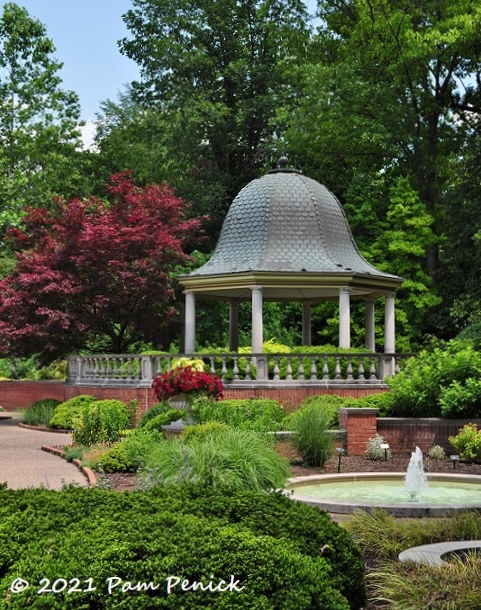 Multiple fountains appear throughout this garden, adding the music of water to the formal space.
Chinese Garden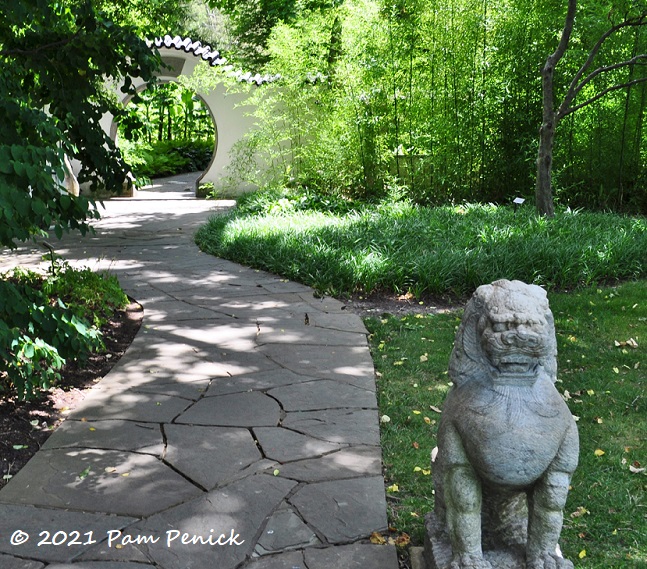 The Chinese Garden was among my favorites during our mid-June visit, with its mix of welcome shade from the hot sun, lovely bridges and pavilions, and Asiatic lilies in jewel-bright bloom.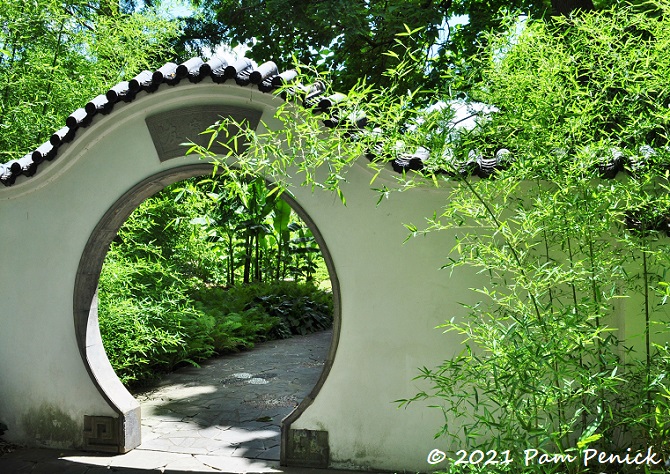 You enter the garden through a moon gate in an arching white wall.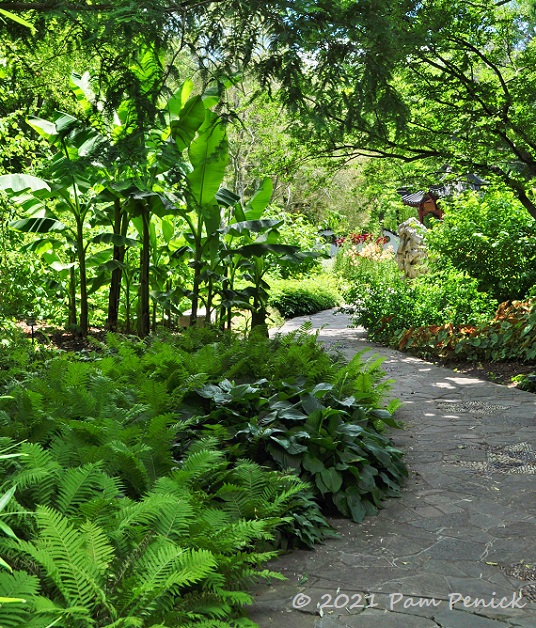 A shade garden glowing in shades of green sets up a contrast with a soon-to-be-revealed pond view.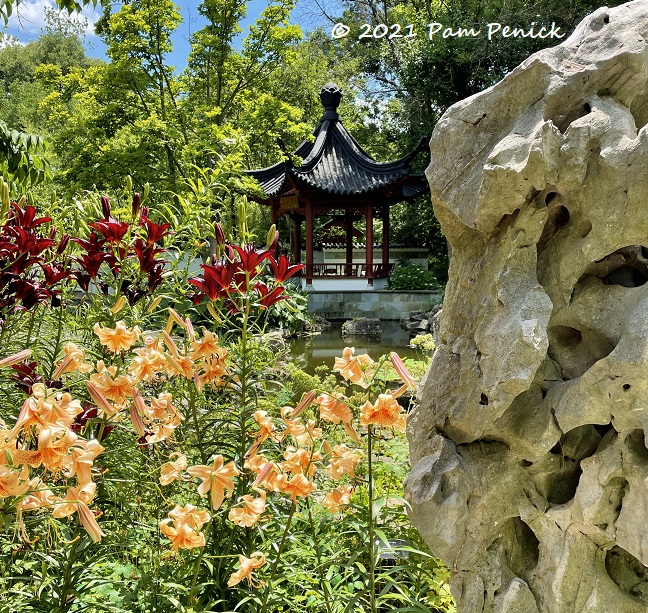 Suddenly you're in a sunny garden, with a beautiful, swoop-roofed pavilion ahead of you, a boulder-strewn pond, and lilies glowing burgundy and apricot.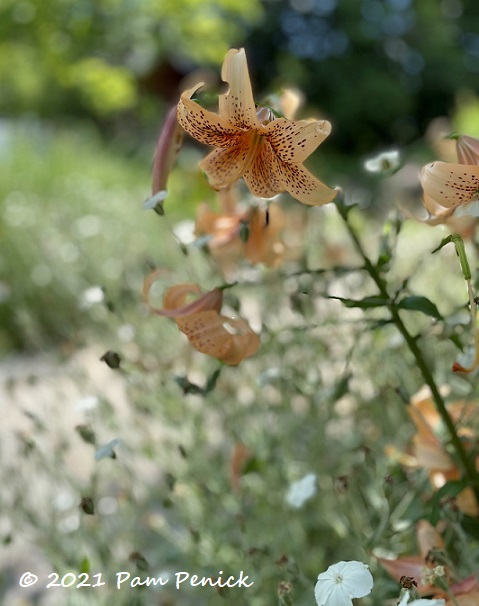 Freckled, apricot lilies and white rose campion make a lovely combo.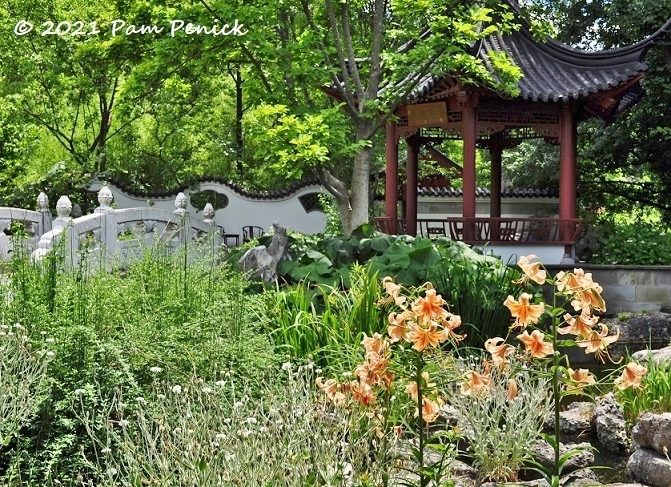 A white marble bridge and wavy white walls make for an even more picturesque view.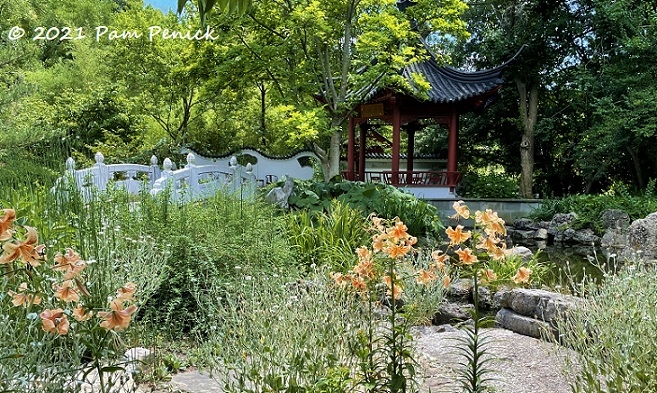 Plants grow lushly all around except for an open space where you can view the pond and pavilion.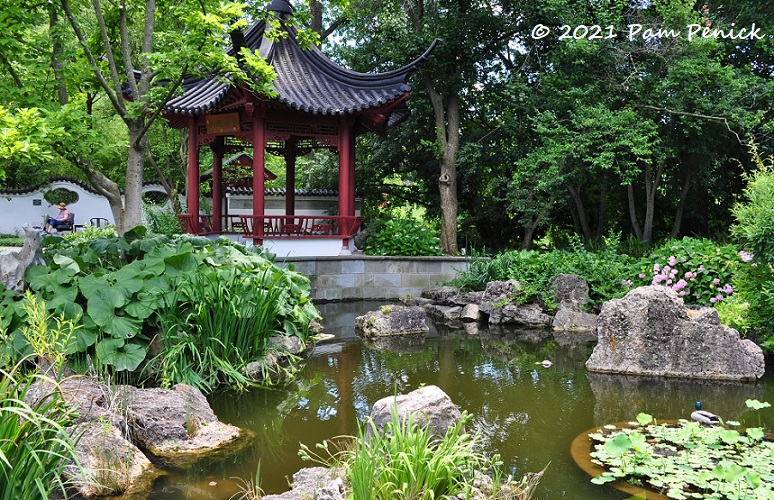 The garden is modeled, according to its webpage, on "the 'scholar's gardens' of the southern provinces of China, near Nanjing….Designed by Chinese-born architect Yong Pan, this garden is a showplace of extraordinary craftsmanship."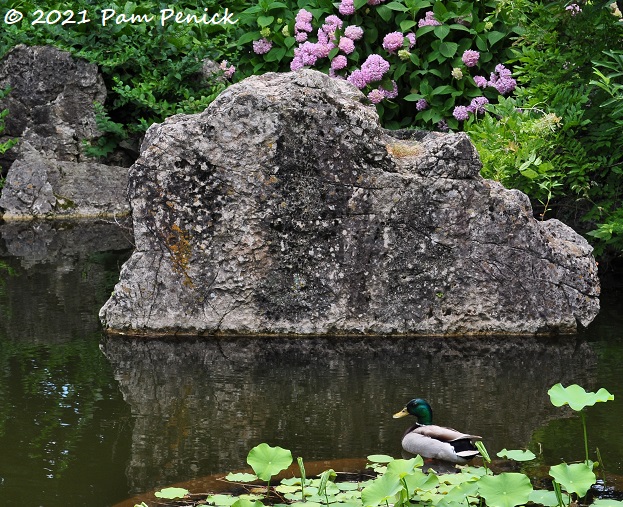 A paddling mallard added his own beauty to the scene. This massive stone is one of five in the pond that symbolize five sacred mountains in China.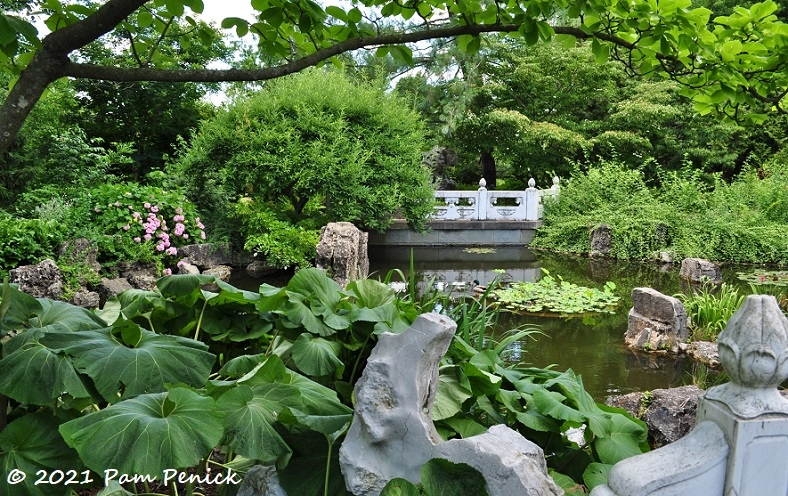 Holey-limestone scholar's rocks placed throughout the garden are sculptures made by Mother Nature herself.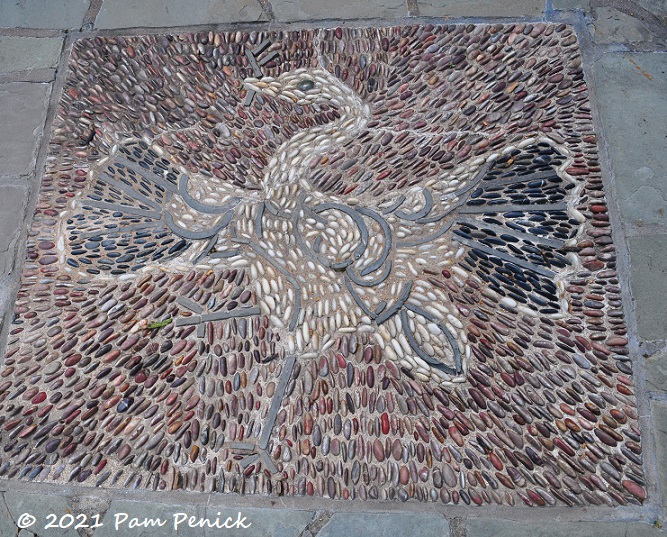 One of the stone mosaics set into the garden's flagstone paving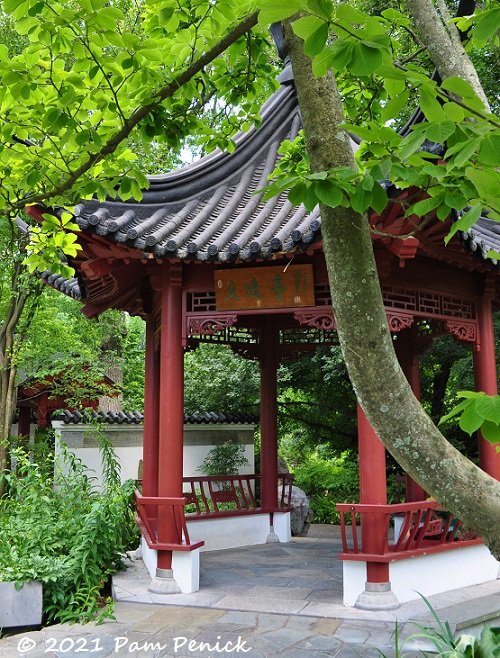 The tile-roofed red pavilion beckons as a place to rest and admire the garden.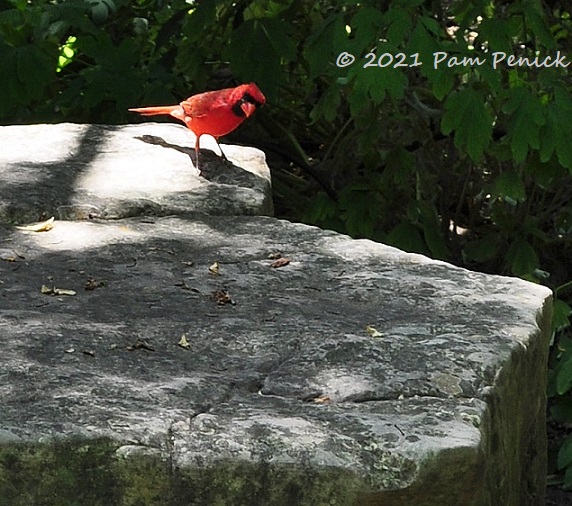 A curious cardinal on a rock seems almost an intentional color echo.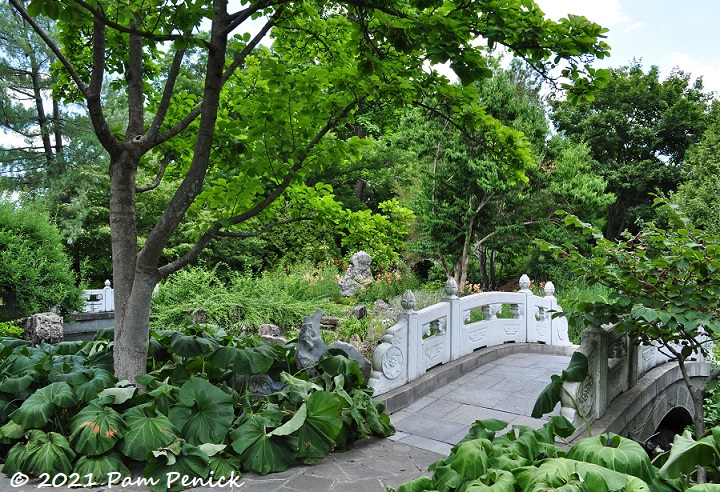 The marble bridge with its hand-carved balustrades and moon arch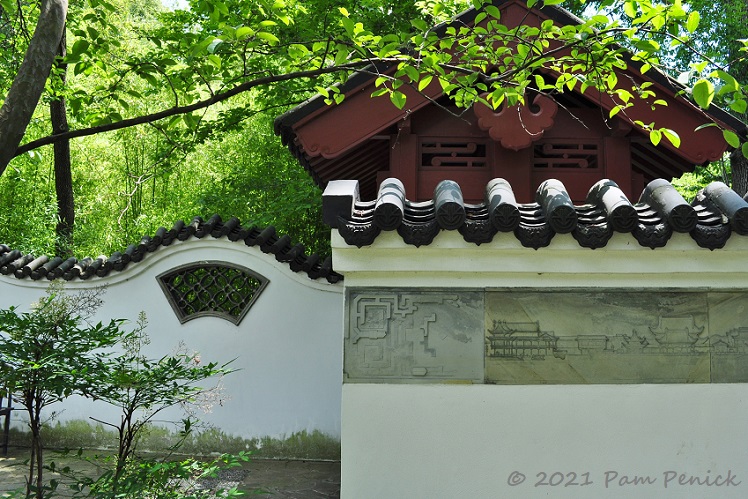 On a wall near the exit, a bas-relief panel of a Chinese city adds one more lovely detail as you leave.
Up next: Exploring the Children's Garden at MOBOT. For a look back at Seiwa-en, the serene Japanese strolling garden, click here.
I welcome your comments; please scroll to the end of this post to leave one. If you're reading this in a subscription email, click here to visit Digging and find the comment box at the end of each post.
_______________________
Digging Deeper: News and Upcoming Events
Join the mailing list for Garden Spark! Hungry to learn about garden design from the experts? I'm hosting a series of talks by inspiring garden designers, landscape architects, and authors a few times a year in Austin. Talks will resume this fall. These are limited-attendance events that sell out quickly, so join the Garden Spark email list to be notified in advance. Simply click this link and ask to be added.
All material © 2021 by Pam Penick for Digging. Unauthorized reproduction prohibited.